Archived Kimberley Travel Questions
Below you can find more archived reader questions. (And answers, of course!)
Please note that the submission form on this page is closed. If you want to ask a question yourself please do it on the main page...
Main Kimberley travel question page.
What Other Readers Have Asked
Click below to read the archived questions from other readers and Kimberley fans, and the answers and comments they received.

Current weather situation in the Kimberleys?
(Submitted 23.5.2010) We're currently looking to travel to the Kimberleys in mid August, but we're hearing that the region is still experiencing substantial …
Kimberley weather in Dec/Jan - is it too wet?
I am looking into travelling to the Kimberley for the first time late Dec/Jan and wondered if that's right in the midst of the wet season and therefore …
Beagle Bay to Bedunburra Road
Does anyone have any information regarding this road? We plan to use it to get from Middle Lagoon to the Gibb River Road . Any tips on finding it from …
No alcohol at Kalumburu
If we were to travel and had alcohol on board what do we do with the alcohol on board when we wish to visit Kalumburu aboriginal community?
AWD for GRR and Purnululu
We are a couple from Italy planning a trip to Kimberley and NT in August. Thank you for the informative site and the guidebook . Unfortunately we still …
Kimberley waterfalls in September
We're tossing up whether to go to the Kimberley and surrounding areas from Darwin in either July or September. Can you please tell us what you think …
Duncan Road - 2WD Possible?
In both of your guides you state that the Duncan Road is an alternative for Halls Creek to Kununurra . As we will be covering the Highway as part of …
4WD car rental?
Hi Birgit, We are planning a six weeks trip from Darwin to Perth, and are planning to spend about 2½ weeks on the stretch between Darwin and Broome …
Crocodiles in Kimberley Gorges?
Hi, I'm Monika from Switzerland. Crocodiles and snakes are animals that we are not used to in my country and I am very afraid of them!!! Next July I will …
2009 wet season in the Kimberley?
(Edit: Please also see the comments below for a 2010 update.) A Broome based tour operator let me know that the Kimberley wet season could last …
Timetable fo Kimberley Trip
I was planning on taking a lengthy trip through Australia, Tasmania, NZ, and finally the Fiji islands when I came across your site. I was wondering …
Suitable attire for Kimberley wet season
I spent some time in the Kimberley (Derby, Broome and Kununurra) during the dry season this year (July to end of September). Virtually all of the time …
Toilets in the Kimberley
Our Kimberley trip in May next year is taking shape. First a week near Darwin and Litchfield NP , then we're coming to Kununurra and the Gibb River …
Monkey Mia and beyond in January
Have just read some comments here about the Kimberleys in October, and am worried that our looked forward to trip will not be possible. We are coming to …
Darwin to Broome in 4 weeks?
My husband and I plan to spend 4 weeks driving from Darwin to Broome, touring the Kimberleys in a hire 4wd camper. We are flying to Darwin late August …
Do we need down sleeping bags for Kimberley in June
We are leaving Sydney in few days time, but will be in the Kimberley in about 2 weeks. We will visit most places. We are staying till 20 of June and sleeping …
Kimberley Farmstay/Homestays
Are there any farmstays or homestays in the Kimberleys which offer meals and farm-related activities, possibly also with some short (half-day) tours? …
Travelling through Kimberley with young children
We were looking at travelling through the Kimberley in July or August. It'd be myself, my wife and our two kids; a 2 and 1/2 year old, and a 10 month old …
Tenting in the Kimberley
I am wondering if it is o.k. to put up tents up there as I am scared of crocodiles. Photo by Ciamabue
Enjoying the Kimberley with a disability
My husband and I would love to do a trip around the Kimberley area. He is a photographer and fairly fit. I suffer from arthritis so walking long distances …
Best use of little time in the Kimberley
We will be travelling the Gibb River Road in September, leaving from Darwin, ending up in Broome after 11-12 days. We want to make the most of our …
Planning a Kimberley Trip
We're hoping to visit the Kimberley for 12 days in early June and wonder whether to go on a small guided tour or arrange a tour ourselves. How difficult …
Need Tips Regarding Ranches In The Kimberley
My question is about ranches in the Kimberley. I will be setting out for Australia in the coming month to live and experience the amazing diversity Australia …
Managing food & self drive camping in the Kimberleys
There are 6 of us travelling in a 4 wheel drive, camping from Broome via Cape Leveque , Windjana, Bungle Bungles , El Questro etc, to Kununurra over …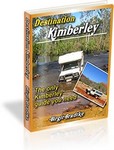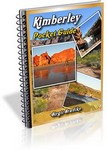 Travelling to the Kimberley?

The free Kimberley Pocket Guide
is a great introduction to travel in the region.
The full Kimberley Travel Guide


shows you how to make the most of your adventure at Australia's last frontier.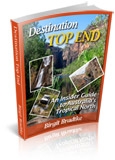 Travelling to the Northern Territory?
NEW! Destination Top End offers the same comprehensive, detailed insider information for the tropical regions of the Northern Territory.

A must have if you travel to or from Darwin.
Main Kimberley Travel Questions page
---
Return to Kimberley Australia Travel Guide home page