Kimberley Trip Reports, Reviews, Experiences, Tips...
On this page you can find a collection of Kimberley trip reports that my readers have sent me. And you can send in your own story!
I love getting those reports from readers. The enthusiasm is infectious, reading their stories you can virtually see people's faces glow with excitement and their eyes sparkle.
What I love best are the reports from people who had never planned to do this trip independently, who had never camped before, never sat behind the wheel of a 4WD. Or who were having second thoughts because everyone told them they are too inexperienced, or too old, their rig isn't up to it, or that it can't be done by a single woman...
For whatever reason, they were going to see the Kimberley on some organised tour, if at all.
Then they went to Google and landed here. And they read some pages, and downloaded the free Kimberley guide booklet, and started receiving the newsletters...
At first the idea of an independent Kimberley trip may have seemed crazy, but gradually their perception changed. And when they finally read Destination Kimberley their mind was made up:
"To hell with all the naysayers. We'll just do it!"
These are their stories and Kimberley experiences.
More power to you, and keep sending those trip reports!
PS.: You can find many more trip reports on the Gibb River Road page.
Please tell us about your Kimberley Trip!
Did you visit the Kimberley? Or know someone who did? Do you have a good story about this? Some tips? A great photo? Come on, share it!

Other readers would love to hear your tips and read about your experiences, so please share your trip reports with us.

It's easy! Just fill in the form below. Upload a photo or four if you like.

(If you'd like to add a video, please say so in your submission. I will need to do that manually.)

See existing reader pages and trip reports.


Trip Reports and Pictures from other Readers
Click below to see what others have sent in.

Four over 60's on the trip of our older lifetime (Kimberley and Northern N.T.)
Well thank you Birgit for helping us feel confident to do so - My husband and I, along with our American friends, have just returned from a wonderful 5 …...
Packrafting the Fitzroy
The 2011 wet season was the biggest ever recorded in the Kimberley.
The town of Fitzroy Crossing became an island as the Fitzroy River rose over 13 …...
The Lhasa Noumea Walkabout
Reader Alain has sent me a very detailed article about his family's four month trip across the Kimberley, northern Australia and Asia, which goes with …...
Single with child/ren - Yes, you can do it!
Hi, I'm Lisa. Traveling northern WA and the NT has always been a dream, but I never thought I could do it on my own. However, after waiting 10 years to …...
A Kimberley experience worth relating
We thought our Kimberley experience worth relating. Three couples & two ladies (most of us senior citizens, three of the drivers 70 plus) in mid June …...
Kimberley Trip, September 2010
We are now camped in a glorious little spot between Broome and Port Hedland – Cape Keraudren, and I promised my family that I would thank you profusely, …...
Top End & Kimberley June/July 2010
We are back from our great holiday to the Top End and the Kimberley. After 21 days (June 13th - July 3rd), 5,619 km and lots of dust we can say we are …...
Five weeks throu the Kimberley
After five weeks throu the Kimberley we are back in Holland again.
We had a wonderful time, but also scary moments.
We went May 15 on our way to the …...
The Kimberley are absolutely Superb
Nearly two weeks we are back in Switzerland. Sorry to write you so late! Just few words about our experience we enjoyed along the Gibb . It's a bit difficult …...
Pure Bliss - A Kimberley Trip Report
Wow... That's what I can say after the trip to the Kimberley. It is a truly magical and overwhelming experience in every possible sense and way... …...
Our Aussie trip
Hi Birgit, first our best wishes for the new year and keep up the good work. We still like to read your newsletter, even now that we finished our 2 month …...
A Kimberley Trip Report from France
We went through Kimberley during August and we want to thank you for travelling with us (through your guide ). Our trip was 7 weeks long, it began by …...
8 weeks camping in the Kimberley
Thank you for your great Kimberley Travel Guide Book , your passion for the area shines through. We used several of your suggestions, including the …...
Kimberley and Top End in April
We have visited the Kimberley area in April this year (2011). We left Darwin just after the cyclone watch was lifted and went down to Kakadu, driving in …...
"Over The Top" - With Old Bentleys from Perth to Darwin
Dear B, as I had told you, we were on a terrific Tour, "OVER THE TOP", with old Bentleys from Perth to Darwin - a slightly different way of traveling …...
You can find more trip reports on the Gibb River Road page.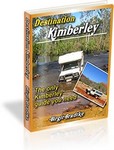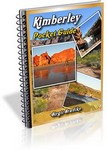 Travelling to the Kimberley?

The free Kimberley Pocket Guide
is a great introduction to travel in the region.
The full Kimberley Travel Guide


shows you how to make the most of your adventure at Australia's last frontier.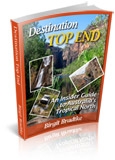 Travelling to the Northern Territory?
NEW! Destination Top End offers the same comprehensive, detailed insider information for the tropical regions of the Northern Territory.

A must have if you travel to or from Darwin.
---
Return to Kimberley Australia Travel Guide home page