Kimberley Western Australia

A Video From The Western Australia Kimberley Coast
I found this Kimberley Western Australia video through a search and immediately fell in love with it.
Rather than the usual stock shots of the attractions that you've already seen a hundred times in pictures, and the usual promotional stuff and jabbering, this video really captures the feel of the place.
Watching it makes me feel like I'm out there, away from the tourists, away from everything...
You have to get away from the beaten track (yes, even in the Kimberley and north Western Australia some of the tracks are starting to look very beaten...), you have to go somewhere that not very many people go, to be able to feel the place the way the video makes you feel.
I haven't seen all the places shown here myself, but the locations I have seen are portrayed exactly as you would experience them if you went. The images are very real, like I said, as if you were there.
There is no commentary, no explanations, just the images of the ancient cliffs, the colours (the colours!), the beautiful, very well selected music, the sounds of the ocean and some absolutely stunning ancient Aboriginal art and a burial site. It's worth the wait for the video to load just to get a glimpse of the art.
Having said that, this Kimberleys video is ten minutes long. If you are on dial up it would take you a whole night to download... Might be worth a try, though...
Everybody else, enjoy it right now:
Kimberley Western Australia - A Video From The Coast
List of places shown in the video in order of appearance:
Broome (the opening image is the Sun Pictures, the world's oldest operating picture gardens), Raft Point, Montgomery Reef, Talbot Bay, Kuri Bay, Bigge Island, Jar Island, Hunter River, King George River.
In between you see the opening of a Pinctada maxima shell to get to its pearl, and images from the pearl showrooms in Broome. The video wraps up with, what else, a camel sunset ride on Broome beach.
Kimberley Western Australia, The Coast
Thank you to John Douglas from tartan suitcase productions for putting this great video together. His website says John is presently working on a film about the Kimberly, Western Australia. Hope it means a full feature length film is coming and he wasn't talking about this clip. I'd love to see a whole film on the Kimberley done by him...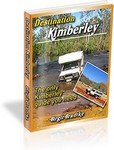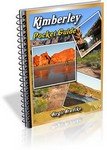 Travelling to the Kimberley?

The free Kimberley Pocket Guide
is a great introduction to travel in the region.
The full Kimberley Travel Guide


shows you how to make the most of your adventure at Australia's last frontier.
Travelling to the Northern Territory?
NEW! Destination Top End offers the same comprehensive, detailed insider information for the tropical regions of the Northern Territory.

A must have if you travel to or from Darwin.
---
Return from Kimberley Western Australia to Kimberley Australia Travel Guide home page