Day Tours From Kununurra
Lake Argyle, Wyndham, Parry's Lagoon, Argyle Diamond Mine, Bungles, Keep River NP, El Questro, Fishing Tours, Boat Tours, Scenic Flights...
As you can see from that list, Kununurra is a great place to base yourself for your Kimberley holidays.
There is so much to see and do in the area.
Many of the surrounding Kimberley attractions can be visited in a day tour from Kununurra, saving yourself the continuous packing and unpacking of all your things...
Lake Argyle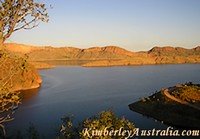 Lake Argyle is one of the best known landmarks of the region. Actually, this huge man made lake (several times the size of Sydney Harbour!) is the reason that the town Kununurra exists.
Lake Argyle is part of a very ambitious and successful irrigation project. It has allowed Kununurra to become a tropical fruit bowl and agricultural centre in this remote and harsh region.
But Lake Argyle is a lot more than a water supply to the town and its farmers. It is a newly formed habitat and natural wonder in its own right. The wetlands support myriads of birds, and the many islands are inhabited by a variety of marsupials. The area is a paradise for bird and nature lovers, and the best way to see the lake is on a boat cruise.
Then there is the old Argyle Homestead and museum to visit, the impressive main dam, the spillway... It is an incredibly scenic area, the drive to Lake Argyle from Kununurra alone would be worth the trip, that's how beautiful it is.
Lake Argyle is only 70 km south east from Kununurra, very close to the border to the Northern Territory. It makes a great day tour, but obviously you could also visit it on your way to/from Darwin. (Both camping and motel accommodation are available.)
---
Wyndham
The port town of Wyndham is 100 km north of Kununurra, which makes it Western Australia's northernmost town. It is also the oldest town in the Kimberley region. I find it an intriguing place (but I've always been attracted by places that have a somewhat desolate feel about them...).
Wyndham is steeped in history dating back as far as the 1880s when Wyndham served as a landing port for prospectors during the gold rushes. (Compare that to Kununurra, which was founded in the 1960s.)
Sitting on the edge of the Cambridge Gulf Wyndham offers a stark contrast to lush and green Kununurra: salt lakes and tidal mudflats dominate the landscapes. Five Rivers Lookout is a great place to see the Gulf and the five huge tidal rivers draining into it, especially around sunset.
There are many historical sites to visit in Wyndham, like the old port and meatworks, the old post office and courthouse, the Afghan cemetery and more. And a bit outside Wyndham the prison boab, the Moochalabra Dam, the Grotto and Parry Lagoons (see below).
---
Parry Lagoons Nature Reserve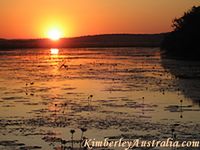 The Parry Lagoons Nature Reserve is a Ramsar protected wetland. Another bird watcher's paradise. You can spot 220 different species here, including many migratory species.
Parry Creek Farm and Marlgu Billabong are located along the Parry Creek Road, the old (and unsealed) highway from Kununurra to Wyndham.
Parry Creek Farm is a tourist development that offers accommodation and has a small restaurant and cafe. Marlgu Billabong has an observation platform above the water, with displays that show pictures of the birds to help you identify them.
---
Argyle Diamond Mine
The Argyle Diamond Mine is about 200 km from Kununurra. It's the world's largest single producer of diamonds, and the only place in the world where you can find the extremely rare pink diamonds.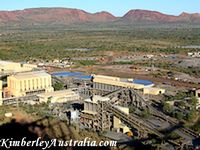 To visit the Argyle Diamond Mine you need to join a tour from Kununurra (obviously you can't just walk in and out of a place like that...).
The tour can be a flight to the mine combined with a 4 hour coach tour on the mine site itself.
The other option is to drive there and back by coach as well.
On the site tour you will usually see the pit lookout (the lookout above the big hole that they dig the diamonds out of), the process plant, the diamond showroom, the natural history museum, and you get fed at Argyle Village (where the workers are living).
If you are interested in a tour get in touch with the Kununurra Visitor Centre to get more info, or just do a search online. There are a couple of companies in Kununurra offering tours.
---
Purnululu National Park/Bungle Bungles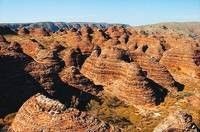 You can't actually visit Purnululu National Park (the Bungle Bungles) properly in one day from Kununurra, but you can take a scenic flight over it.
Some of the Kununurra tours to the Argyle Diamond Mine also involve a trip over the Bungle Bungles on the return leg.
A scenic flight over the Bungles is a good option for people on a very tight schedule. (However, if at all possible take the time to see Purnululu properly. It really is worth it.)
Again, you can find out more about scenic flights to the Bungle Bungles from the Kununurra Visitor Centre.
---
Keep River National Park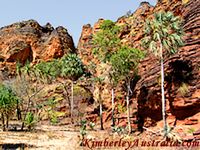 The Keep River National Park is located just on the other side of the border to the Northern Territory. So by rights it's not in the Kimberley...
But it is a stunning little park with some beautiful walks, and the landscapes are definitely Kimberley landscapes. You will find similar sandstone formations as you find in the Bungle Bungle Range.
Keep River National Park is only 50 km from Kununurra. You can camp there, you can visit it on your way to/from Darwin, or you make it a day tour from Kununurra.
This link will take you to my other website, "The Outback Guide", where you can read more about Keep River National Park. (Link opens in new window.)
---
El Questro Station
El Questro is a huge former cattle station at the beginning of the Gibb River Road. They gave up cattle farming and now they specialise in upmarket tourism instead. The land they own is spectacular. (Of course it is, it's in the Kimberley...)
To make the most of it you need to stay at El Questro itself. Accommodation at El Questro is pricey, but they also have two campgrounds.
A couple of the well known attractions at El Questro, namely Zebedee Springs and Emma Gorge, can easily be visited in a day tour from Kununurra. I guess you could also visit El Questro Gorge as a day tour, but you'll be pushing it to see all of them in one day and drive back to Kununrra...
Anyway, you need to buy a permit to go. Best get it in Kununurra before you go. Their booking office is next to the Viditor Centre. That'll save you the detour to the station township at El Questro. (You can also buy permits at their Emma Gorge Resort.)
---
Fishing Tours From Kununurra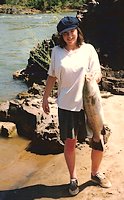 This is a huge topic, and there is a big variety of Kununurra fishing tours on offer. If you have your own boat you also have countless options to explore. (Chances are that if you are a serious fishing fanatic you will probably want to stay here forever...)
I will eventually add a separate fishing section to the Kimberley Guide. For now I can only point you at the Visitor Centre again for tours. For some advice for the independent fisherman or -woman have a look here: Barramundi fishing.
(And of course, for the best tips go to the pub and be nice to the locals, but I didn't need to tell you that...)
---
Read also about the waterfalls and rock pools around Kununurra. On a hot day you may as well pack a picnic and turn the visit into a day trip...
---
Return from Kununurra Day Tours to Kimberley Australia Travel Guide home page