Essential Map Of The Kimberley, Australia

All The Kimberley Maps You'll Ever Need Are On This Page
On this page I show you the best road map of the Kimberley, Australia.
It's the most detailed and the most accurate map of the Kimberley that's available.
Don't leave home without it!
The Best Kimberley Map
The Kimberley map that I recommend is produced by HEMA. It's the best map of the Kimberley for tourists, period.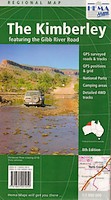 This is not just a personal preference of mine.

The HEMA Kimberley map is the map that you see laminated and glued to the desk of every tourist information centre in the Kimberley.
Why? Because it's the map that best helps the people behind the desk answer your questions.
This Kimberley map is more than just a road map. It has and does everything that you expect from an excellent road map. (Even though we have many more tracks than real roads, they're all there.) But this Kimberley map also:
Highlights all the attractions, reserves, national parks etc, and gives you a short description of what there is to see and do.

There is also a lot of important travel information, for example about the quarantine at the WA border. Everything you need to know.

Shows exactly what services are available at the remote roadhouses, stores and wilderness camps.

Lists GPS coordinates for every roadhouse, landmark, Aboriginal community, anything that has a name...

Lists phone numbers for wilderness camps, tour operators, national park offices, shire offices, main roads offices and other government departments, anything you could need on your trip.

(Even phone numbers of cattle stations if they happen to have a nice gorge on their property, so you can ring them and ask for permission to camp there.)

On the back you have a larger scale map of just the Gibb River Road, again with explanations of all the sights along the way.

And on top of all that you get a bunch of beautiful pictures of the Kimberley, and a short travel guide for the region.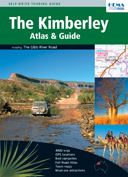 The HEMA Kimberley map is an excellent Kimberley map and a great picture travel guide all in one.
It's a must have map, unless, of course, you have the

HEMA Kimberley Atlas & Guide!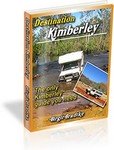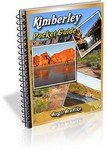 Travelling to the Kimberley?

The free Kimberley Pocket Guide
is a great introduction to travel in the region.
The full Kimberley Travel Guide


shows you how to make the most of your adventure at Australia's last frontier.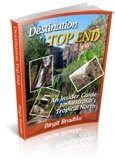 Travelling to the Northern Territory?
NEW! Destination Top End offers the same comprehensive, detailed insider information for the tropical regions of the Northern Territory.

A must have if you travel to or from Darwin.
Return to Maps Of Western Australia
---
Return from Map Kimberley Australia to Kimberley Australia Travel Guide home page