Mitchell Falls trip 2013
by Christine Curran
(Tasmania)
Travelling along the Gibb River Road was all about the Mitchell Falls for us. In our 100 series Land Cruiser and Rooftop Tent we set out from Drysdale River Station and passed the Bradshaw Art site, that was amazing. Saw a snake but he was going in opposite direction thank goodness.

The road into Mitchell campground is pretty rough in places but the scenery makes up for that. I was lookout while hubby drove as some corners are blind and to drive in the middle of the road to avoid holes etc. is a must. The campground is well maintained, good toilet block and each site has a firepit but you must take your own wood.

We walked into the falls and must say it was very interesting passing by some lovely palms, plants and the Big Mertens Falls. We chose to chopper out, well worth the $115.00 each. Just give yourself enough time to have a swim in the Mitchell River before the chopper comes to get you. The view over the Admiralty Gulf is amazing, just shows how remote this part of Australia is.

There was plenty of water over the falls in June and the sun was not too hot. Take plenty to drink.
Join in and write your own page! It's easy to do. How? Simply click here to return to Mitchell Falls.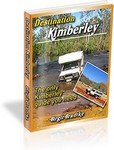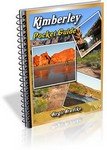 Travelling to the Kimberley?

The free Kimberley Pocket Guide
is a great introduction to travel in the region.
The full Kimberley Travel Guide


shows you how to make the most of your adventure at Australia's last frontier.
Travelling to the Northern Territory?
NEW! Destination Top End offers the same comprehensive, detailed insider information for the tropical regions of the Northern Territory.

A must have if you travel to or from Darwin.
---
Return to Kimberley Travel Guide home page