Monitor lizards (Goannas) in the Kimberley Region?
by Kris
(Ghent, Belgium)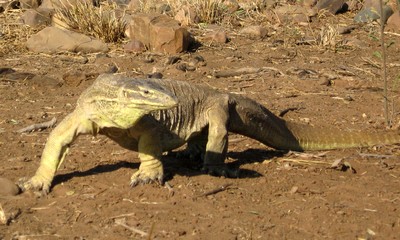 A huge monitor lizard
We're planning a new 2 month trip to Australia (we're Belgian), and the Kimberley Region is most probably one of the regions we'll want to visit. Being huge monitor lizard (goanna) lovers, we were wondering about reptilian wildlife in the Kimberley Region and more specific near the Gibb River Road.

I love your site!
Thank you very much.
Kris & Stéphanie

Re: Monitor lizards (Goannas) in the Kimberley Region?
Hi Kris and Stephanie! (sp?)
Well, we have lots and lots of reptilian wildlife, but what you will see depends very much on the time of the year.
There is a
page about goannas/monitor lizards
on my other website. Most of the photos on it were taken from my veranda.
There is also a reader question from a film team on that other site:
Filming Goannas Or Monitor Lizards
Everything I say in the answer there is true for the Kimberley as well.
The cane toads aren't here yet, so we still have lots of goannas. (They are disappearing across the Northern Territory since the poisonous cane toads invaded.)
You should see some sand goannas in your travels, they are always crossing the roads. (That's where I saw the big one in the top picture.)
And you should most definitely see some water monitors at the swimming holes. They are always hanging around, sunning themselves on rocks and logs.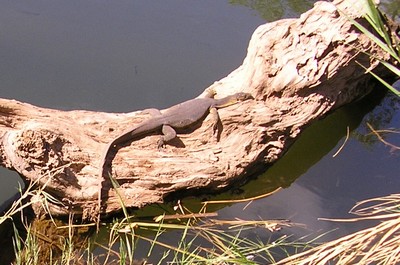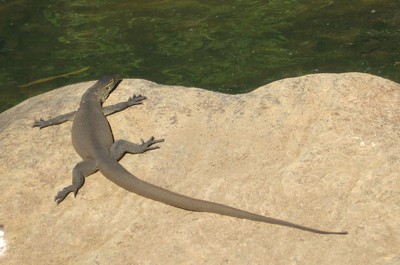 Because it is so easy for them to escape into the water at there very last second, they usually let you get very close.
The one in the photo below was on the
Mitchell Plateau
, at one of the pools on the walk to the falls. He walked right over my feet. Didn't care at all.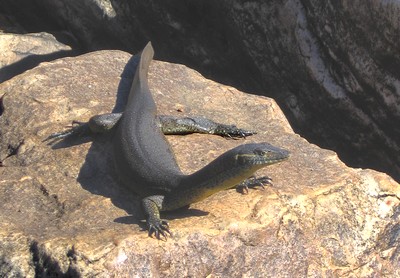 We also have many
Frilled Neck Lizards
and
Blue Tongue Lizard
s. You're unlikely to see Blue-tongues because they are not usually out in the open, but you may get lucky and see the odd Frilly.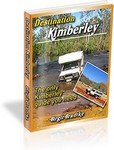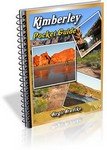 Travelling to the Kimberley?

The free Kimberley Pocket Guide
is a great introduction to travel in the region.
The full Kimberley Travel Guide


shows you how to make the most of your adventure at Australia's last frontier.
Travelling to the Northern Territory?
Destination Top End offers the same comprehensive, detailed insider information for the tropical regions of the Northern Territory.

A must have if you travel to or from Darwin.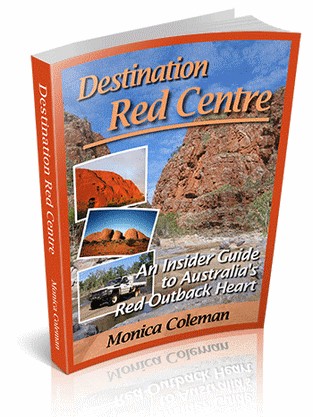 NEW! Destination Red Centre is the latest addition in this popular series. Monica Coleman takes you through Australia's red Outback heart, offering all the detail and insider tips that you have come to know and love about our guides. With special emphasis on Aboriginal communities and culture.

A must have if you travel to or from Alice Springs/Uluru.
---
Return to Kimberley Travel Guide home page