Mt. Elizabeth Station

Gibb River Road, WA
Mount Elizabeth Station, located off the eastern half of the Gibb River Road, is a working Kimberley cattle station that also welcomes tourist.
And when I say working cattle station, I mean REAL working cattle station, not tourist resort that still runs some cattle in the background.
I really like that about Mt. Elizabeth. (I've never been a fan of the holiday resort feel...)
If you want to see what station life is like, Mt. Elizabeth is the best place along the Gibb River Road to visit.
To me places like Mt. Elizabeth are the true heart of the Kimberley. Frank Lacey took up this lease in 1945 and the Lacey family has run the property continuously since then. Where else do you get a chance to have dinner with some true Kimberley pioneers?
Mt. Elizabeth Station offers homestead accommodation with a three course dinner, bed and breakfast.
There is also a very spacious and well appointed camping area. (Dinner at the homestead can be arranged for campers if you let them know ahead.)
You can explore Mt. Elizabeth Station by 4WD (self guided), there are a couple of beautiful gorges, hiking, swimming and fishing, and there are also several exceptional rock art sites that can be visited via an Aboriginal guided tour in a station vehicle.
Be warned that the tracks and gorges here are definitely for the more adventurous visitors!
Readers often ask me if this or that toy breed 4WD is suitable to "tour the Kimberley" or "do the Gibb River Road". Sure, you can "do" it, but there are limits to what you can access. And on Mt. Elizabeth you will certainly be made aware of those limits...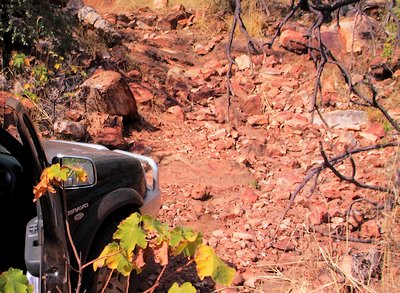 A section of the track to Wunnumurra Gorge. © Photo by Ian Luxon.
Only a real 4WD with plenty of clearance and low range gears will get you to the beautiful Wunnumurra Gorge, a gorge I would not want to miss. (My photos do not do it justice at all...)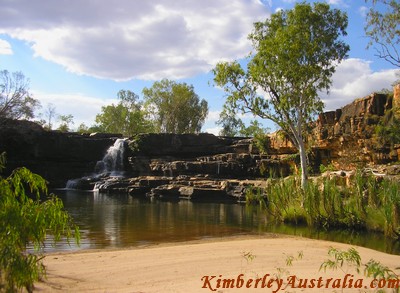 A very rough 10 km drive and a half hour wilderness walk take you down to a beautiful paperbark and pandanus lined section of the Barnett River.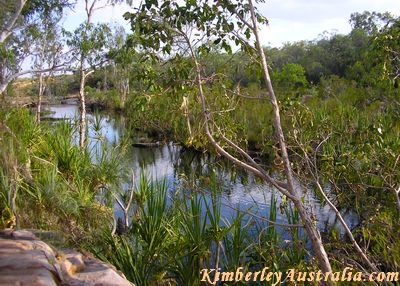 Follow the river downstream until you get to a sheer drop and big waterfall. And climb down.
Too much of a chicken to climb? Someone very thoughtful has even left an extension ladder on a rock shelf here for you. (You still have to figure out where to best use it.)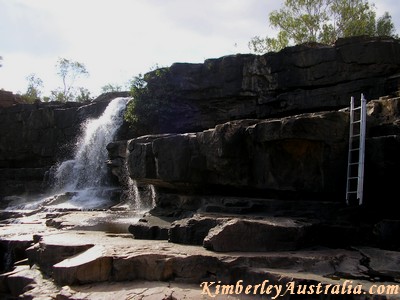 The pool at the bottom of the waterfall is huge, the waterfall has a nice rock bench underneath so you can grab a back massage, there is the prettiest white beach you could wish for, shade from paperbark trees...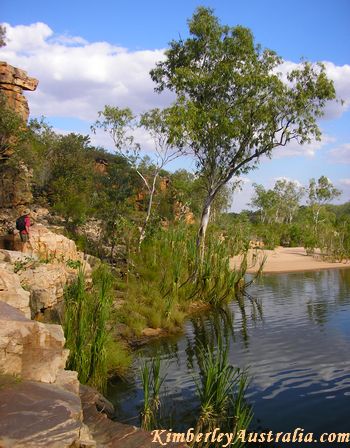 ... and if you know where to look, you can even find some well preserved Wandjinas.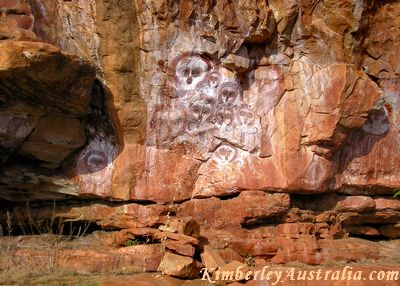 Not so adventurous? Warla Gorge (or Hann River Gorge) is a much more relaxed and peaceful place.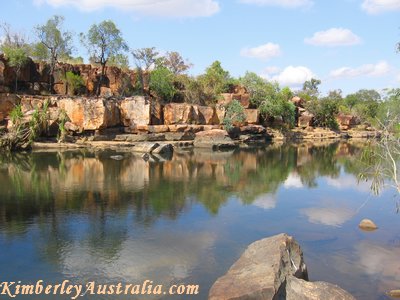 The drive is easier and there is no hiking or climbing. A shallow section of the Hann River to sit in and relax, a nice beach, a wood barbecue... What else do you need for a perfect afternoon?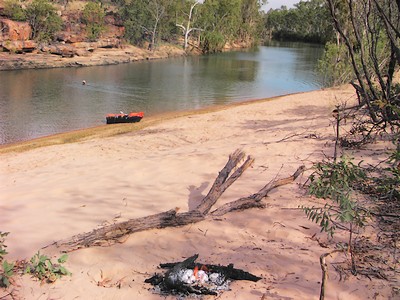 © Photo by Ian Luxon.
Mt. Elizabeth Station website: www.mountelizabethstation.com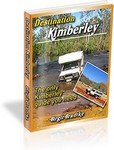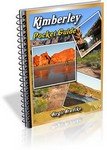 Travelling to the Kimberley?

The free Kimberley Pocket Guide
is a great introduction to travel in the region.
The full Kimberley Travel Guide


shows you how to make the most of your adventure at Australia's last frontier.
Travelling to the Northern Territory?
Destination Top End offers the same comprehensive, detailed insider information for the tropical regions of the Northern Territory.

A must have if you travel to or from Darwin.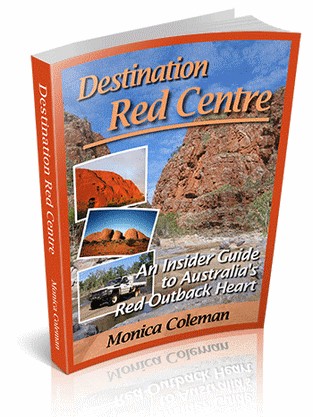 NEW! Destination Red Centre is the latest addition in this popular series. Monica Coleman takes you through Australia's red Outback heart, offering all the detail and insider tips that you have come to know and love about our guides. With special emphasis on Aboriginal communities and culture.

A must have if you travel to or from Alice Springs/Uluru.
Return to Gibb River Road Accommodation
---
Return to Kimberley Australia Travel Guide home page