Broome Hotels

Hotels in Broome - Town Centre
Nearly all of the most popular Broome hotels and resorts are located a few kilometres out of Broome, at Cable Beach.
However, not everybody visits Broome only to laze on the beach for a few days.
There are after all many more things to do in Broome but to hang out at the hotel pool and to fry on the beach.
Especially if you don't have your own transport and don't intend to hire a car in Broome you may prefer to stay in a hotel close to Broome's town centre. Not a problem. Here are your options:
Broome Hotels - Town Centre
And if any of these Broome hotels tickle your fancy don't forget to check for special deals and prices here before you book.
---
McAlpine House
An Authentic Broome Hotel
The McAlpine House is the perfect Broome hotel for people who are not into that typical artificial tropical tourist resort feel.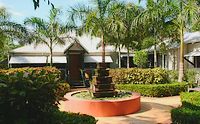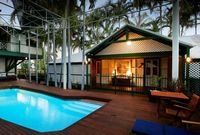 The building is an authentic pearling master's home. It was built in 1910 for pearling master Herbert Kennedy, which makes it as historical as it gets in this part of the world.... As you can imagine the gardens are tall, thick, lush and shady, and home to hundreds of birds.
The house was beautifully restored in 1982 by Lord Alistair McAlpine, and eventually converted into an immaculate four star boutique hotel by the current owner Marylinne Paspaley of Paspaley Pearls.
At the McAlpine House you are guaranteed a quiet, private stay and personalised service, as it offers only eight double rooms: the poolside McAlpine Suite, the balcony rooms ("Library Rooms") and veranda ("Pearlers") rooms are in the main building. There are also two contemporary garden suites, and, for the adventurous, the treehouse.
The building still has the original features of colonial style architecture that Broome is famous for: white corrugated iron walls, polished wooden floors, big wooden verandas, louvres, lattice...
If you think corrugated iron buildings look shabby think again. Everything here is exquisite. All rooms are beautifully decked out with Javanese furniture, have a historic feel, but also offer all the mod cons you'd expect in a top notch hotel (including flat screen TVs and wireless internet).
Located in a quiet part of old Broome you are in comfortable distance to all the shops, restaurants, attractions and town beaches: close enough to walk if you enjoy a bit of a walk, far enough to be away form the noise and the masses.
At the McAlpine House you can really feel historical Broome and the spirits of the old pearlers. This is just so different from the mass market appeal of all the other resorts. You can't "create" history and authenticity. You have it or you don't...
If I had the money, the McAlpine House is where I would stay in Broome.
A word of warning: because of its small size the McAlpine house is very popular with small groups, like weddings or anniversaries, but also for business meetings. Groups often book the whole house. If I'd plan to stay at the McAlpine I'd make sure I book early...
---
Mangrove Resort Hotel
On Top Of Broome Hotel Popularity Lists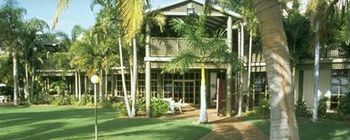 The Mangrove Hotel has without doubt the best views of any hotel in Broome. It is perched on a cliff top at the edge of the mangroves (surprise, surprise) and overlooking beautiful Roebuck Bay.
With a bit of luck (and by booking early and asking for it) you should be able to get a room from which you can watch the huge tides move in and out of the bay. Alternatively watch it from the large lawn area, which also is the best place to admire the phenomenon of the Stairway To The Moon (if you're in town at the correct day...)
But the views are not the only thing about the Mangrove Hotel that's worth mentioning. The hotel is only a very short stroll from China Town (which is basically Broome's centre of activity), and for those who want to go to the beach the bus stop is directly opposite the hotel. (In the midst of summer you will feel that that is only just close enough, trust me...)
The bar at the Mangrove Hotel is popular with Broome locals, which in my eyes is a huge plus. Who goes on holidays to meet other tourists...
If you are looking for a genuine local pub night out, live music and all, try the Mangrove Hotel Friday night.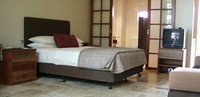 Apart from that there's a good breakfast to be had, a nice restaurant to try out, two pools to swim in and all the usual stuff you look for in a good hotel.
All in all a top choice at reasonable prices.
---
Mercure Inn Continental Broome
The name Mercure Inn pretty much already tells you what to expect. Not an outstanding luxury hotel, not budget either, just simple and clean facilities, including a pool, barbecue, restaurant, bar and bottle shop.
It's not far from the town centre, right opposite Matso's, the famous must visit brewery and restaurant.
To be honest, I don't know much about the Mercure, but you can read other traveller's reviews here.
---
Tropicana Inn
The three star AAA rated Tropicana Inn is another good location to view the Staircase To The Moon.
The hotel, which is also often described as a motel, is close to town beach, and about a 25 minute walk from the town centre. It has a tropical garden with swimming pool, which is basic, but just as cooling as a fancy one.
The old in-house restaurant and bar closed, and now you eat or drink at the Black Pearl restaurant 200 metres down the road (still charging the bill back to your room).
Good location, good value for money, and all the usual comforts. Nothing much else to say about it...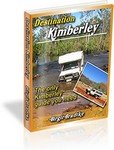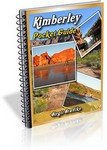 Travelling to the Kimberley?

The free Kimberley Pocket Guide
is a great introduction to travel in the region.
The full Kimberley Travel Guide


shows you how to make the most of your adventure at Australia's last frontier.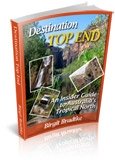 Travelling to the Northern Territory?
Destination Top End offers the same comprehensive, detailed insider information for the tropical regions of the Northern Territory.

A must have if you travel to or from Darwin.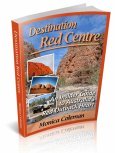 NEW! Destination Red Centre is the latest addition in this popular series. Monica Coleman takes you through Australia's red Outback heart, offering all the detail and insider tips that you have come to know and love about our guides. With special emphasis on Aboriginal communities and culture.

A must have if you travel to or from Alice Springs/Uluru.
Return to Broome Australia main page
---
Return from Broome Hotels to Kimberley Australia Travel Guide home page