---
2 February 2018, Issue #061

---

Please do not reply to this message.

To unsubscribe or change your address please use the links at the bottom of this message.
To contact me please use the contact page.

To sign up for this newsletter and receive the free Kimberley Pocket Guide go here.


---

In this issue:
Wet Season Update
More Details for 2018 Bookings
Liquor Restrictions Info for the Kimberley
RFDS Closes Derby Base
---

Well hello!
I know, I said you won't hear from me for a while unless something important comes up that affects your planning and nothing has come up.

(Unless you had planned to travel next week. Then you sure are affected. See below.)

But I have interesting things to write about. And if I keep collecting them they'll go stale and also the next issue will be miles long!
Also, the items in this issue are follow ups to items in the last issue.

So here goes...


---
Wet Season Update
---

The wet season continues to be very, very wet! Darwin, Kununurra, Derby, Broome... Everyone is swimming.

I had barely finished responding to the email flood (no pun intended) that the last newsletter triggered when the next severe weather warning was issued for the last days of January. It was the third in just over a month.

Even though this tropical low was not classified as a cyclone it ended up bringing more rain and flooding, more sustained winds, and ended up doing more damage than cyclones Hilda or Joyce.

In the Broome region different areas received 400 - 500mm in 24 hours (Derby around 100mm) bringing the Broome total for January to 942.2mm, the wettest January on record.

Big trees are down everywhere, houses damaged, power and telephone lines were cut, schools had to close, and the waste water treatment ponds overflowed into Roebuck Bay. Don't swim there (this includes Town Beach) or eat fish and seafood caught there until further notice.

On February 1 Cable Beach was closed for swimming because of a suspected algae bloom, caused probably by the run off carrying nutrients, e.g from garden fertilizers.

Here are a two photos from the region on the western end of the Gibb River Road, courtesy of Derby resident Toby Barton. He took them out of a helicopter.

Below is the Lennard River crossing, near the Windjana Gorge turn off from the Gibb. (I write about it on page 182 in Destination Kimberley.) Usually the road goes over the river, not the other way round...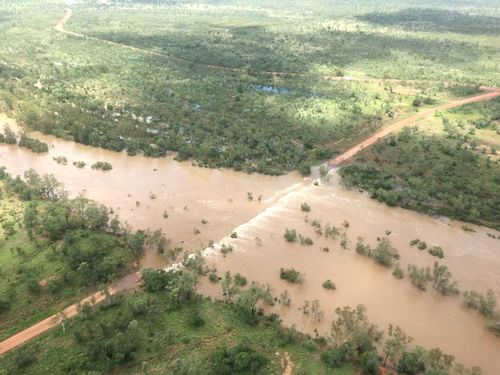 And this is not a gulf or a river mounth, it's a cattle station. Kimberley Downs to be precise. (You can see a road going into the water from the right.)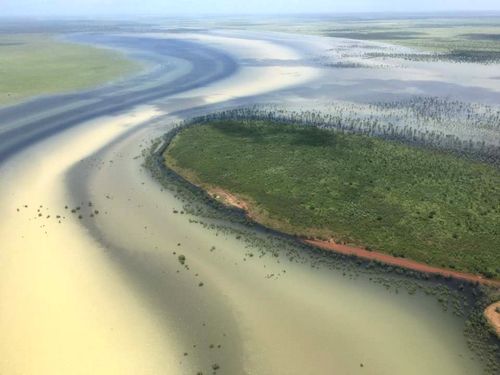 Thanks, Toby!

On the Dampier Peninsula a sealed section of the Cape Leveque Road was damaged. There is now a big chunk of bitumen missing with the hole reaching almost half way across the road.

The Great Northern Highway also ended up flooded in many parts, leading to closure all the way from Sandfire Roadhouse to Halls Creek. (Sandfire is well south of Broome!)

Here is a seriously impressive Facebook video from someone driving on the highway south of Broome while it was still open. Formerly known as Roebuck Plains, this is now an estuary ;). Like most viewers I initially thought the video was filmed from a boat.
(For those not on Facebook I found this on YouTube.)

Just like the Cape Leveque Road, the highway also sustained serious damage: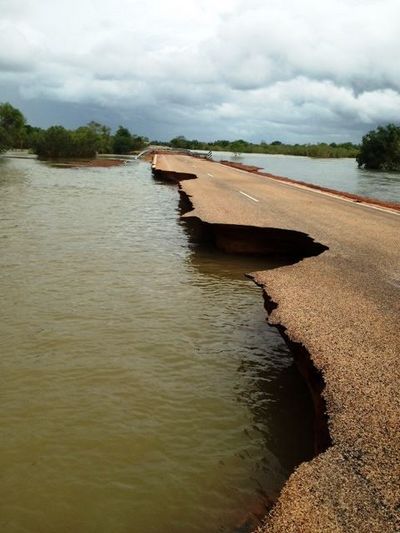 (I brazenly stole this image from the Main Roads FB feed, like everyone else did. For more images from Main Roads see their post here.)

That by the way is one of the many reasons you should NEVER drive on a closed road. You can not see hazards and obstacles when they are under water and the road may not be what you remember it to be. You will only notice a wash out like that when your car disappears into the hole.

You don't want to end up like this. (Toyota Hilux 4x2 caught in flood waters on the Great Northern Highway.)

Here is some impressive video footage of such damage as it's being done: the Logue River flooding between Broome and Derby.

Not surprisingly, the Great Northern Highway may remain closed until early next week.

Residents of the region have questioned why this low was not classified a cyclone. If you wonder, too, this article clears it up. (It also has pictures of the flood damage and additional impressive numbers.)

Interestingly, on most of the Gibb River Road it hasn't yet been wetter than last year, according to residents. And some cattle stations in the East Kimberley as well as those south of Fitzroy Crossing are still waiting to receive any substantial amounts of rain out of this wet season.

The north eastern parts of the Kimberley, however, had their own deluges: Kalumburu recorded 250mm in 24 hours bringing the total for January to well over 900mm, maybe over 1000mmm (if I counted right), and Kununurra also had the wettest January on record.

Supermarket shelves across the whole Kimberley are starting to look sad as trucks still can't get through. (Might sound desperate but is actually pretty standard and can happen more than once during a normal wet.)
Oh yes, and Derby's "Leaning Boab" is now a "Reclining Boab". ;)

The NT also had to deal with 12 days of heavy rain, damaging winds, and flooding. Darwin recorded the wettest January in 23 years, roads were cut in the region and schools remained closed. The Daly River community got inundated with 500mm over several days leading to the evacuation of several hundred residents.

I could go on and on with details from all different parts of the north west, but I think you get the idea. Wettest January ever!


So, does this affect your planned early season trip?

Nope. Not yet. Most locals will tell you that this is nothing out of the ordinary, especially along the Gibb River Road.

For some areas it's been a lot of rain at once but rain in January is not what determines when the roads to the national parks, waterfalls and gorges will open. The rain in March and April will do that.

Mind you, for now, according to the forecast models, February looks like it could bring more of the same...

As always, I'll keep you in the loop!



---
More Details for 2018 Bookings
---

Bill from Bluey Travel let me know that he has seen an early start to bookings for this season. I guess I am not the only one warning people not to leave it too late.

May and June are filling up quickly but if you have flexibility they can (hopefully) still make it work. But you should get in sooner rather than later!
(This only affects car hire/accommodation. Campervans are still fine.)

Lots of vehicles (large 4WD's) have been booked from Darwin to Broome, so if you are planning that trip, there is more availability from Broome back to Darwin. Consider that when making plans.


(If you are new to this newsletter and missed my warnings in the last two issues, see page 49 of the Kimberley Pocket Guide. It has our general recommendations.
Find out more about Bill's service here. I can't recommend it enough for fly-in visitors.)



---
Liquor Restrictions Info for the Kimberley
---

Last newsletter mentioned the tightened liquor restrictions in the East Kimberley.

I have now added a chapter with information and links regarding liquor restrictions to Destination Kimberley and while doing so found this helpful map.

It gives you information and details for many different places and regions across the Kimberley, including various (but not all!) Aboriginal communities.

Find the location you want in the list on the left and click on the link. It will then show the location on the map. Click on the location name on the map to open a page with detailed information.

In the last issue I had also suggested that you stock up at home if you like wine, and that wine casks are easier to manage in a Gibb River Road bound car than a dozen bottles.

Well, I am not much of a wine drinker myself and have to admit, I never tested that theory. As it turns out, one of my readers did...


Regarding travelling with wine casks can I offer some advice. The cardboard on the base of the casks is not very strong. From hard won experience on corrugated roads casks need to be carefully packed with padding or they will rupture and leak which is very messy. Stepping out of bed onto a wine saturated mat in the middle of the night is not much fun. The casks were stored in a box under the bed. We now travel with wine in bottles with card board separator.
Regards, Sue.


It seems you can't win...
Thanks, Sue!

I suggest, whatever you take, pack it well. :)



---
RFDS Closes Derby Base
---

The Royal Flying Doctors Service had announced in October that it will close its Derby base.

The Royal Flying Doctor Service made its final flight from its Derby base on January 28, and the hangar will shut by the end of the week, bringing 60 years of history to a close.

This does not mean that you won't get help if you need it. The RFDS will still service Derby. It just means that the plane that comes to get you will leave from the new Broome facility that opened in 2016.

But it does mean that Derby will be losing many residents, as the staff have been redeployed to Broome and Perth. Derby is not a big place and the 13 families will certainly be missed.

It's a sad end to an era.



---

And that's it for today.

I didn't want to end on a sad note, so I'll leave you with two more videos that should cheer you up again...

HWY 1 a summer attraction

How to get someone out of a bad bog.
(A classic episode from ABC's "Black As", not to be taken too seriously. ;) )

... and shall talk to you again when there is something interesting to report.

Until then, enjoy the summer and happy trip planning!
Birgit


Destination Kimberley, Destination Top End and Destination Red Centre have all the information you need to put together your dream trip.

To sign up for this newsletter and receive the free Kimberley Pocket Guide go here.


Feedback? Found some out of date info in one of my guides? Let me know via https://www.kimberleyaustralia.com/contact.html


---

(c) 2005-2018, Birgit Bradtke. All rights reserved.