The long awaited third volume in the cult series of Destination guides...
Destination Red Centre
An Insider Guide to Australia's Red Outback Heart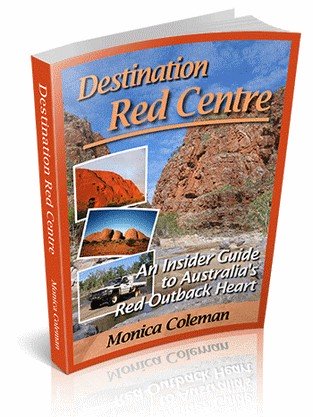 See the real Australian Outback!
If you thought the Red Centre consisted of only Alice Springs, Ayers Rock and flat desert, think again.
Destination Red Centre takes you off-the-beaten-track to some special places not many people get to experience.
Yes, even if you have limited time and limited 4WD experience!

Of course Destination Red Centre includes famous attractions like Uluru, Kata Tjuta, Kings Canyon, the West MacDonnell Ranges etc. But it also includes those special gems that you would not easily find on your own, such as Roma Gorge, Birthday Waterhole, Eringa Waterhole, Redbank Gorge and many, many more!
Let Destination Red Centre take you to secluded waterholes where kangaroos, native birds and other wildlife come to drink. Let it show you where to light a fire and camp for free under a million stars.
It also helps you choose which of the many walks to do in the national parks and shows you how to get the most out of visiting Aboriginal communities and where to buy the best (and original!) Aboriginal art.
In other words, Monica Coleman's new e-guide Destination Red Centre offers you everything that readers have come to know and love about the popular Destination guide series.


The very first guide in this series, Destination Kimberley, has become known as "The Bible" amongst its readers...

Destination Red Centre will be your Bible
for the Outback Region around Alice Springs and Uluru

After reading Destination Red Centre you will likely know more about the region than someone who has lived here for years.
Above all we take pride in our e-guides being so comprehensive. A Destination Guide is not just a selection of the usual mainstream tourist places that everybody visits. Many of the places described here are secret little spots that only the locals know. If there is a track worth driving, a waterhole or bush campsite worth stopping at, then it's covered.
No matter if you have two weeks or two months, no matter if you have a 2WD sedan and no off-road experience, or if you've been a member of your 4WD club for decades, Destination Red Centre shows you how to get the very most out of your trip.
Monica's guide is really great for itinerary planning.
Not only has she already put together seven possible loops you could drive (and mix and match as desired). She also spells out exactly...

how to best combine them depending on which direction you are travelling through the Red Centre,
which parts are most suitable for you depending on your level of driving experience and confidence,
how much time you'll need for the individual loops.
Everybody knows about Uluru, Kata Tjuta and Kings Canyon. But how many people visit the Red Centre, and that's all they see?
And how many tourists shy away from leaving the sealed roads?
Monica not only tells you what there is to see and do, she also tells you how to do it all safely and without mishaps!
Whether it's...
links to check weather and road conditions,
advice on communications equipment to carry,
detailed descriptions of all tracks and river crossings,
distances between fuel stops,
longest distance without fuel on any given route...
Anything you need to have a safe and enjoyable trip, you find it in here.
Anybody going on the road with a Destination guide is very well prepared indeed!
 "We are currently travelling in the Centre and finding your book, Destination Red Centre, to be exceptionally helpful.  It was useful as a planning tool, but has been really good as a travelling companion.  It's like having you with us in the van helping us find good places, or nominating the distances from place to place or advising when to air up or down, etc.
We have just done a modified version of Route 6.  We went down from Alice to see the Painted Desert and then over to Dalhousie, Mt Dare, Old Andado, Santa Theresa and back to Alice.  Good to know what we should look for in Santa Theresa, so we persevered until we found the art centre you mentioned and then really enjoyed their art.
We will pick up Chambers Pillar on a separate trip soon, and are planning camping and more walking in the East and West MacDonnells.  So you will be with us for a while now. Just wanted to say thanks for doing such a useful guide and to let you know that we are getting a lot out of it."
Pat & Dick from Australia, 20 June 2018
Destination Red Centre gives you the knowledge and the confidence you need to venture off-the-beaten-track, even if it's your first time. And if you are a seasoned Outback traveller, then you will find plenty of suggestions for adventurous drives to some really remote places.

From her 20 years of experience guiding trips in the Red Centre, Monica knows this region like the back of her hand. The comprehensiveness and detail in her information is astounding, even to readers who are used to the level of detail that I provide in my guides.
And Now You Can Take Advantage of Monica's Experience


Destination Red Centre costs A$32.70, the same price as other Destination guides.

Here's what you get for your money:

256

freshly updated

pages

, packed with current insider information and local secrets.
Comprehensive accommodation, restaurant and tour listings with handy weblinks.
Free campsites across all of the Red Centre, and I am not talking about the usual 24hr rest stops along the highway. I am talking about the little water holes, creekside camps, lookouts and other gems that only the locals know about! Monica has done an outstanding job with covering all those.

All, and I mean ALL the attractions, drives and walks of the Red Centre covered, organised in seven handy driving loops to mix and match, with the most detailed route descriptions available anywhere.
In depth info about the quality of the different roads and tracks, availability of fuel and other supplies, plus time requirements, which makes itinerary planning a breeze.
Lots of info on history, geology, flora and fauna so you will truly understand the world around you as you travel through this amazing region and so you can identify many of the unique plants and animals you will come across.

LOTS of background info on Aboriginal history and culture! Monica not only shares her extensive knowledge (both from studying Uluru Kata Tjuta Knowledge for Tour Guides at Charles Darwin University and from her many years of experience travelling through Aboriginal land), she also openly and candidly talks about the situation that you find today. No other guide book goes there. Monica also tells you which Aboriginal communities are the most accessible and welcoming for inexperienced travellers.

Background information, driving tips, safety tips, tips for communication equipment, any contact details you may need, help with permits...
Free updates! If you buy Destination Red Centre now but end up travelling next year or later, just contact me a few weeks before you actually travel for a fresh download and you will go on the road with the most current information possible. (Instructions are in the guide book.)

AND...
A 100% unconditional 12-months money-back guarantee!
Yes, that's a 12-months unconditional guarantee.
I can give you such a strong guarantee because, like all Destination guides, Destination Red Centre is an e-book. (What's an e-book?)
As always, you are covered by my 100% unconditional 12-months money-back guarantee. Yes, that's a 12-months unconditional guarantee.
Don't like the guide? Just send me an email and you get a refund, usually within 24 hours, no questions asked, no explanations needed.

What happens once you click the Buy Now button
First you will be taken to a shopping cart page where you need to enter your country of residence and postal code.
Even though identified as shipping information, I DO NOT SHIP ANYTHING. THIS IS AN ELECTRONIC PRODUCT!
I need the location information for GST/VAT tax purposes.

Then you will be taken to a PayPal page where you can pay via credit card or via PayPal. Upon completion of payment you are directed to a secure download page where you can download Destination Red Centre. If this does not happen automatically, just click the button that says "Complete your purchase" or "Return to merchant". Don't worry if you forget to or if you can't figure it out. You will also receive an email with the download link.
If anything goes wrong, if you have any trouble, just contact me and I will help you with it.
PS.: I am confident that this e-book will be a huge help to you, but should you really disagree, then I will refund you straight way. That's right. Your satisfaction is guaranteed. If at any time within a year from buying this e-book you decide that you made a mistake, that the guide is not what you expected, then you just email me and I return your money instantly, no questions asked.