Download This FREE Kimberley Travel Guide
First hand, practical information about the Kimberley region is hard to find. So naturally, ever since I started this website, I have been receiving many questions.
In the end I sat down and put together this free resource, to help people who are thinking about a trip into this region.
If you have questions like...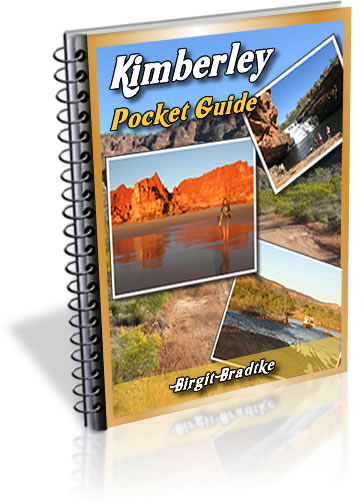 Can you organise and do this trip yourself? Or should you book some tours?

What needs to be booked ahead, and how early?

How do you get here and how do you best get around?

What is there to see and do, and how do you fit it all in?

How much time do you need for the different places?
How much money?
Is the time you chose a good one? How hot will it be? Will the waterfalls be flowing?
Do you have to have a 4WD?
Are your driving skills up to it? Will your trailer survive our roads? Your caravan? Will our crocodiles eat you? Or the mosquitoes? ...
...then download your free Kimberley Pocket Guide now.
"Thank you so much for your help. We found the pocket guide very helpful and are finalising our schedule now. We look forward to the availability of your full guide. We have found many of the links in the guide invaluable. Best wishes, Gill and Bill"
--Bill B., England
"I would just like to say that this site and your pocket book have been absolutely fantastic. I had no idea where to start on planning this trip and you have made it all so easy. I will DEFINITELY be going to buy the full version of your book. Thank you so much for your time and commitment to this project."
--Wendy, Junortoun, Victoria
What Exactly Is The Kimberley Pocket Guide?
It's similar to a travel guide book. Well, it IS a travel guide book, but with focus on the information that you need BEFORE you leave home.
It has all the information that you need in the early stages of planning a big trip, all the answers to questions that my readers kept asking me and that you will be asking yourself sooner or later!
After reading this guide you should be able to decide:
when you will go,
for how long you will go,
how you will get around,
and most importantly, what you want to see and do while here.
How To Get The Kimberley Pocket Guide
Just fill in your details below and ALSO sign up to my popular, free newsletter.

It has 81.907 subscribers as of October 2020!
As a welcome all new subscribers receive the Kimberley Pocket Guide (plus the new Red Centre Pocket Guide).
The newsletter is published seasonally (more frequently during the first half of the year, every 2-4 weeks) and if you ask my subscribers, I do not write nearly often enough!
Newsletters contain updates and condition reports for roads, tracks and parks, let you know about changes to regulations and permits, and share trip reports and advice from other readers and more.
You can access the back issues of those newsletters here to see exactly what you will be signing up for. You can also see how often I write, and that there is no spammy or promotional content in my emails.

I think you'll agree: If you plan to visit the Kimberley in the near future you can not afford to miss this information.
(Many more people contact me and ask to be put on the newsletter list than people who ask for the free pocket guide!)

So sign up below and download the FREE Kimberley Pocket Guide straight away!

Don't worry, there is no catch with this offer. The main reason I am offering the free booklet is that it saves me answering a lot of email questions!
The free guide has already helped many people, and I hope that you will find it useful, too!
And if you don't want to receive the newsletters any more, just click the "unsubscribe" link that is included with every email. Easy.


To learn about how your data is collected and stored and how you can edit or remove it, see my Privacy Policy.


What happens once you click "Subscribe":
You will receive an email that asks you to confirm your "subscription". (It's an automated email. Unfortunately I can't change the wording.)
Once you click the confirmation link in that email you will be taken to a "Thank You" page. That page tells you where to download the guide.
To be safe I will also email the download link to you, once you have confirmed your "subscription".

As mentioned above, you are signing up for a free newsletter. If I make any changes to the information on the website or in my guide books, then I will let you know. I will also let you know if anything important in the Kimberley changes that travellers need to know about.
(Like for example the unexpected closure of the Imintji Roadhouse, an important fuel stop on the Gibb, and its re-opening two years later, or the introduction of a new permit for the Mitchell Plateau.)
Things here change often and I don't want you to go on your trip with outdated information!


"I just read your latest update. Another informative piece, keep them coming! I look forward to reading them just to get the "jump/low down" on other tourists who have unfortunately not bothered or come across your guide."
--Damian Mills, Brisbane
There is no catch, all of this really is free, and I hope you will find it useful!


To learn about how your data is collected and stored and how you can edit or remove it, see my Privacy Policy.


Looking for more detailed information? Then you should check out the full guide: Destination Kimberley
Find the free guide and newsletter helpful? Help others find out about it!