The best travel tips and information
always come from locals "in the know"...
Thanks to Destination Top End, now
YOU can "KNOW", too!

Destination Top End, the Insider Guide to Australia's Tropical North, tells you...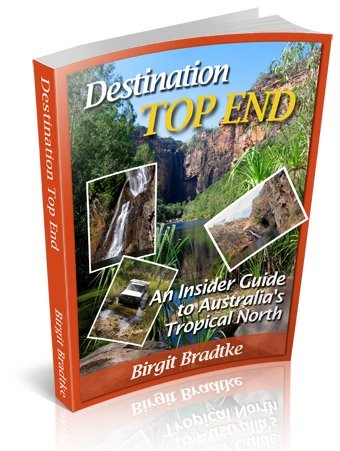 how to get the most out of a visit to such iconic places as Kakadu, Litchfield or Katherine Gorge... (Even during peak season you can get away from the mass tourism aspects and experience real, remote wilderness instead!)
where the best low cost or even free campsites are... (Camp in places full of birds and other wildlife, often near creeks or billabongs full of fish, places that you won't have to share with hundreds of other tourists!)
where to find the most rugged and spectacular gorges, the most impressive bushwalks, the most popular fishing destinations (popular with the locals, that is!) and all those other local insider tips that my readers appreciate so much!


Destination Top End was originally written for Kimberley visitors who travel from/to Darwin. It is the second volume in the popular "Destination" adventure guides e-book series. My readers loved my first guide, Destination Kimberley, so much, they talked me into following up with a guide for the Northern Territory.
NEW! Now expanded with additional FREE bonus chapters, covering the drive south from Katherine as far as Threeways, including Mataranka region, East Arnhem Land, Roper and Carpentaria highways.
And with that Destination Top End covers the Northern Territory from Darwin west to the border of Western Australia, south as far as Threeways Roadhouse, and east all the way into Arnhem Land and along the Savannah Way to the Queensland border.
"Birgit, You have done it again. Your latest guide Destination Top End is fantastic! Maps, little known places, directions, points of interest and common sense advice all written in plain language. It is a must for anyone travelling from Darwin to Kakadu and beyond. Judy and I have already packed it for our trip in July.
Thanks!"
--Geoff and Judy Farrugia, Kaleen, ACT
"We purchased both of your ebooks and are studying them carefully. My husband is busy making an itinerary... he likes that structure! THANKS for having so many great resources for your area. Our trip has shifted from something that would be just enjoyable to a great adventure."
--Dr. Sonja Mathes, St. Kilda, VIC
"Love your site (so much I just bought the Destination Top End e-book). You completely changed my plans for this area (visiting in late July/early August) - we are now renting a 4WD, doing independent camping, and have extended the time in the area. We are looking forward to seeing some places we would otherwise have missed."
--Richard Ambrose, Agoura Hills, California, US

Destination Guide readers agree: no other guide books on the market offer anywhere near the same detail and accuracy.
And Destination Top End offers you exactly the same comprehensive, quality insider information.
(Read below why you can be confident that with Destination Top End you get everything that my customers love about Destination Kimberley.)
Satisfaction 100% Guaranteed Or Your Money Back
---
Destination Top End is my second e-guide book.
My first e-guide, Destination Kimberley, now often dubbed "the bible" for the Kimberley, was released two years earlier and became an instant hit with my readers. Its success exceeded my wildest hopes and expectations. The feedback I get from my customers is amazing. (And never fails to make my day.)
But one thing has always bothered me. Most people who visit the Kimberley also travel between Darwin and Western Australia. Not only did people constantly ask me for help with that region as well, but I also kept getting comments like this one:
"We found Kakadu a bit over rated. Jim Jim falls we skipped as we were told it was almost dry. [...] We found Litchfield too civilized, too touristic.
The trouble also was for us that after all the exceptional things we saw out west and on the Gibb River Road nothing could compete."
--Excerpts from a reader submission and follow up comment.

The Northern Territory is different from the Kimberley. Places like Kakadu, Litchfield and Katherine Gorge have been made so accessible, it's easy to breeze through and miss the best bits.
The other problem is that those places get so much marketing exposure, people don't realise there are many other places worth seeing.
In the Kimberley you can follow the beaten path, and even if you never leave it, you still find many exceptional places and awe inspiring remote wilderness.
In the Northern Territory you definitely have to get off the beaten path.
And luckily there are many places where that is surprisingly easy, without any huge detours, and often you don't even need a 4WD. (All that tourism development has some positive side effects.)
It only takes some time and/or the right insider knowledge.
I can't turn the NT into a remote wilderness like the Kimberley, but I can certainly make sure that you see the very best of it!
"Just have to let you know that we are just home after doing Kakadu and the Kimberley in just over two weeks and your two books went with us EVERYWHERE - from the Old Jim Jim Road to Broome, we carried the relevant parts under our arms even when we went walking! We have to tell you they were absolutely marvellous! Up to date and accurate, they added so much to our trip and enabled us to see very specific things we wanted to and not waste any time as we had so little of it. We have been singing your praises to others who want to do the trip!
--Sally & Lindsay Strathdee, Christchurch, New Zealand
Why both my Destination e-guides are so different from other guide books:
The reason is simple: no other guide book author actually lives here, right in the middle of things. No other author can spend so much time, every year, camping and hiking in the region they write about.
I live in Kununurra, and that means I live on the border between the Kimberley and the Northern Territory. The Kimberley is to the west of me, and the Top End to the east. This is my stomping ground and my backyard and it has been for over 18 years. Much of what I share with you, only a local can tell you about.
"I've got a copy (my edition is 194 pages) and am happily working my way through it. Although I've been going to the Kimberley for the past 30 years, I've still found new information. Highly recommended."
--Russell Willis of Willis's Walkabouts in his email newsletter on August 24, 2009
...We have just spent 6 weeks up in the Kimberleys and thanks to your great book stayed at some wonderful places. This was the sort of camping we were looking for...
...It was like having guide on the trip...
(For the full comments and for many more testimonials, see this page.)

With Destination Top End you get the same insider view and secret tips that my readers love and appreciate about Destination Kimberley. It offers the most comprehensive and detailed information about the region that you will find in any guide.
(If you doubt it, just read through the feedback that I have received from readers. I think that's the best way to understand why my guides are so popular.)
Don't leave home without them!
"We extensively used your guides during our two week Darwin to Broome tour and also during our visits to the Red Centre. Your advice never failed us. I constantly referred to Birgit's suggestions when advising my partner as to our next destination - he was the driver, I was the navigator. I can't say enough good things about your very reasonably priced guidebooks."
--Sally Boone, Terra alta, West Virginia, US
"Your notes on the journey were absolutely brilliant - I printed up the "nitty-gritty" section for easy reference while we were driving and I still treasure the dog-eared red-dust stained sheets. As we are keen walkers, your detailed information re walks into the gorges was particularly appreciated.
Thanks again for your brilliant ebook which took all the stress out of planning a wonderful holiday. It would be crazy to go there without your incredibly valuable information.
Cheers, Ann"
--Ann Williams, Rosslyn Park, South Australia
"I purchased your Kimberley guide earlier this year. I must say I did think twice about getting it as I have travelled the region in my Troopie four times previously. I was wrong, I found your guide fantastic and so much help to find the beautiful spots you mention. The guide (printed out a copy) sat between the two seats and was used continually."
--Chris Rutter, Sydney, NSW
(For the full comments and for many more testimonials, see this page.)

Ready To Order?

Destination Top End has  201 information packed A4 pages. It has less introductory information but over 30 more pages of travel information than Destination Kimberley. Destination Top End also contains many maps.
Like Destination Kimberley, this is an e-book. (What's an e-book?)
And like all Destination guides, Destination Top End costs only $32.70

Destination Top End is available as an immediately downloadable PDF file only and is covered by a 100% unconditional 12-month money-back guarantee. Feel free to download it to have a look, and if you don't like it, just let me know.
If the Destination Top End e-book is not for you just say so and you'll receive a quick and courteous refund! No questions asked.
What Happens Once You Click The Buy Button:
First you will be taken to a shopping cart page where you need to enter your country of residence and postal code.
Even though identified as shipping information, I DO NOT SHIP ANYTHING. THIS IS AN ELECTRONIC PRODUCT!
I need the location information for GST/VAT tax purposes.
You can pay via PayPal or credit card. (Credit cards are also processed through PayPal.) Upon completion of payment you are directed to a secure download page where you can download your guides. If this does not happen automatically, just click the orange button that says "Complete your purchase". Don't worry if you forget to. You will also receive an email with the download link.
If anything goes wrong, if you have any trouble, just contact me and I will help you with it.
PS.: I am confident that this e-book will be a huge help to you, but should you really disagree, then I will refund you straight way. That's right. Your satisfaction is guaranteed. If at any time within a year from buying this e-book you decide that you made a mistake, that the guide is not what you expected, then you just email me and I return your money instantly, no questions asked.