Kimberley / Gibb River Road
Video Documentary

Nine videos, documenting a 4WD trip across the Kimberley in Western Australia, including the Dampier Peninsula
and the Gibb River Road.
This is an outstanding free series of nine videos, documenting a 4WD trip across the Kimberley in Western Australia, including the Dampier Peninsula and the Gibb River Road.
Cinematographer Gavin Gillet of Summit Expeditions filmed the series during July 2017 (peak season).
He combines dash cam and drone footage with great commentary and helpful tips regarding 4WDriving in the region.
The video quality is exceptional, the material is edited and cut expertly, yet the series has none of the commercial brochure feel that you get from the usual promotional videos from the region.
Rather it gives you a very authentic look at what you can expect during a visit to our part of the world.

Gavin's trip starts at Broome's northern beaches, takes him up the Dampier Peninsula and then along the Gibb River Road. After a quick detour from Kununurra to Lake Argyle he returns via the highway and Purnululu to finish the series at Wolfe Creek crater.
If you are familiar with my guide book Destination Kimberley, you won't need any of the 4WDriving education that he throws in. (Tyre pressures matter!)
You will also already know about all the special places Gavin discovers. For example Bully's camp, or the rock art in the cave beneath Little Mertens, which he nearly missed.

And you will notice that he had to skip many places. Especially on the Gibb he only highlights some of the most well known and overrun destinations.
But he talks about coming back and I sure hope that he will.
The Kimberley Series
Below are all nine of Gavin's Kimberley Videos. They are around 25 minutes each.

I have included notes about what each video contains and added a few time stamps, so if you only have little time right now, you can check out whatever interests you the most.
I do recommend you come back a few times to eventually watch the whole series. When I first discovered it, I treatet myself to one or two episodes every evening.

For those who own Destination Kimberley I also added page numbers for the not so well known places, in case you want to find out more about them.


Video 1: Manari Road, Broome's Northern Beaches
The first video starts with drone footage of Port Smith, where Gavin stopped for some filming on his drive up from Wickham. (Port Smith is on the west coast south of Broome, so I do not cover it anywhere.)
If you want to skip that, start at minute 3:55, at Willie Creek, the first of Broome's "northern beaches". From there continue north along the Manari Road and the other beaches: Barred Creek, Quandong and Price Point.
(See p.96 in Destination Kimberley for more information on the area.)

Watch what it's like to drive on the Manari Road, the little tracks going off it and on those beaches.
The plan to take a little short cut through Flow Dam (drone footage from 10:15) back to the main road doesn't work out. But if you 'd like to see what it's like to drive on a track that hasn't been used in ages, and want to learn a bit about the considerations when doing so, check 12:55 - 19:00.
Gavin ends up camping at Quandong, which is exactly what I would do if spending a night in the area.


Video 2: Dampier Peninsula, Cape Leveque, Windjana Gorge

After a beautiful morning at Quandong, Gavin makes his way up to Cape Leveque, briefly calling in at Beagle Bay, Middle Lagoon and One Arm Point. (p.97ff)

But there is no video footage, except for driving on the main Cape Leveque Road, so you do get to see what that road is like.
Gavin shows us the whole drive only on the map. Why? He found it much too touristy for his liking:
"Cape Leveque: Beautiful spot. Soo many people."
I agree. I've never been there later than May and it is busy and touristy enough then. (You'll find my warning on p.103 in Destination Kimberley.)
In his quest to find a beautiful, quiet campsite off the beaten track, he eventually ends up at...
Well Bully's Camp (p.102), of course,  on the east coast of the peninsula. Excellent choice!
There are options on the west coast, too. For example Gnylmarung (p. 98) or Whalesong (p.99).  But Bully's is definitely the most remote campsite and the quietest of all.
The drive into the campsite starts at 2:10 and involves removing a tree that has fallen across the track (3:20 - 7:30). After that follows more footage of the track and some tips for driving it. Gavin arrives at the camp at 13:30 and gives you a good look around with the drone. Beautiful.
The next day he continues his drive back down the peninsula and then hits the Gibb River Road (17:22) and makes his way to Windjana Gorge (18:38).
The video ends with detailed footage of a very early morning walk along the  gorge, which continues in the next video.
 
By the way, that walk highlights another way to get away from people during the peak season. Just get up VERY early!


Video 3: Windjana Gorge and Tunnel Creek

We are still at Windjana Gorge and Gavin finally sees his first crocodile (3:03) and then many more.
From 7:00 to 8:35 you get a good look at the road between Windjana Gorge and Tunnel Creek. If you are surprised by the water on the road, keep in mind that this was after the big wet season 2017, when everything at the western end of the Gibb River Road opened really late.
Gavin then takes you on a walk through the tunnel and through history: He recounts the life of Jandamarra, the Bunuba man who led one of the first armed resistance fights against European settlers. Jandamarra had used Tunnel Creek as a hiding place and was eventually shot dead there in 1897.
The episode ends with some bits and pieces: criticism regarding the overflowing rubbish collection point (19:20), a broken spot light (20:55), Inglis Gap (22:04), and of course more footage of the driving on the Gibb and on the track into Bell Gorge.


Video 4: Bell Gorge and Mitchell Falls

Episode 4 starts with an early morning at Bell Gorge. I wish there was more footage of the lower parts of the gorge, but you'll have to walk and swim down yourself to see it. Worth it, by the way!

A short stop at Over the Range Tyres & Repairs is only mentioned, not shown (3:37, p.194). I was very happy to see that plug for Neville and Leonie, great people!
At 3:57 Gavin hits the Kalumburu Road to head to the Mitchell Falls.

The second water crossing you see in the driving footage is the infamous King Edward River Crossing (p.210), and as you can see, at that time of the year it's easy peasy.
Once inside Mitchell River National Park you get a view of Mertens Gorge (formerly Big Mertens Falls, 7:52, p.214), of the two top tiers of the Mitchell Falls from above (11:47), as well as plenty of footage of the hiking trail that takes you there.
The next morning (16:13) Gavin walks once more to Little Mertens to have a look at the rock art beneath it (20:29, p.214), which he hadn't known about. I'm glad he didn't miss it, it's a very special place.

As at Bell Gorge, I was a little disappointed that he did not go, or at least not film, all the way to the bottom of the Mitchell Falls. Few people do so. Especially at Mitchell Falls few people are aware that you can walk past the lookout and all the way to the bottom. (Naturally, Destination Kimberley tells you all those things.)
But I still think that this episode does a beautiful job of showing you just how magical the whole national park is and how much there is to discover.


Video 5: King Edward Art Sites and Kalumburu

The first 8:30 minutes of episode 5 are dedicated to the outstanding rock art sites near the King Edward River campground. After watching this part, I don't think you need to be told that these are among the very best art sites in all of Australia. (See the box on p.211 in Destination Kimberley.)
Then it's off to Kalumburu (p.215ff). Gavin arrives at McGowans at 10:40, just in time for the sunset.
The next day (13:25) he visits the wreck of the B52 that crashed near the airport (alongside the old runway) on Dec 7, 1943 , when the nose gear collapsed upon landing. It's still there, exactly the way it landed, and is so well preserved, it looks as if it happened only a few years back.
"I mean, that piston looks like you could still use it."


Video 6: Kalumburu, Pentecost River Crossing, El Questro

A little drone and a lot of driving footage from around the Kalumburu area.
Gavin has to bury his dream of doing the Carson River Track, at least for now. Sad, but it means he'll definitely come back and do more filming, yay.
From 4:02 he collects some bush karma by towing a broken down troopy back to town before hitting the road again to make his way towards El Questro.
6:08 has him driving towards the Cockburn Range, glowing in the evening sun, while he talks about tyre pressures. Unbelievably he had come across a tourist in a hired Britz van who had been told by the hire company to not touch the tyres. They were at 50psi!!
(See p.47-53 in Destination Kimberley for info on tyre pressures and many other topics regarding driving up here.)
It gets too late to reach El Questro so Gavin pulls up at Home Valley Station for the night (8:05, you only get to see the gate).
He crosses the Pentecost River the next morning (9:08) and is in for a a surprise when he gets to the other end (11:20).

The rest of the episode (from 12:30) is great 4WDing footage and scenery from El Questro, taken on a drive to Branco's Lookout (p.203) and presented together with some background information about the station.


Video 7: El Questro and Tyre Changing 101

More 4WDing around El Questro, this time the downside of it: a punctured tyre (0:44)  gets plugged with a tyre repair kit (2:02) and eventually changed. A very educational chapter! Tyre changing 101 starts at 8:52.
14:55. Back on the road! The drive to El Questro Gorge (p.202/203) is not the easiest and includes what might be the deepest water crossing you'll come across on your trip. You get to see it twice, on the way in (15:48) and out (21:31).
The walk into the gorge (16:38) is also not the easiest (puts Gavin on his arse), especially if you continue past half way pool all the way to the end, which he doesn't.
The episode ends with Gavin driving to one of the private El Questro campsites on the river (22:00, p.204).


Video 8: Wyndham, Ivanhoe Crossing,
Old Halls Creek Road, Lake Argyle

Gavin leaves El Questro and in doing so reinforces the message you also heard from me: to really appreciate what it has to offer you need enough time, one night doesn't cut it.
He reaches the end of the Gibb River Road and heads to Wyndham (drone footage from Five Rivers Lookout, 1:15), spends a couple of days in Kununurra (without filming) and then heads back up in the direction of Wyndham along the Parry Creek Road (p.156).
Of course he stops at Ivanhoe Crossing for some filming (2:50, p.155).
Unfortunate for him the crossing is still closed. The water level only drops far enough to drive across when the Lake Argyle spillway stops flowing, and in 2017 that was not until September!
Gavin stops again for a quick look at the Mambi Island boat ramp (5:47, p.161) and some sunset drone footage of that section of the Ord River.
Once he reaches Parry Creek Resort he turns onto the very scenic Old Halls Creek Road to get back to the highway. You know from Destination Kimberley (p.169) that I love that little track. Not that you see much in the video, Gavin drives it at night.
The episode ends with beautiful drone footage from Lake Argyle, starting at 13:23.


Video 9: Purnululu National Park / The Bungle Bungles
Wolfe Creek Crater

The final episode opens with the drive along the Spring Creek Track into Purnululu National Park, including lots of footage, both aerial and on the ground, of the biggest creek crossing along that track (p.139).
Gavin then takes you on a walk through Echidna Chasm (2:23, p.144). As he says himself in the video, it is impossible to give you a sense of the scale of that chasm in a video (or in a photo), but I think he's done a great job with it, and he also managed to capture the atmosphere really well. Amazing place.
The walk past the Domes into Cathedral Gorge starts at 10:30, and this one really can not be captured.
From 12:15 you get more footage of the Spring Creek Track on the way back out. As you see, I am not lying when raving about how scenic it is. (Or warning you about how winding and hilly it is.)
After the Bungles, Gavin hits the Tanami Road (p.127). He stops at the eerie Wolf Creek Film set (14:51) before making his way to Wolfe Creek Crater National Park (p.125).
And that's it. Beautiful drone footage of the sun rising over Wolfe Creek Crater (20:12) concludes this episode and Gavin's Kimberley series.


If you still have not had enough of Gavin's work, there is more:
From Wolfe Creek, Gavin continued to Bililuna to start his solo Canning Stock Route adventure. The first of the eight videos in that series is here.
And if like me you'd like to see more of these fantastic videos, please consider supporting his work.  Here is Gavin's Patreon page.

I hope you enjoyed this series as much as I did and that it inspired you to visit the Kimberley (maybe again?) soon.
Everything you need to know to do so is in the guide books below!

Travelling to the Kimberley?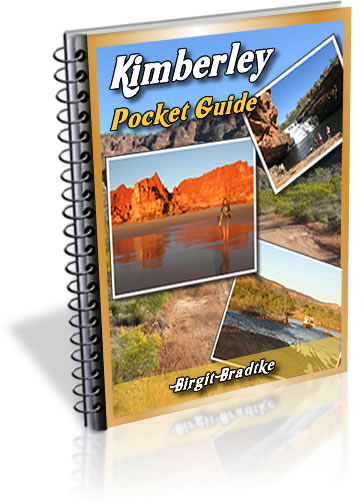 The FREE Kimberley Pocket Guide
A great introduction to travel in the Kimberley region and along the Gibb. This free resource will answer all the questions you might have in the early stages of planning a trip.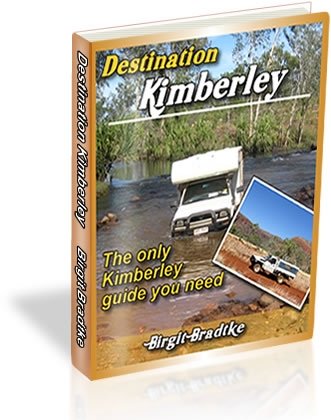 Destination Kimberley
The full Kimberley travel guide shows you how to make the most of your adventure at Australia's last frontier. Destination Kimberley includes the most detailed and most current guide to the Gibb River Road available anywhere. Also called "The Bible" by its readers.

Travelling to the Northern Territory?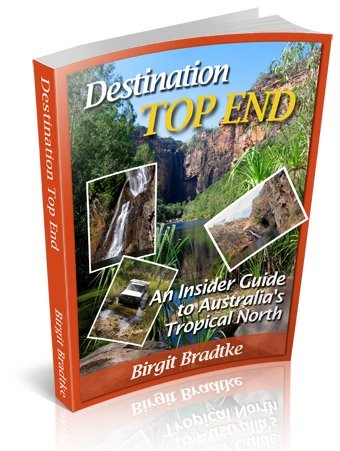 Destination Top End offers the same comprehensive, detailed insider information for the tropical regions of the Northern Territory. Be the best informed traveller in the Kakadu, Litchfield and Katherine Gorge national parks and beyond!

A must have if you travel to or from Darwin.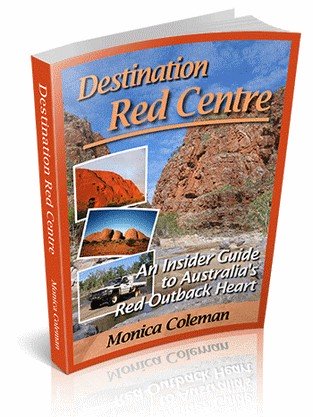 NEW! Destination Red Centre is the latest addition in this popular series. Monica Coleman takes you through Australia's red Outback heart, offering all the detail and insider tips that you have come to know and love about our guides. With special emphasis on Aboriginal communities and culture.

A must have if you travel to or from Alice Springs/Uluru.