The Western Australia Kimberley Region
A Travel Guide To Australia's Last True Wilderness
This Kimberley Travel Guide takes you through one of the remotest, wildest and most beautiful regions on earth.
For me the Kimberleys in Western Australia were love at first sight and a good enough reason to move here permanently.
That's right, this travel guide is written and maintained by a resident of the region, not by some tourism business.
That's why it covers a lot more than the usual tourist attractions.
My website and guide books give you an inside look at the Kimberly. It's like a trip with a local.
The website contains practical advice for people planning a trip, detailed descriptions of popular drives, of national parks and hikes. It tells you about all the gorges and waterfalls and beaches, including and especially the ones that you won't find mentioned elsewhere...
So come on a drive...
I will take you to waterfalls and beach hideaways, rock pools and fishing spots, all the secret places that we don't usually tell the tourists about!
You can read about the weather and the seasons, the flora and the wildlife, the culture and the geology...
...about must-haves, must-dos, and must-nots, all you need to know to enjoy this adventure of a lifetime.
The natural beauty of this region will take your breath away. It is hard to put into words, which is why you will also find many pictures on this site.
Treat yourself to this fantastic video documentary of a drive through the whole region and along the Gibb River Road!
Thinking about taking your dog? I've got you covered!


Now, this website has several hundred pages and in the beginning it can be a bit overwhelming. That's why I have also created a FREE Kimberley Travel Guidebook to get you started. It tells you everything you need to know to plan a trip across the Kimberley. You can get access to it by subscribing to my updates (for free of course) through the box below.
It's my thank you for your interest in my site and in the beautiful part of the world that I live in.

Learn more about the newsletter you will be subscribing to here. To learn about how your data is collected and stored and how you can edit or remove it, see my Privacy Policy.

And if you like this website and guide, please do help others to find out about it. If you have a blog or website or know someone who does, please consider linking to me. Add a link to your blogroll, bookmark me on your favourite social bookmarking  site, post to your Facebook Wall, share it in your groups, tweet it, pin it... you get the idea. Every link helps!



The advice and the stories you find on this site are for real. It's a Travel Guide written and maintained by someone who lives here. I arrived in the Kimberley in 1994 as an overseas traveller myself, fell hopelessly in love with the region, and stayed...
...and I would love to show you why!
Welcome to "my backyard" and enjoy your stay!
I hope you will love it here as much as I do.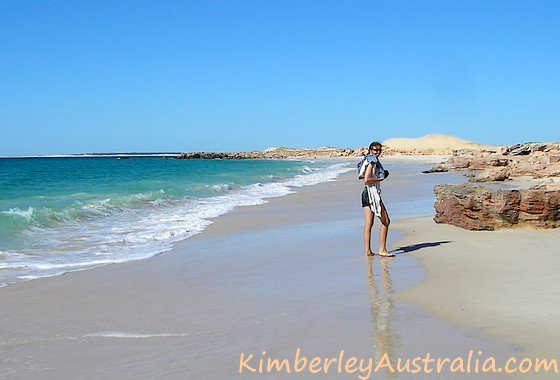 Your Kimberley Australia Travel Guide
Travelling to the Kimberley?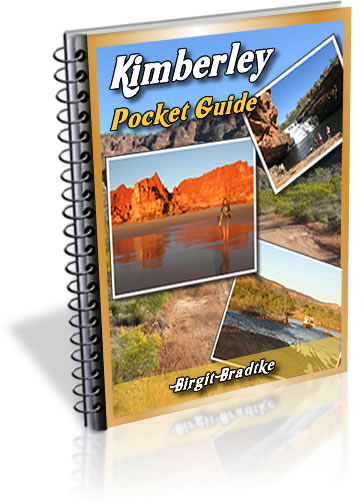 The FREE Kimberley Pocket Guide
A great introduction to travel in the Kimberley region and along the Gibb. This free resource will answer all the questions you might have in the early stages of planning a trip.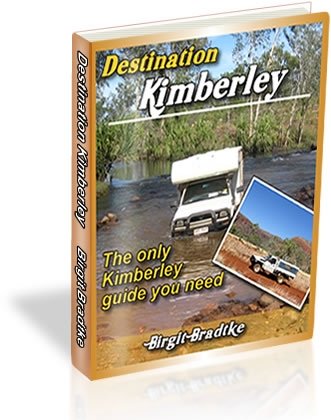 Destination Kimberley
The full Kimberley travel guide shows you how to make the most of your adventure at Australia's last frontier. Destination Kimberley includes the most detailed and most current guide to the Gibb River Road available anywhere. Also called "The Bible" by its readers.

Travelling to the Northern Territory?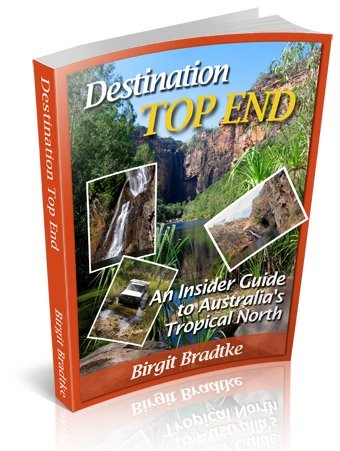 Destination Top End offers the same comprehensive, detailed insider information for the tropical regions of the Northern Territory. Be the best informed traveller in the Kakadu, Litchfield and Katherine Gorge national parks and beyond!

A must have if you travel to or from Darwin.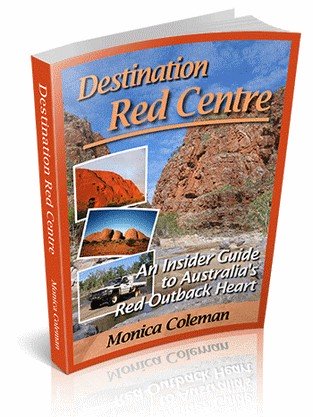 NEW! Destination Red Centre is the latest addition in this popular series. Monica Coleman takes you through Australia's red Outback heart, offering all the detail and insider tips that you have come to know and love about our guides. With special emphasis on Aboriginal communities and culture.

A must have if you travel to or from Alice Springs/Uluru.

Are you travelling from or to Darwin? Then you should also have a look at my other Australian travel site, a guide to the rest of the Australian Outback, to find out more about places like Kakadu, Litchfield, Katherine Gorge and more.
(No, Ayers Rock is not on the way to Darwin.)
---
My other travel guide: Mount Kilimanjaro Guide
My other sites: Discover Neem Oil and Tropical Permaculture