Cable Beach Broome Pictures

Kimberley Photo Gallery
Cable Beach in Broome is the most famous of the Broome beaches.
You might know that this Kimberley beach is rated as one of the world's top five beaches. It sure is a major attraction of Broome and is being marketed heavily.
The first time I saw Cable Beach was in 1994. I remember an endless stretch of white sand, fringed by the turquoise Indian Ocean, stunning mostly because we had it entirely to ourselves.
Broome has changed a lot since, "thanks" to the tourism industry. The Cable Beach pictures below show you what I found at Cable Beach in Broome in 2006...
---
Cable Beach Broome Pictures 1
1994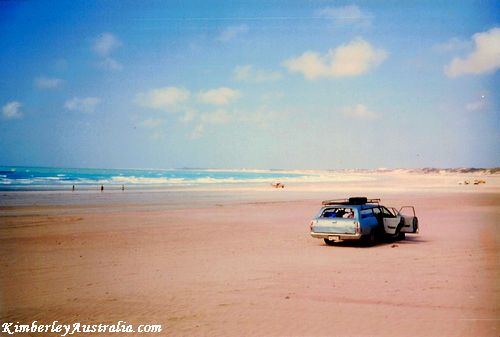 This scan of an old Cable Beach picture shows what I remembered: 22 km of pristine sands. The edge is firm enough to drive on. I think that last fact is what I liked best about it. And you don't need a four wheel drive. Look at our old station wagon...
We used to go out at night and once we left the pub we drove down to the beach. We sat in our camping chairs, feet in the water and a cold can or a glass of wine in our hand, listening to the waves and watching the tide come in.
Well, and shifting chairs, esky and car every now and then, usually in the very last moment. Cable Beach is a mesmerizing place at night time... But then again, isn't every beach?
---
Cable Beach Broome Pictures 2
Cable Beach Today
Here is what I found in 2006.
This is what you see when you drive or take the bus to the end of Cable Beach Road. It's where the parking area, the information bay and just about everything else (resorts, pubs, restaurants) is located.
Considering how busy Broome gets and considering that everybody comes here for this one beach, there aren't that many people here. Still, far too many for me.
But as I already said above, Cable Beach in Broome is one of the best beaches to drive on, so if you have your own car...
---
Cable Beach Broome Pictures 3
Beach Access For Cars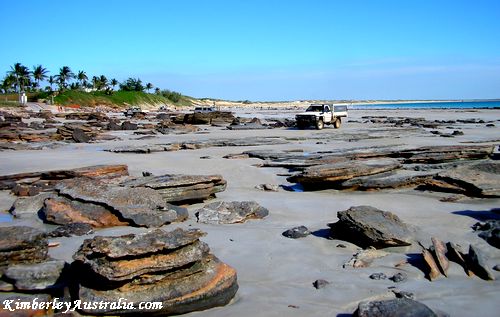 ...all you have to do is pick your way across this rocky section and you'll find...
---
Cable Beach Broome Pictures 4
Cars On Cable Beach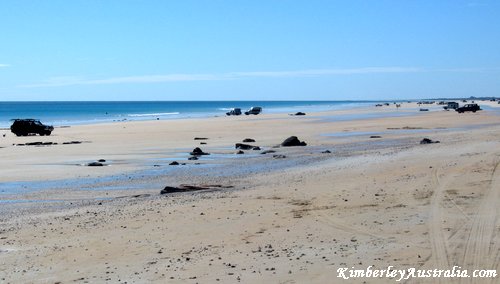 ...more cars! But not to worry. Cable Beach is 22 km long, so you just keep driving until you are alone.
---
Cable Beach Broome Pictures 5
Driving Along Cable Beach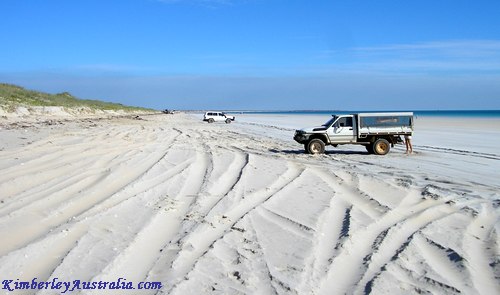 Here we are. We made it past the last other car on the beach. Still too close? Well, you can keep driving as far as you like. You can tell by the tracks that others have done so yesterday.
I looked at my odometer on the way back. It took less than 5 km to pass the last car, so you still have 17 km more to play with!
But how much space do you need? Look at the next two photos:
---
Cable Beach Broome Pictures 6 and 7
Still One Of The World's Best Beaches!
This is our neighbours' section of beach (and their little beach shelter)...
...and this is ours: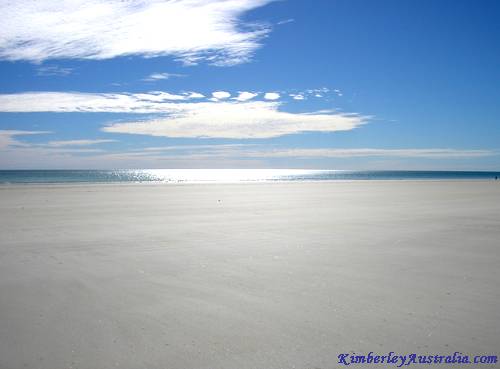 That'll do me!
I'm pleased to announce that Cable Beach in Broome hasn't really changed. All that has changed is that you have to drive a little bit further to be alone.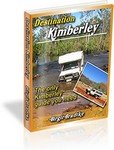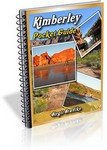 Travelling to the Kimberley?

The free Kimberley Pocket Guide
is a great introduction to travel in the region.
The full Kimberley Travel Guide


shows you how to make the most of your adventure at Australia's last frontier.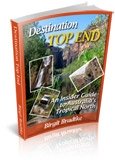 Travelling to the Northern Territory?
Destination Top End offers the same comprehensive, detailed insider information for the tropical regions of the Northern Territory.

A must have if you travel to or from Darwin.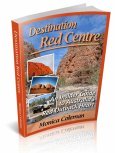 NEW! Destination Red Centre is the latest addition in this popular series. Monica Coleman takes you through Australia's red Outback heart, offering all the detail and insider tips that you have come to know and love about our guides. With special emphasis on Aboriginal communities and culture.

A must have if you travel to or from Alice Springs/Uluru.
Next page: More (and better!) Western Australia beaches
---
Go to Kimberley Photo Gallery index
Return from Cable Beach Broome to Kimberley Australia Travel Guide home page