Kimberley and Gibb River Road
Required Permits and Passes
Which permits and passes do you need for a visit to the Kimberley or a trip along the Gibb River Road? Which parks and properties charge an entry fee?
This page tells you what is required, where to get what you need, and what it costs.
The prices quoted below are current for the 2021 season unless mentioned otherwise.
Kimberley National Parks
Several national parks in the Kimberley that were formerly free now attract entry fees. Those parks are:

Wunaamin Miliwundi (formerly King Leopold Range) Conservation Park (includes Bell Gorge)
Mirima National Park (Hidden Valley)
Entry is free at:
The Mitchell River National Park entry fee was waved when the Ngauwudu Road Zone pass was introduced in 2018. More on that below.

The Geikie Gorge boat tour is not covered by a national parks pass. It costs extra. So does camping in any of the national parks.
You can pay for access to parks individually ($15 per vehicle) when you arrive at the park. You may need the correct change to do so.
Usually it's cheaper and definitely easier to purchase a parks pass that covers all of them:
Day Pass
You can visit more than one park with a day pass (if you can get from one to the other quickly enough).

$15 per vehicle (up to 12 legally seated people)
$8 per motorcycle and concession card holders


Holiday Pass
Allows unlimited entry to all parks, valid for a number of days or weeks for one vehicle, regardless of number of passengers. The best pass for most Kimberley visitors. Available options:

$60 for four weeks
$40 for two weeks / 14 days
$25 for five days


Annual Pass
Unlimited entry to all WA parks for 12 months.

$120 per vehicle
Passes are available at:
DPaW offices (Department of Parks and Wildlife)
Over the phone: (08) 9219 8000 
From select tourist outlet and retail stores. (Ring the above number to find the nearest park pass outlet or download this pdf.)


Additional Permits And Passes For
The Gibb River Road and Kalumburu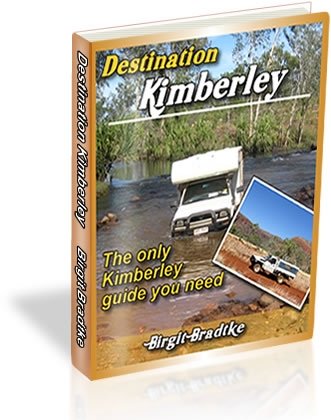 Your guide Destination Kimberley is still the most comprehensive and best advice for independent travellers to the Kimberley and I hope it continues!
We recommend it to everyone … and it is still compulsory reading for our new tour pilots every year.

(Steve Irvine, Managing Director of Kingfisher Tours, on Jan 19, 2019. Read many more testimonials and reviews here.)

Along the Gibb River Road
Mornington Wilderness Sanctuary
Run by the Australian Wildlife Conservancy (AWC).
A visit to the Mornington Wilderness Camp requires a $25 Wilderness Sanctuary Pass. The fee is charged per vehicle and gives you access to the gorges in the area (Dimond Gorge and Sir John Gorge).
You purchase the pass upon arrival.
If camping the fee is included in your camping fee.
Charnley River Station
Like Mornington, Charnley River Station is managed by the AWC. Here also, a vehicle access fee of $25 applies. You pay upon arrival.
If camping the fee is included in your camping fee.

Manning Gorge
A $22.50 per person access fee ($13.50 for seniors) applies at Manning Gorge. It includes your camping fee. Manning Gorge is only accessible via Mt Barnett Roadhouse and that is where you pay your fee.
If you stay more than one night, additional nights cost you $14.50 per person.
A day pass to visit the gorge without staying over night costs $8.
Munja Track/Bachsten Bush Camp/Walcott Inlet
The Munja Track, the access track to Bachsten Camp and the Walcott Inlet, heads north-east from Mt Elizabeth Station.
Bachsten Creek Bush Camp was recently acquired by the Wilinggin Aboriginal Corporation. It is currently closed, as is the Munja Track.
When it reopens, the new permit requirements and prices will be published.
For guidance, here is how it worked and what it costed in the past.:
You needed to get a key for the gate from Mt Elizabeth Station ($50) and a permit from Bushtrack Safaris (former owners of the camp) to use the track ($100). Both fees are per vehicle.
You could pay both fees at Mt. Elizabeth and received a receipt to show at Bachsten.

El Questro and Emma Gorge
To visit El Questro you need to purchase either a seven day Wilderness Park permit for $22 per person, or a day permit for $12. This also applies if you visit only Emma Gorge.
If you book online the permit fee will automatically be added. If you did not book you can purchase permits or day passes at the station township or at Emma Gorge.
Find out what else you need to know to drive the Gibb River Road
Along the Kalumburu Road
Mitchell River National Park
To get to the Mitchell Falls you need the Ngauwudu Road Zone pass. This new pass was introduced in 2018. Since then you do not require a national parks pass any more. (Which doesn't really help, as most people will still need to buy a parks pass anyway and that still costs the same.)
The Ngauwudu Road Zone pass is valid for five days and costs $45 per person. Yes, per person.
You can buy it online, at the Derby and Kununurra Visitor Centres, at Drysdale Station, and at the King Edward River campground.
Kalumburu
For Kalumburu you need two permits.
The first permit, the Entry Permit to travel through Aboriginal Land, is free and should only take a day or two to process. Get it here.
Even more important is the Kalumburu Recreation Entry Permit, better known as the "Yellow Tourist Permit", which costs $50 per vehicle.
You can prearrange the permit online or you can pick it up when you arrive, either from the supermarket or from the tourist info CRC building next door. If they are closed when you arrive, the campground managers can organise it for you.
Carson River Track/Oombulgurri
The Carson River Track is not accessible to individual travellers any more.
It can only be done as a tag along tour with Just Over The Hills or Explore WA.
Dampier Peninsula/Cape Leveque
You do not need a permit to traverse the Aboriginal land on the Dampier Peninsula and get to Cape Leveque (Kooljaman Resort) or any other places on the peninsula.
However, several of the Aboriginal communities (e.g. Beagle Bay, Lombadina, One Arm Point) require an entry permit. You pay the required fee ($5 or $10) when you arrive at the community.
Travelling to the Kimberley?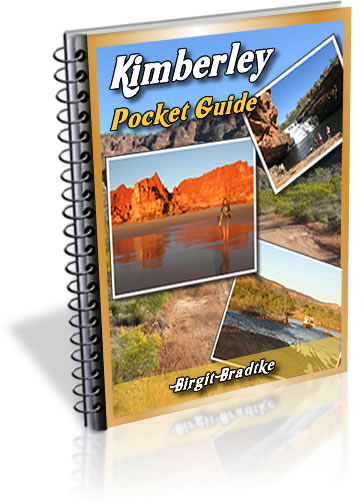 The FREE Kimberley Pocket Guide
A great introduction to travel in the Kimberley region and along the Gibb. This free resource will answer all the questions you might have in the early stages of planning a trip.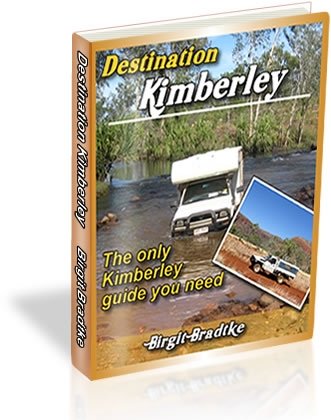 Destination Kimberley
The full Kimberley travel guide shows you how to make the most of your adventure at Australia's last frontier. Destination Kimberley includes the most detailed and most current guide to the Gibb River Road available anywhere. Also called "The Bible" by its readers.

Travelling to the Northern Territory?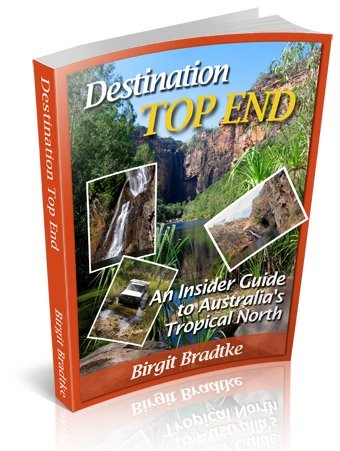 Destination Top End offers the same comprehensive, detailed insider information for the tropical regions of the Northern Territory. Be the best informed traveller in the Kakadu, Litchfield and Katherine Gorge national parks and beyond!

A must have if you travel to or from Darwin.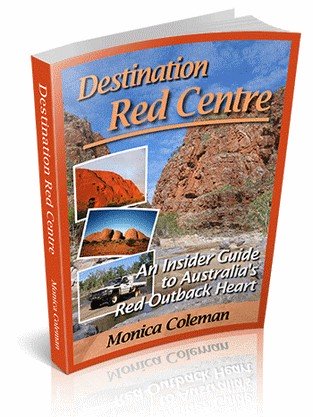 NEW! Destination Red Centre is the latest addition in this popular series. Monica Coleman takes you through Australia's red Outback heart, offering all the detail and insider tips that you have come to know and love about our guides. With special emphasis on Aboriginal communities and culture.

A must have if you travel to or from Alice Springs/Uluru.