From Broome to Cape Leveque
The Dampier Peninsula
The trip from Broome to Cape Leveque traverses the whole Dampier Peninsula north of Broome.
Most people drive straight through to Kooljaman Resort.
However, Kooljaman is not the only place worth stopping at...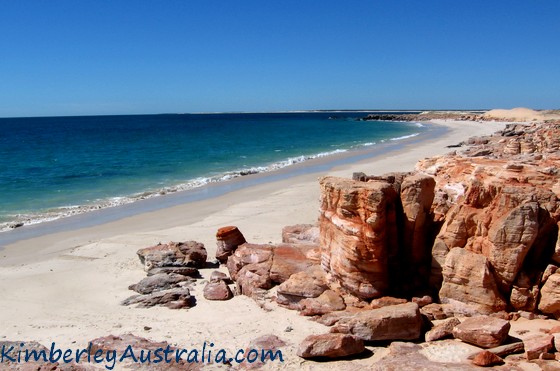 Beach and rocky outcrop near the tip of the Dampier Peninsula and Cape Leveque

The whole Dampier Peninsula is still an untouched wilderness, surrounded by an amazing coastline and untainted by the usual mass tourism ventures. Instead there are several Aboriginal communities that welcome interested visitors and offer accommodation, cultural tours, fishing and a glimpse into their traditional lifestyle.
They are happy to share their knowledge about bush foods and medicines, traditional hunting and fishing techniques and their special relationship with their land and the ocean.
Getting from Broome to Cape Leveque/Kooljaman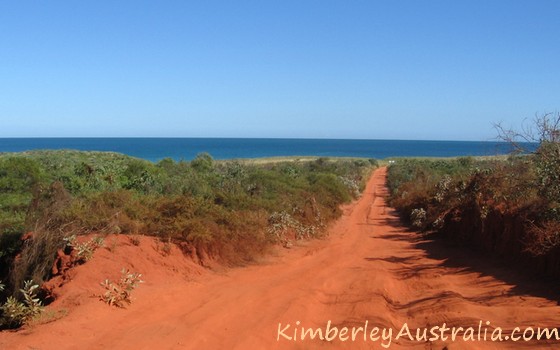 Sandy track on the western side of the Dampier Peninsula

The distance from Broome to Cape Leveque—the tip of the Dampier Peninsula—is 206 km.

The second part of this drive has been sealed for quite a few years now, the first part is in the process of being sealed. (Work on that started in May 2018 and is expected to take 3-4 years.)
The currently remaining unsealed part as well as all the side tracks are as sandy and corrugated as ever. Which means that you still need a 4WD to make the trip, even if you do not plan to visit any of the places on the way.

The drive from Broome to Cape Leveque takes about two and a half to three hours. The turn-off to the Cape Leveque Road is only a few kilometres out of Broome and the unsealed section can be very corrugated. Once you reach the Aboriginal owned country further north the sealed roads are excellent.
You will be travelling across Aboriginal land. Respect the culture and privacy of the people that live here. That means observe the no entry signs on private roads! They protect law grounds, burial sites and other areas of traditional significance.
If you don't have a car and don't want to rent one you can join a Cape Leveque tour from Broome.
Cape Leveque also has a small airport and you can get there via a scenic flight from Broome or Derby. Many operators offer packages for day and overnight trips.
Places To Visit Between Broome And Kooljaman
If you are self driving and have some time then you can visit some more places.

Beagle Bay is the first Aboriginal community that you will pass. There is no accommodation here but it's worth to call in to have a look at the famous Sacred Heart Church and its beautiful altar decorated with mother-of-pearl shell.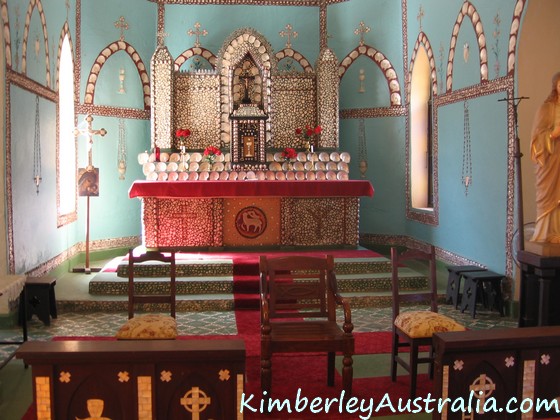 Beagle Bay's Sacred Heart Church altar

Middle Lagoon is a quiet holiday resort popular with locals. Great fishing, a shallow lagoon safe for swimming, camping, beach shelters, breezy self contained log cabins... It's a gorgeous place. Some travellers even prefer it over Kooljaman.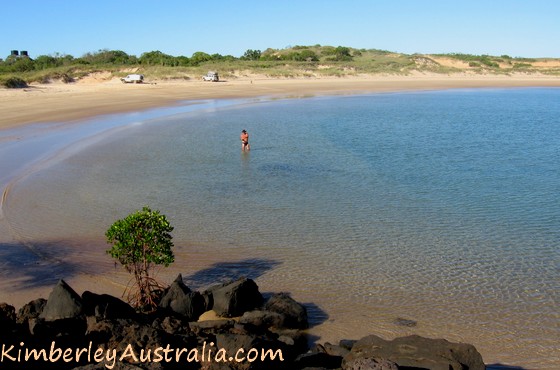 Fishing and swimming at Middle Lagoon

Lombadina is another well known Aboriginal community further north. This was the first community on the peninsula to venture into tourism, over 15 years ago now. Their acommodation and tours are well established and their beach may be the most stunning on the whole peninsula. 

"The Aboriginal community at Lombadina has the most beautiful bay/beach I have ever seen. I think it may have the name Thomas Bay. It is definitely a must visit if you are in the area."  -- Reader Jane from Sydney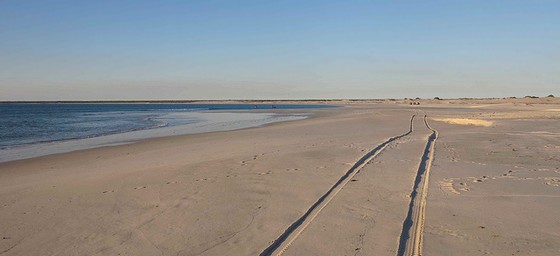 The beach at Lombadina. Photo: yaruman5

The photo below shows their church, an ingenious structure built from bush timbers and corrugated iron.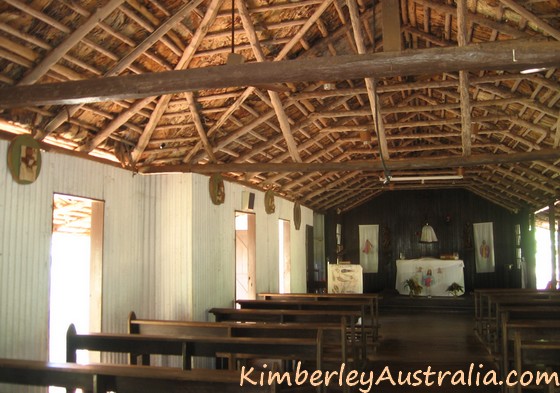 The church at Lombadina

One Arm Point (also known as Ardyaloon) is a few kilometres beyond Kooljaman and is also a great place to stop. You can tour the aquaculture hatchery which is breeding juvenile trochus shells, or you can take part in the boat or fishing tours offered.
The above are only the longest established and most well known places. There are many more. Some have only opened in the last few years, some have been there for a long time but been kept secret by the locals.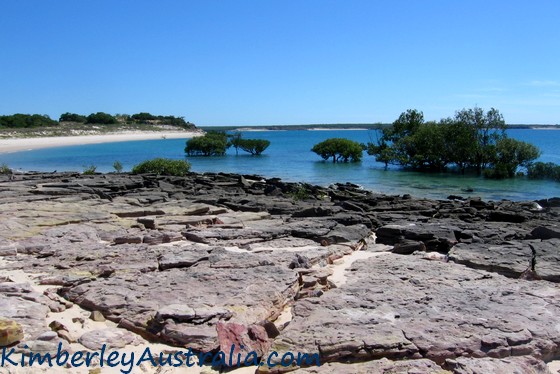 Waterfront and in the background the beach at a
secret little campground on the Dampier Peninsula.

There is Cygnet Bay Pearl Farm, and Bully's Place, the Whalesong Cafe, many small campgrounds to stay at, and many more Aboriginals communities that you can visit.  For some of those you need to arrange your visit beforehand. (Destination Kimberley has the details you need for that.)
Keep in mind that many of those communities are only just starting out in tourism and are not necessarily familiar with the needs of the average tourist. Bring an open mind and be willing to adapt and learn.
But most of all, bring enough time!



Kooljaman Resort at Cape Leveque
More about
Broome in Western Australia


Travelling to the Kimberley?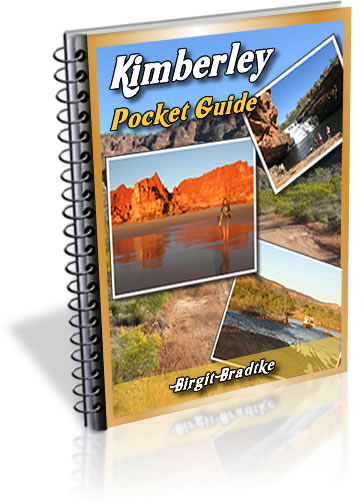 The FREE Kimberley Pocket Guide
A great introduction to travel in the Kimberley region and along the Gibb. This free resource will answer all the questions you might have in the early stages of planning a trip.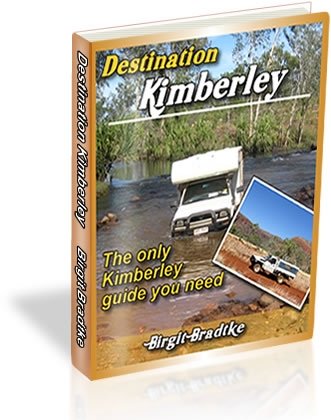 Destination Kimberley
The full Kimberley travel guide shows you how to make the most of your adventure at Australia's last frontier. Destination Kimberley includes the most detailed and most current guide to the Gibb River Road available anywhere. Also called "The Bible" by its readers.

Travelling to the Northern Territory?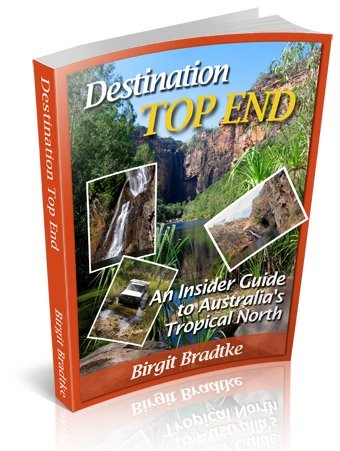 Destination Top End offers the same comprehensive, detailed insider information for the tropical regions of the Northern Territory. Be the best informed traveller in the Kakadu, Litchfield and Katherine Gorge national parks and beyond!

A must have if you travel to or from Darwin.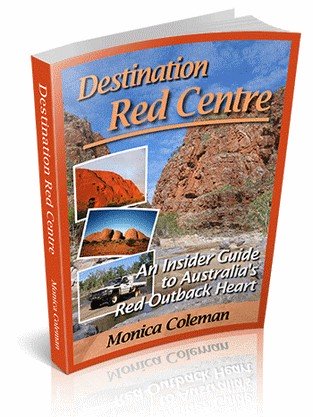 NEW! Destination Red Centre is the latest addition in this popular series. Monica Coleman takes you through Australia's red Outback heart, offering all the detail and insider tips that you have come to know and love about our guides. With special emphasis on Aboriginal communities and culture.

A must have if you travel to or from Alice Springs/Uluru.
Kooljaman Resort at Cape Leveque