A Kimberley Travel Guide
For Adventurous Dogs!
(Includes The Gibb River Road)
Ok, it's for dog owners, really...


Are you planning to travel the Kimberley or along the Gibb River Road with your dog? Not sure yet if you can or want to take your dog?
I never mentioned or advertised it anywhere, but years ago I put together a little guide book specifically for dog owners...


The cover of my little Kimberley travel guide for dogs. © Sue Hincks.

It's already included, as a free supplement, with every purchase of my popular main guide book, Destination Kimberley. 
This page will not replace the guide book. But it will tell you everything you need to know to decide if you will visit us with your dog, or if you'd rather go somewhere more dog friendly.
Yep, I am afraid the Kimberley in general is not the most dog friendly destination in Australia. It's not that we have anything against dogs! Not at all.
But we have many national parks and nature reserves, we have many saltwater crocodiles, and many other reasons why it can be a bit more difficult to travel in the Kimberley with a dog...


Travelling With Dogs:
How Dog Friendly Is The Kimberley
And The Gibb River Road?

When readers contact me their question is usually something like, "Can we visit the Kimberley with our dog? Can we take our dog along the Gibb River Road?"
Well, of course you can! Why wouldn't you? But that's not the real question, is it?
What you probably meant to ask is more along the lines of, "Does it make sense for us to take our dog? Will we find accommodation? Will we be welcome at campgrounds? Are there places that we will miss out on if we have a dog? Is it even worth it???"
You probably had a hard time finding information about dog friendly accommodation and campgrounds. The reason for that  is that there just aren't that many places where your dogs are welcome.
Why is that so?
Well, especially along the Gibb River Road there are few places to camp or get accommodation to start with, dogs or not! 
I don't think the percentage of dog friendly places  is any different to other areas in Australia. But if there isn't much to choose from to start with, and if then a number of those places don't allow dogs, then dog owners are left with very few options...
Below I list all your options, across all of the Kimberley and along the Gibb River Road. But first I want to cover some general issues you need to be aware of before you take your dog to the Kimberley...


Travel with Dogs in the Kimberley
And Along the Gibb River Road:
What You Need To Know


Your dog may love his fishing, but this is definitely not recommended at the Pentecost, King and many other Kimberley rivers! © Sue Hincks

I don't want to get into too much detail about all the general and obvious stuff here, like cleaning up after your dog, making sure it doesn't annoy others, expecting the unexpected etc. I also won't write about the usual hassles and hazards you encounter in bush areas anywhere: snakes, ticks, prickles, grass seeds...
I assume you are a responsible dog owner and this is NOT the first big camping trip with your dog! (Otherwise I suggest you take it on a few short camping trips in your home area first.)


Dog Friendly Accommodation And Campgrounds In The Kimberley And On The Gibb River Road

As I said above, this page will not replace my detailed guide. In the guide you find addresses, contact details, detailed descriptions, and I also list the free bush camping options.
Here I  just give you an overview, some tips, and the names of all dog friendly accommodation and campgrounds, so you can see that in fact a Kimberley trip with your dog is very doable.
Broome
Broome has two vet clinics (the Broome Veterinary Hospital and the All Creatures Veterinary Clinic) as well as two boarding kennels (one at the Broome Vet and one called the Broome Pet Motel).
There is only one B&B in Broome accepting dogs (Windmill Lodge Retreat) and only one caravan park (Tarangau Art Village Caravan Park).


Alternatives near Broome:
Broome's Gateway (about 20 km out of Broome, camping and ensuite cabins) and the Roebuck Plains Roadhouse both accept dogs.
Another alternative for bushcampers are Broome's Northern Beaches, but be careful of crocodiles at Willie Creek and Barred Creek.


Dampier Peninsula
Dogs are generally not allowed on the Dampier Peninsula, yet at some of the camps they are. So you can go straight there with your dog but you can't stop and let the dog outside on your way there.
Kooljaman Resort at Cape Leveque does not allow dogs! Gumbanan campground does and is only 10 minutes away.
Camps that allow dogs:

Banana Well Getaway
Gnylmarung Retreat
Nature's Hideaway at Middle Lagoon
Gumbanan Bush Camp or Wilderness Retreat


Derby
Derby has a vet clinic (only open Wed and Thu, when the Broome vet visits) and a boarding kennel (Lacyacetoo Kennels).
Kimberley Cottages offer dog friendly accommodation and both the West Kimberley Lodge and Caravan Park and the Kimberley Entrance Caravan Park allow dogs.


Fitzroy Crossing
The Fitzroy River Lodge and caravan park allows dogs.
Larrawa Station is a dog friendly place exactly half way between Fitzroy Crossing and Halls Creek.


Halls Creek
The Halls Creek Caravan Park allows dogs.
On the Duncan Road:
You have many bushcamping options along the Duncan Road, and 6 km before you get to the eastern end of it you also have the dog friendly campground at the Zebra Rock Mine.
On the Tanami Road:
As on the Duncan Road, many bushcamping options. Tilmouth Well is something like a roadhouse cum tourist resort. It accepts dogs. Note that it is located towards the southern end, over 800 km from Halls Creek...


Bungles / Purnululu National Park
In the past this used to be the most difficult place to get to as a dog owner. Because Purnululu is so remote there was no option to board pets anywhere nearby, no way to sneak into the Bungles for a short visit while the dogs spend the day snoozing, tied up under a tree. 
That changed with the opening of the Bungle Bungle Caravan Park, right at the turn off from the highway. You can base yourself there and do a day trip.
If you have enough time you may also be able to buddy up with other dog owners and exchange dog minding duties. (Which is always an option, at many of the places mentioned here.)


Kununurra
The Kimberley Vet Centre is open Mon - Fri. 
Kununurra Lakeside Caravan Park allows dogs and the Kununurra Agricultural Society Inc also offers short term and some long term sites for travellers with dogs.
At Lake Argyle:
Resort Lake Argyle allows dogs at the campground.
If you want to do a cruise on the lake you'll be happy to hear that Lake Argyle Cruises do dog sitting while you are on your cruise!


Wyndham
Wyndham Caravan Park allows dogs, and so does the wonderful Parry Creek Farm & Tourist Resort, about 20 km from Wyndham on the Parry Creek Road.
Digger's Rest Station on the King River Road allows dogs in the campground.


Travelling The Gibb River Road With Dogs
In the "Need To Know" section I  already listed many national parks, conservation areas and and gorges where dogs are not allowed. There are a few more, but there are also some stations and communities where your dog is welcome.
It really is not a big problem to take your dog on the Gibb River Road and Kalumburu Road. (I have included the latter here as well.) But it will mean that you will miss out on a few wonderful places.
From west to east:
Birdwood Downs Station is very environmentally focussed and does not allow dogs.
Windjana Gorge and Tunnel Creek are national parks. No dogs. (You can do these from Derby on a day trip. It will be a day of mostly driving though...)
Lennard Gorge, Mt. Hart Wilderness Lodge, Bell Gorge and Silent Grove Campground are all within the King Leopold Range Conservation Area. No dogs.
Imintji Roadhouse has a caravan park that allows dogs. (So you can stay here to visit Bell Gorge on a day trip.)
Mornington Wilderness Camp is within a wildlife sanctuary. No dogs. Sadly you will not be able to see this at all if you travel with dogs.
Charnley River Station is now also managed as a wildlife sanctuary. No dogs.
There is no camping at Adcock Gorge or Galvans Gorge, both are day use areas only. But at both you can take your dogs for a swim. (There are no crocodiles.)
Mt. Barnett/Manning Gorge allows dogs at the campground.
Camping is not allowed any more at the Barnett River Gorge. But if you go there during the day you should be able to take your dog.
Mount Elizabeth Station allows dogs at the campground. Grudgingly, as they have their own working dogs and it can cause problems. Always ask first and be respectful of their concerns.
Ellenbrae Station MAY let you stay with your dog if you ask very nicely and if they don't have many other campers there. Don't count on it.
Home Valley Station allows dogs at the campgrounds.
El Questro Station allows dogs at the campgrounds.

On the Kalumburu Road:
And that's it!
That are all the official accommodations and campsites in the Kimberley that welcome dogs.
If you plan to make use of any of the options listed in this guide, please do contact the owners/managers beforehand! 
Places may have specific requirements or restrictions that I didn't list, there may be conditions attached, they may have changed their policy, etc. Please, do not just rock up, get the current details from the horse's mouth first.
And if I missed anything, or if you do find out that things have changed, please PLEASE help everyone by letting me know about it, so I can update this page and also my little free guide.

I hope it helped some and I hope you and your dogs will enjoy it up here!


Rusty and Roxy are loving the Kimberley! © Jules Patten
Travelling to the Kimberley?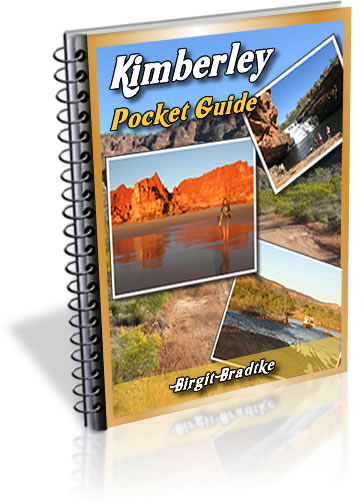 The FREE Kimberley Pocket Guide
A great introduction to travel in the Kimberley region and along the Gibb. This free resource will answer all the questions you might have in the early stages of planning a trip.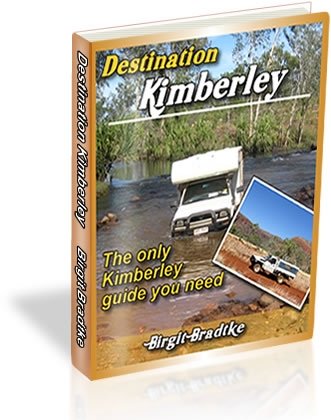 Destination Kimberley
The full Kimberley travel guide shows you how to make the most of your adventure at Australia's last frontier. Destination Kimberley includes the most detailed and most current guide to the Gibb River Road available anywhere. Also called "The Bible" by its readers.

Travelling to the Northern Territory?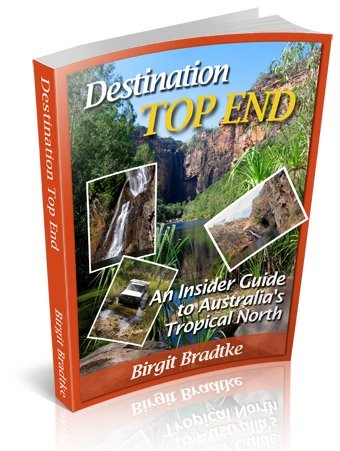 Destination Top End offers the same comprehensive, detailed insider information for the tropical regions of the Northern Territory. Be the best informed traveller in the Kakadu, Litchfield and Katherine Gorge national parks and beyond!

A must have if you travel to or from Darwin.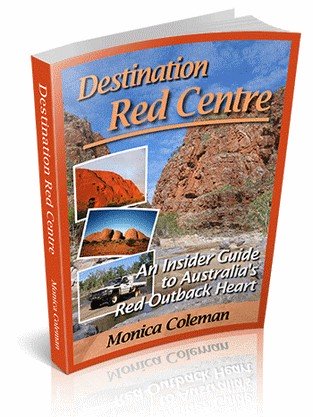 NEW! Destination Red Centre is the latest addition in this popular series. Monica Coleman takes you through Australia's red Outback heart, offering all the detail and insider tips that you have come to know and love about our guides. With special emphasis on Aboriginal communities and culture.

A must have if you travel to or from Alice Springs/Uluru.