---
15 May 2018, Issue #066

---

Please do not reply to this message.

To unsubscribe or change your address please use the links at the bottom of this message.
To contact me please use the contact page.

To sign up for this newsletter and receive the free Kimberley Pocket Guide go here.


---

In this issue:
Roads/Parks Updates
Tourist Destinations At Kalumburu
Updates From The Mitchell Plateau
Geikie Gorge Cruises
Drones In The Kimberley And NT
---

Hi

It's been six weeks since the last newsletter, more than twice as long as usual.

As I let you know in the last issue, I have been away on a trip myself.
(Yes, it's been a great trip, thank you!)

From what I have seen Amit did a great job answering your emails and helping readers and customers who needed help.

I owe him a big thank you for being willing to help out for those weeks and make such a trip even possible for me.

If he or I overlooked something, if you wrote and didn't get the info or help you hoped for, please try again now!

And thanks for understanding that some of the information you find below is already several weeks old.



---
Roads/Parks Updates
---

The dry season is well and truly here now.
Most people will find the current temperatures very nice and the nights are even fresh.

The daily max hovers around 30 degrees and night temperatures are in the mid teens, even low teens in the south.
So make sure you pack a warm jumper, especially for places like the Bungles!

Most major roads and destinations in the Kimberley are open. Lennard Gorge remains closed until further notice and you will still encounter closed side tracks, for example to various gorges and waterfalls on the different stations.
Some of those are in low lying areas that remain boggy for a long time, until well into June or later. If any of those are very important for you to visit, please get in touch with the stations to find out about them.

There are also still restrictions on vehicle type: the Gibb River Road between Mt. Barnett and the Pentecost River and the road to the Mitchell Falls are open to high clearance 4WD only.
Especially on the way to Mitchell Falls tourists are advised to be extremely careful. (The road has been graded.)

The one main road that everybody is still waiting for the shire to open is the Kalumburu Road from the Mitchell Falls turnoff to Kalumburu. For now there are still muddy sections, big washouts and rocks which make it very difficult to navigate.
It is being graded as we speak and should officially open within a week.

Being difficult to navigate is not the same as being impossible to navigate: It turns out the first tourist car arrived in Kalumburu on the 1st of May, and on the 2nd another one made it through, towing a large boat.

(Be aware that if you do drive that road while it is still officially closed, the Kalumburu police at their discretion can fine you $500 per wheel.)

On the other hand there had been some reports of even high clearance 4WDs getting bogged in the soft sand of the Barnett River (Gibb River Road) when it was still about half a metre deep.
The water had dropped to below 30cm a week ago already and the base is said to be firm, so you should have no problems there.



---

Let's look at main parks in the NT:

In Kakadu the main roads are open, even Cahill's Crossing is, albeit only for high clearance 4WDs with a snorkel. Gunlom also just opened.

But Kakadu being what it is (a region with many billabongs and wetlands), the majority of the unsealed tracks, bush campgrounds and walks are still closed, as are some of the major gorges and falls.
This includes Maguk and Koolpin Gorge (forecast to open mid May), the old Jim Jim Road (nice shortcut to get to the southern parts from Darwin, forecast to open early June) and of course the whole Jim Jim area. Twin Falls is expected to open early June, and Jim Jim Falls late June.

In Litchfield National Park all attractions along the main ring road are open, only Walker Creek and the Tabletop Track remain closed. No swimming at Wangi Falls yet, but you can swim at Florence Falls, Buley Rockholes and at the Upper Cascades.

The Reynolds River Track and southern parts of Litchfield are still closed but are expected to be open all the way by end of May.
(This is what the official info says. I suspect it might take a bit longer to be able to drive all the way through.)

At Katherine Gorge the boat tours operate on the first and second gorge, you can swim at the Southern Rockhole and you can walk as far as Butterfly Gorge.
No swimming or walking beyond the above and no canoeing yet.


As for information on the 34 other parks in the Darwin and Katherine region (yes, I just counted them), please use the links to the reports in the appendix of Destination Kimberley and Destination Top End.
If you need more information than the reports offer, you also find phone numbers for each park, either in the report itself or in the relevant section of your guide book.



---
Tourist Destinations At Kalumburu
---

My last newsletter before my trip told you about Wongalala Falls, which had just been opened to tourists for the first time ever.

I got that info just before my trip and could not update the guide book before I left. (It is up to date now.) That is why I mention it here again.
Do check the last newsletter to find out more about Wongalala.

Mind you, I guess there is no great rush in getting the info out just yet.
The road into Wongalala has some low lying parts that are still rather boggy. The traditional owners suggest you do not attempt to head out there until June the earliest, and that even then you should go with two cars and take a sat phone or EPIRB.

The Kalumburu guys also just made and installed signs at all the turn offs to the various waterfalls, gorges and tourist sights like lookouts and the WWII plane wrecks, both between the Carson River and town as well as north of town.

But please don't be tempted to follow them on your way to Kalumburu (once the road opens). Head into town first and get info on the various tracks, and of course your tourist permit!
(See info in Destination Kimberley.)



---
Updates From The Mitchell Plateau
---

As of this season the King Edward River campground ("Munurra") is not managed by the DPaW anymore but by indigenous rangers from the local Uunguu community. So no more volunteer caretakers. Instead they will have a small office where you can pay the camping fees and get information. Apart from that nothing changes.


---

Munurra and the King Edward River mark the beginning of the Ngauwudu Road Zone. I hope by now everyone is aware (from past newsletters, my website and Destination Kimberley) that you need to purchase a Ngauwudu Road Zone Pass to visit the Mitchell Plateau.

This pass was only recently introduced and the introduction has caused some confusion and questions. I hope the following clears it up:
The Ngauwudu Road Zone Pass permits you to access the Ngauwudu Road Zone, which starts at the King Edward River and covers the whole Port Warrender Road and the sights along it (Munurra campground, the Munurra art sites, Surveyors Pool, Port Warrender, and of course the Mitchell River NP).


On 27 April the DPaW confirmed that they will NOT be charging entry fees for Mitchell River National Park any more. That means you no longer need a WA Parks pass to access the Mitchell Falls area (now also called Ngauwudu Management Area).


National park camping fees still apply at the main Mitchell Falls campground.


If you purchase the pass online you are asked to enter the date of your visit and you are supposed to arrive within a three day window. What if you don't know the date yet or you arrive earlier or later?
No problem. As long as you have pre-purchased a pass you will still be welcome on Wunambal Gambeera country. Just do your best to email them at infouvp@wunambalgaambera.org.au.


You can also purchase Ngauwudu Road Zone passes at the Kimberley Visitor Centres and they will in future be available at other tourist places, too.


And last but not least, you can now also buy your Ngauwudu Road Zone Pass at the King Edward River campground.
---

The guys from Kingfisher Tours have asked me to let you know that as of this season they offer a scenic flight package from their Drysdale base that includes the whole walk to the Mitchell Falls and the heli flight back.

Many people would like to save themselves the long detour and often atrocious road to the Mitchell River National Park, especially if towing big rigs or driving smaller AWDs with little ground clearance.
In the past the only alternative was a scenic flight from Drysdale.
And lets face it, just flying over it just isn't the same as BEING there.

So I think it's great that you now have the option to comfortably fly up there AND walk to the falls.

Mind you, I still think you miss a LOT. If you do have the time to make the detour, leave your trailer or boat at Drysdale, just swag it for a few days, and GO!



---
Geikie Gorge Cruises
---

A little reminder: As of this season you can (but don't have to) book the one hour long DPaW boat tour on Geikie Gorge online.

Booking is useful if you want to do a tour during peak season and know exactly when you'll be there.

If you want to keep your options open, just book when you get there and pay cash, until 30 minutes prior to departure.
It helps to know the departure times and they change over the season, so here they are for the 2018 season:
01 May - 31 May: 8.00am and 4.00pm
01 June - 30 June: 8.00am, 9.30am, 2.30pm and 4.00pm
1 July - 31 July: 8.00am, 9.30am, 11,00am, 2.30pm and 4.00pm
1 August - 15 August: 8.00am, 9.30am, 2.30pm and 4.00pm
16 August - 15 September: 8.00am, 2.30pm and 4.00pm
16 September – 16 October: 8.00am and 4.00pm
---
Drones In The Kimberley And NT
---

A few months ago I received the first request for information about using drones across the Kimberley. Until then I had never thought about it or researched it.
The questions have kept coming since. People ask me about drones regularly, so here is what I know:

The Civil Aviation Safety Authority (CASA) is the governing body for drone use in Australia. If you are looking to fly a drone anywhere you should be familiar with these regulations.

WA legislation prohibits use of drones in all national parks, unless specific permission is obtained.
You can find the WA Government Policy here.
That page includes a link to the permit application form.
Make sure you submit your application early enough, you need to allow six weeks for processing!

Drones are forbidden on El Questro and at Emma Gorge.
There is a total drone exclusion area around the Horizontal Falls area, and another near Derby, that one reader has made me aware of. There may be more.

I know even less about using drones in the NT, only that there, too, you need permission if you want to fly them in any national parks.
You can find the NT government policy here.
That page includes a link to the permit application form.

Uluru and Kakadu do not fall under those rules as they are not managed by the NT.
No drones are allowed at Uluru or Kakadu.

And that is all I have been able to find out so far.

I would like to include information on this, both on the website and in Destination Kimberley, Destination Top End and Destination Red Centre.
And of course, as all my information, I want it to be as comprehensive as possible.

Therefore my question: Can you add to that?
If you have researched the topic more, or if you have been in the Kimberley or NT with a drone and can tell us more about where you were and were not able to fly, I'd love to hear from you.

Thank you!



---

And that's pretty much it for today. I have one little gem to wrap things up:

I said in the road updates section that the first tourist car arrived in Kalumburu on the 1st of May.

But that was the first car. The very first tourists to reach Kalumburu arrived on April 26. And they were not in danger of getting any fines.

They got there by packrafting some 220km from Drysdale River Station, down the Drysdale and Carson Rivers, and then walking the last 80km to avoid getting eaten by saltwater crocs.

Wow, way to go!

Here is some more detail and some photos and this is a very short video (by Dulkara Martig, NZ):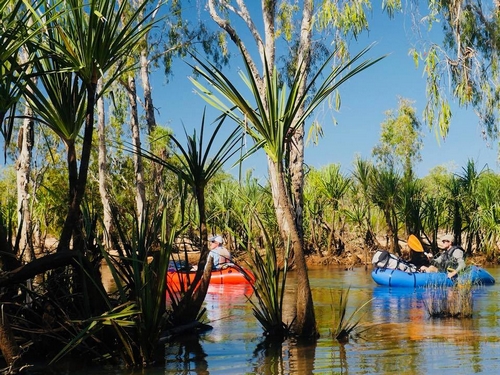 I hope Dulkara will publish something longer and accessible for all on YouTube in the future. Looks like a great trip!

PS: A quote from Dulkara:
"I'm ready for some alpine camping in NZ this winter now. The Aussie sun is brutal!!!"

I can relate ;)


Talk again soon!
Birgit


Destination Kimberley, Destination Top End and Destination Red Centre have all the information you need to put together your dream trip.

To sign up for this newsletter and receive the free Kimberley Pocket Guide go here.


Feedback? Found some out of date info in one of my guides? Let me know via https://www.kimberleyaustralia.com/contact.html


---

(c) 2005-2018, Birgit Bradtke. All rights reserved.