---
6 May 2019, Issue #078

---

Please do not reply to this message.

To unsubscribe or change your address please use the links at the bottom of this message.
To contact me please use the contact page.

To sign up for this newsletter and receive the free Kimberley Pocket Guide go here.


---

In this issue:
Roads and Parks Access
ACCC Finally Moving Against Australian 4WD Hire
Liquor Restrictions In Broome To Start In July
Reader Questions
---

Hi,

May has only just begun and thanks to the very dry wet season most Kimberley attractions have been open for weeks.

Not only that, many creek crossing are totally dry already.
(E.g. no water crossings left on the way into the Bungles.)
Others, like the crossing on the way to El Questro Gorge, are deep and exciting as always.

The many smaller pools and falls across the Kimberley present a mixed picture. It depends where the water comes from.
Some pools are spring fed, some falls have a big area with deep soil upstream that releases water slowly over a longer time, some are more shallow streams over rocky ground where the water heats up and disappears quickly.

As for the big names: Bell Gorge and Manning Gorge are still flowing and the Mitchell Falls are still falling.

A couple of places are still closed.
I had given you most of the scheduled opening dates for roads and properties in the Kimberley in the last newsletter.
Two more bits of info came in as soon as the newsletter went out, so you'll find those below.

(As always, I added that info to my news page as soon as I received it, as I did with the other news that has come in since and that I also cover below.)



---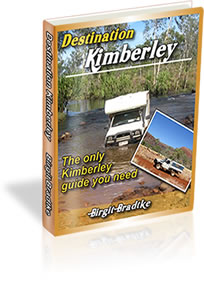 Your guide Destination Kimberley is still the most comprehensive and best advice for independent travellers to the Kimberley and I hope it continues!
We recommend it to everyone … and it is still compulsory reading for our new tour pilots every year.

(Steve Irvine, Managing Director of Kingfisher Tours, on Jan 19, 2019. Read many more testimonials and reviews here.)

---
Roads and Parks Access
---

As promised in the last newsletter, almost everything along the Gibb, in fact, across the Kimberley, is open now.

Here are the bits and pieces that I was not able to include in the last newsletter:

Along the Gibb River Road...
Manning Gorge opened on April 19.
Mt. Elizabeth opened last weekend as planned.
Charnley River is looking at the middle of May to open the campground.
Bachsten Creek Bushcamp hope to be ready for you by June 1.
The Kalumburu Road FINALLY opened all the way on April 30.
The King Edward River Campground and the Mitchell Falls NP are open, too.
And Drysdale River Station, which until May 1 had been open for fuel only, now also offers accommodation, camping and meals.

The DPaW campgrounds across the Kimberley can now be booked online (in the first few weeks of the season you needed to pay cash on site) and the Geikie Gorge boat tours have started.



---

With things in the Kimberley settling into dry season mode already, let's have a quick look at the Top End.
At the time of the last newsletter, everything was still much in wet season mode. This is gradually changing:


In Kakadu...

In general the major roads, campgrounds and sights are open.

Magela Creek crossing (access to the East Alligator/Ubirr area) is still 300mm deep and only open for 4WD.

Still closed are:
The Old Jim Jim Road.
The popular Sandy Billabong bush campground in the Nourlangie Region.
The whole Jim Jim and Twin Falls Region.
Maguk and Koolpin Gorge in the Mary River Region. (Gunlom is open for 4WD only.)
In addition many lower lying walks and several bush campgrounds across all regions are still closed, as are the boat ramp and board walk at Yellow Water. The boat cruises, however, are operating.


In Litchfield....

Most sights along the bitumen ring road are open and Wangi Falls has just been opened for swimming.

The remaining closures:
Access from the Cox Peninsula is closed. (Only access to the park is via Batchelor.)
The lower section of the Cascades is closed for swimming and the loop walk is closed, too.
The Tabletop Track is closed and so is Walker Creek.
The Reynolds River Track (southern access) is closed and with that the Sandy Creek and Surprise Creek falls and campgrounds.
The Reynolds River Track is not expected to open before June. Everything else should open some time in May.


In Nitmiluk...
Katherine Gorge is still closed to swimming and canoeing, probably until June.
Boat tours operate on the first and second gorge only.
The southern walks are open as far as Smitt Rock, but no swimming anywhere and no camping at Dunlop yet.
The northern Rockhole Walk is also closed, but the Southern Rockhole is open. It is the only place where you can currently swim.
Well, except for Edith Falls, where everything is open.

I only covered things briefly and only the main three parks. If you need more information and details, remember that the links to all that information for all the Top End national parks are in the appendix of Destination Top End.



---
ACCC Finally Moving Against Australian 4WD Hire
---

I first mentioned Queensland based car hire company Australian 4WD Hire in my newsletter issue 68.

At the time the company had been highlighted in the Queensland parliament, where Tim Nicholls MP spoke of a "relentless, systemic and well-rehearsed fraud" that the company was carrying out against unsuspecting tourists. (More info in said newsletter issue.)

Newsletter issue 73 followed up on that, reporting that Australian 4WD Hire had settled one of its major cases against a customer.
The company had demanded over $15000 from the man, for damage he had supposedly caused to the vehicle.
In court Australian 4WD Hire admitted that the customer had in fact done nothing wrong.

Quite a few of my readers also had negative experiences with Australian 4WD Hire, some finding themselves thousands of dollars out of pocket.

I encouraged everyone to lodge a complaint with the ACCC (the Australian Competition and Consumer Commission). While this alone will not get people their money back, it is the number of complaints that matters if we want to finally see action taken against Australian 4WD Hire.

Well, guess what...

The ACCC is finally moving!

And I have been told it is doubtful this would have been achieved without your assistance.
Yes, everyone of you who took the time to file a complaint with the ACCC, who was willing to be contacted and to provide more details about your experience, was crucial in making this happen.

Thank you!



---
Liquor Restrictions In Broome To Start In July
---

Stocking up for a big Gibb River Road trip will become harder...
The Broome Liquor Accord has agreed on a 12 months trial of liquor restrictions to be rolled out from the start of July.

At this stage the plan still requires the implementation of a takeaway alcohol management system across Broome outlets, and the relevant approvals from the State Government.

If everything goes ahead as planned, your daily alcohol purchase will be limited to:
2 cartons of mid-strength beer; or
1 carton full-strength, 1 carton mid-strength beer; or
1 carton mid-strength beer plus 6 bottles of wine; or
1 carton full-strength beer and 3 bottles of wine; or
1 bottle of spirits and 3 bottles of wine; or
1 bottle of spirits plus 1 carton of either full-strength or mid-strength beer.

That leaves Derby the only town where no restrictions beyond the usual Kimberley wide restrictions apply. (Except some restriction for sale of fortified wines.)
For information on existing liquor restrictions in the other Kimberley towns, see page 60 of Destination Kimberley.



---
Reader Questions
---

Since May 1 it is possible to book the DPaW campgrounds online again. This lead to the following reader question:


"I am just about to head up to Darwin and should get to Bell and Windjana Gorge on May 2-3.
I may not be able to book a campsite online, if I can't get internet access, so will I still be able to pay cash at those campsite after May 1 or can I only book online?"


Absolutely. You can of course still pay cash.
The online booking for those campgrounds is an option, not a requirement.

I would only strongly recommend to use that option when travelling during peak season, because campgrounds may be full then.
Any other time it's perfectly fine to just rock up and pay cash.
In fact, for many people it may be better to NOT book too far ahead so they can remain flexible with their schedule.


Another question that comes up every now and then is about walking boots:


"I just bought and downloaded your guide a few days ago. I have a question for which I didn't find an answer in it.
We will be doing the Gibb River Road from mid May to mid June. We like hiking.
Should we take ankle high walking shoes or will a pair of good (Meindl, Scarpa or Dolomite) low trekking shoes with a good profiled sole be fine?
I am concerned of being too warm in my ankle high walking boots."


There are no hard and fast rules on what shoes to take. It's an individual decision.

You know yourself best, how much support you need and what makes you most comfortable.
Some people insist on walking only in ankle high, sturdy boots, sometimes with gaiters.
Others like myself walk everywhere in thongs. Really.
(For you non-Australians: thongs are flip flops, not sexy lingerie!)

If you are not worried about twisting an ankle in rough terrain, and not paranoid about snakes, by all means, take lighter shoes!
If you have not done this kind of walking before and are unsure, you may feel better in sturdier boots.

And to avoid misunderstandings: I do not recommend hiking in thongs unless you are used to it!



---

And that's it for today.

I want to leave you with an exceptional little essay that photographer Gary Annett wrote about his latest trip.
Gary captures the essence of a Kimberley trip in words in a way that I never could and haven't seen anyone else do that well before.

I also love the photos that Gary chose to post with it. Not the usual glossy brochure shots of done to death gorges and waterfalls, just the real Kimberley.

A must read: "The Kimberley..."



---

One last request!

If you have been or are currently travelling with one of my Destination Guides, and if you come across something that's out of date or in your opinion not portrayed accurately, by all means, swear at me or call me names. But then, PLEASE, also let me know about it.
Because...
Without guide no information -- without information no guide!

A big thank you to everyone who took the time to write to me with their feedback!


Safe travels and talk again soon!
Birgit


Destination Kimberley, Destination Top End and Destination Red Centre have all the information you need to put together your dream trip.

To sign up for this newsletter and receive the free Kimberley Pocket Guide go here.


Feedback? Found some out of date info in one of my guides? Let me know via https://www.kimberleyaustralia.com/contact.html


---

(c) 2019, Birgit Bradtke. All rights reserved.