---
29 June 2020, Issue #087

---

Please do not reply to this message.

To unsubscribe or change your address please use the links at the bottom of this message.
To contact me please use the contact page.

To sign up for this newsletter and receive the free Kimberley Pocket Guide go here.


---

In this issue:
Summary Of Closures
New And Changed Opening Dates
International And Intestate Travel
Attention Dog Owners/Horses On The Gibb/A Plea
---

Hi,

apparently the Kimberley season is under way. Some people report that when heading north along the west coast, every second vehicle is towing a caravan or camper trailer. It seems Western Australians are making the most of the opportunity to have the Kimberley to themselves.

Hearing that, others are fearing that the Gibb River Road will be totally overrun during the school holidays.
In a normal year that would certainly be the case. But not this one.
There are no interstate travellers and no international visitors.

Additionally, even among Western Australians, there are many who decided to postpone their trips, saying it's not worth it this year with half the Kimberley closed...



---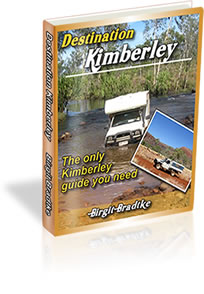 Your guide Destination Kimberley is still the most comprehensive and best advice for independent travellers to the Kimberley and I hope it continues!
We recommend it to everyone … and it is still compulsory reading for our new tour pilots every year.

(Steve Irvine, Managing Director of Kingfisher Tours, on Jan 19, 2019. Read many more testimonials and reviews here.)
---
Summary Of Closures
---

Half the Kimberley closed?

I have already mentioned several places in recent newsletters that will remain closed for the whole 2020 season.
A few more have since confirmed that they, too, have decided to remain closed until 2021.

Here is the current full list of all the places you will have to skip if you travel this season:
Diggers Rest Station, who I had reported were considering a July opening date, have looked at the numbers more closely and accepted that opening would simply not be financially viable for them given the short season and reduced visitor numbers.
Sadly, they too will remain closed all of 2020.


Also: All of Digger's gates on the Karunjie Track are closed and locked until further notice.
(Too many people just can't be bothered to close a gate again after driving through, and that makes it impossible for the station to muster. Once they have completed this year's mustering they will open the track again.)


El Questro AND Emma Gorge
I keep getting questions if Emma Gorge is open even though El Questro is closed. No. It isn't. It's part of El Questro. Emma Gorge being on the other side of the road and having its own accommodation makes no difference. El Questro is a big station that extends along both sides of the road. And it's closed.


Home Valley Station


Ellenbrae Station also announced they will reopen only in 2021. No scones this year.


Drysdale River Station! That means no fuel, supplies, meals, accommodation or camping on the way up north, if that even becomes an option this season.
(For now the Kalumburu Road, the Mitchell Plateau, Kalumburu community and the campgrounds outside it remain closed. No talk of opening as of yet, but also no confirmation of closure for the season.)


The Munja Track (to Walcott Inlet) and Bachsten Bush Camp


Charnley River Station


Mornington Wilderness Camp
---
New And Changed Opening Dates
---
Parry Creek Resort opens July 1.
I had written in the last newsletter that they are open already after misinterpreting something they had said and not double checking. Totally my fault. Very sorry for any inconvenience caused!
Great place, by the way.


Manning Gorge opens July 1 for day visits and camping, yay.
(Mt. Barnett Roadhouse is already open but with reduced opening hours, for now 10am - 3pm, Sat 9am - 12 noon, and Sun closed.)


Imintji Roadhouse had to delay their planned July 1 opening to July 10! (Government approval is taking longer than they had hoped but they expect everything to be completed by July 10.)
They will be open for fuel and camping.


Mt Hart will have fuel (diesel only) and bar meals from the 17th of July. (The campground is already open.)


Kooljaman Resort at Cape Leveque is open! (Not running tours yet, though.)


Geikie Gorge boat tours have started.
(They did so shortly after I read that they would remain closed the whole season. I am glad I didn't have a chance to report on that.)
For now tours are operating at 8am and 4pm and you can only pay with cash and only at the booking desk at the park.


And last but not least, Larrawa Nature Stay is not a big name but it's a great campground, pretty much exactly half way between Halls Creek and Fitzroy Crossing. (Details in Destination Kimberley.)
And they had so many phone calls from people wanting to stay that they relented and opened.
---
Interstate and International Travel
---

Ok, all of the above is well and good, but for now only relevant to Western Australians. What about everybody else?

The big news is that the Northern Territory is committed to opening its borders on July 17, despite the current rise in cases in Victoria. Border controls will remain in place for another two weeks after that but travellers will be allowed to enter without any quarantine requirements.
(Unless they come from place that has been declared a COVID-19 hotspot, like currently certain suburbs in Victoria, in which case the quarantine requirement still applies.)

That doesn't get you to the Kimberley but it gets you half way there, and if you haven't been already, there is certainly more than enough to do to fill up many weeks. Especially the north, the "Top End", offers many of the same things that people look for in the Kimberley: countless waterfalls and gorges, remote campgrounds, great bushwalking, fishing, 4WDing...

And the southern half, the "Red Centre", is not without reason one of the biggest drawcards for tourists from all over the world.

There is much more to the north than Kakadu, Litchfield and Katherine Gorge, and much, much more to the south than Uluru.
Destination Top End and Destination Red Centre can get you off the beaten track, to those hidden gems that few tourists usually find out about, and away from the crowds that, don't forget, also in the Territory will be much smaller this year without the international tourists.

If I lived in the south or east, and had planned to go to the Kimberley this year and couldn't, that's where I would go instead.

Of course, if you aren't tied to any particular dates or school holidays, you can continue to wait and hope that Western Australia will eventually follow suit. But for now, despite easing COVID-19 restrictions to phase 4 last Saturday (June 27), and despite pressure from other states and the federal Government, premier McGowan has only confirmed that the hard border closures will stay in place and only be removed when the WA Chief Health Officer is confident the spread of infection is controlled in the eastern states.

In fact, the original plan was to announce, together with the phase 4 loosening of restrictions, a tentative border opening date for some time in August. But then the new increase in cases in Victoria happened, so instead the government announced that they would not make an announcement. True story.

With numbers in Victoria still increasing, I for one am not holding my breath right now. We'll have to wait until that outbreak is under control until we can start to speculate about borders again.

(Also, it's still over two weeks until the announced opening of the NT borders. Let's hope that the situation will allow that to actually happen.)


---

The situation looks even more dire when it comes to international travel.

My guess is that potential international travellers would have postponed their trips until next year anyway, given the longer time frame that is required for planning such a trip and the uncertainties around everything.
Smart move, because while there have not been any definite announcements, the signals coming from the Federal Government indicate that the borders will certainly remain closed this season, possibly until mid next year, and possibly even longer than that.

From what they are saying they will not open the borders until the virus has been brought under control in the rest of the world. And as we all know, it's not looking as if that will happen any time soon.


---

Therefore, especially if you are travelling internationally, since there is still uncertainty left regarding if and when you will be able to actually come to Australia, I want to once more recommend a service that I have been recommending for years now.

It's a service that organizes your car/campervan hire and accommodation booking and helps with your itinerary planning, all at no extra cost.
I explain here how it all works.

I have had nothing but raving feedback about these guys. Here is one example of a reader email, and I have had many more like that. Read it and you'll understand why I recommend this company, especially to people from overseas, especially in these times:

"I would like to thank you for your recommendation for Bluey Travel - Pat is brilliant as are the rest of the team. We had to cancel for this year due to travel restrictions as we are from the UK - Bluey refunded us for the trip in full very promptly.
I have been in touch with Pat this week and she has advised that next year is booking fast and to book early so we can get all of our preferences - so we have re-scheduled the whole trip again with her. We all felt so confident with the arrangements Pat made for us for the trip this year. The booking process was very quick and easy and she was happy to plan the trip around our own itinerary (half camping & half accommodation). Communication is quick and efficient and the trip was planned with great attention to detail. Pat is always happy to answer my constant stream of questions. Nothing is too much trouble and I am very happy that we now have our trip for 2021 booked through Bluey Travel.
Fingers crossed that Australia will be letting us Pommies in by next August! Whatever happens - Bluey have said they will refund if we cannot travel - fantastic company!"
--Lynn Morris, UK, on June 18, 2020



---
Attention Dog Owners/Horses On The Gibb/A Plea
---

Ok, despite all the limitations and restrictions, and so many people being prevented from visiting the Kimberley this year, there are still a large number of people who are travelling right now or very soon, and for those I have some more information:

Attention Dog Owners:
A new tick-borne disease has been found initially in the East and now also in the West Kimberley: Ehrlichiosis.
Ehrlichiosis is a serious condition that can become chronic. I has already made many dogs very sick.
If you are travelling with a dog, be aware that new movement conditions and controls have been implemented.

(I have also added this information to the little separate guide for dog owners that every customer gets with their purchase of Destination Kimberley.


---

A warning for everyone driving the Gibb between July 4 and July 18:
A group of horses will be making its way from east to west during that time. The group includes inexperienced riders and children, so please drive slowly and carefully around them.


---

And a warning and a plea to everyone:
Yes, there are far fewer cars on the road this year. And yes, given the light use, the Gibb River Road is also in a very good state.
But PLEASE, can you still drive responsibly?
Just because the official speed limit is 110 kph doesn't mean it's a good idea to sit at that speed.

Take it easy, always expect the unexpected, especially if towing and going slowly keep an eye on your rear view mirror and make room for people wanting to overtake, always turn on your headlights so the person in front of you can see you in their rear view mirror and dust cloud (the same goes for oncoming traffic as there is always a lot of dust), and so on and so forth.
Every year there are many accidents, many damaged cars, shattered windscreens, and overall a lot of stress associated with driving the Gibb that just isn't necessary.
There have been accidents already this year and one fatal crash.

If everyone drove at a sensible speed and was a little bit considerate of everyone else, all of this could be avoided.
Thank you.


---

And that's it for today.

Once more a big, heartfelt THANK YOU to all the wonderful people who made a donation in support of this newsletter.
I look forward to telling you one day that sales have picked up again and things are returning to normal.
For now that isn't happening but thanks to your generosity at least I do not have to worry about the cost of sending this newsletter to so many subscribers.
Not even if this stupid virus keeps making things hard for all of us well into the next year.
Thanks again!


As usual, the next newsletter will be out when there is news to report.
For smaller updates (and, ahem, corrections) check my News page.
Take care, stay safe, and talk soon!
Birgit


---

If you enjoy these newsletters and find them useful, tell everyone about them (they can sign up here) and consider supporting me with a small donation.
That's the online equivalent of buying me a drink. :)
Thank you so much!





Destination Kimberley, Destination Top End and Destination Red Centre have all the information you need to put together your dream trip.

To sign up for this newsletter and receive the free Kimberley Pocket Guide go here.


Feedback? Found some out of date info in one of my guides? Let me know via https://www.kimberleyaustralia.com/contact.html


---

(c) 2020, Birgit Bradtke. All rights reserved.