---
28 March 2021, Issue #093

---

Please do not reply to this message.

To unsubscribe or change your address please use the links at the bottom of this message.
To contact me please use the contact page.

To sign up for this newsletter and receive the free Kimberley Pocket Guide go here.


---

In this issue:
Wet Season Update
Season Opening Dates
Gibb Bike Challenge Dates
Easter in the NT
F&§$%&$ C$&%§-19
---

Hi,

the Easter weekend is coming up and guess what?
Everything is under water!

Ok, not really, but there has been a lot of recent rain, the roads are still very wet, the highway only just reopened, and several places announced already that they'll have to push back their season opening dates.
And there could be more rain to come yet!

So anyone who plans to travel over Easter or through April and into early May will need to be flexible and may also have to drop one or the other place from their schedule.

Let's look at what we know...



---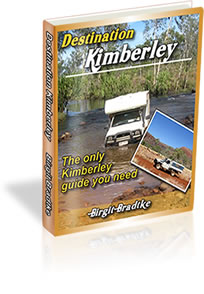 Your guide Destination Kimberley is still the most comprehensive and best advice for independent travellers to the Kimberley and I hope it continues!
We recommend it to everyone … and it is still compulsory reading for our new tour pilots every year.

(Steve Irvine, Managing Director of Shoal Air, on Jan 19, 2019. Read many more testimonials and reviews here.)
---
Wet Season Update
---

By now, some areas in the Kimberley have recorded one and a half to two times the average rainfall since the start of October.
After an already excellent early and mid wet season, with above average rainfalls, the last couple of weeks again brought extended and sometimes heavy rains in many parts of the Kimberley.

After several weeks of comparatively dry weather, it started to rain again in earnest around March 10 and continued until March 21.
(Not that it has totally stopped since, but light or isolated showers don't count.)

There was no cyclone, also no deep low pressure trough of the kind usually associated with cyclones, just a weak tropical low off the Pilbara coast.
But at this stage, with the country saturated already, it doesn't take that much rain for rivers to flood and roads to be cut.

The Great Northern Highway had to be closed between Derby and Fitzroy Crossing on March 16, with the road being almost one metre under water.
(On the weekend the Fitzroy River reached the 11 metre flood level marker.)
Then the other side, towards Halls Creek, got cut off as well on March 20.
The highway remained closed, and those towns cut off from supplies, until March 25.

Of course, that's nothing compared to the time that some communities on the edge of the Tanami have now been cut off.
It's been three months for Balgo and Bililuna!
Although being well prepared for the wet season and used to being cut off for extended periods, theses communities were now running low on food and generator fuel and had to have emergency supplies delivered by air.

Fitzroy Crossing and Halls Creek also had food and supplies brought in by plane and helicopter, since those towns are not used to and prepared for being cut off for that many days at a time.

Further north, along the Gibb River Road, the Durack River was nearly 1 kilometre wide at the road crossing, and Ellenbrae Station temporarily became an island.
Ellenbrae shared photos of both the river and their home.

And, also an unusual sight, here is a lovely photo of what the Gibb River Road currently looks like. (Where it isn't washed out or under water, that is.)

The Lake Argyle catchment saw really good rain, too, the lake filled up a bit more, it is now sitting at 64 per cent capacity, about 4 metres under full level.
(I had reported in previous newsletters about the comparatively low lake levels despite the massive rains this wet season, thanks to the previous two very poor seasons.)

Many pastoral stations had to already delay the start of their mustering and may have to push it back even further.
Regardless, everybody is REALLY happy with this wet season so far.
This includes everybody in tourism, as the news of the wonderful wet is likely to lure up even more travellers and also to give them a really good experience.

However, just like the cattle stations, many tourism enterprises will likely have to push back the start of their season and open later than they had originally hoped.
Some places that had published firm opening dates, have already announced that their opening will be delayed...




---
Season Opening Dates
---

And this is exactly the reason why many places never announce any opening dates in the first place, not until a few days beforehand.
You just can't tell!

Purnululu National Park, being in a drier part of the Kimberley, traditionally opens on April 1.
Not this year. For now the opening date has been pushed back to at least April 9 to give them a chance to repair the damaged roads.

Not at all in a dry region, Mornington Wilderness Camp had planned to open on May 1 and taken bookings, too.
They now have their hands full dealing with the cancellations and refunds and aim to open on May 12.
Charnley River Station, managed by the same organisation, is likely to be delayed even further.

Note how Mornington says they "aim to open".
I think this is something too few people realise.
Even if some stations or parks publish season start dates, these are never set in stone.
In very dry years places were able to open sooner than anticipated, and in a year like this it's going to be later.

That's also the reason you can't for example book the campgrounds in Purunulu for earlier dates than May.
It doesn't mean the park won't be open before then. As mentioned above, most years it is open from April 1.
But since it can't be guaranteed, and since cancellations and refunds are a major hassle, you can't book earlier than May.

So with that said, below are some more "aim to open dates", most of which had been set before the last rains and likely not all those places will be able to actually open by then.

That's assuming the Gibb River Road will even be fixed by then!
Nobody knows at all yet when that may be the case.
For now the authorities are waiting for a chance to get in at all, assess the damage, and start trucking in gravel and material for the needed repairs.

Assuming the Gibb is open by then:

The DPaW hopes to open the national parks (Windjana, Tunnel Creek, Bell Gorge) by the end of April.
The same goes for Manning Gorge and the campground there.

Mt Hart campground, Imintji campground and Mt. Elizabeth Station (accommodation and camping) aim for May 1.

(The Munja Track and Bachsten Bush Camp will remain closed for 2021.)

Ellenbrae Station wants to be open by mid April. (I am not sure that is realistic.)

El Questro should open April 1 as always, and Emma Gorge May 1.
Being on the eastern side of the Pentecost River, and the Gibb sealed to the turn off, they are not as affected by water levels.

Digger's Rest Station, which can be accessed from Wyndham, gave their opening date as April 2.
(Don't expect to be able to drive the Karunjie Track by then!)

A big question mark remains Home Valley Station.
I had reported in my January newsletter that HVS is undergoing a management change.
Until the new management is in place, they will not take bookings.
People interpret that to mean that they will not open, but that is not the case.
What is the case is that nobody knows what's going on, no information has been trickling out.
They will need to sort out what they need to sort out, and when they are ready they will announce it, and eventually they will open.
Could be any day, could be next year.

As I reported in the last newsletter, the Mitchell Plateau is theoretically open already, you just can't get there.
Meaning, it's open once the Kalumburu Road opens.

Drysdale River Station hopes to open on May 1 and there is no info on Kalumburu yet.


I said above that most of these dates were announced BEFORE the rain of the last two weeks.

Purnululu and Mornington already changed their dates, and I don't expect them to be the only ones who have to delay opening.
More information will become available over the next days and weeks, probably as soon as this newsletter is out.
But I didn't want to delay sending it while I wait. Instead, I'll post any available new dates to my News page, so you may want to check that occasionally.



---
Gibb Bike Challenge Dates
---

It couldn't run in 2020 but it's on again this year:
The Gibb River Road Mountain Bike Challenge

Going from west to east, the race starts in Derby on Sunday, May 16.
Teams will camp overnight for the following four nights at Imintji, Mount Elizabeth Station, Ellenbrae Station and Home Valley Station before finishing at El Questro for two nights, arriving May 20 and staying until May 22.

You were planning to take a 4WD not a mountain bike, so why am I telling you this?
Because you want to avoid being on the exact same schedule.

Challenge teams, support teams, organisers and volunteers... You are looking at several hundred people on the road and in the campgrounds.
Of course the camp hosts have space set aside for the challenge participants and are prepared.
Still, it will be different with that many additional people around.

The issues will be even bigger during the day, with that many bikes and support vehicles on the road:

Sun, May 16 - Derby to Imintji
Mon, May 17 - Imintji to Mount Elizabeth Station
Tue, May 18 - Mount Elizabeth Station to Ellenbrae Station
Wed, May 19 - Ellenbrae Station to Home Valley Station
Thu, May 20 - Home Valley Station to El Questro

Try to avoid that. It will be easier for you, not having to slow down every time you need to pass a bike (which you will be asked to do to minimise the dust), stuck behind support vehicles, groups of bikes etc.
It will be better for the mountain bikers, too, who will have less dust to contend with.

And if you can't avoid the riders, please be so considerate and really do slow down.



---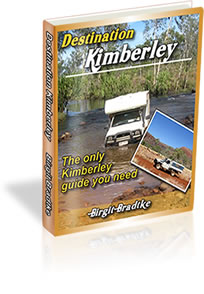 "I've read your book back to front and it is a masterpiece!"

(Received February 9, 2021.
Thanks, Cameron!)





---
Easter in the NT
---

Let's have a quick look at the Top End first, a very popular destination for the Easter holidays since it is more accessible than the Kimberley this time of the year.

Information about it is more accessible, too, and you have the links to all the national park opening info in the Appendix of Destination Top End.

As you can see in those access reports, Kakadu is very much still operating in wet season mode.
Only the places that I mention in Destination Top End as usually remaining open over the wet season, are open. Really not much at all.
Not surprising, since the Top End saw a lot of rain in the last week, too, just like the Kimberley.

Litchfield, too, looks as you would expect during the wet season. Everything around the main, sealed ring road is open, except Walker Creek. Wangi Falls is closed for swimming as are the Lower Cascades.
The Tabletop Track and all 4WD roads, and with that the southern part of the park, are closed.
You find some anticipated reopening dates as well as info for all other national parks in the Darwin area here.

Katherine Gorge is closed to swimming and canoeing but swimming is possible at the Southern Rockhole.
The boat tours operate on the first and second gorge and the walks are open as far as Lily Ponds.
Again, anticipated reopening dates (May for walking, June for swimming an canoeing) as well as info for all other national parks in the Katherine area can be found here.

All in all, wet season conditions across the Top End.

And not just the Top End, even the Red Centre is currently wet!
The Alice Springs area has not received that much rain over summer in 10 years.
There were waterfalls on Uluru, the Finke River is flowing (usually it's just a more or less dry river bed), roads are flooded, 4WD tracks boggy, communities cut off...
Normal in the north for this time of the year but exceptional for the centre.

I'd expect the roads and tracks to dry out pretty fast here. (But do check conditions before heading for any dirt tracks!)
The water holes are all flushed out and full now and the country nice and green, so it should be a great Easter in the Red Green Centre.



---

F&§$%&$ C$&%§-19


---

I've written this whole newsletter as if there was no pandemic and anybody could go to see those places any time if they wanted to.
Of course, that isn't the case at all.

Australia's international borders are still closed and are expected to remain closed for most of 2021.

It currently does look better for interstate travel.
The NT is only wary of people coming from high risk areas and hot spots (which change constantly and can crop up anywhere any time).
If you come from a high risk area, you need to undergo testing upon arrival and remain quarantined until a negative test is returned. Anyone arriving from a hot spot (currently there aren't any) has to enter supervised quarantine for 14 days, at their own cost ($2500).

WA takes a broader look: whether you need to quarantine or not depends on which state or territory you come from and how high or low risk that state or territory is currently considered.
Right now, everywhere is very low risk (no quarantine), except for Queensland, which is low risk. And that is enough to require you to quarantine for 14 days.
Once the risk becomes medium you are not allowed to enter at all.

So travel to the NT and WA is currently possible for most Australians (check what testing, paperwork, pre-registration etc. is required), but the uncertainty remains and you never know what next week or next month will bring.

If the WA boarder is closed again to south eastern states it will be devastating for Kimberley tourism operators.
If all goes well on the other hand, then it should be a bumper season for everyone!
Let's all keep our fingers crossed.



---

And that' all I have for you today.
I hope it helps, and I hope that your plans will not be impacted by any closures or restrictions, so that very soon I will hear from the first people who have returned from their trips with shining eyes.


As always, a big THANK YOU to all the people who made a donation in support of this newsletter.
Your support and encouraging words mean a lot to me. I appreciate you.


Happy travels, stay safe, and talk soon!
Birgit



---


If you enjoy these newsletters and find them useful, tell everyone about them (they can sign up here) and consider supporting me with a small donation.
That's the online equivalent of buying me a drink. :)
Thank you so much!





Destination Kimberley, Destination Top End and Destination Red Centre have all the information you need to put together your dream trip.

To sign up for this newsletter and receive the free Kimberley Pocket Guide go here.


Feedback? Found some out of date info in one of my guides? Let me know via https://www.kimberleyaustralia.com/contact.html


---

(c) 2021, Birgit Bradtke. All rights reserved.