---
24 May 2021, Issue #095

---

Please do not reply to this message.

To unsubscribe or change your address please use the links at the bottom of this message.
To contact me please use the contact page.

To sign up for this newsletter and receive the free Kimberley Pocket Guide go here.


---

In this issue:
Latest Opening Information
Free Camping
Managing Expectations
---

Hi,

the Kimberley season is under way now for real!
And it looks like it's going to be a mad busy one.

You can find the latest details below, and also some musings on issues that arise with the relentless increase in visitor numbers that we have seen over the years.



---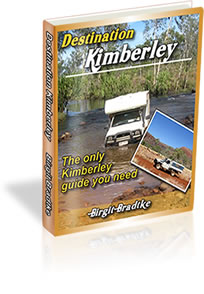 Your guide Destination Kimberley is still the most comprehensive and best advice for independent travellers to the Kimberley and I hope it continues!
We recommend it to everyone … and it is still compulsory reading for our new tour pilots every year.

(Steve Irvine, Managing Director of Shoal Air, on Jan 19, 2019. Read many more testimonials and reviews here.)
---
Latest Opening Information
---

Things have progressed nicely. Almost all places along the Gibb are open now, hooray.

The only one we are still waiting for is Charnley River, which should open on June 5.
(We also still have no official information on the opening of Home Valley Station. Unofficially they are trying their best for June.)

There is still a lot of water around though! All the gorges are full and the waterfalls still pumping.

As is often the case at the start of the season, and I warn you about this in Destination Kimberley:
When the Gibb River Road is open and a station or park is open, it does not necessarily mean that all waterfalls and gorges at this park or station will be accessible!

Currently this applies for example to Wunnamurra Gorge on Mt. Elizabeth Station, which would of course be the highlight of a visit to Mt. Elizabeth. But you can't get to it yet and it is unlikely to open before July, maybe not even then. They just can't predict yet if and when the grader will be able to repair the track.

Also, if you want to make your way through Tunnel Creek, be aware that rather than knee deep the water in there is currently still over your head in one spot, so you're going to have to swim. (It's good fun and worth it!)

If you are towing you also need to be aware that you can not tow anything between Tunnel Creek and Yiramalay (south of Tunnel Creek) on the Fairfield-Leopold Down Road as the road is still wet in that part. Meaning you can't get there towing from the highway, only when coming from the Gibb.

So far travellers have been very happy with the Gibb River Road, the road crews have done a great job and it is currently in very good condition.

It is however very busy already, camps are filling up early, and apparently a huge camper trailer/caravan migration is under way up the west coast (as always), so do expect things to get crazy busy over the next weeks!

The Kalumburu Road is still open only as far as Drysdale River. Once the northern part opens, the Mitchell Falls will open and hopefully also Kalumburu (including McGowans and Honeymoon Beach), though I have no definite information on that yet.



---
Free Camping
---

Ok, so the campgrounds are filling up early. And everybody is aware by now that this season might get a bit crazy.

Booking most everything ahead seems like a good idea, if not essential. Yet that would mean locking yourself into a rigid schedule, something that not everyone is happy to do. Also, some places are booked solid already.

If you go to certain online forums or social media sites and ask about experiences and for recommendations, you will generally have a bunch of people tell you that it's perfectly fine to not book anything and that there is free camping everywhere along the Gibb River Road.
Just get WikiCamps (an app) and wing it!

I also had one reader write to me and suggest I recommend the app.

Here's the thing though (and the reason I never mentioned it before):

WikiCamps contains user generated content. It isn't usually vetted. Uninformed travellers find a nice spot on the Gibb, pull up, enjoy their night there, and add it to the app. Voila, another official "free camp".
What these people actually did was camp on someone else's property, in most cases station land.

I do point it out in Destination Kimberley: Pretty much all the land along the Gibb belongs to someone. It is either station land (no camping without permission from the owner), a national park or conservation area (no camping other than in designated, managed campgrounds) or indigenous land.

Somebody entering the GPS coordinates into an app does not overwrite the above and allow you to camp there.

In the (app free) past this wasn't a big deal and was well tolerated. There were few travellers and they were aware and responsible, leaving a place as they found it, with barely a trace of their stay.

But that has changed massively over the last ten to fifteen years. There are way too many people out there now and way too many of them have no respect whatsoever for their surroundings. Rubbish everywhere, gates left open, fires not extinguished, disgusting toilet habits... It has led to closure of sites that were well known and tolerated free camps, closure of gorges to the public altogether, and growing exasperation among station owners.

I have no perfect solution. Yes, the official campgrounds are often overfull. Yes, I also hate to be locked into a set schedule. Or the pressure of having to be at every camp early in the day to get a good site.

But that's just how it is. I have to accept that the Kimberley has changed, that when I travel at the same time as everybody else, I have to put up with these things, and I still have to act responsibly towards everybody else and the wonderful country around me.

I ask you to do the same, please. If everyone does, then some free camping may remain possible in the future as well.

(While we're at it: The season isn't even in full crazy mode yet but there are already plenty of reports of hooligans on the roads, reckless driving, cracked windscreens etc. The usual. You find enough on this topic in older newsletters.)



---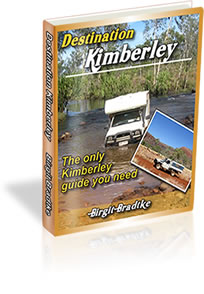 "I've read your book back to front and it is a masterpiece!"

(Received February 9, 2021.
Thanks, Cameron!)





---
Managing Expectations
---

In the last newsletter I reported on the sale of El Questro Station and Kings Canyon Resort as well as on the investments and upgrades that are planned, with most of the money to be spent at Kings Canyon.

The reader who alerted me to what's happening mentioned how the resort had over 500 poor or very poor remarks on TripAdvisor in the last year, which makes one think the upgrades are sorely needed.

Yet here is feedback I received from one of my readers (thank you, Pat):


"We have just come from Kings Canyon Resort. The shaded drive through CV sites are excellent, toilets / showers maybe dated a little but very clean, great pool area, servo shop, bar and great BBQ menu at very reasonable prices. I'm finding it difficult to see where all that dosh is to be spent. I would rate the present arrangement 4 star. Lets hope they don't spoil the place. Some people expect too much."


I see a similar contradiction all the time up in the Kimberley, not just when it comes to facilities at higher end resorts, but also at stations, campgrounds, as well as regarding the state of the roads and tracks.
It is not unusual to get bitter complaints and rave reviews about one and the same place in the same week.

I guess you have to assess your own expectations. What kind of traveller are you, have you travelled this remotely before, and at what kind of places do you usually spend your time?

That may help you to put the information you receive about roads and places into a proper context, to adjust your expectations, and hopefully not end up disappointed!



---

That's all I can think of for today.


As before, if anything important comes up in the next days or weeks, I will put it on the News page. (I don't always make a new post, I often just update the latest update post, so do scan that even if you've seen it before.)
Also as before, you'll hear from me again as soon as I have enough material to put together another newsletter.

Enjoy your trip and let me know how it went when you get back.
I hope it doesn't get too mad out there!


As always, a big THANK YOU to all the people who made a donation in support of this newsletter.
Your support and encouraging words mean a lot to me. I appreciate you.


Happy travels, stay safe, and talk soon!
Birgit



---


If you enjoy these newsletters and find them useful, tell everyone about them (they can sign up here) and consider supporting me with a small donation.
That's the online equivalent of buying me a drink. :)
Thank you so much!





Destination Kimberley, Destination Top End and Destination Red Centre have all the information you need to put together your dream trip.

To sign up for this newsletter and receive the free Kimberley Pocket Guide go here.


Feedback? Found some out of date info in one of my guides? Let me know via https://www.kimberleyaustralia.com/contact.html


---

(c) 2021, Birgit Bradtke. All rights reserved.