---
13 June 2021, Issue #096

---

Please do not reply to this message.

To unsubscribe or change your address please use the links at the bottom of this message.
To contact me please use the contact page.

To sign up for this newsletter and receive the free Kimberley Pocket Guide go here.


---

In this issue:
Home Valley Station To Open June 21
Mitchell Falls Open, Honeymoon Bay Open, Kalumburu and Kalumburu Road closed.
Glen Helen Lodge To Hopefully Reopen Soon
---

Hi everyone!

I would have liked to send this a few days sooner, but there's always something getting in the way, isn't there?

Right now, believe it or not, I have developed some overuse strain or injury, some carpal tunnel type thing in my right shoulder and hand, that means I can only sit and type for a few minutes at a time before my hand starts tingling and goes numb.

Hence mostly only the most important news below, in short form.

As I've done over the last months, I'll continue publishing these kind of news items on my News page asap when I first become aware of them. Which only takes a couple of minutes and is very doable with my funky right arm.



---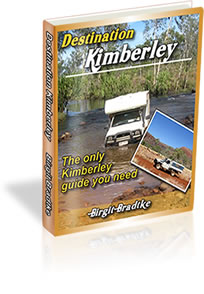 Your guide Destination Kimberley is still the most comprehensive and best advice for independent travellers to the Kimberley and I hope it continues!
We recommend it to everyone … and it is still compulsory reading for our new tour pilots every year.

(Steve Irvine, Managing Director of Shoal Air, on Jan 19, 2019. Read many more testimonials and reviews here.)
---
Home Valley Station To Open June 21
---

Finally there is official news from Home Valley Station!

In July 2020 Voyages Indigenous Tourism Australia had ceased the management of the tourism side of the station. All we'd known since then was that the owners were negotiating the future management.

I kept getting emails from readers asking about this. And when I indicated that nothing more is known yet, I got messages bemoaning that it won't open. To which I answered, "Look, we just don't know yet. We know they are working on it, and when they have sorted things out and are ready, they'll let us know. We just have no idea when that'll be."

Well, apparently the negotiations have been successful and all the details ironed out:

The station is now managed by Balanggarra Ventures, a subsidiary of the Balanggarra Aboriginal Corporation.
Balangarra people are the traditional custodians of this country. Asked about the future they say that they want to focus on local Indigenous employment rather than relying on backpackers.

So yes, Home Valley Station is opening this season! They have started to take bookings again, for dates starting from June 21.



---
Mitchell Falls Open, Honeymoon Bay Open, Kalumburu and Kalumburu Road closed.
---

Since the end of May the Kalumburu Road is open as far as the Mitchell Falls turn off, and with that the Mitchell Falls National Park opened!

All the roads on the Mitchell Plateau are open (for high clearance 4WD only). You can access the Mitchell Falls, both campgrounds, Surveyors Pool and Walsh Point.

About the same time Honeymoon Bay was granted the exemption from State Emergency Laws that allows them to open to visitors.

BUT:

That part of the Kalumburu Road is still closed (big wash outs from the wet season) and Kalumburu Community also has not (yet) been granted their exemption, so is still closed.

And that means getting to Honeymoon Bay is not exactly easy right now! But it's possible.

First, you need to make sure you have a vehicle capable of negotiating the Kalumburu Road, and that you have enough supplies of everything (fuel, food...) to get there, for your time there, and to get back.
And you need to book ahead at Honeymoon Bay.

You need evidence of your booking, you need to show that your vehicle and the driver are a match for the road, and that you have all the supplies that you need, to get a Closed Road Usage Permit from the Shire of Wyndham East Kimberley. (No vans, boats or trailers!)
You need to allow at least three days for the processing of the permit, and you need to have received it before you leave phone/internet coverage.

And you absolutely MUST complete Honeymoon Bay's Covid Pre-checkin questionnaire before going. (You will receive a link to it after you have booked.) You can only do this online, so you need to do it before leaving civilization.

Oh, and take a mask! You'll need it to check in.



---

The Kalumburu Road will eventually open, once the shire deems it safe, and I assume that Kalumburu will also eventually be granted an exemption.

That will make everything easier for you, but be aware that not just people in Kalumburu but all Indigenous communities are very concerned about keeping their people safe.
Which means the situation can change any day.

Take what happened end of May. On May 27 the WA State Government announced border restrictions for Victoria, and that anyone who entered WA after May 16 needs to undergo COVID-19 testing.
This led to Mt. Barnett/Manning Gorge having to tell six of their guests (one of whom had minor symptoms but later tested negative) to immediately leave and make their way to Derby or Kununurra for testing.
All other travellers were also asked to leave the campground to allow for deep cleaning of the amenities before reopening.

And something like this can happen any time anywhere. It does not need to be an outbreak. In fact, nobody can afford an outbreak in such remote a region, and especially not in an Indigenous community.
If there is the slightest suspicion that there is a chance of anyone carrying the virus, the communities will act to first and foremost keep their members safe, exemption or not.

So be ready for unpleasant surprises and remain flexible.
(You should be and do that anyway. It's part of having an adventure!)



---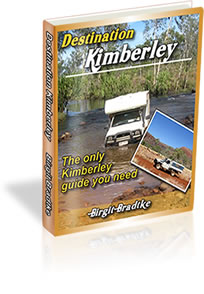 "I've read your book back to front and it is a masterpiece!"

(Received February 9, 2021.
Thanks, Cameron!)





---
Glen Helen Lodge To Hopefully Reopen Soon
---

Last year in August Glen Helen Lodge in the West MacDonnell Ranges (Red Centre) closed. I had totally missed the closure. (Heck, everything was more or less closed thanks to Covid.)

Glen Helen is an important stop in the West MacDonnells, not just because of the swimming at the gorge and the accommodation and meals, but also to get fuel, supplies or for example a Mereenie Tour Pass.
So the sudden closure was certainly a shock to the (few) tourists who were out at the time and it is still inconveniencing travellers.
(Even though access to the gorge itself had been reopened earlier this year, by creating a temporary access track.)

But apparently a deal to purchase Glen Helen Lodge is already finalised or should be finalised soon, with Discovery Parks and the G'Day Group becoming the new owners, taking over from the Ngurratjuta Aboriginal Corporation.
If all goes well, the lodge may reopen by the end of June.
(If not, then it'll be a bit later, but at least it should reopen!)



---

And that's it for today!

One little thing I forgot to mention (may not be little for you):
The Fairfield Leopold Downs Road is now open for all vehicles, including those towing, so everybody can now get to Windjana Gorge and Tunnel Creek from both sides, from the Gibb and from the highway.

Don't forget to check the News page occasionally (as I can't send out a whole newsletter every time one piece of news becomes available).
As always, you'll hear from me again when I have enough material to put together another newsletter.
Meanwhile, I'll go and do some stretching and massaging and fascia rolling... ;)


As always, a big THANK YOU to all the people who made a donation in support of this newsletter.
Your support and encouraging words mean a lot to me. I appreciate you.


Happy travels, stay safe, and talk soon!
Birgit



---


If you enjoy these newsletters and find them useful, tell everyone about them (they can sign up here) and consider supporting me with a small donation.
That's the online equivalent of buying me a drink. :)
Thank you so much!





Destination Kimberley, Destination Top End and Destination Red Centre have all the information you need to put together your dream trip.

To sign up for this newsletter and receive the free Kimberley Pocket Guide go here.


Feedback? Found some out of date info in one of my guides? Let me know via https://www.kimberleyaustralia.com/contact.html


---

(c) 2021, Birgit Bradtke. All rights reserved.