---
15 October 2021, Issue #097

---

Please do not reply to this message.

To unsubscribe or change your address please use the links at the bottom of this message.
To contact me please use the contact page.

To sign up for this newsletter and receive the free Kimberley Pocket Guide go here.


---

In this issue:

---

Hi!

I only found out about this yesterday, and it took me completely by surprise:

Kooljaman Resort will be closing.

No, not closing for the season, but closing, well, hopefully not for good, but apparently for quite some time.

They are currently emailing everyone who has a booking after November 1 and will be fully refunding people.

So what's going on?



---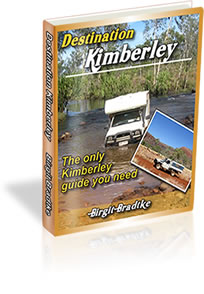 Your guide Destination Kimberley is still the most comprehensive and best advice for independent travellers to the Kimberley and I hope it continues!
We recommend it to everyone … and it is still compulsory reading for our new tour pilots every year.

(Steve Irvine, Managing Director of Shoal Air, on Jan 19, 2019. Read many more testimonials and reviews here.)
---

I know very little at this stage. Like I said, I only just found out.

Despite the COVID chaos affecting the second half of the season, Kooljaman Resort had one of their best seasons ever, owing to the now fully sealed Cape Leveque Road which makes it easy for people to now zip up in no time, even for just a day.
So the sudden closure was the last thing anyone expected.

According to the ABC there was an email to tourism stakeholders, and in that email Kooljaman said that "the deteriorating infrastructure of legacy assets from the Cape Leveque Lighthouse that supported Kooljaman's establishment, have begun to fail", whatever that means, and that that was a strong reason for the closure.
The Australian Maritime Safety Authority manages the lighthouse and says it was refurbished in 2018 and is in excellent condition.
So it's all a bit strange.

In their email to tourism operators and tourists, and also on their home page, Kooljaman management gives "requirements for major upgrades to continue to meet compliance standards and guest expectations" as the reason for the closure.
(Thank you, Remco, for sharing the email with me.)

Hm, compliance standards and guest expectations. I know that Kooljaman, like everybody else, was very short on staff this season. There have been complaints from visitors about accommodations and facilities not being clean enough and similar. I usually note those but don't take them too seriously, because often enough those kind of complaints come from people who have totally unrealistic expectations regarding camps in remote areas. I also think you have to make allowance for the staff shortages this season. People can only do what they can do.

On the other hand, now that the road is sealed, Kooljaman is not really all that remote any more. Of course the visitor demographic will change, and with that the expectations. And staff shortages or not, you have to find a way to maintain certain standards.

What will also continue to change is not just the demographic but also the number of visitors. It will continue to increase.

This has negatively impacted the resort in another way, too. There were way too many people and too few staff to monitor everything, so visitors ended up going wherever they wanted, camping in restricted areas and what not. It resulted in Kooljaman simply closing access to the beaches altogether in August, because they saw no other way to control the issue. Not good.

So, one of the best seasons as far as visitor numbers go, but maybe not the best for visitor experience?
Whether this is the case, and whether the resort management can be blamed, is impossible to judge unless you spend extended time there yourself, which I haven't.

But obviously there is some serious problem somewhere.

Fact is, Kooljaman will close after October 31, and if and when it will reopen apparently depends on their ability to access funds to finance the required infrastructure upgrades, whatever those may be.
And that's really all I can tell you.

If Kooljaman was on your itinerary for next year, you will have to adjust your plans.
Note though that any cultural tours or activities previously offered at Kooljaman by other operators will continue to operate from the Djarindjin Roadhouse.



---


Ok, that was the big news for the day and what caused me to finally sit down and write a newsletter.
I have not sent one since June, although I should have, and I should probably talk about that as well.

I have been meaning to sit down and write to you for quite some time, and eventually I will do that and explain more.

For now I first of all want to once more thank everyone, from the bottom of my heart, for your support during the last 18 months of COVID mayhem.
Your donations and your kind words helped more than you'll ever know.

As you can see, I have removed the donations button from the bottom of the newsletter. Quite a while ago I also cancelled all the donation subscriptions. (Quite a few people were supporting me via a monthly donation. Thank you so much!)

As I explained to one reader who asked me about this cancellation, the reason is simple: I wasn't holding up my end of the bargain. I wasn't sending regular newsletters any more.

And I am afraid I also won't be sending regular newsletters in the future. I am not saying I'll never send any again. I am sure there will be one or the other. But not the regular keeping-you-in-the-loop-about-all-things-Kimberley that I have tried to maintain in the past.

This is pretty much financial suicide for me, I know from experience that I only sell a lot of books if I write a lot of newsletters, but so be it.

Much worse than knowing what I am doing to myself financially is the feeling of letting everyone down.
The reasons I am doing it are manifold, I have struggled with them for years, and one day I'll try to explain them.
COVID is not the main reason (though the last 18 months certainly did not help), but I guess it was the trigger.

I decided to end this regular newsletter and to change the focus of my business and my life, away from the Kimberley.

Please don't speculate about my reasons. I will explain them, I promise. It all makes sense, it's necessary, and it's all good.


Sorry to send a newsletter with two such downers out of the blue.

I don't know if it helps, but the guide books aren't going away of course, and I'll continue to update them, for as long as people keep buying them.



---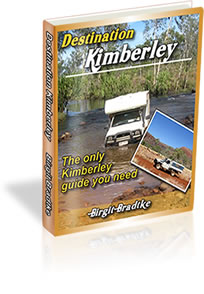 "I've read your book back to front and it is a masterpiece!"

(Received February 9, 2021.
Thanks, Cameron!)





---


Take care, and I'll talk to you again, hopefully in the not so far future.
Birgit



Destination Kimberley, Destination Top End and Destination Red Centre have all the information you need to put together your dream trip.

To sign up for this newsletter and receive the free Kimberley Pocket Guide go here.


Feedback? Found some out of date info in one of my guides? Let me know via https://www.kimberleyaustralia.com/contact.html


---

(c) 2021, Birgit Bradtke. All rights reserved.