---
8 July 2018, Issue #069

---

Please do not reply to this message.

To unsubscribe or change your address please use the links at the bottom of this message.
To contact me please use the contact page.

To sign up for this newsletter and receive the free Kimberley Pocket Guide go here.


---

In this issue:
Recent Updates
Reader Feedback
Future Developments
I Will Be Away July 14 - 21
Trip Reports
---

Hi !

It's almost mid July, officially peak season, and things have settled into their usual rhythm.

I rarely have big changes or updates to report during the second half of the year, so newsletters may become less frequent from here on.

Having said that, here's a heads up on a few smaller items...



---
Recent Updates
---

On Friday Parks and Wildlife sent out a warning to people wanting to camp at Tumblegoodine.
Tumblegoodine (or Tumblegoodiron) is described as a free bushcamp and popular fishing location on p. 115 of Destination Kimberley.
I already warn readers in the description that large saltwater crocodiles inhabit the area.

Parks and Wildlife reported that a 4.5m crocodile has been seen frequently over the last week, hanging around the sandbar there.
(Did I write "smaller items" above? 4.5m is not small!)

A lurking crocodile is something you want to be VERY careful with.
Don't think you are safe when you can't see it. That is when it actually gets dangerous. Ok?
Stay well away from the edge, be vigilant when launching boats, and definitely don't go anywhere near the water at night time.



---

Several readers contacted me with questions about the Karunji Track (p.204/205). They had encountered locked gates, closed road signs, as well as a sign saying the special permission is needed to do the track.
So I followed up with Alida from Digger's Rest to make sure I had it right with the info in Destination Kimberley. (I did.)

The road is not usually closed and you do not need any permission to use it. This is a stock track, not a gazetted road, which means you void any insurance cover and drive it completely at your own risk.
El Questro strongly discourage people from using the track to avoid the hassles of people getting stranded and needing assistance.
Digger's Rest on the other hand will happily send you down there and help you with info about it, provided they get the impression that your rig and the driver are up to it.
If you are confident that you have what it takes, go for it!

It is after all a great drive though not an easy one. Digger's Rest have graded the first 30 or so kilometers from their end, but the rest is pretty rough with some sharp creek crossings, bull dust and sand. Also be careful on the mudflats, they are not necessarily as dry as they appear.
Naturally, observe all the usual precautions when driving in very remote areas: take enough water, some emergency communication, let someone know where you are going etc.
I recommend that especially during mustering season you contact Digger's Rest beforehand for information. They may at times have to close certain parts temporarily to not have passing vehicles interfere with their muster.

I have made all that clearer in Destination Kimberley.



---

Additionally Destination Kimberley has grown again, it is now 229 pages. I have made several additions (Pender Bay Escape on the Dampier Peninsula p.100, excursions to a place called Roy's Retreat up at Lake Argyle p.174, Gibb River Station p.202), all of them places that are little known yet and will allow you to get away a bit from the peak season madness.

Talking about peak season madness, the increasing number of visitors that flood the Kimberley every year was a central topic in my last newsletter and it has caused a large amount of feedback from readers...



---
Reader Feedback
---

Thank you to everyone who allowed me to share their comments here. In the end the response was so large that I could have filled a book so I had to cut a lot. Sorry if your comment is greatly shortened or not included after all!


Michael writes:

"We were on the Gibb River Road in late May - the gorges, pools and mountains were fabulous.
The behavior of campers however - noisy fridges and generators, and lack of consideration by late night arrivers - was a bit of a surprise. Road behavior was also disappointing - we were passed at speed by huge rigs only to see many later on the side of the road with wheel problems.
Only some drivers slowed and pulled over. One incident still frightens us – a large 4wd and caravan going very fast - wheels bouncing violently in the middle of the road - that appeared out of control and forced us off the road.
BTW we did the Gibb in a Subaru Outback with town oriented SUV tyres and fairly lightweight tent and equipment. Our speed varied depending on conditions, we had no punctures nor other problems and, other than an unexpected dunking in a hole in the Barnett River that had water over the bonnet and filled up our driving lights, all ok.
Our formula was: tyres down to 28psi, drive to conditions and slow down and pull over for approaching cars – easy on the car, on the road and on other drivers."


Michael also mentioned that for example driving the Rio Tinto road from Mt Tom Price to Karratha requires a permit and the viewing of a 20 minute video on dirt driving. He thought the video worthwhile in articulating and reinforcing sound driving behaviours.
As annoying as many of us would find it to have to sit through that (or even to be required to get a permit at all just because others can't drive), it is an interesting approach that might actually make a difference.


Karen found that last year was already too busy:

"We went last year and found the area was getting busy then.  The Gibb River Road was great but we would never do it again. The inconsiderate travellers on the road is the main reason. Places like Manning Gorge were too busy and not enough facilities. Three toilets with a queue of 10 at 6am. One campsite we thought was great was Iminjti, we all but had it to ourselves.
We mostly had a wonderful time, but couldn't believe the amount of people that did not seem to care the problems they caused for other people. The dust from the fast vehicles (they must cause damage to the vehicles) and camping in places where they are not allowed.
Sometimes they all but camp on top of you and block in your vehicles."

A tip from Ferg to help with the dust:

"I had my Landcruiser serviced with new filters all round and all oils changed before we left. I checked the air filter at Kununurra noticed it was dirty but didn't appear too bad. I have just replaced it and it certainly copped some dust. Luckily, the filter did its job and the inlet side was perfectly clean. I had always waited for most of the dust to settle before driving off. Had I driven at similar speeds as those that passed me from the opposite direction I would have had to replace the filter for our return journey.
I did notice a few 4WDs using a snorkel pre-filter on the inlet so will pick a couple up for our next trip. They're reusable foam that's oiled so can be washed clean & re-oiled.
I do think this highlights some hidden issues that could become problematic for newbies to 4WD travel."

Marian travelled along the highway:

"We just returned home to Darwin on Tuesday.
We travelled for the last three weeks from Darwin to Alice Springs via Uluru to Great Central Highway and then to Broome and returning via the normal highway.
We decided not to take the Gibb River Road as we heard stories about the road not being in very good conditions for a gravel road. I am pleased we did not after reading your stories.
We have travelled a lot throughout Australia at various times of the year but we have never seen so MANY caravans on the roads. We believe that "the bigger the better" must be their motto. Everyone who you meet was expressing that there are so many travellers on the road this year.
And the rest areas are full at the end of the day as never seen before. Even the caravan parks are very full this year.
Unfortunately, people do not socialise as much anymore but keep to themselves missing out on travel stories of their co-travellers.
However, we had a wonderful time and cannot wait to get back on the road again."

David missed out on a few experiences but avoided the crowds:

"We left on the 23rd April to see the max water in falls etc. We were advised before leaving there was no need to book. We did not book anywhere but were lucky in a few places to get one of the last powered sites, eg Lake Argyle, when arriving at 2pm. We were advised not to go to El Questro due to my vehicle ground clearance and the high level of water in the creek. My brother in his raised 4WD and caravan confirmed the advice. Missed seeing two waterfalls in Litchfield NP and most things in Kakadu due to road and track damage from rain. Another trip is in order. Noticed some traffic heading north when we did, but a lot more coming home."

Greg writes:

"Spent May in the Kimberley, perfect timing. On the return trip we saw bumper to bumper caravans heading up, so glad we missed all that.
I think some drivers are a bit precious, no way can anyone do 100kph continuously on most of the Gibb, only the western end which is a better surface anyway.
The eastern end has so many dips and floodways it's impossible to get up to a high speed.  Biggest issue I had was caravan drivers not looking in their mirrors.  Be stuck in their dust for mile after mile when all it takes is for them to slow/pull over and overtaking can be done at a steady speed.  With them plodding at 60 to 70 your overtaking speed has to be much higher, thus rocks and stones for all. CB doesn't seem to wake them up either, most are just ignorant. I'm pushing 68 and have been driving semis since I was 12, had no complaints with the road trains but those bumper to bumper caravaners give all travellers a bad rep."

Short and to the point:

"Total agreement with comments on drivers/dust at moment, we're actually glad to be in Broome now after five weeks on the Gibb, brilliant for first three weeks, madness for last two."

Peter says:

"We have just finished the loop across the Gibb and back via the bitumen. We used your book all the way and found it fantastic, and very up to date. We had a great time, just one flat tire (within the first 100k or so on the Gibb at the roadworks) which the very friendly people at Ellenbrae replaced for us at a quite reasonable price.
The Gibb was pretty good all the way, perhaps a bit tougher at the El Questro end, but the sharp stones were our only real concern. The drive into the Bungle Bungles was quite a bit rougher, but again not too bad as we just took it steady.
Everywhere was fairly busy, but about what we expected and there was some space in all the campgrounds. The only issue we had is, as reported in your latest newsletter, drivers who don't slow down. Our friend ended up with a broken windscreen as a result of one such driver. However, we did find the vast majority of drivers much more courteous.
We had an off-road camper trailer and it went very well, but we marvel at the number of caravans we saw."


My own impression after reading all the feedback I received is this:

The large number of caravans on the roads, including the Gibb River Road!, is the most frequent observation.
It is followed by all the problems caused by speeding vehicles.

But most of all it became obvious again that how you perceive your trip depends more than anything on your expectations.

The main "tourist loop" through the Kimberley, especially if done in a rush, is not a remote wilderness experience any more. But it's still a great experience!

Also, you still have many, many options where you can get away from the crowds. Read up on everything in detail before you leave and plan according to what you want to get out of your trip. For example every single place mentioned under "Recent Updates" at the top allows you to get away from the crowds. You don't have to follow the beaten track!



---
Future Developments
---

In the last newsletter I also spoke about the pressure to develop more infrastructure to accommodate the increasing numbers of visitors.

Here is news about one more place that will see such improved infrastructure. (Link to Facebook)

The Wunambal Gaambera Aboriginal Corporation plans to develop Walsh Point (Port Warrender, on the Mitchell Plateau) and has received grant money to help them do so.
Improved road and boat access as well as new water bores, campsites, toilets and showers are on the horizon. (The little slide show in the link above is from a site survey.)
The article also mentions the desire to protect cultural and art sites.

You know that I see all that development with mixed feelings.
On one hand improved facilities greatly reduce the appeal of any place to me. It takes away from the wilderness experience and it brings in even more people.
On the other hand, if those visitors aren't managed appropriately, they will ruin what once was a pristine wilderness.

An Aboriginal art site behind a fenced viewing platform at the end of a marked path will not offer the same experience as one you discover in the bush and get close to.
But people are not only touching that precious art. One commenter on Facebook recently reported that people had scribbled over the art with marker pens...
It made me nauseous to read it.
Yes, these sites need to be protected!


So again my appeal to everyone:
Wherever you go, treat your fellow travellers and your surrounds with respect.
Educate yourself about what's around you, leave a place better than you found it and, as much as you can, inspire others to do the same.
(Or, if it feels appropriate, punch them.)



---
I Will Be Away July 14 - 21
---

Just to let you know that I'll be away from July 14 until July 21.

I won't be totally offline as I was during my April/May trip.
Still, I don't like keeping people waiting for a response, so I asked Amit to help out again.
If anyone runs into a problem with a purchase or you lost or misplaced your download link etc., he will be able to sort that out for you within 24 hours on weekdays.

However, Amit can only do that if during that time you use the contact forms on my website for any requests or enquiries!

I do ask my readers in any and all of my materials (including the top and bottom of this newsletter) to only use my contact page to get in touch.

This is one of the reasons. Anything that comes through the website can easily be re-routed when needed.

This is not possible if you just hit reply to a newsletter or use the address in an old download email, an old PayPal receipt etc.

So please, especially between July 14 and 21, use the contact page.

Amit is not a Kimberley/NT specialist so he won't be able to assist with the many other questions you like to send me.
Sorry that I won't be able to respond to those or your feedback until I get back, but I'll respond asap.



---
Trip Reports
---

I had already included one of the videos from Mike and Amanda's trip in the last newsletter.

You can now watch all three videos of their trip here.

The first video showcases the Pilbara country they crossed on their way up to the Kimberley.
The second one, the one you already saw, sees them driving the Duncan Road from Halls Creek to Kununurra.
And the third has beautiful footage from Lake Argyle and Purnululu.

If you don't have time to watch the videos, there's a little write up as well.
Enjoy!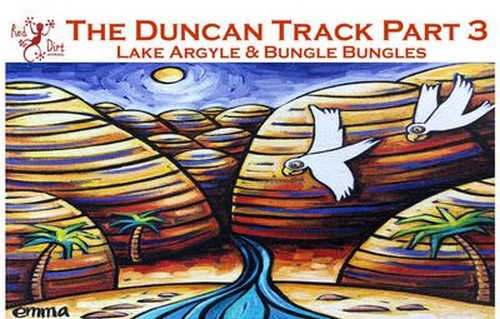 ---

The following was also submitted on the trip reports page. It is more of a glowing testimonial than a trip report, but I do want you to take notice of what Rebecca said about not cramming in too much!
(My constant mantra ;) )

And I also want you to realise that despite the challenges we talked about above, the majority of people who visit the Kimberley still nothing but rave about their experience.

Thank you so much for your kind words, Rebecca. You made my day. :)

Kimberley with Kiddos!



---


So, know what to expect, take your time on your trip, and hopefully you will return as happy as Rebecca did.

Safe travels and talk again soon!
Birgit


Destination Kimberley, Destination Top End and Destination Red Centre have all the information you need to put together your dream trip.

To sign up for this newsletter and receive the free Kimberley Pocket Guide go here.


Feedback? Found some out of date info in one of my guides? Let me know via https://www.kimberleyaustralia.com/contact.html


---

(c) 2005-2018, Birgit Bradtke. All rights reserved.