The Duncan Track, April 2018
by Red Dirt Australia
(Fremantle, Western Australia)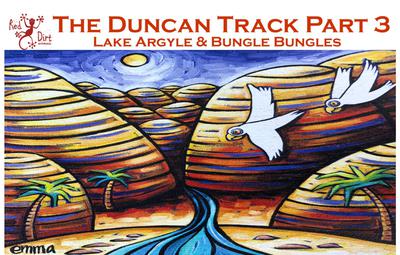 The Duncan Track - Red Dirt Australia
There's just something so special about the Kimberley's, it's hard to describe but once you've caught it, she draws you back again and again. It's an addiction that saw us travel 7000km in just over two weeks to get our hit.

This visit we were aiming for the Duncan Track.

It starts from Halls Creek, weaving its way northwards back and forth across the Northern Territory / WA border, up behind the Bungle Bungles and finally depositing you near Keep River National Park. 500km of dirt track through gorgeous Kimberley Savannah, studded with gems like Palm Springs and Marella Gorge.

We journeyed northwards on a bit of a mission, but still managed stop-ins at great locations like 80 Mile Beach (amazing shells on the seemingly endless expanses of beach) and Barn Hill (gorgeous rock formations along the coast, and those red cliffs!).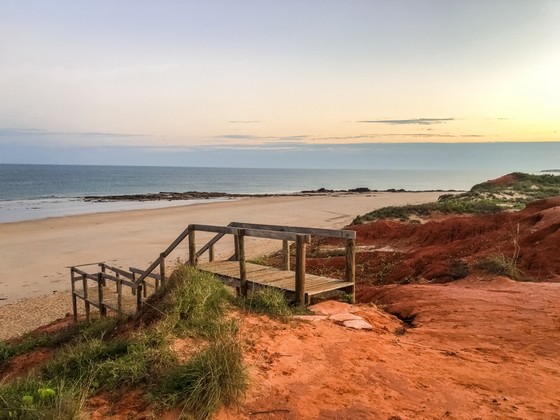 We'd taken a gamble heading up in the shoulder season to avoid the crowds, hoping that the wet season would have broken, but we were a bit early and the further north we headed the higher the temperatures rose with most days peaking well into the mid-40's. The west Kimberley was still recovering from recent cyclones and the flooded Roebuck Plains along the highway looked like Kakadu wetlands. There were water birds of all shapes and sizes and, rather less appealingly, clouds of bloodsucking mozzies so thick they almost clouded out the sun.
The East Kimberley had quite a dry wet season this year, so not only were the mozzies much more manageable but this early in the season
Mary's Pool Rest Area
was blissfully quiet. Well, as far as the number of tourists camped there, if not in respect to the resident cockatoos who made a memorable racquet. Made for an early start which saw us onto the Duncan Track later that morning.
China Wall
, Old Halls Creek, Palm Springs and Sawpit Gorge filled in our first day on the Track, and
Palm Springs
was by far the highlight. A gorgeous spring fed pool that was perfect for cooling off in the sapping heat.
Sawpit Gorge
made a great camp, especially the prime spot right down by the water's edge. We could have done without the night-time invasion of cane toads though.
We'd had mixed messages regarding access to
Marella Gorge
, with the latest word from the Visitor's Centre in Halls Creek being that you could go in for a look, but camping wasn't encouraged. It's a shame that previous visitors obviously haven't done the right thing to result in this restricted access to a beautiful location.
The next stretch doesn't have much in the way of big ticket highlights, just far horizons, everchanging savannah scenery and peace and quiet.
Negri River
was a convenient overnight stop with cooling water to look at, though we weren't brave enough to share a swim with the resident freshwater crocs.
Next day was one of those "right place right time" experiences when we encountered a mob of cattle being driven along the track by half a dozen stockmen on horseback. A memorable highlight. The
Zebra Rock Mine
was well worth a stop and sadly we had then reached the northern end of the
Duncan Track
. All in all, a worthy destination for those who want to escape the crowds that now seem to plague so much of the Kimberley and get a taste of how it used to be.
With a few days still up our sleeve, we took a peek in at
Keep River National Park
(well worth it),
Lake Argyle
(even caravan park phobics like us have to confess that the infinity pool there is something special and the scenery around the dam is stunning) and the
Bungle Bungles
(or Purnululu National Park to be technically correct).
The less said about the heat in the Bungles the better, however on the plus side we had extended periods in every single attraction having them entirely to ourselves. Not going to happen in peak season!
Unfortunately, the shoulder season also meant that we had no time in other big-ticket Kimberley locations we'd hope to see again, with the track into
Tunnel Creek
and
Windjana Gorge
still closed.
With that extra day we decided on a bit of contrast and stopped in to
Karijini National Park
on the way back to Perth. It reminded us that though it's different, the Pilbara can be just as spectacular as the Kimberley in its own way. As we headed south the exodus northwards for the winter had well and truly started. But at least we'd had our hit of the Kimberly and that'll just have to tide us over a bit longer until the craving again becomes strong enough to overcome the logistics of the distance.
Mike & Amanda from
Red Dirt Australia
PS. from Birgit: A little while after writing this trip report Mike and Amanda also sent me their Karijini National Park video. Here it is: