The Duncan Road or Duncan Highway
An alternative route between Kununurra/the NT
and Halls Creek/the Bungle Bungles
The Duncan Road (formerly Duncan Highway) branches off from the Victoria Highway near the Northern Territory/Western Australia border, not very far from Kununurra.

The unsealed road takes you through the beautiful and hilly country below Lake Argyle and joins the highway again in Halls Creek.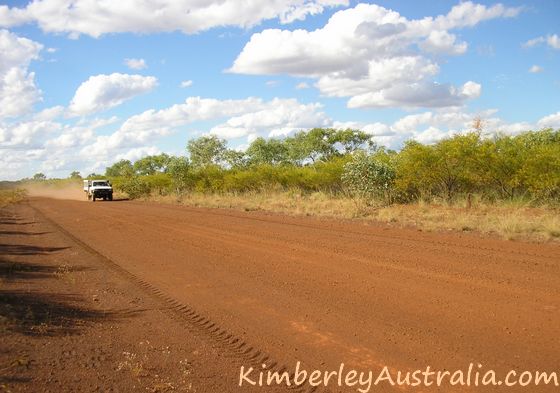 Now, there is nothing wrong with the highway between Kununurra and Halls Creek. In fact, it's the most beautiful part of the Great Northern Highway inside Western Australia. So why take the Duncan Road instead?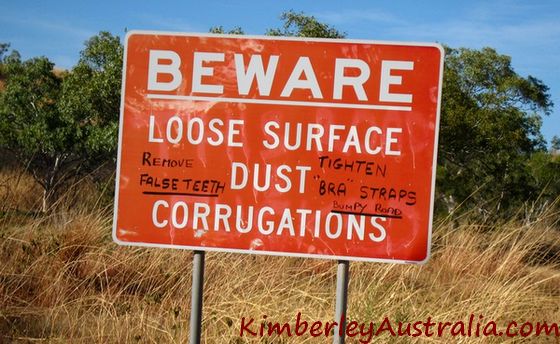 Sign on the Duncan Road. © Photo by reader Jean-Daniel.

Well, some of us prefer back tracks to main roads.
The Duncan Road crosses several rivers and creeks that are safe for swimming, and there are some really nice rock pools and gorges where you can setup camp for a night (or several).
If you are in no big rush and like camping and nature then it's a no brainer... I personally consider the Duncan Road one of the most scenic roads in the whole Kimberley.
Then there are the people visiting Purnululu National Park on a round trip from Kununurra. Why not make it a real round trip and choose a different route for the trip there and back?
And if you are too early in the year to see the Gibb River Road (which has bigger rivers and opens later), or simply don't have the time to see the Gibb River Road, then the Duncan Road is a great way to get a taste of Kimberley cattle country and Kimberley gorges.


Duncan Road/Duncan Highway Facts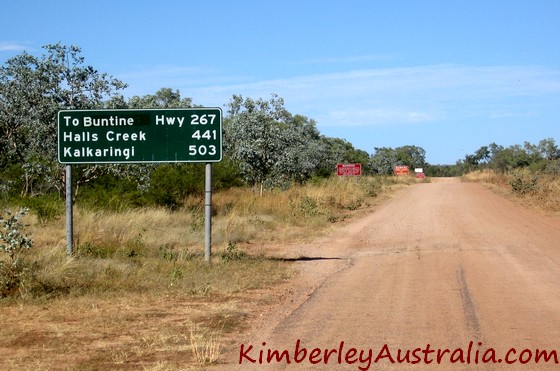 Length: 441 km
Northern (eastern) end: joins the Victoria Highway 20 km east of the Northern Territory/Western Australia border.
Southern (western) end: joins the Great Northern Highway in Halls Creek.
Services: none!
The road was built specifically to service the remote cattle stations in this area.
It was named Duncan Highway in 1961.
Decommissioned as a highway in 1976 and renamed Duncan Road.
In 1995 ownership was transferred from Main Roads to the Halls Creek Shire which has been looking after it since (and doing an excellent job).
What You Need To Know About The Duncan Road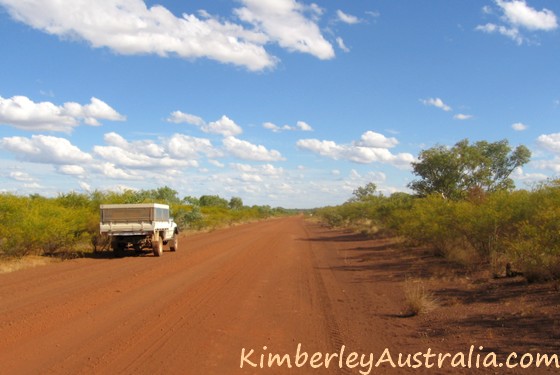 First of all, though unsealed this is an excellent road. There is nothing to worry about for inexperienced drivers, no special skills required.
All the river crossings are reinforced with bitumen or concrete.



There may be some wash outs and deep potholes in them after a big wet season, that's all. Just take it slow.

There is also a fair bit of traffic (by Kimberley standards), so if something totally unexpected and out of your control happens you won't have to wait for too long for some help.

(That does NOT mean that you can afford to be careless or do stupid things. The people here all work hard and are busy and have better things to do then help out tourists who are in trouble because of plain stupidity!)
Similar to the Gibb River Road the Duncan Road is mainly a beef road and you will see many roadtrains transporting cattle. Stay out of their way, they hurtle along at quite some speed and can't stop easily.
You will be driving through many cattle stations so watch out for animals on the road.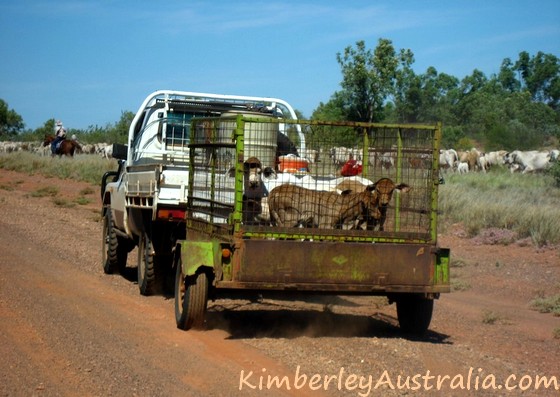 Passing through Nelson Station on the Duncan Road. © Photo by reader Jean-Daniel.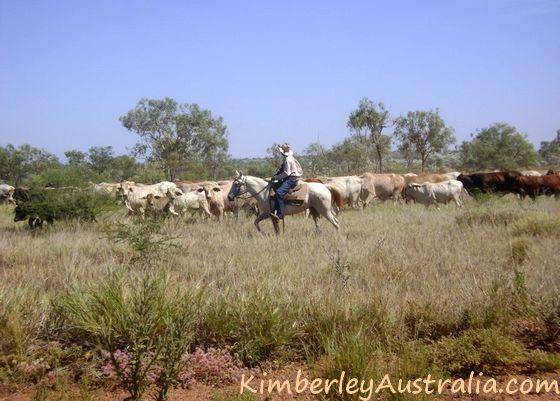 Passing through Nelson Station on the Duncan Road. © Photo by reader Jean-Daniel.

Actually, apart from cattle and wallabies (kangaroos) you may also come across donkeys, camels and who knows what else...
Also be mindful of the fact that all this land is private land and act accordingly. No reckless bush bashing, no littering, no starting fires etc. (I shouldn't even have to say that.)
There are no services whatsoever along the road, so make sure you have everything you need, especially enough fuel!
Attractions / Things To See / Places To Camp
Well, the whole 441 km are worth seeing. It's one of the most beautiful drives in the whole Kimberley, especially just after the wet season, say late April to early June.



Every few kilometres the landscape changes, the views of the ranges, the vegetation, the colours of the wildflowers carpeting the hillsides... it never gets boring.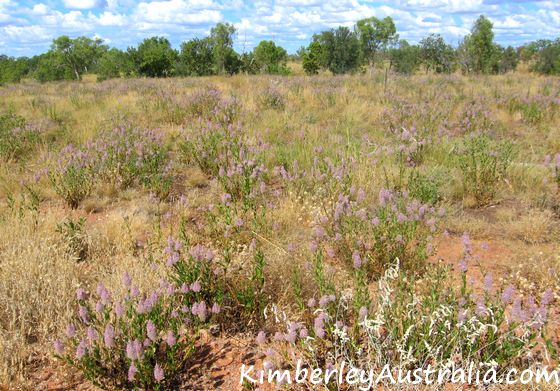 That time of the year most rivers and creeks have plenty of water left in them. Upstream from the crossings you will find reasonable sized pools with deep and clean water, perfect for a picnic and a swim.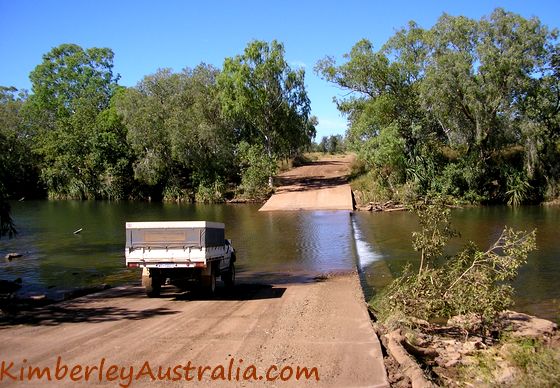 All the popular camping spots are close to Halls Creek:
Caroline Pool:
The turn off is 13 km from Halls Creek and sign posted, just follow the signs from there. Caroline Pool is a permanent waterhole on the Elvire River, and in the days of old Halls Creek it was the towns main recreation site. It's still popular with both locals and tourists. (Read: you won't have it to yourself.)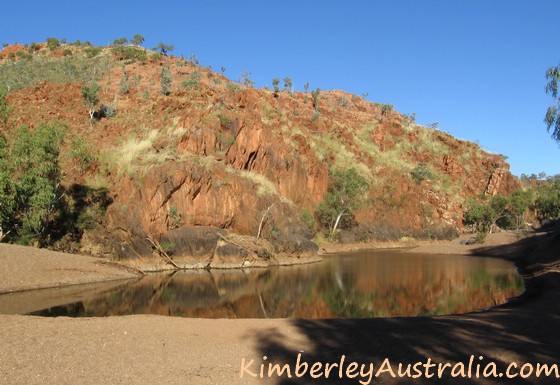 Caroline Pool

Palm Springs:
The Duncan Road crosses Palm Springs Creek 40 km from Halls Creek. There is a small clean pool and a small clearing which offers room to camp for one party (but it's right next to the road). A short walk to the north east of the crossing takes you to the source of the creek, a springfed pool. (This used to be the towns water supply. It's still a reserve today and you are not allowed to swim here.)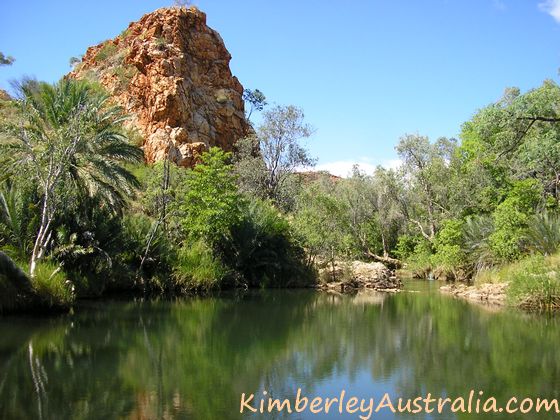 Palm Springs

Sawpit Gorge (or Sawtooth Gorge):
The turn off to Sawpit Gorge is only a few hundred metres past the Palm Springs crossing, and from there it's another 3 km on a narrow dirt track. The gorge is a series of deep pools along the Black Elvire River (which isn't black but nice and clean). Last time I visited I was surprised by the number of tourists camped here that early in the season already. The Kimberley really isn't as remote as it used to be.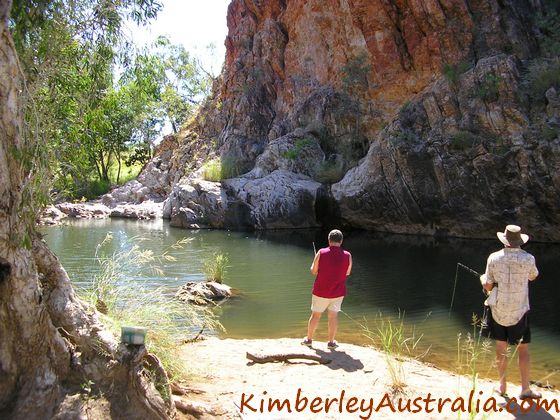 Fishing at Sawpit Gorge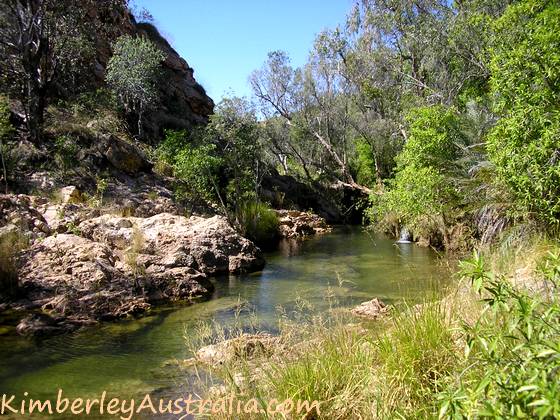 Sawpit Gorge

From Halls Creek you should be able to reach all those places even in a normal car if you drive carefully, but you won't have much choice of campsites at Caroline Pool and Sawpit Gorge, just the small car park area where the track ends. Four wheel drives can get down into the river bed and close to the water, which is of course much nicer.
(There are two other things in this area worth looking at: the China Wall and Old Halls Creek. I wrote about them on the page about Halls Creek.)
My favourite place along the Duncan Road is a privately owned gorge which is only accessible by four wheel drive: Marella Gorge. It belongs to Flora Valley Station and you need to ring them first and get permission if you want to go there. Just call them a day or two ahead, they're usually fine with it.
(As long as everybody behaves and leaves the place the way they found it or better, they might just let us use it a little while longer!)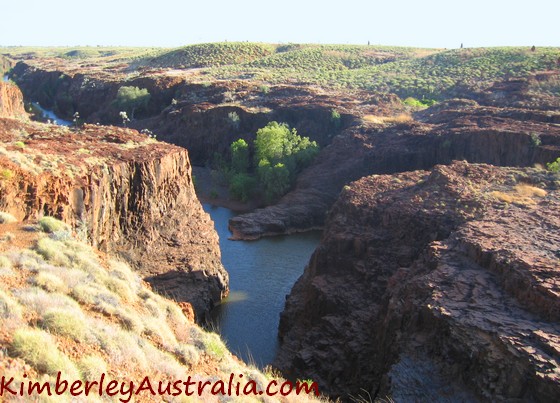 Marella Gorge

Marella Gorge is NOT easy to find.
It's a rough track in, only two wheel ruts. The country is of course spectacular. There is a gate and shortly after that the track turns into a network of faint wheel marks, most of which will take you to the edge of the gorge. You won't even see the gorge until you pull up right at the edge. There's nothing indicating it's there.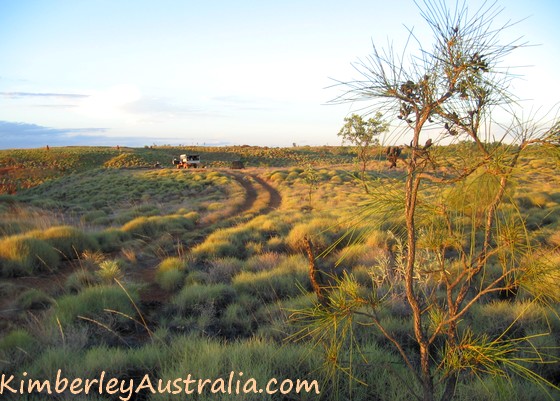 Camping above Marella Gorge

Some good camp sites are perched on top of the edge, some tracks take you down to the water (but are so steep that you want to be very sure your driver and car will be able to climb back up). You can swim or sit under the waterfalls or fish...
You'll be alone out here. There's plenty of space along the gorge, several kilometres to get away from each other in case there is another vehicle. But my experience is that half of the people who get permission and directions still can't find Marella Gorge. Which is good I think. It's a very special place and will hopefully remain that way.

Reader trip report and videos: The Duncan Track, April 2018

Read more about Halls Creek  |  Kununurra  |  The Bungle Bungles
Travelling to the Kimberley?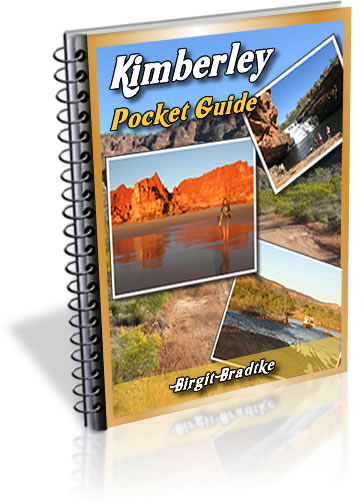 The FREE Kimberley Pocket Guide
A great introduction to travel in the Kimberley region and along the Gibb. This free resource will answer all the questions you might have in the early stages of planning a trip.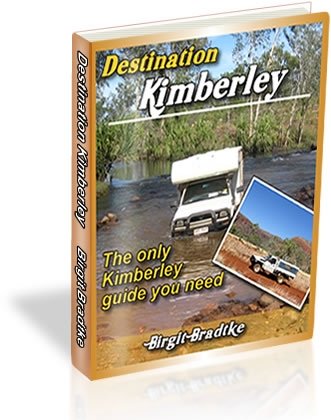 Destination Kimberley
The full Kimberley travel guide shows you how to make the most of your adventure at Australia's last frontier. Destination Kimberley includes the most detailed and most current guide to the Gibb River Road available anywhere. Also called "The Bible" by its readers.

Travelling to the Northern Territory?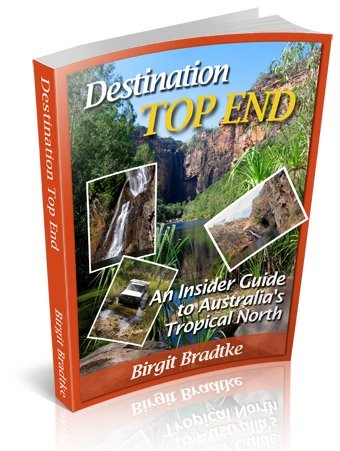 Destination Top End offers the same comprehensive, detailed insider information for the tropical regions of the Northern Territory. Be the best informed traveller in the Kakadu, Litchfield and Katherine Gorge national parks and beyond!

A must have if you travel to or from Darwin.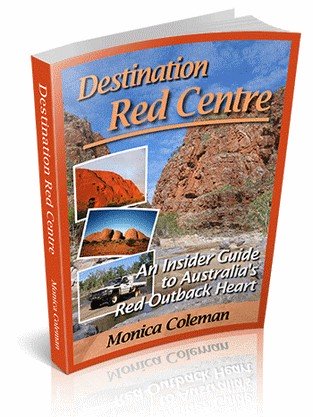 NEW! Destination Red Centre is the latest addition in this popular series. Monica Coleman takes you through Australia's red Outback heart, offering all the detail and insider tips that you have come to know and love about our guides. With special emphasis on Aboriginal communities and culture.

A must have if you travel to or from Alice Springs/Uluru.
Read more about Halls Creek  |  Kununurra  |  The Bungle Bungles