The Kimberley are absolutely Superb
by Jean-Daniel & Lise
(Switzerland)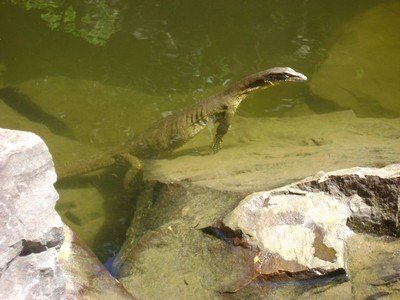 Friend for swimming at the Grotto
Nearly two weeks we are back in Switzerland. Sorry to write you so late! Just few words about our experience we enjoyed along the Gibb. It's a bit difficult for us to express in English and we don't want to repeat what you have already described so well on your web site.

The Kimberley are absolutely Superb and worth to spend few weeks there or more.
It was our third tentative, 2000 and 2002 were impassable, but 2010 the luck was with us. Everywhere green, agreeable pools with lot of water, beautiful weather and the chance to meet lots of nice people.

Starting from Darwin with a rental 4WD, we arrived in early May in Kununurra. The first thing we wanted to see was the famous Ivanhoe Crossing, not only on photos. We were impressed! The road was closed but locals there were friendly and ready to give a tip. We love this spontaneity.


Then, as you advised, we followed the beautiful and hilly country of the
Duncan Road
, which you describe so well in your guide. Just in the middle of the day we met people of the Nelson station mustering cattle. One more time, we enjoyed the smiling and friendly contact.
Bungle Bungle
, why did we wait so long to visit this nature's marvels?
In the middle of the way, we met a young German couple. They were so disappointed with their 4WD. The clutch was out of order.
I could fix it a little bit just enough to turn the vehicle in the way back to allow them to drive with the first gear till the main road.
After
Purnululu NP
, we drove back to the lovely town of
Kununurra
, then Five Rivers lookout in
Wyndham
, enquiry about the Pentecost Crossing at a shop (the woman said with enthusiasm to reassure as, "Don't worry, no big drama there so far"), refueled at a very low price, stop for a coffee at the lovely, paradisical and comfortable Emma Gorge before driving the Gibb.
Ellenbrae Station, friendly people, warm welcome.
We enjoyed the camp with its rustic shower and toilets. Like Australian tourists said, it's authentic and only for that it's worth to make the detour. We spent the night and in the morning we had a flat tyre. We changed it with the spare tyre and asked at Ellenbrae if they could fix the flat one. Unhappily, they couldn't. No material. Perhaps they should bridge the gap! You feel very uncomfortable without a spare tyre... We had to drive till Drysdale River Station to fix it.
Drysdale River Station, the "road" was terribly corrugated till there. It's only one week later or more that we read your newsletter:
"Yes, the Kalumburu Road and the road to the Mitchell Plateau have just been opened.
(Note that open does not mean the same as smooth!)".
We fixed the tyre and to comfort ourselves we tried the famous KBB. Lucky one more time, when we ordered it, the person who took our order was the woman in the National Geographic of 1991 (we told you about it in one of our messages).
Back along the Gibb. We overtook for the third time a young French guy with his push bike. We stopped and gave him all the cool water he wanted, spoke a little bit with him and learnt he wished to go till Perth!
Manning
,
Adcock
and
Bell Gorges
are so beautiful. Wonderful places for swimming.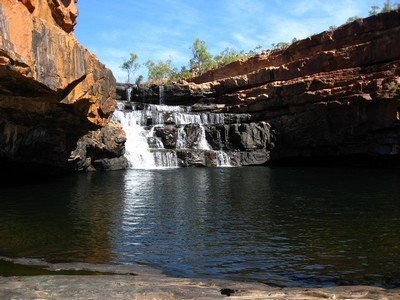 We headed to
Derby
, spent good time in
Broome
, droved till
Cape Leveque
and Middle Lagoon where we enjoyed this remote place and back to Broome before returning to Darwin under big rains.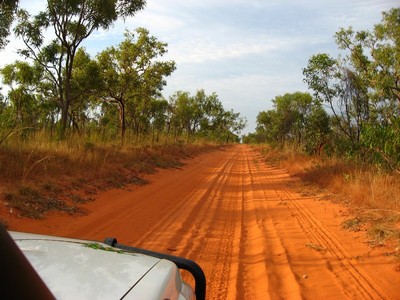 The last time we've been to Broome was in 1988, imagine the shock. We didn't recognize the central road in the city. But, of course, we found and had a beer at
Cable Beach
during a superb sunset.
Birgit, we would like to thank you warmly, you who love your country and share your experience, and for all the information we found on your web site, the
e-books
and
newsletters
!
Best regards and see you soon.
From two Swiss people Jean-Daniel & Lise