---
9 March 2019, Issue #075

---

Please do not reply to this message.

To unsubscribe or change your address please use the links at the bottom of this message.
To contact me please use the contact page.

To sign up for this newsletter and receive the free Kimberley Pocket Guide go here.


---

In this issue:
Summer 2018/19 in Australia
Late Wet Season Outlook
A (Rather Dry) Wet Season On The Peninsula
100 Things To See In The Kimberley
Can you help Jeff with his Kimberley - Top End itinerary?
---

Hi,

Yes, it's been a while!

I warned you in my last newsletter that, if the weather remains as dry as it had been, it may be a while until you hear from me again.
Sadly, this is exactly what happened.

So I don't have much news to report in this newsletter.
Instead I have some ways for you to pass the time while we are all waiting for the rain that may still come (in fact, some weather models predict a marked change very soon) and for the dry season to officially start.



---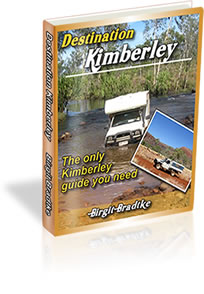 Your guide Destination Kimberley is still the most comprehensive and best advice for independent travellers to the Kimberley and I hope it continues!
We recommend it to everyone … and it is still compulsory reading for our new tour pilots every year.

(Steve Irvine, Managing Director of Kingfisher Tours, on Jan 19, 2019. Read many more testimonials and reviews here.)

---
Summer 2018/19 in Australia
---

It's now official and won't be a surprise to anyone living in Australia:
The BoM confirmed that summer 2018/19 has been the hottest ever.
January 2019 was the hottest month ever recorded in Australia, smashing records left, right and center.

For people not living in Australia:
Imagine for example 43 days above 40°C in a row, or a night where temperatures don't drop below 35.9°C.
During some weeks new heat records were broken every day.

The heat waves and drought have been devastating for farmers and wild animals.
I do not want to go into detail. Australians will have seen enough media reports and disturbing pictures.

Then the fires in Tasmania, the floods in Queensland...
Again, I don't want to report on all the extreme weather events all over Australia and the suffering they have caused.
I wouldn't know where to start anyway.

Here's the thing:
The Kimberley and Top End are currently also going through a warmer and drier than average wet season.
But it's nothing like what many other parts of Australia had and have to go through.

There hasn't been much rain around, no major monsoonal troughs, but there has been SOME rain and most of the country is lush and green.
The temperatures at times were cruel, scratching at the 50°C mark in some places, but we've seen it all before.
I would not call any of it extreme.
Just a so far somewhat shitty wet season.

Still, it's bad news for many cattle station owners and it's also not what next season's tourists were hoping for...



---
Late Wet Season Outlook
---

So where do we go from here?

The BoM has recently updated its climate outlook. There isn't any real news in the update.
The too warm and too dry conditions are expected to continue.

However, overall, when looking at the chances to exceed median rainfall amounts, it does not look quite as bad for the top third of the NT and the Kimberley as it does for Queensland and the south eastern states, meaning it might not be quite as dry.
Temperatures on the other hand are expected to remain above average equally across all of Australia.

In the last newsletter I warned you that these averages are not the whole story.

The slow moving monsoon trough that went over northern Queensland late January and into February illustrates what I mean.
Big rainfall events and extended flooding can still happen during an on average very dry and warm season.
Lower than average probability of monsoonal troughs does not mean no monsoonal troughs.
And the higher than average temperatures mean the air can carry more moisture, so if such a trough develops and reaches the coast, it can pack a larger punch.

In other words, a late cyclone or low pressure trough and big floods are still on the cards.
In fact, some weather models currently predict that exactly that may happen, that we may get monsoonal rains and possibly cyclones, starting from mid March.

So there is hope yet albeit no guarantees, and if nothing like that develops then we might be looking at an early and rather warm start into the 2019 dry season.



---
A (Rather Dry) Wet Season On The Peninsula
---

I first heard from "Cuppa" in 2008, the year I first published Destination Kimberley, and he was one of my very first customers.
Cuppa visited the Kimberley in 2009 and has stayed in touch since. You can find his contributions and advice in the comment section on quite a few of the reader pages on my website.
Like many of my readers, he also remained on this newsletter list the whole time.

And now, ten years later, he is back in the Kimberley.


"My wife & I arrived in Broome, at the beginning of September, having crossed the Western Deserts & spent some time exploring the east Pilbara. We now think of Broome as our local town, despite having spent relatively little time there, just enough to be able to find our way around.
Mostly we have been up on the Peninsula. Firstly at a few spots up the Manari Road, reconnecting with Goolaraboolo country, then later a month up at Chile Creek before taking up a care taking role at Goombaragin, Pender Bay for the Wet season whilst the owners Kathy & John are away.
We have now been at Goombaragin for around 4.5 months & expect to be here for around another two. Despite this having been a very dry wet season (so far) we are feeling very lucky to have this special piece of country all to ourselves, & to experience its wildlife & many moods. It is the Kimberley that few tourists get to see.
Our plan, after leaving the Peninsula around the end of April '19 is to spend most of the 2019 dry season exploring the rest of the Kimberley."


Unlike the vast majority of my readers who are only able to devote a number of weeks to this trip, Cuppa and his wife "Mrs. Tea" live a nomadic lifestyle that allows them to explore places in MUCH more depth.
And not just that, Cuppa allows us to follow him, see some of what he has seen and feel some of what he has felt, through the wonderful writing and photography on his blog.

So if you want to spend some time on the Dampier Peninsula and experience a rather dry wet season up there, make some time, make yourself a cuppa, and dive in...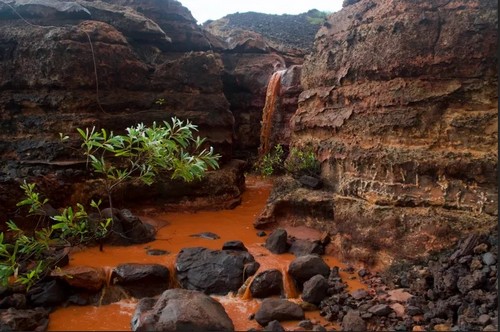 Rain, red water but still no 'Big Wet'. (Cuppa's Blog)



To see everything Cuppa and Mrs. Tea experienced since they arrived back in the Kimberley start on page 9 and work your way backwards.

To follow Cuppa on his Kimberley exploration over the next dry season, subscribe to his blog to be notified of new posts.
Look for the subscription option in the right column, below the map and search function.



---
100 Things To See In The Kimberley
---

A few days ago I received an email, asking me if I am interested in linking to a new book about the Kimberley and receive a commission on sales.
Um, no, I don't recommend anything just for a commission.
However, I will recommend something that I believe will help my readers.

The things is, in this case I find it hard to judge if you might be interested in this or not...

I asked to be able to have a thorough look at the whole book (it will only be released on March 25) and was forwarded an electronic review copy.

Here is what I think of it:

100 Things To See In The Kimberley is presented as a "travel guidebook written by Kununurra-based tour guide Scotty Connell".
Scotty grew up in Broome, is now based in Kununurra and he founded and still runs a highly regarded Kimberley tour company.
This made me expect a detailed guide with a lot of local insider information, similar to what you find in my own books.

Well, this book is as different as can be.
The book presents one hundred different sights in the Kimberley, some very well known, some little known.
Each location has a single or double page, one or more great photos, a short description, and then some additional tips.
Overall it is very well organised and nicely presented. Very easy to digest.

You can view some example pages here.
They are representative of the other pages. This is exactly what you get, one hundred times.

Initially, when looking at those example pages, I was disappointed. Nothing special here, shallow, no real info. Or so I thought.

I am glad I asked for the review copy because there is more to this book.
Many of the other pages DO contain the insider info that I had been expecting of someone like Scotty and I found many little tidbits that were knew even to me.

Maybe the example pages are not very well selected. Then again, I wouldn't want to give away the best parts of my book in a free preview either.

Anyway, you often find interesting historical and background info or useful tips in the main descriptions, plus additional tips and info in sidebars, sometimes things that really only the locals know about.

Scotty also covers a part of the Kimberley that I do not write about at all: The Kimberley coast that is only accessible by plane, helicopter or a large boat.

What I also like are the maps in the beginning. They won't help with the driving or detailed planning (can't beat the HEMA map or Kimberley Atlas when it comes to that), but all the locations are numbered and marked on the maps, giving you a good overview of how everything fits together.

What you will not find is info that actually helps you in the planning of your trip or while on the road, and I don't feel it should be called a "guidebook".

Since I only saw an electronic copy I can't say anything about the paper or print quality, but I actually feel this would make a very nice coffee table book.
A book that you can pick up any time, open on any page, and enjoy.
Or, if you are about to go or have been on a trip, a book to make your visitors very envious...

It would also make a good present, especially for someone who may be dreaming about a Kimberley trip but hasn't decided yet.
This will get them moving for sure!

So: An attractive, enjoyable and very well presented introduction to a huge variety of things to see and do in the Kimberley, with many little bits of info here and there that can enhance and add to your trip and that set this book apart from the usual coffee table book.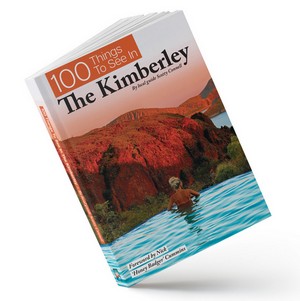 You can buy the book here.

Free shipping for orders placed before March 25.










I sometimes get emails from people who would like more pictures in my guides:


"I bought your triple deal of Destinations Kimberley/Top End and Red Centre, which by the way are terrific and soooo helpful in the planning of our trip.
There are no pictures in the downloads though – and I've found some other of your publications do.
Is this correct? I find the pictured info is more helpful."


None of my guides have pictures due to the file size and printing considerations.
(The publisher of "100 Things" also only managed to get their large file to me on their second attempt.)

I also get the odd email from people who are less interested in the information in my guides but would rather just have a "real" and nice looking book.

My thinking is that, as long as you don't expect an actual guidebook, "100 Things To Do In The Kimberley" could be a very nice addition to my Kimberley Pocket Guide (the one you received for free upon subscription to this newsletter), filling in that gap.

But who cares what I think?
Please hit reply and let me know YOUR thoughts.

If this sounds good to you and you'd like to purchase the book, feel free to do so through this link.
Shipping is free within Australia for orders placed before March 25 (the release date) and as I mentioned in the beginning, be aware that I will get a small commission (5%) on the sale if you do.

Most importantly, if you do purchase the book, definitely let me know what you think of it!
If enough people like it I may put it on the website as well.



---
Can you help Jeff with his Kimberley - Top End itinerary?
---

Jeff from Las Vegas submitted a question about his itinerary on my website.
He owns Destination Kimberley and Destination Top End and it is clear from his question that he has done his homework.
But like many people he has too little time to see everything he'd love to see at a leisurely pace and he feels overwhelmed by the many options.

Jeff is asking for your input on some of the decisions he has to make.
As he stated in his opening paragraphs, discussing his questions could prove helpful for many future readers as well.

I agree, so please chime in!
Even if your opinion is just on one of his questions or one detail, it all helps so please let us know what you think in the comments...

Suggestions for Kimberley - Top End Itinerary



---

As most of you know, I am unable to help people one-on-one in putting together their itinerary.
It is far too time consuming and I get far too many requests.

However, people who want to hire a vehicle can get this assistance for free with this service which I highly recommend.
(Jeff has already organised his car hire so he does not have this option.)

And please, if you are looking at hiring a vehicle and haven't booked anything yet, remember the recommendations and warnings from the Kimberley Pocket Guide (starting from page 49) and from my two previous newsletters, issue 72 and 73:

If travelling between June and August you should have everything booked before the end of March the very latest.



---

And that's it for today.

I will leave you with a last comment that was posted on the reader page concerning tyres for the Gibb River Road.

If you are nervous about your upcoming trip and the driving then this will hopefully put you at ease.

(I freely admit I am sharing it also because it is an advertisment for Destination Kimberley. ;) )


"We purchased "Destination Kimberly" at the beginning of 2018 and did the Gibb River Road in June. This book is excellent. It dispels many 4WD myths and the common sense approach is to be applauded.

We spent 14 days on the Gibb Rd and Cape Leveque Rd and went to as many of the attractions along the way as time permitted. We stored our small van in Derby and then camped all the way in a good quality touring tent, gas stove, and good quality esky, etc.

Now for the "tyres" and easy part.
We did this trip from Canberra across the Nullabor, up the west coast of WA, through the Kimberly, across the Top End, through central QLD, then down the east coast to home.
We did this in a 2014 Triton Dual cab diesel ute.
No bull bar, or altered suspension, no extra gimmicks fitted. All our tyres were standard "Highway Terrain". We only carried the one spare. However we do have a tyre repair kit, a very good quality compressor, tyre levers and mallet. (I do know how to get a tyre off a rim and replace it.)
The compressor was invaluable when having to re-inflate tyres at the end of the Gibb and back onto the bitumen.

A total distance of 17580 kilometers and not one single tyre mishap or puncture.
We treated the Gibb River Road with respect and common sense. Along the way we did come across people who had punctured their tyres.

So at the end of the day we just had a basic Mitsubishi Dual cab, with Highway tyres and stuck to the common sense approach as outlined in the "Destination Kimberley" book.
Thank you to the author of this publication, and we are going to do this trip again along the Tanami Road as a short cut in June, July, of this year."


Thank you, Elizabeth and Hans! I am glad you had an enjoyable and hassle free trip and wish you the same for this year.

And, of course, I wish the same to everyone else!

Until then, happy planning!

Birgit


Destination Kimberley, Destination Top End and Destination Red Centre have all the information you need to put together your dream trip.

To sign up for this newsletter and receive the free Kimberley Pocket Guide go here.


Feedback? Found some out of date info in one of my guides? Let me know via https://www.kimberleyaustralia.com/contact.html


---

(c) 2019, Birgit Bradtke. All rights reserved.