---
24 June 2019, Issue #079

---

Please do not reply to this message.

To unsubscribe or change your address please use the links at the bottom of this message.
To contact me please use the contact page.

To sign up for this newsletter and receive the free Kimberley Pocket Guide go here.


---

In this issue:
Latest Updates
More Flights, More Bitumen, More Tourists
Safely Sharing The Road With Trucks
Reader Questions
---

Hi,

This newsletter has no set schedule. I write when there is interesting news to report. And there has not been much to report on lately!

You usually receive many more newsletters from me during the first half of a season than during the second.
This year the first half looked a lot like the second half of the season already.
So my newsletters have been drying up earlier than usual, too, just like the Kimberley!

But as always happens when there is an unusually large gap between newsletters, people have started to email me, asking if they have dropped of the list, and even enquiring if everything is ok with me. (Yes, it is, thank you!)

So I figured I better send a sign of life. :)



---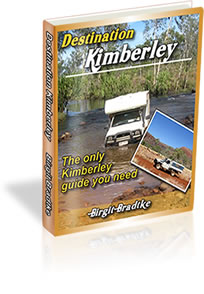 Your guide Destination Kimberley is still the most comprehensive and best advice for independent travellers to the Kimberley and I hope it continues!
We recommend it to everyone … and it is still compulsory reading for our new tour pilots every year.

(Steve Irvine, Managing Director of Kingfisher Tours, on Jan 19, 2019. Read many more testimonials and reviews here.)

---
Latest Updates
---

There is not much I can tell you. It's unusually dry for this time of the year and it has been unusually quiet. (The latter being a huge plus!)

Occasionally someone asks me if it's even worth going or if the waterfalls have dried up.
(In fact, mostly people ask about Manning, Bell Gorge and Mitchell Falls, as if those three falls were the only things worth seeing in the Kimberley.)

I had already addressed this question in the last newsletter:

Different places are affected differently by the poor wet season the Kimberley had.
Some smaller swimming holes are by now be somewhat disappointing (as they would have been in a couple of months anyway), but some are spring fed and will always have water.
Most gorges however are as stunning as ever despite the low water level, and if you want to drive to El Questro Gorge you may still feel more comfortable with a snorkel on your vehicle.

I can't give you a report on every single waterhole, there are way too many. But to give you an idea, here are some specifics:

The Mitchell Falls are still flowing but not strongly. Swimming in the river above is great.
The falls at Bell Gorge are still flowing but not strongly. Swimming in the pool below is great.
The falls at Manning Gorge are only trickling, if that. Swimming in the massive pools below is as awesome as ever and will remain so. It is still a highlight on the trip for many.
As is Mornington, with great canoeing at Dimond Gorge and swimming at Bluebush and Cadjeput. People also love Sir John Gorge, even if they could only explore it on foot.
(Do you realise none of the places on Mornington even have waterfalls? Just saying...)
Still plenty of water at El Questro, I already mentioned the deep crossing on the drive to El Questro Gorge.
The falls at Emma Gorge on the other hand have pretty much dried up. The pool, of course, has not.

One place that will be a big disappointment for many, and understandably so, is the Pentecost crossing.
These days it is usually dry. (It can get some water on it with a high tide.)
Not only that, the last full moon with its extra low tide offered a once in a decade opportunity for the maintenance crews:
The crossing has been graded, so rather than an exciting water crossing you now find a smooth causeway. Sorry about that.

Mind you, it's not like the Pentecost offers the only opportunity for an exciting water crossing in the Kimberley!
El Questro is just around the corner, and let's not forget Ivanhoe Crossing at Kununurra.

See, that's the thing. People who have never visited the Kimberley just can not even imagine the abundance of possibilities for swimming, 4WDing and adventure up here.
(If you read Destination Kimberley in detail you should have a better idea than most.)

The consensus from travellers who have completed their trip is, "Yes, it's very dry indeed, and the trip was AWESOME."
The only "not worth it" comments I have seen online were from people who decided not to go.

The falls at Manning Gorge for example always dry up early, yet it is still one of the most scenic gorges and best places for swimming along the Gibb.
So if someone who hasn't been there writes, "Not much point in doing that long, hot walk if there is no waterfall at the end of it" (as seen on FB), take it with a grain of salt.

Mind you, we all have different expectations and are looking for different things. And yes, waterfalls are nice! It's even better with them, no doubt about that.

But honestly, in all those years that I've been doing this (since 2007), the only comments of real disappointment about the whole trip I have seen were from people complaining about the amount of traffic and other people and all the associated problems.
And so far I have not seen a single one this year.
Where I had a never ending flood of them last year, pretty much from the moment the Gibb opened!
Just check the old newsletters. It was all people talked about!

Many people decided to postpone their trip because this year "it's not worth it", with the result that it makes the trip even better for those who do go. (And those people probably don't even know how lucky they are.)

In one of my older newsletters I was musing about the future, and how wet season travel will become more popular as the only way to escape the constantly increasing crowds.
Turns out, travelling in a drier dry season might be a great way to do so, too.
I'd take a drier Kimberley with fewer people any day!

If you are heading off in the next weeks and you want to know what to expect exactly at the individual campsites, gorges and waterholes, just talk to the people you meet as well as to the station and campground managers. Just as you would when you travel early after a big wet season.
You will get a lot more relevant info in such a chat than I could put into this newsletter, and it will be more current, too.

Whether it's too wet (like early after a huge wet season) or too dry, the best way to approach a trip is to take it as it comes and make the most of it. It will be an awesome trip either way.
There is a hell of a lot more to the Kimberley than a few waterfalls. Go, have a look, and then you'll understand.



---
More Flights, More Bitumen, More Tourists
---

Access to the Kimberley will become easier and easier and tourist numbers will continue to increase:

A trial of direct flights between Melbourne and Kununurra will begin in May 2020.
There will be three flights per week, from May until August, that carry 80 passengers per flight.
The service is provided by Alliance Airlines and, according to Councillor David Menzel, "will play a key role in attracting more tourists to the East Kimberley".

Qantas is set to launch a new direct route between Broome and Darwin, beginning from October 27, also offering three flights per week.
These flights are in addition to the existing connection between Bromme and Darwin via Kununurra, offered by Air North.

Sealing of the Cape Leveque Road is under way and expected to be completed by November 2020.
It is expected to lead to an increase in visitor numbers of up to 41.35% over the next ten years.
(The number made me laugh. How on earth do they want to predict it that accurately?)

No details on the sealing of the Gibb yet, but we all know that it is inevitable.

If you were or are able to see the Kimberley this season, you are lucky!



---
Safely Sharing The Road With Trucks
---

Monica Coleman (author of Destination Red Centre) is currently on the road on another big trip. (Lake Eyre, Alice, then on to the Pilbara and WA coast.)
On her way she got to chat with some road train drivers about their experiences with tourists and what they wished people would understand and do.
While the advice below may be obvious and second nature to many of us, people from more densely populated countries often have never encountered trucks even remotely the size and weight of our B-Doubles or road trains.
Please never underestimate the momentum of a loaded big truck and the space it needs to turn or stop.

Enter Monica:


SAFELY SHARING THE ROAD WITH TRUCKS
After some recent discussions with road train drivers, here are some of their thoughts.

Don't cut in front of trucks
We need to respect the size and weight of trucks. A loaded B-Double can weight up to 40 or 50 times that of a car. Simple physics means trucks take more distance to stop. As a pedestrian you wouldn't step out in front of a bus, so don't do it in your car in front of a truck.

Communicate with the truckie
If you have a UHF radio, the truck driver will likely be on channel 40. Identify yourself and ask if he wants to pass you. If he does, he'll tell you what he wants you to do to assist.

So a truck wants to overtake you
Don't slow down until the truck pulls out to overtake you. If you slow down too soon the truck will lose its momentum and speed, which it then has to recover before it can overtake. Move to the left only if and when it is safe to do so, being particularly careful of kicking up stones etc. Once the truck pulls out to overtake, lift your foot gently off the accelerator. Once the truck is safely past you, flash your headlights to indicate it is safe for the truck to move back to the centre of the road.

Maybe you want to overtake a truck
If you have a UHF radio, talk to the driver. Stay well back until it is safe to overtake – make sure the truck can see you clearly. Make sure you can see far enough ahead to pass safely. Pass quickly but sensibly. Don't pull back into the left lane until you see the truck's headlights in your mirrors.

Never overtake a turning truck
Most trucks have signs on them saying "Do not overtake turning vehicle". It's required by law for trucks longer than 7.5m. Long trucks often need to take up several lanes (often the whole of the road in the outback) in order to make the turn. As they turn, their trailers will cut the corner. It is safest if you come to a stop far enough back to be out of his way. Remember that if you can't see the truck driver in your mirrors he can't see you.



---
Reader Questions
---

Yes, it's been a quiet start into the Kimberley tourist season compared to the madness of last year.
That does not mean the Kimberley is deserted, so this question remains as relevant as ever:

George asked:


"1) At which campsites in the Kimberley is it necessary to book ahead?
2) Is it possible to book all the campsites ahead & online?"


What you need to book depends on when you travel.
No, you can not book everything.

During peak season (late June till early August) I recommend booking all the popular, mainstream places that do offer booking, including the national parks.
Mind you, even if you are unable to do so, at most places you will still get a site if you arrive early enough in the day.
But if you do have a fixed itinerary, and if a place can easily be booked, then I recommend you do so.

At other times (outside peak season) I suggest to book the following:
Broome always (not all campgrounds take bookings)
Kununurra during the Ord Valley Muster.
Kooljaman Resort
Mornington Wilderness Camp
Private sites at El Questro

(Destination Kimberley always mentions it if any place strictly requires booking or even needs to be booked many months in advance.)


---

And here is something I don't think I ever addressed specifically anywhere.

Neil asked:


"What are your suggestions about waste disposal on the Tanami and Gibb River Road?"


There isn't much to suggest I am afraid.
The rubbish disposal cages on the Gibb have been removed, the Imintji tip is closing this year.
Use bins where provided, don't add to them if they are already overflowing (sadly often the case), and carry everything else out with you.

There are no toilet waste disposal/dump points anywhere along the Gibb, except at El Questro, which is at the very end/start of the road.

And nothing at all along the Tanami anyway.



---

And that's it for today already. Like I said in my opening, just not much to report on.

So let me just repeat or sum up this one thing:

Yes, it's very dry this year. That does not reduce the beauty of the Kimberley or of your experience in any way.
In my opinion it's a great year for travel so far and it will likely never be that quiet again!

(Mind you, it will be interesting to see what the late season brings. This is uncharted territory for me. Apparently 1983 (?) was an equally dry year, but that was a good ten years before I came to the Kimberley.)


I have one last request:

If you have been or are currently travelling with one of my Destination Guides, and if you come across something that's out of date or in your opinion not portrayed accurately, by all means, swear at me or call me names. But then, PLEASE, also let me know about it.
Because...
Without guide no information -- without information no guide!

A big thank you to everyone who took the time to write to me with their feedback!


Safe travels and talk again soon!
Birgit


Destination Kimberley, Destination Top End and Destination Red Centre have all the information you need to put together your dream trip.

To sign up for this newsletter and receive the free Kimberley Pocket Guide go here.


Feedback? Found some out of date info in one of my guides? Let me know via https://www.kimberleyaustralia.com/contact.html


---

(c) 2019, Birgit Bradtke. All rights reserved.