---
4 May 2020, Issue #084

---

Please do not reply to this message.

To unsubscribe or change your address please use the links at the bottom of this message.
To contact me please use the contact page.

To sign up for this newsletter and receive the free Kimberley Pocket Guide go here.


---

In this issue:
Wet Season Summary
Travel Restrictions
When Will The Kimberley (And NT) Reopen
---

Hi,

hope this finds you well, that you and yours are healthy, and that by now you have somewhat adjusted to this weird new COVID-19 world we're living in.

I myself am doing fine. All my family and friends are healthy, and that's the most important thing, the only thing that really matters.
(Ok, it would be nice to be able to see them, which many I don't know when I'll be able to again.)

Like most who make a living through tourism, I have to do without any income for now, probably at least until next year. But I have no big overheads and have never been someone to need a lot of money, so I think/hope I will be able to sit it out.
(I may even continue to send the odd newsletter now and then, even though these things are bloody expensive to send with so many subscribers. ;-) )

Looking at the news from all over the world, probably more than ever I am aware of how privileged I am and am very grateful for it.



---


My last newsletter was a special issue, written shortly before the first NT and WA travel restrictions came into effect.

In that newsletter I had written that "I do hope that the Australian authorities will take earlier and more decisive steps than what we saw in Europe or the US."
They did, and the result is that Australia is now in the enviable position of possibly being able to eliminate the SARS-CoV-2 virus altogether.

What does this mean for travel to and within Australia, and especially to the Kimberley and NT?

We still don't know anything for sure, but things are starting to happen, so we'll look at them.

But before we do so, for the sake of completeness, let's also have a quick look at the last wet season.



---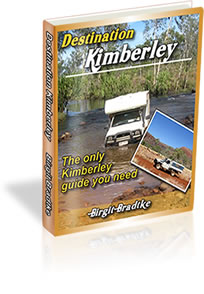 Your guide Destination Kimberley is still the most comprehensive and best advice for independent travellers to the Kimberley and I hope it continues!
We recommend it to everyone … and it is still compulsory reading for our new tour pilots every year.

(Steve Irvine, Managing Director of Kingfisher Tours, on Jan 19, 2019. Read many more testimonials and reviews here.)
---
Wet Season Summary
---

After the very disappointing 2018/19 wet season everybody had been hoping for a big one in 2019/20.

January brought average amounts of rain and late February/early March we got lucky and a proper tropical low brought solid rain across the whole Kimberley. You can read the details in my newsletter from March 5.

As wonderful as that event was, it was not enough rain to make up for the poor previous season. It wasn't even enough to call this one an average season. So we kept hoping for more.

Sadly, nothing major happened beyond those March rains.
Of course there was rain here and there, some nice and impressive storms, but no more big tropical lows or cyclones.

And the result is that, while not as dry as the last one, the 2019/20 wet season ended up being sub par as well.

That does not mean the Kimberley is dry now, far from it. But it will start drying up sooner than it would after an above average wet season.

And this year you don't have the option to get here early, while waterfalls are still flowing...



---
Travel Restrictions
---

Right now, there are many restrictions in place, preventing you from visiting the Kimberley and also the NT.

If you live overseas, travel to Australia is restricted.
Australia's borders are closed. Only Australian citizens, residents and immediate family members can travel to Australia and they must enter a 14 day quarantine upon arrival.

If you live in Australia, travel to Western Australia or to the NT is restricted.
Western Australia's borders are closed. (No entry unless an exemption has been granted.)
Northern Territory borders are closed. (Mandatory 14 day quarantine upon entry.)

If you live in Western Australia, travel between the regions is restricted.

If you live in the Kimberley, you can not travel between the shires.

On top of that the Kimberley is totally closed to visitors and tourists under the Federal Biosecurity Act 2015, a measure to protect the exceptionally vulnerable Aboriginal population.

The remote Kimberley national parks are closed and several accommodation and tour providers announced weeks ago already that they will not be opening at all this season. (This includes El Questro and Home Valley Station, see the statements on their home pages.)

You can find more details about these restrictions and how they affect the Kimberley here and here.



---
When Will The Kimberley (And NT) Reopen
---

I have no idea.

Numbers of infections are dropping all over Australia and states are beginning to ease their restrictions.

Given how far ahead Australia and New Zealand are of everyone else with regard to controlling SARS-CoV-2, I wouldn't expect the Australian border restrictions to be lifted in time for this season. Australia has to protect what it has achieved.
However, there is talk of Australia and New Zealand reaching a bilateral agreement about their borders and creating something of a "tourism bubble", enabling New Zealanders to visit Australia and vice versa.

Regarding the WA and NT borders, the only statement that either government has made at this stage is that those restrictions will remain in place "for a long time". The NT also said that the opening of the borders will be the very last thing to happen.

On top of the border restrictions, Kimberley tourism is restricted by the Federal Biosecurity Act 2015.
These restrictions came into effect on March 26 and will end on June 18. Unless they are extended, that is.

They effectively close the Kimberley to visitors and tourists, independently from the state's decisions about its borders or travel restrictions between regions.

The restrictions are also the reason that the remote Kimberley national parks are still closed, even though WA has opened its national parks and campgrounds on May 1.

(The same restrictions affect the Kakadu and Uluru-Kata Tjuta national parks, which will also remain closed until June 18, even though NT national parks and campgrounds began to open on May 1.)

Will the restrictions be extended? I guess it depends on how the case numbers develop in the rest of the state and Australia. If the virus flares up again, they may.

Just like Australia and New Zealand are ahead of most of the rest of the world, the Kimberley and the NT are ahead of most of the rest of Australia.
Both have had very few cases to begin with. There have been no new cases reported in the Kimberley since April 9. The NT also has had no locally transmitted new cases for over three weeks.
The Kimberley and the NT also have to protect what they have achieved.

At the same time the current situation is of course devastating to the tourism industry and to the economy of those regions in general.
The Kimberley Shires would like to see at least travel between shires resume, to make at least local tourism possible again to hopefully help local tourism businesses to survive.
It's much the same conflict that every region and country in the whole world has at the moment: lives vs livelihoods.

I am glad I didn't and don't have to make any of those decisions.



---

And that's all I can tell you today.

I want to emphasize that I really have no idea what will happen from here and when. Don't ask me for my instincts or gut feeling etc. as if I had some magical powers. I don't.
(People love to email me with questions that require me to predict the precise course of wet seasons, exact river heights months in advance, and lately also the course of this pandemic.)

I agree with everything that Mark Manson says so beautifully in this must read article:
Nobody Knows What Is Going On
(Don't click if you're offended by prolific use of f-bombs.)

Should I feel I know something, I will write. Promise.
(In the meantime, I may also post individual items on my news page.)


Talk again soon! (Hopefully.)
Birgit


Destination Kimberley, Destination Top End and Destination Red Centre have all the information you need to put together your dream trip.

To sign up for this newsletter and receive the free Kimberley Pocket Guide go here.


Feedback? Found some out of date info in one of my guides? Let me know via https://www.kimberleyaustralia.com/contact.html


---

(c) 2020, Birgit Bradtke. All rights reserved.