---
5 March 2020, Issue #083

---

Please do not reply to this message.

To unsubscribe or change your address please use the links at the bottom of this message.
To contact me please use the contact page.

To sign up for this newsletter and receive the free Kimberley Pocket Guide go here.


---

In this issue:
The Wet Season Is Here For Real
Updates
Booking Hire Cars
2020 Destination Guides
---

Hi,

The wet season is here for real, yay!

An active monsoon trough finally developed across northern Australia and out of it came Esther...



---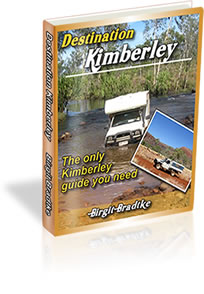 Your guide Destination Kimberley is still the most comprehensive and best advice for independent travellers to the Kimberley and I hope it continues!
We recommend it to everyone … and it is still compulsory reading for our new tour pilots every year.

(Steve Irvine, Managing Director of Kingfisher Tours, on Jan 19, 2019. Read many more testimonials and reviews here.)

---
The Wet Season Is Here For Real
---

The last newsletter already had some encouraging news regarding this year's wet season.
The weather had been stormy and most areas across the Kimberley had received some decent rains.
According to the forecast at the time, the wet weather was far from finished.

And they were right!
Finally a proper tropical low did not just brush against the Kimberley but actually marched across it. Twice!

Esther began its life as a tropical cyclone on the Queensland side of the Gulf of Carpentaria, crossing the coast near Borroloola as a category 1, and was soon downgraded to a tropical low.
The system then moved across the north, bringing much needed rain (150-250mm) to the southern Gulf country, the Barkly and the Gregory regions, before heading towards the Kimberley.

What it did then was quite amazing. You could not have done this any better if you had planned it...

From Friday to Sunday Esther moved from east to west, from Kununurra to Derby along the Gibb, then turned around near Broome, and over the next two days returned further south, tracking west to east, via Fitzroy Crossing and Halls Creek along the highway.

Essentially it did the same loop that many tourists do.
(Ok, maybe it did not follow those roads exactly. It also did not bother with the detour to the Mitchell Falls and Kalumburu, but even those destinations at the edge of the system got a lot of rain out of it, especially the Mitchell Plateau.)

Kununurra leads the list of places that received the most rain, with over 300 mm recorded over 48 hours. Lake Argyle still got over 230 mm.
Accordingly it was land under everywhere with many rivers and creeks flooding. Many roads, including sealed roads like the main highway east of Kununurra and the road to Lake Argyle, had to close temporarily.

(Naturally, Ivanhoe Crossing is not exactly passable right now either.)

And of course the many, many waterfalls in the region were a sight to behold.
Here is one particularly impressive example, impressive because most of you probably know from images what the place usually looks like.

Do you recognise it?

That's Emma Gorge!

And if you remember the sad photos of the Pentecost Crossing last year you will be happy to see this.

Also on the Gibb River Road, here is the Barnett River crossing, at the time about 2 km wide.

(Yes, the Gibb is currently closed, as is the Tanami.)

Moving further west the amount of rain lessened somewhat, but as I said, everyone got plenty, often recording between 150 and 200 mm. That's a lot of water within a couple of days!
All rivers and creeks are in flood and when the system returned along its more southern path it closed the main highway again, all the way from Willare to Halls Creek.
(It just re-opened with limits. Some floodways are still 200-350mm deep.)

The whole event really was as perfect as anyone could have wished for.
No big damage was done to any major infrastructure, and since the land was still dry and many farms and stations, especially those further south, needed this water so badly, it won't be lying around on the surface for long.
The landscape has been totally transformed and all worries regarding water availability next season have vanished.

Basically, things look like they should during a normal wet season.
We could still use more rain to make up for the previous years (Lake Argyle is still several meters below the spillway), so let's see what March and April will bring.

(Ex-TC Esther, by the way, kept moving south-east from there, across the NT and into QLD, dragging moisture south across the whole continent and to many drought affected areas.)



---
Updates
---

About a week ago I finished updating the content of Destination Top End for the next season.
(See the bottom of the newsletter for information on when and how I updated my guides, and on how you can make sure you go on the road with the most up to date info, no matter when you made your purchase.)

I always tell you that especially for the Kimberley it is important to have very current information since there is a still a lot of development and changes happening all the time.
In the Top End and Red Centre? Not so much.

So most updates were minor and not newsworthy, I changed prices, contact details, etc. A couple of small, out of the way places finally closed for good, but I'd already put in a warning that they might.

One place was added that might be of interest to some of you...


---

Oolloo Station in the Douglas Daly region is a very wild and natural property, with over 2 kilometres of river frontage, a huge billabong, lots of wildlife, great fishing, and it's also a very welcoming place.
It opened for camping only last year so it's still something of a secret tip.
The station is even further down the Oolloo Road than the Douglas Daly Tourist Park, far off the beaten track.
If you want a change from the usual commercial caravan parks, this one comes warmly recommended by a reader.
You find all details in Destination Top End on page 132.


---

One thing I could not yet add were updates for Litchfield National Park, but updates will be coming.

In September 2019 work started that will open up new areas within the park to visitors. 18 km of new 4WD tracks will make five new swimming holes and waterfalls accessible. Those places are in the central valley, in so far untouched areas of the park. (The main ring road through the park only accesses the northern parts.) Apart from the access tracks, the new infrastructure will also include new campgrounds, picnic areas and walking trails.
If things go well, new places may open as early as this season. Then we'll get more info on them.

And we'll also find out if they will go ahead with the idea of charging an entry fee for Litchfield, which so far has been free to access, unlike its Commonwealth managed neighbour Kakadu.


---

And last but not least, back in the Kimberley, good news for those who had been trying to contact Mt. Elizabeth Station:
Things are back to normal.
Ultimately, their contact details remained the same, so if you want to make a booking for the next season, you should be able to do so by emailing bookings@mtelizabethstationstay.com.au or calling 08 9191 4644.
From April there will also be staff at the station again.



---
Booking Hire Cars
---

Last newsletter had another update about Australian 4WD Hire. If you have not heard that name before and are looking at hiring a car for this season, please go back to that newsletter and bring yourself up to speed.

Everybody else, please know that while the Australian 4WD Hire website is gone, the business still exists and is currently rebranding under the name Explore 4WD Hire.

As I had mentioned in the last newsletter, a similar thing happened in 2014: the company changed hands, customer experience remained the same. I do not expect things with this company to change in the long run. Time will tell.

So please, if hiring a vehicle, make sure you do your homework.

Car hire for a big trip is a huge expense, so it should be a well researched decision.

Apart from A4WDH, I don't think that there are any other "bad" companies out there, rather that you need to make sure you get something that really suits your needs, as offers and contract details vary.
And of course, you will find stories of disgruntled customers for any company. Things go wrong, misunderstandings happen, staff comes and goes...
Yet there are ways to prevent any big disappointments.

Your car hire is a decision that I can not help you with directly, but I have for a long time been recommending that you let yourself be helped by Bill Karis' team at Bluey Travel.

You can read my full review of their service here, it won't cost you anything extra, and I have had only very positive feedback from my readers.

Also keep in mind that if you want to travel during peak season, availability of hire cars can be an issue. Campervans are not so much of a problem, but standard 4WDs can and do book out, and especially any accommodation+car hire packages sell out very quickly.

As usual I recommend that if you want to travel during peak season, you have your car booked by late March the very latest.

(For more details on what needs to be booked early, why, and when, see the free Kimberley Pocket Guide that came with your newsletter subscription, starting from page 49.)



---
2020 Destination Guides
---

This time of the year I regularly receive emails from readers, asking how up to date my guides are.
I had already addressed this in the last newsletter, but I still get the same questions, so I'm including this info again:

1.) Updates arrive at any time of the year. Sometimes a tourism business will write to me and let me know, more often readers are so kind to inform me of some recent changes they discovered.
I incorporate those updates asap, and if it is important I will also let you know here in the newsletter. If it is REALLY important I may even send out a newsletter just for that.
I will also put bigger updates on my news page.

2.) Once a year, over the wet season, I also slowly go through all my guides from start to finish and make sure the info is still correct. This results mostly in updating prices and contact details, some tour offerings or changes to accommodation. (E.g.: Now a minimum 2 night stay required, or now only available together with breakfast and dinner, no more self catering, that kind of thing.)
The thing with those updates is that even when I leave it as late as possible, many businesses, mostly the smaller, family operated and Aboriginal businesses, only make such decisions at the start of a new season so it's impossible to publish new season info until the season is under way. Many other changes also happen once a season gets under way. That's just how it is.

So how do you make sure you go on the road with the most up to date info possible?

Easy. Shortly before you start your trip you download the most recent version of your guide.
That's it.
Buy your guide as soon you start planning your trip. There is nothing to gain from waiting. You'll only be missing important info during the planning stage.
And once you are ready to hit the road, you download the most recent version.
If you want to take a hard copy on the road (I would!), print the main section of it.

Destination Kimberley and Destination Top End have now both been been looked over once (except for the tour/accommodation listings in the towns). Monica Coleman's Destination Red Centre was updated in late October.

So there you have it.



---

And that's it for today!

As usual, I have this one last request:

If you have been or are currently travelling with one of my Destination Guides, and if you come across something that's out of date or in your opinion not portrayed accurately, by all means, swear at me or call me names. But then, PLEASE, also let me know about it.
Because...
Without guide no information -- without information no guide!

A big thank you to everyone who took the time to write to me with their feedback!


Safe travels and talk again soon!
Birgit


Destination Kimberley, Destination Top End and Destination Red Centre have all the information you need to put together your dream trip.

To sign up for this newsletter and receive the free Kimberley Pocket Guide go here.


Feedback? Found some out of date info in one of my guides? Let me know via https://www.kimberleyaustralia.com/contact.html


---

(c) 2020, Birgit Bradtke. All rights reserved.