---
1 February 2020, Issue #082

---

Please do not reply to this message.

To unsubscribe or change your address please use the links at the bottom of this message.
To contact me please use the contact page.

To sign up for this newsletter and receive the free Kimberley Pocket Guide go here.


---

In this issue:
Wet Season 2020
Updates
Australian 4WD Hire Continues Trading Under New Ownership
2020 Destination Guides
---

Hi,

I hope this finds you safe and sound and that the first month of 2020 went well for you!

It has of course been a very challenging month for many in Australia.
No matter where you live, I am sure you have heard about the fires that have devastated many regions, especially in New South Wales and Victoria.

Over 17 million hectares burnt (that would be over two thirds of the UK!), over a billion animals dead, over 30 human lives and over 3000 homes lost.
Australia burns every summer but not like that. The fires started months earlier than usual and are a lot harder to control, thanks to an unprecedented draught and heatwave.
After all, 2019 had been Australia's warmest and driest year on record.

I first published Destination Kimberley in 2008 and even back then, in the very first edition, I had mentioned how the climate clearly is changing.
I guess it depends where and how you live, but to me the signs and effects were impossible to miss, both in northern Australia and in the Alpine regions in Europe where my extended family lives.
Especially over the last year or so I have become more and more worried and, to be honest, I don't believe we will turn this around or slow it down. I can't see how.

I think Australia will be one of the countries that will be feeling profound negative consequences sooner rather than later, compared to other parts of the world.
Which also made me think a lot about what I am doing here.
On the one hand I don't understand how people can keep on living every day as if everything was ok.
On the other hand, am I not doing exactly the same when publishing this travel info? Isn't there more important stuff to write about?

There is but it would do no good for me to write about it here.
Plus, there are much more competent people than I who are already doing so.
That is the conclusion I came to.

I am still looking for a way to do something that is more aligned with how I feel about the world at the moment, but I can do so while still continuing to serve my readers and help them with the things that are important to them right now.
And for many that is, among other things, their Kimberley holiday this year.
So this is where your normal newsletter starts. :)



---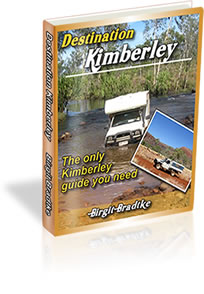 Your guide Destination Kimberley is still the most comprehensive and best advice for independent travellers to the Kimberley and I hope it continues!
We recommend it to everyone … and it is still compulsory reading for our new tour pilots every year.

(Steve Irvine, Managing Director of Kingfisher Tours, on Jan 19, 2019. Read many more testimonials and reviews here.)

---
2020 Wet Season
---

The 2018/19 wet season was a poor excuse for a wet season and everybody has been looking forward to the next one, hoping it will start early and be a big one.

The first rains did fall early, bringing some relief, but until the end of the year the Kimberley has also endured some weeks of blistering temperatures, and many, many very dry days.

Luckily things seem to have turned around with the start of 2020.
Cyclone Blake, even though it only moved over land in the far south west of the Kimberley and in the Pilbara, dropped enough rain further north to temporarily close the Cape Leveque Road and the western parts of the Gibb River Road.
Broome got about 300mm out of it, almost twice as much as it had had all up until this time last year, bringing the total rainfall to 362mm so far.

Overall, January brought a lot of stormy weather everywhere, and as I write in the weather information in Destination Kimberley, those storms can drop an impressive amount of water.
Pretty much everywhere in the Kimberley received more rain than they did by this time last year. Derby had over 400mm, and Kalumburu is up to over 500mm.
All these numbers are within the normal range for this time of the year, not that much below the average.

And the wet weather should be far from finished.

The latest BOM climate outlook forecasts a neither drier nor wetter than usual February to April. In other words, perfectly normal weather for this time of the year. Hopefully we'll see a normal number of big low pressure systems. I am sure there will be a few more cyclones, but if they cross or even get near the coast is, as always, totally unpredictable.

(Having said all that, these climate outlooks aren't precise forecasts. They have often been totally wrong. But for now, let's be happy they sound optimistic.)

The climate outlook also mentions temperatures:
2019 was Australia's hottest and driest year on record so the whole continent is still drier and warmer than usual. The ocean to the west of Australia is also abnormally warm.
As a result, the temperatures for the next three months can also be expected to be above average.

And that's all I can tell you about this wet season for now. I'll keep you posted!



---
Updates
---

Here are some updates for you that I came across while overhauling Destination Kimberley for the next season.

(See the bottom of the newsletter for information on when and how I updated my guides, and on how you can make sure you go on the road with the most up to date info, no matter when you made your purchase.)


---

The lovely Whalesong Campground on the Dampier Peninsula will unfortunately be closed for the whole 2020 season and under refurbishment until further notice.
With one more year to go before the Cape Leveque Road will be fully sealed, Lenny and Jacinta are taking the opportunity to do some much needed works.

Additionally they are concentrating on their kakadu plum business.
Their Gubinge products are available throughout the Kimberley at various stockists or directly from their website.

Whalesong is one of my favourite places so I am not happy that they are closed for now, but luckily, these days you have many alternatives for relaxed bushcamping in stunning surroundings on this side of the Dampier Peninsula.
Just have a look through Destination Kimberley for your options: Gnylmarung, Pender Bay, Smithy's... It would take a fair bit of time to visit everyone anyway!


---

Birdwood Downs Station on the western end of the Gibb River Road have decided to not offer accommodation in their Savannah Huts any more.
Sadly, horse riding activities also stopped for good.

They will be open for camping though and are still running tours on the property.


---

Have you had difficulties contacting Mt. Elizabeth Station?
That seems to be a recurring theme every wet season...

Don't worry, Mt. Elizabeth has not been sold again and it will be operating as usual in the 2020 season.
The station is undergoing some changes behind the scenes though. It is now managed by Northern Pastoral Co. (Jack Burton).
A new phone number and email address was supposed to be available in the new year, as soon as the paperwork is finished.

I have not been able to chase up those new contact details yet, so may be this has not yet been completed.
But I am on it and as soon as I have the new details I will add them on my news page and of course update Destination Kimberley.



---
Australian 4WD Hire Continues Trading Under New Ownership
---

Ok, it's Australian 4WD Hire again. I had hoped to never hear about them again.
If you don't know who or what I am talking about, you can get yourself up to speed with these older newsletter issues and the articles linked in them.
And if you plan to hire a car this year or in the future, then I strongly recommend you invest the time.

I first wrote about the Australian 4WD Hire in June 2018.
At the time the company had been highlighted in the Queensland parliament, where Tim Nicholls MP spoke of a "relentless, systemic and well-rehearsed fraud" that the company was carrying out against unsuspecting tourists.

December 2018 I followed up on that, reporting that Australian 4WD Hire had settled one of its major cases against a customer.
The company had demanded over $15000 from the man, for damage he had supposedly caused to the vehicle.
In court Australian 4WD Hire admitted that the customer had in fact done nothing wrong.

The last time Australian 4WD Hire came up in this newsletter was in May 2019.
This time it was to report that the ACCC was finally moving against Australian 4WD Hire.

These things take time so I didn't expect any immediate results. Given the number of complaints against the company, I certainly did expect that one way or other Australian 4WD Hire would be forced to make changes to how they run their show.

Well, please read through the latest reviews on this website or on this one.

Smart Corporation Pty Ltd, the owner of Australian 4WD Hire, was sold on December 19, the company has gone into liquidation.
So Australian 4WD Hire still exists, it is under "new" ownership and management.
(Note: The same thing happened in 2014: the company changed hands, customer experience remained the same.)

According to the reports on the review sites, even after the sale, customers were asked to still pay bonds into the old Australian 4WD Hire accounts.
Because the company was liquidated, the bonds could not be returned the usual way as only the Liquidator has authority over the funds now.
I expect/hope that these customers will get their bonds back eventually. Maybe they already have. But as you can imagine, if that is your bond money, it is maddening nevertheless. After all, we are talking about several thousand dollars.

But the main point is: It appears Australian 4WD Hire continues to trade as usual so I personally do not expect anything to change in the long run. Do your research before booking!

Even better: Get free help from someone you can fully trust.



---
2020 Destination Guides
---

This time of the year I regularly receive emails from readers, asking if my guides have been updated for the next season yet.
So here is some info about how I go about guide book updates.

1.) Updates arrive at any time of the year. Sometimes a tourism business will write to me and let me know, more often readers are so kind to inform me of some recent changes they discovered.
I incorporate those updates asap, and if it is important I will also let you know here in the newsletter. If it is REALLY important I may even send out a newsletter just for that.
I will also put bigger updates on my news page.

2.) Once a year, over the wet season, I also slowly go through all my guides from start to finish and make sure the info is still correct. This results mostly in updating prices and contact details, some tour offerings or changes to accommodation. (E.g.: Now a minimum 2 night stay required, or now only available together with breakfast and dinner, no more self catering, that kind of thing.)
The thing with those updates is that even when I leave it as late as possible, many businesses, mostly the smaller, family operated and Aboriginal businesses, only make such decisions at the start of a new season so it's impossible to publish new season info until the season is under way. Many other changes also happen once a season gets under way. That's just how it is.

So how do you make sure you go on the road with the most up to date info possible?

Easy. Shortly before you start your trip you download the most recent version of your guide.
That's it.
Buy your guide as soon you start planning your trip. There is nothing to gain from waiting. You'll only be missing important info during the planning stage.
And once you are ready to hit the road, you download the most recent version.
If you want to take a hard copy on the road (I would!), print the main section of it.

Destination Kimberley has already been looked over once (except for the tour/accommodation listings in the towns) and I just started on Destination Top End (where usually nothing much changes, it is really only in the Kimberley that tourism is still developing at breakneck speed and things are changing all the time). Monica Coleman's Destination Red Centre was last updated in late October.

So there you have it.



---

And that's it for today.

As usual, I have this one last request:

If you have been or are currently travelling with one of my Destination Guides, and if you come across something that's out of date or in your opinion not portrayed accurately, by all means, swear at me or call me names. But then, PLEASE, also let me know about it.
Because...
Without guide no information -- without information no guide!

A big thank you to everyone who took the time to write to me with their feedback!


Safe travels and talk again soon!
Birgit


Destination Kimberley, Destination Top End and Destination Red Centre have all the information you need to put together your dream trip.

To sign up for this newsletter and receive the free Kimberley Pocket Guide go here.


Feedback? Found some out of date info in one of my guides? Let me know via https://www.kimberleyaustralia.com/contact.html


---

(c) 2020, Birgit Bradtke. All rights reserved.