---
18 May 2020, Issue #085

---

Please do not reply to this message.

To unsubscribe or change your address please use the links at the bottom of this message.
To contact me please use the contact page.

To sign up for this newsletter and receive the free Kimberley Pocket Guide go here.


---

In this issue:
The Kimberley Is Opening For Local Travel
Remaining Travel Restrictions
---

Hi,

From today, May 18, travel between Kimberley shires is allowed again. At the same time, many roads, parks, campgrounds and businesses are opening.

If you live in the Kimberley and you can get some time off, this is an opportunity to have many usually overrun places all to yourself.

If you don't live in the Kimberley, then unfortunately you will have to wait a little while longer. Or maybe a lot longer. It depends where in Australia or the world you are.

But at least it looks as if finally there is light at the end of the tunnel.

In this newsletter we will look at what exactly is opening in the Kimberley and what isn't. And we'll also look at the timeline for travel to the Kimberley, as much as that is known today.

But first of all I want to respond to the feedback that the last newsletter received.



---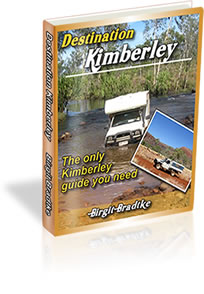 Your guide Destination Kimberley is still the most comprehensive and best advice for independent travellers to the Kimberley and I hope it continues!
We recommend it to everyone … and it is still compulsory reading for our new tour pilots every year.

(Steve Irvine, Managing Director of Kingfisher Tours, on Jan 19, 2019. Read many more testimonials and reviews here.)
---

When I sent the last newsletter issue, I did not expect a big response.
I mean, all I could really tell you was that everything is closed and nobody knows when anything will open.

But in the intro I had also mentioned my personal income situation. (Or rather, no-income situation. Thanks, stupid virus.)
I also made a remark about how expensive it is to send this newsletter to so many subscribers.
It was a lighthearted comment, hence the winky emoji that went with it.

So I was blown away by your response. Your concern, your support, and the many heartfelt notes of sincere appreciation of my work mean a lot to me. Thank you so much.

I want to make sure I don't give people a wrong impression.
Yes, traffic to my websites and income has tanked big time. The first six months of a year is when I earn my money, March to May are my biggest months. That's when the vast majority of people plan trips and buy my books.
Most of my income comes from those book sales.

Right now, there is a tiny trickle of sales. (A special thank you to everyone who made a purchase since mid March!)

But that trickle should be enough to pay my business overheads. The costs of running the website, the associated services, and yes, even the cost of this newsletter (which is, in fact, my biggest business expense) should be covered.
I am not really earning anything but I am also not losing money. And with that I am in a much more fortunate situation than many, many others are right now.
Plus, responsible business owner that I am, I have rainy day funds and times like these it what they are for.

If you ever read my About page, then you know that the security of a regular paycheck has never tempted me.
I often say, there is a sliding scale on which we live our life. Security and comfort are on one end, freedom and adventure on the other.
If you want more of one you have to give up some of the other.
Freedom means risk and self responsibility. I have always fully accepted that.

In short, I am totally fine. It's all good and I am happy.

Having said all that...

In the messages I received after the last newsletter, one suggestion came up again and again.
For example...

"In these times it would not be asking too much for a donation to keep going. I would love to donate to keep getting your updates even though my trips have been cancelled in 2018 and again this year."

...and...

"I think there might be other people like me, and if I speak for myself, I would find it no problem to donate. If there would be like an easy donation link in the bottom of the newsletter I would use it. I don't know if it's possible but it would be great if there is like an option where readers can donate for instance $1 every time they read a newsletter they enjoyed. Just to cover your costs and effort. Just a thought :) "

... and I thought, that's actually a lovely idea.

So, I'm not starving or losing the roof over my head. You don't need to donate to keep getting my updates. I will continue to send these newsletters whether people donate or not. I don't want you to think the situation is desperate.

But right now, anything helps and is appreciated.
So if you feel like the two readers I quoted above, and if you want to make a small contribution to show your appreciation for what I do, from now on you can do so.
I will be including a "Donate" button at the bottom of this and future newsletter issues.

Thank you to everyone who suggested it and thank you so much in advance to everyone who uses it!

(I have not had time yet to put together a proper Thank You page that lets you know how much I appreciate your support. I do.)

And now, on to the news...



---
The Kimberley Is Opening For Local Travel
---

WA has a four phase roadmap to lift all its COVID-19 restrictions.

Today, Monday, May 18, we move from phase 1 to phase 2, and with that travel between the Kimberley shires can resume.
At the same time, many roads, campgrounds and tourism businesses in the Kimberley are opening.

Before we get to the details, let's get one thing straight:
Australia's borders are still closed. Western Australia's borders are still closed. The Kimberley is still closed.
For now, only Kimberley residents can travel in the Kimberley!

Having said that, travellers from Western Australia or other states who are still hoping to visit the Kimberley this year will be interested in the following information, too.

So what's open and what remains closed?


Dampier Peninsula:
The Cape Leveque Road is open, but all Aboriginal communities (and their fuel bowsers and stores) remain closed. Almost all accommodation and camping options on the peninsula as well as the beaches belong to Aboriginal communities, so they remain closed, too. This includes Kooljaman Resort.


An exception from this is Cygnet Bay Pearl Farm. They are open, albeit in a limited capacity. (Check with them for details if interested.)
Gibb River Road:
The Gibb River Road is now open for general travel.


The Imintji and Mt. Barnett roadhouses remain closed! Both belong to Aboriginal communities.

(Mt. Barnett will be holding a community meeting next week regarding opening the roadhouse and Manning Gorge to the public. They had originally planned to stay closed for all of 2020.)


Nev at Over The Range Tyres & Mechanical Repairs is open. No fuel, but you can get help with tyres and mechanical repairs. Plus Nev loves having people come in. He always enjoys chatting to visitors and showing them the wet season photos.


Mt. Hart is open for camping but NOT for accommodation and meals yet. Not selling fuel.


Mt. Elizabeth Station say they are open and and selling fuel.


Diggers Rest will open once intrastate travel becomes possible again.


Ellenbrae have not announced any plans of opening yet.


The following places at this stage plan to remain closed for the whole 2020 season:
El Questro/Emma Gorge, Home Valley Station, Mornington Wilderness Camp, Charnley River Station, Bachsten Bush Camp.
The Kalumburu Road and Mitchell Plateau remain closed for now.
National Parks:
Tunnel Creek, Windjana Gorge and Lennard Gorge are open, so are the Bungles. The national park campgrounds at Windjana and Purnululu are open, too.


Geikie Gorge had already been open, no boat tours though until further notice.


Silent Grove remains closed for maintenance. Bell Gorge and Silent Grove will open June 1.

Other commercial ventures across the Kimberley are gradually opening, some at this stage offering camping but no accommodation, meals or tours yet, though those will be starting over the next weeks. Some tour businesses are offering an adapted program. Please check their respective websites or contact them, there are way too many to cover them all here.

One I will mention though: Lake Argyle Resort and Lake Argyle Cruises are open and operating.

All Aboriginal communities and the businesses operating out of them are still closed, restricted by the Federal Biosecurity Act!



---
Remaining Travel Restrictions
---

To find out what other restrictions exactly are or were in place, see the last newsletter.
(If you read it closely and compare it to today's, you will see that I, too, had become confused with all these restrictions and who exactly restricted what.)

The Federal Biosecurity Act restrictions end on June 18 and apparently the decision on reopening the Kimberley will be made then. Talks are under way but it is too early to say more.

As for the WA regional travel restrictions, the next phase (phase 3) will also not be implemented until mid June. That phase may or may not include the lifting of the remaining restrictions on travel between regions.

Phase 4 has not even been assessed yet. And the state borders would come after that, the very last thing to be opened.

In short, with some luck, intrastate travel to the Kimberley may become possible again after June 18, and nobody knows yet when interstate travel may resume.

Here is more info on the 4 phases that constitute WA's roadmap for reopening.


The Northern Territory on the other hand is considering lifting its internal travel restrictions to remote areas (i.e. the biosecurity rules) two weeks early, on June 5, rather than June 18 as originally planned.
Apparently the Federal Government seems happy with that.
Note that this opening, if it happens, will presumably also apply to the Uluru and Kakadu national parks.
And that for now it's only a consideration, nothing has been decided yet.

In the NT, too, the state borders will remain closed and nobody knows for how much longer. ("Opening possibly by August" has been mentioned.)



---

And that's as much as I can tell you today.

Note that as everywhere else in the world, the situation at the moment is a very dynamic one. Things change almost every day. Whatever authorities say one day will happen or can't happen may be overturned a day or a week later.

I'll do my best to keep you in the loop, also via my News page, and look forward to the day when I can return to writing more "normal" newsletters again.

If you enjoy these newsletters and find them useful, tell everyone about them (they can sign up here) and consider supporting me with a small donation.
That's the online equivalent of buying me a drink. :)
Thank you so much!





Talk again soon!
Birgit


Destination Kimberley, Destination Top End and Destination Red Centre have all the information you need to put together your dream trip.

To sign up for this newsletter and receive the free Kimberley Pocket Guide go here.


Feedback? Found some out of date info in one of my guides? Let me know via https://www.kimberleyaustralia.com/contact.html


---

(c) 2020, Birgit Bradtke. All rights reserved.