---
4 June 2020, Issue #086

---

Please do not reply to this message.

To unsubscribe or change your address please use the links at the bottom of this message.
To contact me please use the contact page.

To sign up for this newsletter and receive the free Kimberley Pocket Guide go here.


---

In this issue:
Opening Sooner Than Expected
Not Opening
It Rained!
---

Hi,

Everything seems to be happening faster than expected, including these newsletters. My plan was to write again just before the Kimberley opens on June 18. But here I am already.

Because yesterday the Federal Government agreed to lift the Kimberley biosecurity restrictions almost two weeks early!

Also: It rained. :)


But before we get to the details, I first need to once more send a huge THANK YOU to the hundreds of people who responded to my comments in the last newsletter and made a donation.

I have been overwhelmed by the response and it took me several days to thank everybody individually, which I just had to. (Check your spam folder if you feel ignored!)
Your generosity and your supportive and appreciative words blew me away and I want you to know that.

Money doesn't grow on trees and neither do readers like you. Thank you for being so amazing!



---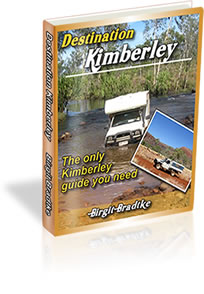 Your guide Destination Kimberley is still the most comprehensive and best advice for independent travellers to the Kimberley and I hope it continues!
We recommend it to everyone … and it is still compulsory reading for our new tour pilots every year.

(Steve Irvine, Managing Director of Kingfisher Tours, on Jan 19, 2019. Read many more testimonials and reviews here.)
---
Opening Sooner Than Expected
---

"Things change almost every day. Whatever authorities say one day will happen or can't happen may be overturned a day or a week later."

That was my closing statement in the last newsletter issue. And didn't that turn out to be true.

The Federal Government had wanted to keep the Kimberley closed until at least June 18.
The West Australian government had wanted to restrict travel to the Kimberley until at least mid June.

Then, a few days after I sent the last newsletter, the state government announced that it was pushing for an early lifting of the restrictions, and that the Federal Government appeared likely to agree.
But the state government never sent in the necessary paperwork until much later. With the result that yesterday morning we still didn't know if it would happen or not.

But then the news came through. It's official: the Federal Government has agreed to the state government's request to lift the Kimberley biosecurity restrictions early.
Additionally the state government is implementing phase 3 of its reopening road map sooner than planned as well.

And that means the Kimberley opens for Western Australians tomorrow, June 5, almost two weeks early!

More specifically: the Kimberley borders will open. Aboriginal communities, however, remain closed and off-limits for visitors.

June 5 is the same date that the travel restrictions to remote areas in the Northern Territory are also lifted.
(Uluru and Kakadu remain closed until June 18.)

However, both state governments still insist that the state border closures will remain in place for months to come.

Will they really? Only time will tell, but overall I'd say things are definitely looking up.



---

Some additional info on openings in the Kimberley:
A couple of days before sending the last issue, Parks and Wildlife had said Bell Gorge and Silent Grove would open June 1.
Three days after sending the issue they told us it's open!
Bell Gorge and Silent Grove have been open since May 21.


Birdwood Downs opened for camping on June 1.


Mt Barnett Roadhouse also opened for fuel and supplies, Manning Gorge is still closed, no camping.


Diggers Rest Station are now "preparing for the possibility of opening by July 1".


And Parry Creek Resort is open.
By the way, if you are new here or if you haven't had time to read the last newsletter issue, you can do so here.
It had more detail on what's currently open in the Kimberley and along the Gibb River Road and what can be expected to open when.
That info will put the above items into perspective and give you the big picture.



---
Not Opening
---

While some places are opening sooner than expected, others are not opening at all this season, or, sadly, ever again.

One such place is Oolloo Station, a wonderfully wild and remote place for camping, bushwalking and fishing in the NT.
It had only opened for travellers last year and I had been delighted to be able to add it to Destination Top End.
Sadly I had to now remove it again. The station is closed for camping and up for sale.
I don't know if this one is in any way connected to the economic fallout from the pandemic, but I am sure that it isn't the last place that will have to sadly close.

I expect a lot of things to change and I doubt I will be able to keep up with everything.
So if you are able to travel to the Kimberley or the NT over the next months, please keep that in mind and make sure to check ahead with places you want to visit.
Check if they are open at all, on their prices and current offerings, to avoid any unpleasant surprises.



---

From the last newsletter you know that there are still several places in the Kimberley that plan not to open at all this season.
In some cases this is because it isn't economically viable for them.

El Questro for example is such a huge operation, it takes them a month to get ready for opening, and running the place is so expensive that they do need the income from the interstate and international travellers to do so.
They also need a lot of staff and it is impossible to find enough people at short notice.

For those and similar reasons the following locations will indeed remain closed for the whole season:

El Questro Station and Emma Gorge

Home Valley Station

Charnley River Station

Mornington Wilderness Camp
---

The Munja Track and Bachsten Bush Camp will also remain closed, but here, the reason is a different one.

In March, Bachsten Creek Bush Camp was acquired by the Wilinggin Aboriginal Corporation, which represents the Ngarinyin people.

The Ngarinyin people want to develop a Management Plan for the Munja Track and surrounding areas. The goal is long term protection of their lands and that tourism is managed in a sustainable manner.
They expect that to take up to 12 months. Until then, the Munja Track, Bachsten Camp and Walcott Inlet will remain closed.

So if everything goes as hoped, Bachsten and Walcott should be accessible again come the 2021 season.



---

And last but not least, Parks and Wildlife made an error when announcing Lennard Gorge open. For now it remains closed due to the road conditions.



---
It Rained!
---

Speaking of closures, local travellers also had to deal with some temporary road and park closures, because it rained!

While the northern NT and East Kimberley saw a few drops around March 21, especially the West Kimberley received an unexpected and unseasonal amount of rain over four days.
When the front first arrived, on March 26, Broome Aiport measured 93mm in its rain gauge, Cable Beach over 100mm, and Derby was not too far behind. That's a lot of rain!

The coast saw the most rain, but it rained enough inland, all the way to the Pentecost Crossing, to warrant the temporary closure of parks and roads by May 28.

By now, everything is open again so I'll skip the details (you can find them on my news page if curious) but I thought it was worth mentioning here.
Despite the inconvenience of the closures, rain like this is always appreciated as it freshens things up, kills the dust, adds a little kick to the waterfalls again and makes them last longer, and generally makes things nice and green.
Lucky those who are able to go out and enjoy it in the coming weeks!

It is also a reminder for anyone currently planning an early or even mid-season trip for 2021. Out of season rains do happen and they can at times close roads or parks for days.
Just one more reason why it never hurts to keep the schedule as flexible as possible and to have a few spare days up your sleeve!


---

And that's it for today.

I have no idea when the next newsletter might be out. Could be very soon, could be a while. It all depends on the state borders now. Once those open, things will really kick into gear again.

At least that's what all tourism businesses hope. I am not so sure but here, too, we'll just have to wait and see.

One thing I already touched on above I want to repeat:
If you are travelling now or any time this season, please understand that most businesses had or will have to make changes to their operations.
This may be due to hygiene and social distancing regulations, or it may be because certain things they used to do are just not viable under the current conditions.

For one thing, please be understanding of their decisions. It isn't easy for anyone at the moment.
And also, please understand that some of the details you find in my guide books may not apply at the moment.

So if you are able to travel to the Kimberley or the NT this year, please keep that in mind and make sure to check ahead with places you want to visit.
Check if they are open at all and on their prices and current offerings to avoid any unpleasant surprises.

Hopefully things will settle enough, and early enough, for me to provide you with accurate and reliable info again by next season.

As always: If you purchased a book in the past or do so now, you can of course download an updated and current version any time next year or in the future.


I hope you enjoy the reading and planning.
Take care, stay safe, and talk soon!
Birgit


---

If you enjoy these newsletters and find them useful, tell everyone about them (they can sign up here) and consider supporting me with a small donation.
That's the online equivalent of buying me a drink. :)
Thank you so much!





Destination Kimberley, Destination Top End and Destination Red Centre have all the information you need to put together your dream trip.

To sign up for this newsletter and receive the free Kimberley Pocket Guide go here.


Feedback? Found some out of date info in one of my guides? Let me know via https://www.kimberleyaustralia.com/contact.html


---

(c) 2020, Birgit Bradtke. All rights reserved.