---
7 August 2020, Issue #088

---

Please do not reply to this message.

To unsubscribe or change your address please use the links at the bottom of this message.
To contact me please use the contact page.

To sign up for this newsletter and receive the free Kimberley Pocket Guide go here.


---

In this issue:
What To Expect Travelling This Year
Outlook For Next Year
---

Hi,

the last time I wrote I told you that it looked as if the Kimberley season had finally started, with lots of cars and caravans reported heading north along the coast.
July also saw two weeks of school holidays for Western Australians, still the only people able to travel within Western Australia and the Kimberley.

Despite some people's concerns when considering the above, the Kimberley and the Gibb River Road certainly have not exactly been overrun.
Rather the opposite.
If you'd be on the Gibb right now, you'd be lucky to see a car every hour.
Compare that to a normal season, where from late June until early August you have an endless procession of cars and campervans, in both directions, barely visible in the never settling dust cloud.

So, an amazing opportunity for those able to travel this year (despite the many closures, see the previous newsletters), but a disaster for the tourism industry, especially in the East Kimberley.
Broome fared somewhat better, offering an alternative to all those who would usually have gone overseas to Bali or similar beach holiday locations. The school holidays were surprisingly busy in Broome, maybe even more so than in a normal year.
But that doesn't make up for the missing interstate and international travellers in all other weeks or for the total shutdown during the early season. The situation is not quite as bad as it is in the East Kimberley from an economical point of view, but it sure isn't good either.

At the time of writing the last newsletter there was the hope that restrictions would continue to be gradually eased and that the borders will eventually open, allowing for a good second half season. By now it's abundantly clear that that isn't going to happen.
Border restrictions everywhere are tightening rather than easing.
The outbreak in Victoria is still out of control and New South Wales and Queensland have new hot spots to deal with.

Despite the ongoing heavy criticism of the WA hard border closure, the pressure from the Federal government, and the legal challenge by Queensland businessman Clive Palmer (overseas readers, just google the name to find out more about that saga, everybody in Australia will know all about it), the WA Premier McGowan is determined to keep the virus in check in WA and Western Australians safe. Further reductions in WA's coronavirus restrictions have been delayed until at least August 29 and the border remains closed.

A financial disaster for many, including me, but it is what it is.
Complaining, blaming and suing isn't gonna make the virus disappear. Nothing anyone can do about the current situation, we just have to accept it.

Given that, I have some information below for those lucky enough to travel in Western Australia this year, and also some information for those who are looking forward to a trip next year.



---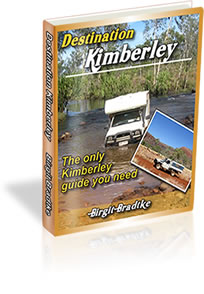 Your guide Destination Kimberley is still the most comprehensive and best advice for independent travellers to the Kimberley and I hope it continues!
We recommend it to everyone … and it is still compulsory reading for our new tour pilots every year.

(Steve Irvine, Managing Director of Kingfisher Tours, on Jan 19, 2019. Read many more testimonials and reviews here.)
---
What To Expect Travelling This Year
---

In an effort to increase the number of tourists in the Kimberley and to extend the season, the WA government together with Virgin Australia is offering discounted flights both on the Perth-Broome and the Perth-Kununurra route.
You can fly daily to Broome for only $199 and to Kununurra three times a week for $229. (That's the one way fare, so double it to get back home, too.)
5500 seats to Broome and 2500 to Kununurra are available until October 3 and you have to book at least 21 days in advance.

What can you expect when you get here?

Despite the poor wet season, right now you can still expect to see the waterfalls flowing. Even Manning Falls still has a trickle coming down. (This is thanks to the substantial late rains the Kimberley saw in late May.)

Gibb River Road

As mentioned above, there aren't many tourists around. As a result the Gibb River Road is not only quiet, it's also in the best condition it's been in years.
Sure, there are corrugated parts, and as always the eastern half is rougher than the west.
Don't come here expecting to drive like you would on the bitumen.

(Talking about bitumen, 8km of the stuff have been newly laid from the El Questro turn off towards the Pentecost. The plan is to seal the remaining 15km over the next two years.)

You can find information on what is open and what is closed along the Gibb in the last newsletter issue.

As for the big roadhouses:
Mt. Barnett is open seven days a week, Mon - Fri 9am - 3pm and Sat/Sun 9am - 1pm.
Imintji Roadhouse is open Mon - Sat only, 8.30am - 4:30pm.
They are open for camping, too.

Dampier Peninsula

All Aboriginal communities remain closed, which means much of the Dampier Peninsula remains off-limits.
Cygnet Bay and Kooljaman are open, Gnylmarung has been cleared for camping, Gumbanan also, Pender Bay is waiting for government approval so may open soon, too, and fuel is available at Djarindjin Roadhouse (near Lombadina, which remains closed, as does Beagle Bay).

Some more info can be found in older newsletters. So if you are new here and haven't seen those, you may want to take the time to browse those first.
They are all archived here.

And along the highway, the Mimbi Caves campground has opened, and so have the WA side of the Tanami Road and Wolfe Creek National Park.

One thing to keep in mind if you are tempted to spontaneously book your Kimberley holiday now:
It's soon going to start warming up. See your free pocket guide for information on what to expect in September and October regarding temperatures and make sure you are comfortable with that!

Also check the last pages of the pocket guide for recommendations regarding the booking of vehicles and accommodation.



---

And here is one last thing to keep in mind: Absolutely everything is somewhat unpredictable at the moment, as tourists to the Red Centre recently found out.

After a flight from Brisbane, a NT declared Corona hotspot, landed at Yulara airport, the Mutitjulu community blockaded the entry to Uluru.
Subsequently Parks Australia temporarily closed the national park on Monday (it reopened Thursday) and many people had to fly home again without having been able to visit the park.
Also, flights to Yulara from Brisbane or Sydney have now been cancelled until the end of August, and those from Melbourne indefinitely.

I don't think anyone saw that one coming, and who knows what else will be happening over the next weeks and months.
Anyone travelling at the moment has to be prepared for surprises, both good and bad ones.



---
Outlook For Next Year
---

For all those hoping for a trip next year I have some positive news.

While the wet season is unimportant as a time for travel, it is very important for the following dry season. The end of the rain determines when the season starts, and the amount and the timing of it determines for how long the waterfalls will flow, how long the smaller swimming pools will remain inviting, and how long the landscape and the campgrounds will remain green.

The 2018/19 wet season was not a wet season at all. Many people even postponed their trips for a year, deciding it isn't worth it if things are drier than usual.
(I disagreed, you can find out more about all that by reading the 2019 newsletters.)
And, as you can imagine, many regretted that decision when they had to bin their 2020 plans.

The 2019/20 wet season was also below average. However, as mentioned above, late May saw an unusual amount of rain for that time of the year, and with that things remained green and the waterfalls flowing later into the dry season, too.

It's impossible to predict exactly what a wet season brings, and I don't recommend making plans with precise expectations regarding opening dates, river heights or waterfall levels. You'll just have to take it as it comes.

But of course you're gonna keep an eye on the next wet season and as always, everybody hopes it will be big.

The Bureau of Meteorology's Northern Rainfall Outlook is sounding hopeful here.
It looks like we can expect the rainfall onset to be a bit earlier than normal.
(Rainfall onset means enough rain has fallen to make plants grow again after the dry season, defined as a total accumulated rainfall of at least 50mm after September 1. This is NOT the same as the monsoon onset!
I wrote in more detail about rainfall onset and monsoon onset in this 2018 newsletter.)

Overall it looks likely to be an average to above average wet season for parts of the north. There is also an increased likelihood of La Niña in 2020. (The above linked newsletter issue also explains more on that.)
That is still a very careful and vague assessment, but it certainly sounds better than a likely late onset and below average season!

IF the WA border and Australia's borders are open by then (given the way things are going right now, I do wonder how big that "if" is), then it will be a very busy season.
So many people who had to cancel their plans for this year are already organised for next year.

So even now, maybe a full year ahead of your travel plans, I really want to emphasise how important it is to book early.
Sure, not everyone will accept bookings for next year already. (Mornington for example, one of the places that you definitely should book and should book early, hopes to open their bookings around September.)
But do book what you can as soon as you can.

As I mentioned in the previous section, the pocket guide has recommendations in the last pages. It tells you what needs to be booked early, what doesn't, and when.
Take into account that for next season even earlier will be better.

See the last newsletter also please, especially if you are concerned about fixing dates, given that we don't know how this whole virus chaos will develop.



---
I literally minutes ago received another email asking me if I update my guides regularly, since if I do, the person would rather wait with purchasing it for their trip next year. (Very common question.)

Yes, I do, and no, you shouldn't wait. What you should do is make sure that next year before you travel, or whenever you feel you need the most recent details, you re-download the most recent version of the guide, which you are welcome to do any time.
Just see the first pages of your guide for instructions.

(I don't want to give you a false impression. I am NOT currently updating it daily to take into account the fluctuating Corona situation. I WILL certainly do a thorough update for the next season, once things have somewhat settled down.)



---

Okidok, that's it for today!
If you are new here (and even if you aren't) you may be annoyed that in so many instances today I referred you to past newsletter issues.
Please understand that I can not repeat myself over and over again in every newsletter, spelling out the same things again and again.
I am trying to find a balance where I don't just copy and paste from previous newsletters but also enable newcomers to access all the information they need and that will help them.

Having said that, here is one last repetitive paragraph:

A big THANK YOU again to all the people who made a donation in support of this newsletter.
The last newsletter again generated a wonderful response, not just donations but also lots of supportive messages with them, which help a lot to keep up my spirits, which to be honest hasn't been easy lately.
Thank you so much.


Take care, stay safe, and talk soon!
Birgit


---

If you enjoy these newsletters and find them useful, tell everyone about them (they can sign up here) and consider supporting me with a small donation.
That's the online equivalent of buying me a drink. :)
Thank you so much!





Destination Kimberley, Destination Top End and Destination Red Centre have all the information you need to put together your dream trip.

To sign up for this newsletter and receive the free Kimberley Pocket Guide go here.


Feedback? Found some out of date info in one of my guides? Let me know via https://www.kimberleyaustralia.com/contact.html


---

(c) 2020, Birgit Bradtke. All rights reserved.