---
12 Febuary 2021, Issue #091

---

Please do not reply to this message.

To unsubscribe or change your address please use the links at the bottom of this message.
To contact me please use the contact page.

To sign up for this newsletter and receive the free Kimberley Pocket Guide go here.


---

In this issue:
Wet Season Update
2WDs On Unsealed Roads
Guide Book Updates
---

Hi,

less than two months now until Easter!

Easter marks the start of the pre-season for tourists.
At that time of the year many tracks and campsites across the Kimberley and Top End are still closed, but there is plenty to do regardless.
It is a very lush and green time of the year, with a lot of water coming down the waterfalls.

And because I know that a good number of people use the Easter holidays for a trip up north, I always try to have my guide books as up to date as possible by then.
(I also tend to send newsletters more frequently, so you always know what's going on.)
More on that, and also on the wet season progress, below.



---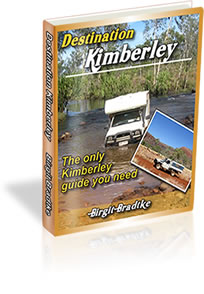 Your guide Destination Kimberley is still the most comprehensive and best advice for independent travellers to the Kimberley and I hope it continues!
We recommend it to everyone … and it is still compulsory reading for our new tour pilots every year.

(Steve Irvine, Managing Director of Shoal Air, on Jan 19, 2019. Read many more testimonials and reviews here.)
---
Wet Season Update
---

Anybody planning a 2021 trip will be pleased to hear the the wet season is still going great.

A tropical low expected to possibly develop into a cyclone was first noticed to the west of the Dampier Peninsula around January 20.
(I am sure meteorologist knew about it before then, but that's when it started to matter to Kimberley residents.)
It was expected to strengthen as it moved south and east and to become a cyclone, to cross the coast in the vicinity of Eighty Mile Beach.
Alas, that never happened. In fact, nothing much happened in the Kimberley at all, somehow it just fizzled out.

But right on its heels, over the last week of January, a tropical low that had developed in the Joseph Bonaparte Gulf slowly did make its way across the Kimberley, from the north-east towards the south- west.
This system again had been expected to become the first cyclone of the season once it moves off the west coast, which in the end it didn't do.

But you don't need a cyclone to get rain. In fact, once a cyclone moves inland and loses force, what you are left with is the tropical low and the vast amounts of rain it brings.
And rain it did bring, day in day out, for a whole week.

The accumulated rainfall over that week added up to 250 - 350 mm, all across the Kimberley.
It was the first big wet season event in three years.

On the Gibb River Road flash flooding occurred in many locations, road culverts were washed away, and one bridge as well.
With the road totally inaccessible, several communities, albeit well prepared for the wet season as always, started running low on food and had to be supplied with air drops.
Just about the whole Gibb River Road is still closed, from the start at the Great Northern Highway all the way to the Meda turn off (a few kilometres from the Derby turn off).

On January 31 even the highway had to get closed between the Derby highway turn off and Fitzroy Crossing, cutting off the main transport route in the Kimberley.
It re-opened on February 4.

The newly sealed Cape Leveque Road remained open with only a weight limit imposed, but many of the unsealed tracks on the peninsula have suffered badly.

If you are on Facebook, here is a round-up of some photos and videos:
(Apologies to those readers who can not access Facebook. I know it's annoying, but Facebook is where this kind of imagery gets shared.)

The highway.
The Gibb River Road (about 50km out of Derby).
Also on the Gibb River Road, the Lennard River Crossing.
Again GRR, the Mac Creek Crossing a few days later, after the waters had receded some.
Here is one of Manning Gorge Road.

And here is a video that was taken around Willare, the area where the highway had been cut.
It gives a good impression of what the country looks like during a good wet season.

The large amounts of water from the last tropical low did quite a bit of damage, but that is to be expected.
It's nothing unusual, just something that can't usually be avoided with a really good wet season. This is what things should look like and it was badly needed.
Lake Argyle for example, while rising, is still waaaaay below the spillway.

Everybody wants the rain, nobody wants the damage of course, but you rarely get one without the other.

Once it was done with the Kimberley, this low pressure trough moved south across the Pilbara and Gascoyne regions, causing widespread flooding and road damage there as well.
To give you an idea: Carnarvon for example received more rain in 24 hours than it received in all of 2020.

The North West Coastal Highway had to be closed, parts of it washed away in several locations.
Several truck and cars became trapped by the fast rising floodwaters and the people had to be ferried out by helicopter.
Here is a short impression of what it looked like down there.
And this is what they found once the water receded a bit.

You can consult Main Road's travel map to check which roads have reopened, which are still closed, and which may close when we get more rain.

That's right. This isn't the end of it yet. Another tropical low crossed into Western Australia on Tuesday and there has been more rain since.
The Fitzroy River rose again (it is expected to peak today), and on Wednesday the highway had to be closed againbetween Fitzroy Crossing and Halls Creek. We don't know yet when it will re-open.

As I said in the beginning, the wet season is going great. :)



---
2WDs On Unsealed Roads
---

Somewhat related to the above, I want to remind you of something I wrote in the last newsletter.
Letting you know that the sealing of the Cape Leveque Road had been completed, I also wrote:

"But don't be fooled into thinking that you can now easily zip around the peninsula in a two wheel sedan.
The vast majority of wonderful places that I write about in Destination Kimberley are not exactly located right on the bitumen."

That includes the access road for Kooljaman Resort.
(It is scheduled to be sealed too, with work starting this season.)

Not surprisingly, at least not to me, many people of course tried to go up in a two wheel drive anyway.
With the result that the people of the Djarindjin community (owners of Kooljaman) had to save people and get them out of bogs almost daily, especially once these rains had started.
They have better things to do with their time, so they ended up closing the access road for two wheel drives altogether, until further notice.

A little side note:
I wrote above that the unsealed tracks on the peninsula aren't exactly in good shape since the last tropical low passed through.
The roads of the Djarindjin community are apparently among the worst. According to locals they resemble a miniature Grand Canyon more than anything else.

Anyway, it's going to be interesting to see what will happen next dry season, how many people will try heading not just to Kooljaman but to many other places on the peninsula by two wheel drive...

Don't do it.
Yes, the Cape Leveque Road is sealed, and more and more roads across the Kimberley get sealed all the time.
No, a two wheel drive is still not the ideal vehicle to get around the Kimberley and not the right vehicle to see more of the peninsula.

If you want to make the most of the information in Destination Kimberley, get yourself a high clearance four wheel drive.

If you don't have one of those, you can still see a lot during the dry season, including Kooljaman, especially if you are experienced driving your vehicle on unsealed roads.
But always make sure you get detailed and current information on the roads and tracks you want to tackle.
Know what you are doing.



---
Guide Book Updates
---

It's that time of the year! I have started the work on reviewing and updating my travel guides for the next season.
I am starting a bit earlier this year, expecting it to take a bit longer than usual.

So what does this mean for you, if you recently bought a guide book, or did so last year and then had to cancel your trip?
Above all it means not to worry, because as I hope you know, you can download the guide again once it's updated, any time you like.

But it means you should be aware that what you currently hold in your hand contains information for last season, possibly even for 2019.
Just like a lot of online information by the companies themselves still does.

(Destination Top End was not updated last year. By the time I had finished the Kimberley guide the pandemic had shut everything down, and there was no point.
Things changed every few weeks, and I can not go through a whole guide book every few weeks to implement changes that will be out of date by the next month again.)

It is hard this year for any business to make firm decisions on what to offer next year, what will be possible and what won't.
Actually, even in the non-pandemic previous years, many businesses never made those decisions until the season was about to get under way.

Which is the reason why I use the same schedule for my guide books. I aim for them to be ready and updated by Easter.
And then I still have to make additional changes and updates in the first couple of months of the season, that's just how it is.

And that is why I strongly recommend that you
a) always download the latest version of your guide a few weeks before you travel.
b) do NOT download the latest version much earlier than that, unless your copy is several years old.

There is no point in flooding me with update requests right now, just because I mentioned the possibility here.
I know hundreds of you will anyway, because you always do. But you'll just download the same guide again as last year, or, for the Top End guide, two years ago.
Give it a couple of months yet.

While prices and certain tour offerings may be out of date, most of the information is sort of evergreen, especially in the Northern Territory.
Any major changes that would affect your planning in a major way have been covered in this newsletter.
And you can always access the back issues here.

Don't worry. The guide you hold in your hands is still a great guide and more current than any other guide on the market.

But do remember to download the most recent version of it a few weeks before you start your trip because I want you to be on the road with the most up to date information possible.
And of course, keep an eye on the newsletters!



---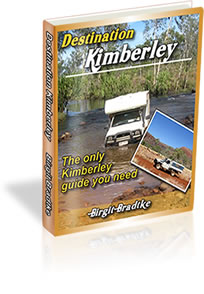 "I've read your book back to front and it is a masterpiece!"

(Received February 9, 2021.
Thanks, Cameron!)





---

And that's it for today.

I am still reluctant to make exact predictions about how the next tourist season will play out.

For one we certainly don't know yet when it will start. Let's see how much rain the next weeks will bring, and where.
That will determine how much more road and other damage we see and when those damages can be fixed.
It will also determine when all the tracks dry out enough to open them again.

The other variable is of course the pandemic.

We can't say yet what international and interstate border restrictions will be in place and for how long, though it isn't looking good for international tourists right now.
Interstate rules continue to keep changing.

What I can tell you is that guide book sales have picked up a lot over the last weeks.
They are now about two thirds of the usual volume I'd sell this time of the year.

When you add to that the people who bought a guide in 2020 but postponed their trip to 2021, then that's a lot of people hoping to be able to do their trip this year.
Whether they'll be able to is a different question of course.

I can also tell you that the places that tend to book out early, are mostly booked solid.

So IF the pandemic restrictions allow all those people to travel as planned, then it's gonna be crazy busy.

Well, and if they won't, then maybe it won't.

And very last but not least, I have a useful link for you.
One of the biggest question marks that remain is the Aboriginal communities across the Kimberley.
Most of them for now remain closed to non-residents and non-essential workers, but communities can apply to be exempt from those State Emergency Laws.
Some already did so last year.

Again, we can't make predictions, but at this constantly updated link you can always check which are open and which are still closed right now.
(Use the map or scroll down to the list.)

And that really is all for today.


As always, a big THANK YOU to all the people who made a donation in support of this newsletter.
Your support and encouraging words mean a lot to me. I appreciate you.


Take care, stay safe, and talk soon!
Birgit



---


If you enjoy these newsletters and find them useful, tell everyone about them (they can sign up here) and consider supporting me with a small donation.
That's the online equivalent of buying me a drink. :)
Thank you so much!





Destination Kimberley, Destination Top End and Destination Red Centre have all the information you need to put together your dream trip.

To sign up for this newsletter and receive the free Kimberley Pocket Guide go here.


Feedback? Found some out of date info in one of my guides? Let me know via https://www.kimberleyaustralia.com/contact.html


---

(c) 2021, Birgit Bradtke. All rights reserved.