---
7 July 2019, Issue #080

---

Please do not reply to this message.

To unsubscribe or change your address please use the links at the bottom of this message.
To contact me please use the contact page.

To sign up for this newsletter and receive the free Kimberley Pocket Guide go here.


---

In this issue:
Road And Camp Updates
Reader Feedback
Trip Report
---

Hi,

The last newsletter created an unexpected amount of feedback. Some of that I want to share with you to show you how people really felt about their trips in this drier than usual season.

I also have a couple of little updates and one reader sent such a long and detailed email that I asked him for a few photos and we turned it into a little trip report.



---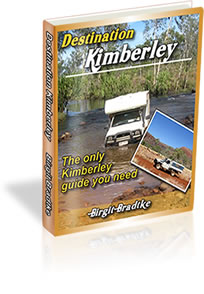 Your guide Destination Kimberley is still the most comprehensive and best advice for independent travellers to the Kimberley and I hope it continues!
We recommend it to everyone … and it is still compulsory reading for our new tour pilots every year.

(Steve Irvine, Managing Director of Kingfisher Tours, on Jan 19, 2019. Read many more testimonials and reviews here.)

---
Road And Camp Updates
---

First of all some good news for people about to start their trips:
The Gibb River Road is being graded again. Grading started a few days ago at the Derby end, by Friday the graders were near Lennard River, and they are now slowly making their way towards the eastern end of the road. Still several hundred kilometres to go!

Despite the freshly graded road, please drive sensibly, not like the drivers Scott encountered:


"My family and I started travelling the Gibb River Rd from El Questro and I was forced off the road, by an out of control 4wd going around a bend. My wife was so frightened by the near miss that we turned back.
We drove to the Bungle Bungles where we had a great day looking around. On the way out we had a tourist company bus driving around a blind bend on the wrong side of the road missing us by millimeters. This would have been a head on crash, but I was driving to the conditions.
I have spent many years working in regional parts of this country driving on dirt roads, people need to slow down and drive to the conditions."


Also be prepared for poor visibility due to bushfires. This is currently a problem in the Mt. Barnett area, and given the very dry conditions this year you can expect plenty of fires and smoke over the next weeks and months.

Given that we are now in the peak season, you will often have to deal with poor visibility due to dust kicked up by other vehicles anyway. And they have to cope with yours, so do the right thing.
Don't forget to always turn your headlights on and adjust your speed to the conditions, please.

Or, avoid all those issues altogether, as Larry (70) did:


"Intended to drive the Gibb this season. However considering the expected crowds, road safety, walks that may have been a bit arduous, decided against. Instead did a cruise Broom to Darwin with Kimberley Expeditions which was great  for us."


---

Jacinta from the wonderful Whalesong Cafe and Campground on the Dampier Peninsula has contacted me to let me know that they have closed their cafe! So it's only "Whalesong Campground" now.

Apparently some of my readers rocked up there, looking forward to a leisurely lunch, and she had to turn them away.
I am so sorry, I can imagine how disappointing that must have been!
I had no way of knowing about this change in their operation. With those tiny, out of the way places, especially at the other end of the Kimberley, unless a reader or the owner informs me, it's gonna take a while for me to find out.

Luckily Jacinta contacted me and gave me the following information:
Campers are still welcome (they only have five sites so bookings are essential). For day visitors to the area they now offer a coffee hub daily with strict hours of 8am - 10am and Kimberley Wild Gubinge products and tours.
(The bushfood business Kimberley Wild Gubinge is a new venture of theirs, you can learn more here: kimberleywildgubinge.com.au.)

One of the reasons Lenny and Jacinta have closed the cafe is the sealing of the Cape Leveque Road that is currently underway and scheduled to be completed late 2020.
They have scaled back while they are in a planning phase, getting ready for the expected big increase in visitor numbers.
And it's not just them, most of the Peninsula is currently planning and looking at improving and upgrading infrastructure whilst at the same time looking at how they can protect this unique and pristine coast and bush of the Dampier Peninsula once the road is sealed.
Let's hope they succeed!

(Personally, I am cautiously optimistic for the Peninsula. I am much more concerned for the country along the Gibb River Road, where countless 4WDers and caravaners act as if they own the place, camp wherever they want, leave their rubbish etc. But that's a different topic.)


---

One last update:
On page 136 of Destination Kimberley, in the accommodation section for Halls Creek, I write about the Bina-waji Nyurra-nga Aboriginal Corporation and their remarkable program helping and preparing Aboriginal youth to join the work force.
In June 2018 they started offering accommodation for tourists, but sadly they had to close that again. The reason apparently is red tape. I don't know the details and hope that they will be able to get all the required permissions and re-open.



---
Reader Feedback
---

After I sent out the last newsletter, many people immediately hit reply to let me know that they agree with my comments.
Here is a selection of snippets from their messages.
(So you don't think I am making it up. Yes, it's dry, and it's still awesome.)


"My wife and I returned last Friday from a 15 day Darwin-Broome camping tour with Kimberley Wild. It was all and more we had thought it would be from reading your emails." -- Paul


"A friend and I did the Untamed Kimberley trip with AAT Kings 28 May to 6 June and loved every minute of it." -- Gae


"We just completed the Gibb and loved it although it was challenging for us 4wd novices! Sure, not as much water but still amazing. I feel like people have very unusual expectations to get the picture perfect experience and you summed it up well. Keep up the great work! Here is a picture of my family at El Questro Gorge swimming too if that might help people feel more like coming on their Gibb trip!" -- Sarah






"I don't understand people's obsession with waterfalls.  As a previous visitor to the area there is so much to do and see and learn about the culture of the Kimberley.  Not something one can cover in one trip anyway in my opinion unless you plan to be there for months. It's unfortunate that people think it's not worth the trip just because of lack of water!!  Looking forward to my return trip someday..." -- Maryrose


"Have just completed Gibb River Road. True, it has been a fairly dry season but it was a great trip. We can also add in Galvans Gorge, Adcock Gorge, Windjana Gorge. Nev the Tyreman was a great place to visit and have a chat with a local. Mt Elizabeth Station had the best food on the road. I'm sure wet seasons provide a more challenging trip but we were happy to survive with no punctures." -- Anne-Marie and David


"We just returned from three weeks to Broome (from Melbourne) including 16 days to do "the Gibb" anticlockwise. I wish we had another week or two to see more.
Yes - it was AWESOME!!
There were some poor reviews in TripAdvisor from someone driving through one or two weeks before us at start of May. No-one should believe those poor reviews as they were wrong. (And got their gorges mixed up!)
Yes, the water was trickling in places but I concur with your reports: the swimming was still good - don't believe the trip advisor reports of no water and stagnant water - worth the walks at Bells Gorge and Manning Gorge.
You can swim most places - but frankly, if you're going in July onwards then you shouldn't expect much water now anyway I reckon." -- Chris (you will read more about Chris' trip below)


All the feedback above (and more) came in immediately after the last newsletter (from June 24) so refers to the late May/early June period. Yes, water levels will have gone down even more since and will continue to do so.
But as I wrote before, there will still be many places to swim.

(Mt. Hart emailed me a tiny bit miffed because they did not get a mention... Yes, due to their location tucked into the King Leopold Ranges they belong to the places that still have a lot of water coming through!)

But most importantly, the Kimberley offers more to see than waterfalls and much more to do than swimming.
You know my mantra: Take it as it comes and make the most of it.


---

Hilde and Jan visited the NT and the Kimberley May 18 - June 23 and have more detailed comments and tips for you:


From Hilde:

"Your guide was a wonderful help for us, for planning, but also during the holiday, to make the right choices where to go, where to camp. Thanks for answering the questions!
Some supplements to your newsletter:
The Yellow Water cruise is gorgeous. They offered a second cruise for 25 dollars. So we made a cruise at 6.30 and the other at 16.30! I don't know if this offer is during the whole year.
Edith Falls are great!
When there are crocs in the Katherine Gorge and you don't want to make a cruise, you can better go to another gorge.
Don't forget - when you make the Gibb River Road - that you have to count also the km to the camping areas!
Bell Gorge is also a must.
The Nawulbinbin walk (Victoria river camping area, Gregory National Park): You wrote, "don't miss". Indeed!!!
In Litchfield we visited the Banyan Tree camping, very good. The Safari camping area is very, very badly maintained. I advise to go to a bush camping site.
This year there were a lot of flies. The fly nets were sold out. So, if you go, buy a fly net as you see one."

From Jan:

"Before our trip to the Kimberley I asked you about the art with, or near to, the Aboriginals.
I succeed very well on the Mindil market at Darwin and especially in Derby at the gallery of Mark Norval. Mark knows a lot and is very well doing together with the Aboriginals.  Maybe it is worth to give that more attention."


Indeed, Mark Norval is a very knowledgeable man who always has plenty of time for his visitors.


---

And last but not least, a couple of tips in response to the reader question in the last newsletter about rubbish disposal:

From Gloria:


"Purchase and carry a bushmans rubbish bin. You can strap it to your spare wheel. Empty it at the nearest rubbish disposal unit. We wouldn't go without ours now.
Another tip is to take cans instead of glass, you can crush them to fit more in your bin."


(I had never heard of such a bin. A quick google led me to the Bushranger Wheelie Bin which indeed looks like a great solution.)

And from Chris:


"Re waste disposal on the Gibb - there's one waste station on the Kalumburu Road opposite the turn off to Drysdale Station which is contained/covered - unlike the Imintji which is an embarrassment and should be closed."


(As I mentioned in that last newsletter, the Imintji tip will be closing this year.)



---
Trip Report
---

We have already heard from Chris twice in this newsletter. I had extracted those comments from the long and detailed email I received from him (plus two follow up mails).

You can read the rest of the information he sent, plus some photos that his wife sent me (and that nicely show the water levels they encountered on their trip) in his full trip report:

Kimberley and Gibb River Road May/June 2019

Thanks for taking the time, Chris and Renate!



---

And that's it for today.

As usual, I have this one last request:

If you have been or are currently travelling with one of my Destination Guides, and if you come across something that's out of date or in your opinion not portrayed accurately, by all means, swear at me or call me names. But then, PLEASE, also let me know about it.
Because...
Without guide no information -- without information no guide!

A big thank you to everyone who took the time to write to me with their feedback!


Safe travels and talk again soon!
Birgit


Destination Kimberley, Destination Top End and Destination Red Centre have all the information you need to put together your dream trip.

To sign up for this newsletter and receive the free Kimberley Pocket Guide go here.


Feedback? Found some out of date info in one of my guides? Let me know via https://www.kimberleyaustralia.com/contact.html


---

(c) 2019, Birgit Bradtke. All rights reserved.