Kimberley and Gibb River Road May/June 2019
by Chris
(McKinnon)
Piccaninny Creek in the Bungles
Hi Birgit,
I want to thank you for your guide re assistance for our trip - yet again.
We just returned from three weeks to Broome (from Melbourne) including 16 days to do "the Gibb" anticlockwise. I wish we had another week or two to see more.
Yes - it was AWESOME !!

I did the Kimberley 10 years ago with a close Canadian friend, starting in Darwin.
This time I took the wife and another couple.
They were blown away (surprise, surprise) - being "dry" doesn't matter - the area is still beautiful/stunning and the people everywhere were great.
We went along the bitumen via Fitzroy Crossing/Bungle Bungles/Kununurra (that was new for me), then back along the Gibb.

The traffic was fantastic - very few hold ups, and everyone was considerate (the rat race hadn't arrived yet).
Going to Mitchell Falls we encountered virtually no traffic but coming back two days later on 26th May we passed 30 vehicles going in.

The worst road was going into the Bungle Bungles where the rocks were a little rougher (puncture - fixed at Kununurra) - but pretty good everywhere else - including the Gibb/Kalumburu & Mitchell Falls access road.

The water was trickling in places but the swimming was still good - worth the walks at Bell Gorge...

... and
Manning Gorge
.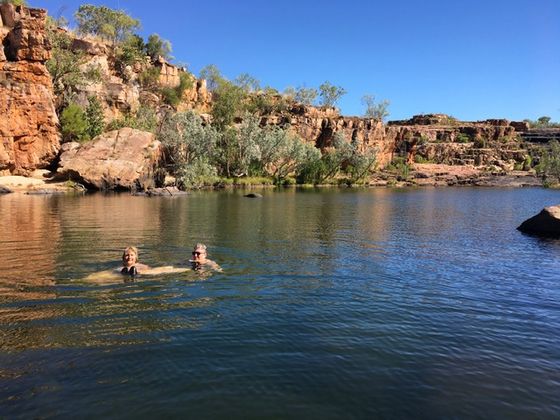 I was surprised to see the boat at Manning Gorge - 10 years ago there was a polystyrene box for people to use to ferry their belongings across when you swim. Now there's a boat on a rope tow.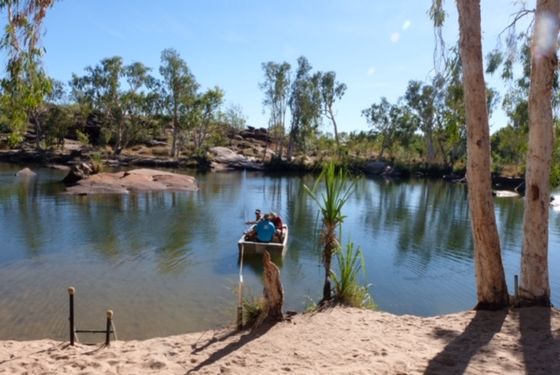 2009 there was heaps of water - up the bottom of the car window at the King Edward River, but this time there wasn't much water remaining there - but every place is different as you know.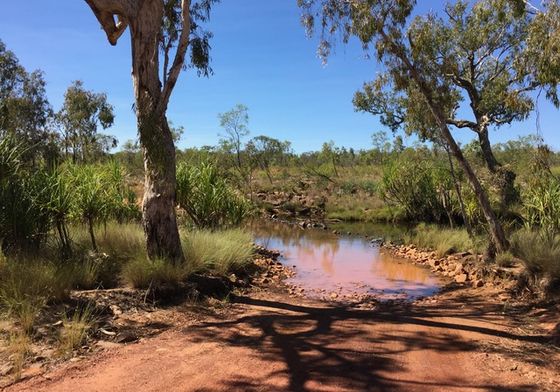 Mitchell Falls water flow has slowed down...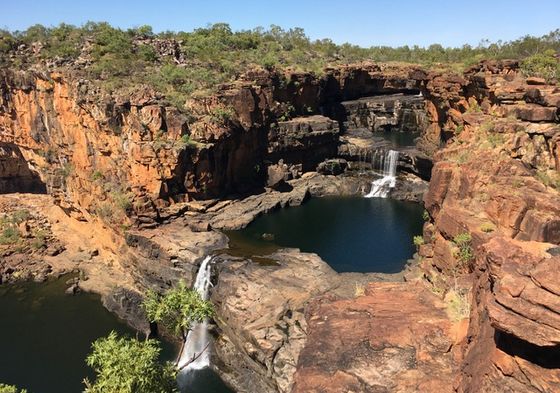 ... but it's still worth the walk and still good swimming up top, as is Emma Gorge...
... and El Questro Gorge.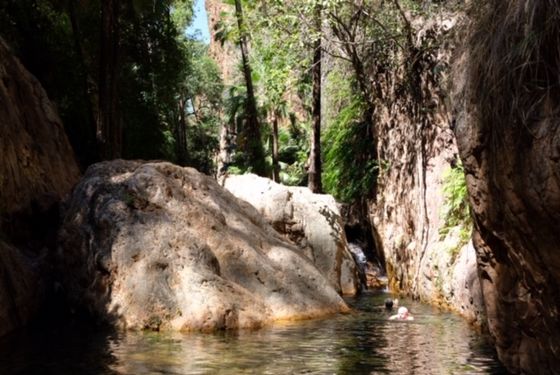 Most crossings now have minimal water to ford, and the roads are graded and more manageable than they used to be - however the river crossing on the El Questro Gorge/Moonshine Gorge access road is still reasonably deep and long.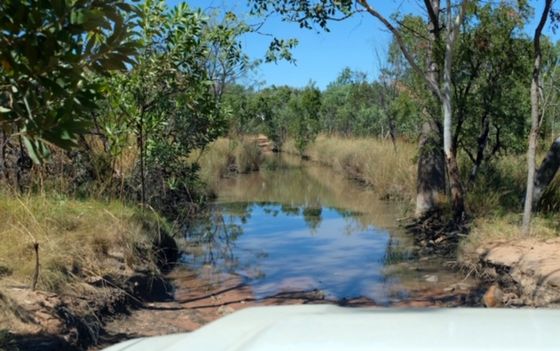 Zebeedee Springs never fails to impress, being spring fed.
We stayed at the
Lake Argyle
camping and caravan park - what a little oasis with their infinity pool, which was a nice change from camping in Kununurra.
We didn't have to book anywhere, but if traffic does get busy then it's best to book at Lake Argyle, and also at one of the sites at the Bungle Bungles.
Manning Gorge you just have to turn up and check in at Mt Barnett Road Station, and Bell Gorge also.
I was surprised with quality of facilities at all camping grounds now compared to 10 years ago - I don't remember the toilet block at Mitchell Falls and the facilities at Bell and Manning Gorges are also good with toilets and showers.
Cape Leveque
was stunning as usual but we paid a surprise visit to Cygnet Bay Pearl Farm because we arrived at Cape Leveque a day early (good roads helped this all the way).  We found pleasant camping facilities, and the main office area also has a pleasant infinity pool and restaurant.
Kooljaman is still great with plenty to do in the area including visiting Lombadina beach which I hadn't done before.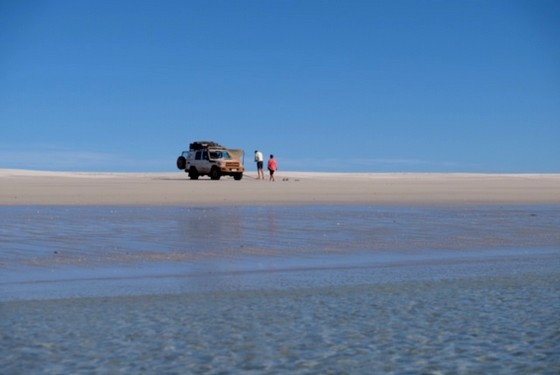 Everywhere the birdlife and colours of the landscape are still stunning, as are the sunsets, sunrises, the peacefully silent stars at night when sipping some precious red wine around the camp fire.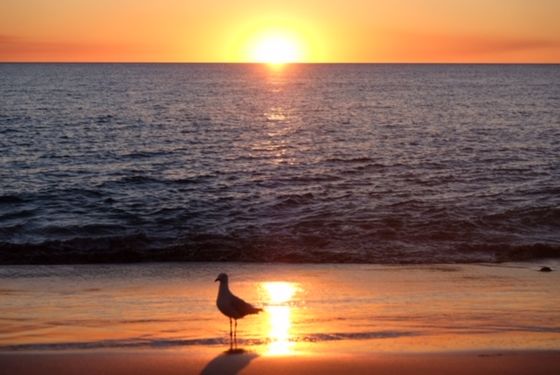 You get used to, and appreciative, of being off grid.
We miss it already - and after Karijini NP two years ago & the WA coast line, earlier the Top End of NT - I think this is now my wife's favourite, and she knows why I've been raving about it for the last 10 years.
Our friends we took can't stop talking about it - and they are 65 & 71 and survived rocky El Questro Gorge, to the end and back.
The one negative of our trip - Broome can keep its midgies/sandflies.
Now - between
your guide
, and the assistance from
Bluey Travel
(thanks Pam), we were never going to go wrong.  Britz car hire and some accommodation was booked through Bluey (at no extra) and the rest booked by us.  The "manual" they provided was detailed like yours but different again, and optimised to our itinerary - I didn't expect that. They also provided great advice to optimise our itinerary.
I strongly recommend using them to anyone.
Thanks again for your assistance - I have introduced three more people now to you and the Kimberley and they can't stop talking about it to others. (Is that good or bad?)
Cheers,
Chris