---
13 January 2023, Issue #099

---

Please do not reply to this message.

To unsubscribe or change your address please use the links at the bottom of this message.
To contact me please use the contact page.

To sign up for this newsletter and receive the free Kimberley Pocket Guide go here.


---

In this issue:
Tropical Cyclone Ellie and the Fitzroy Crossing Floods
Guide Book Updates
---

Hi!

I hope this finds you safe and sound and that the first weeks of 2023 went well for you!

It has been a challenging time for many in the Kimberley, courtesy of tropical cyclone Ellie, which you may or may not have heard about, depending on where you live.

Before the floods had even peaked I started getting the first emails already, asking me when things will be fixed and certain roads/camps will open for the next season. So I figured, I'd write a newsletter. Yay!

I'll tell you what we know about the floods and the damage, and explain why nobody can tell you yet when you'll be able to access what. I'll also tell you what you need to know about the yearly guide book updates. And you'll hear from Monica, who will tell you about new additions to her Red Centre guide book.

(I have also been getting emails over the last months from people wondering why there are no more newsletters. If you are wondering, too, or if you are new here, I explained the reasons in the last two newsletters, here and here.)



---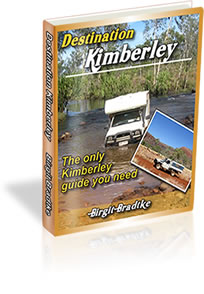 Your guide Destination Kimberley is still the most comprehensive and best advice for independent travellers to the Kimberley and I hope it continues!
We recommend it to everyone … and it is still compulsory reading for our new tour pilots every year.

(Steve Irvine, Managing Director of Shoal Air, on Jan 19, 2019. Read many more testimonials and reviews here.)
---
Tropical Cyclone Ellie and the Fitzroy Crossing Floods
---

Tropical cyclone Ellie started its life just above the Northern Territory. Only a few hours after being declared a cyclone it made landfall as a category 1, late at night on Thursday, December 22. It was in a sparsely populated area, Ellie had only just turned into a cyclone so hadn't built up a huge amount of power, and nobody was too concerned.

Mind you, over Friday and Saturday Timber Creek copped close to 250mm of rain. The Victoria Highway had to be closed, it sustained some major damage and two nearby communities had to be evacuated.
Still, as traumatic as this was for those affected, all in all it's not something we haven't seen before.

Now, a well behaved cyclone would continue to travel in a southerly direction, gradually losing strength, bringing plenty of much needed rain and some flooding all the way down to the southern NT. Everybody in northern Australia is used to that kind of thing. No big deal.
This is what the Bureau of Meteorology (BOM) had forecast and initially this seemed to be happening. Ellie weakened below tropical cyclone strength to a tropical low (You know, tropical cyclone or tropical low, at some point that's just semantics. Both mean one thing: very wet weather ahead!) and kept moving.

But by Tuesday (Dec 27) it became clear that Ex-TC Ellie had different plans regarding the route it would take. Essentially it did a U-turn and then headed west. And... it didn't weaken any further. Supported by strong monsoonal flows it maintained its strength and structure as it kept moving west. Slowly. The East Kimberley was told to prepare for some flooding. No big deal.

By the 28th the Gibb River, Tanami and Duncan roads were closed. The Broome region was still dry but told to expect rains starting by the 29th as well.

On the 29th it was becoming clear that things were going to be more serious. Ex-TC Ellie, still supported by strong monsoonal activity, was hovering over Halls Creek and Fitzroy Crossing, taking its time.
Heavy rain was expected to persist until Jan 2 or 3, over Mount Barnett, Gibb River, other stations in the region and Fitzroy Crossing.
Fitzroy Crossing would likely see major flooding and travellers there and in Derby were told to leave towards Broome.

Well, the rain did indeed persist and the floods came. Those living in Australia will have seen the images on TV and elsewhere.

By morning Jan 2 the Fitzroy River was at 11 metres and rising fast. (For reference: anything above 12.5 metres is considered major flooding and the highest level ever was recorded in 2002 at 13.95 metres.)
Willare (between Derby and Broome, south of the intersection to Fitzroy Crossing) already saw water levels rising, too.
The Great Northern Highway was cut in several places, isolating Fitzroy Crossing. Unsealed roads had turned into rivers, emergency services were coordinating supply drops to affected communities and Fitzroy Crossing set up the first evacuation centre.

It was only the beginning.

By Jan 3 both Fitzroy Crossing and Willare had reached major flood levels and the water kept rising. The Fitzroy River bridge buckled.
By Jan 4 the Fitzroy had smashed the previous record by almost two metres: it peaked at 15.81 metres.
The normal flow rate of the Fitzroy River is about 8,000 cubic metres per second. During flooding that rises to around 23,000. Now it was at 60,000.
In parts the river was about 50 km wide.
By the evening of Jan 5 the gauge had failed and parts of the Fitzroy River bridge were gone.

Broome and Derby were also isolated and the water at the Willare bridge was still rising.
Ex-TC Ellie at that time was near Broome, slow moving, and about to turn around and head back towards the NT on a south-easterly track. (It arrived in the NT on Jan 7, still bringing heavy rains but finally weakening.)
Yes, that meant more rain on some already affected regions but luckily the flooding there wasn't going to get any worse.

It was more than bad enough as it was.

Homes and businesses in Fitzroy Crossing were under water, surrounding communities were partly under water, many people have lost everything.
The Australian defence force was called in and helped with three planes to evacuate residents and bring in medical supplies and food, initially a challenging task with airstrips still under water and weather at Broome airport to severe to land.
Station homesteads have been lost, pastoralists fear for possibly tens of thousands of cattle and thousands of kilometres of fencing.
The loss of live stock and wildlife is immense, as the water goes down it reveals dead animals everywhere.
The damage to property and infrastructure is on a scale that nobody had expected and residents and authorities are only beginning to assess as waters slowly recede.

The Kimberley has seen many floods, and it has seen bad floods before, but nothing like this.

What we know is that the Fitzroy River bridge is unusable and will remain so for months, possibly years. Parts of it are gone. Repair and building work can only start when the wet season is over. And with that Fitzroy Crossing and the East Kimberley will remain cut off from the rest of WA until then.

The main bridge will take forever to fix. That does not mean you won't be able to cross the river until then. We don't know yet if the low level crossing survived, but it is certainly a lot quicker to fix or construct something like that, basically a raised driveway, than it is to fix the main bridge. Another option being discussed is a temporary extension to what remains of the bridge. Also quicker than the full and permanent rebuild. Still, neither option will be fast and first the wet season needs to end.

(A little side note here: For days we were told the plan was to bring in divers to assess the damage on the Fitzroy bridge. WTF? I mean, apart from probably not being able to see a thing in the muddy brew anyway, plus flood waters being notoriously dangerous due to all the debris they carry, but haven't they heard that there also are, um, a few crocodiles living up there? Well, they figured that one out eventually and scrapped the plans. They want to use drones now.)

The Willare bridge ultimately held as did the smaller bridges in the area but the highway has been damaged in many places, just as it has both sides of Fitzroy Crossing. The damage is severe, we're talking kilometers of highway just washed away.

To supply the East Kimberley from Perth truckies will be making a 6000 km trip via Port Augusta and Katherine. That's 6000 km one way. The Federal Government and South Australia have relaxed rules regarding large rigs on those roads to make this even possible. Apparently about 100 triple road trains have made or are making the journey already.
Of course, the Victoria Highway is damaged, too, as is the Stuart Highway. It's tricky.
How are local businesses going to deal with the freight costs? How are residents going to return from southern WA?

Then there are of course all the secondary and unsealed roads.
Power and water. Houses need to be made livable again so the evacuees can return. Where are they going to stay until then?
And the clean up. So many dead animals everywhere. Luckily no human life was lost.
But so much destruction...

So this is where things are standing. Nobody knows exactly how bad everything is, assessments have only begun, but we know it's so much worse than anybody could have imagined.
The recovery effort will not take days or weeks, it will be many months, and it will be costly. It's a mammoth task.

And this is only around Fitzroy Crossing. It got all the attention because it was so severely affected, but plenty of other roads have been damaged, too, plenty of other stations and businesses and residents in the Kimberley have been affected.
Mount Barnett and Gibb River I already mentioned.
At both wildlife sanctuaries of the AWC, Charnley River and Mornington, the wet season staff had to be evacuated. At Charnley because water and power systems failed, but at Mornington it was because the buildings actually went under water.
Dimond Gorge at Mornington holds the record for measured total rainfall: 828 mm. But that wasn't the only problem. That isn't some little creek flowing through that gorge, like at say Bell Gorge. It's the Fitzroy River. (Albeit further upstream, so hopefully not quite the flow we saw at Fitzroy Crossing). I imagine a lot of the infrastructure might be damaged or gone but nobody knows yet.
And that's just one example.
I've seen some pictures of the Gibb River and Kalumburu roads. Also not pretty.


And here you are, emailing me, before the floods had even peaked, asking me when it will all be fixed and when you can go on your holiday.

People, the wet season has only just started. Well, I may be exaggerating a bit, and it started earlier than usual, but it certainly is far from over. We have months to go yet!
We don't know what will happen, how much more rain there will be, how many more cyclones, when things will start drying up.
And we don't know the full extent of the damage yet.

All we do know is that at the time of writing Broome is accessible again, at least by truck and high clearance 4WD, at least from the south. Broome can also be supplied by barge. Derby is still cut off and the port unusable due to debris. So the road between Derby and Fitzroy, which hasn't been totally washed away and is expected to reopen soonish, won't help with resupplying either. Barges will eventually be able to get into the Derby port, they're working on that, but Derby may remain cut off by road for a month or more.

Right now, nobody can tell you anything.
Except that everybody will do their utmost to make things better as soon as possible, to make life and business possible again.
Kimberley businesses depend on you for their income, it's not like they are going to procrastinate in trying to get up and running again.
As for the authorities, disaster relief funds, rebuilding projects, road works... We'll have to see how well all that can be managed. It's a challenging task. The main task at the moment is to feed and look after the people affected and to figure out how to repair the main infrastructure and make Derby and Fitzroy Crossing accessible again.

Ask again in April. By April we know more.

If you want to keep an eye on things in the meantime, or if you want more detail about the floods, imagery etc., I find the best sources are on Facebook. Sorry, that's just how it is.
For the highway see Main Roads WA. For the Gibb River Road I recommend especially the page of the Derby Visitor Centre (they've been mysteriously quiet since early December, hopefully they'll start posting again), also the Kununurra Visitor Centre for the eastern side of the Gibb (mostly promotional content but also some helpful info). For more general reporting, ABC Kimberley does an excellent job on their page, which also links their longer online articles.

And then there are of course the individual businesses, many of which also maintain Facebook pages. Some are more active than others, and if you are interested in a particular destination, it's worth checking their FB page.
Some of them also share their posts in the "Gibb River Road, Kimberley and Pilbara" group (or someone there will share it), where you also find additional information from locals. Outside those posts, take a lot of the info on that page with a grain of salt. It takes a lot of scrolling to find all the nuggets of good info on that page, so this is only for people who like that sort of thing.



---
Guide Book Updates
---

Destination Red Centre is the guide that gets updated the least. For the simple reason that the Red Centre is the region where the least changes.

But in 2022 the guide book saw a major overhaul.

Here is Monica, telling you about her extended trip and some of the updates she made.



---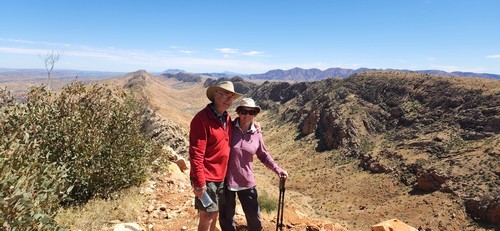 Monica and Phil hiking at Counts Point on the Larapinta Trail


Updates on the Destination Red Centre guide

We spent most of last winter in the Red Centre doing a major upgrade to the Destination Red Centre book. We drove all of the routes again, double checking distance and updating things as required. We found some exciting new places to eat and a few more delightful free camps.

New walking chapter
We've included a new chapter on walking in the Red Centre. There's information on planning, suitable clothing and footwear, drinking water and communications equipment.
We've described 33 easy walks, 20 moderate walks and 9 challenging walks. What are our favourites?
In the easy catergory it is probably the Ghost Gum Walk at Ormiston Gorge or the Chambers Pillar walk.
As for moderate walks, we do love the Ormiston Pound walk, the Panorama Walk at Trephina Gorge and the Tower Rock summit walk.
Our favourite challenging hikes include Serpentine Gorge via Counts Point to Serpentine Chalet, on the Larapinta Trail, as well as Giles Track from Lila to Kings Canyon. So many walks to choose from!

New camping fees
There have been some significant changes to the rules around national parks.
Firstly, all parks and reserves that are overseen by Parks NT require you to pre-book your campsites online. And that includes a lot of camps that in the past were free! Places such as the Finke River, Serpentine Chalet, Redbank Waterhole, Kunjarra (The Pebbles) and a whole lot more.

If you can't access the internet, you can call the Parks and Wildlife customer service team on 1300 281 121. The team is available 7 days a week between 8.30am and 4pm, Australian Central Standard Time.
We tried this on one occasion and hung up after being put on hold for 40 minutes!

In 2022 Parks NT was warning people who had not booked and paid for camping online. In 2023 they are going to fine people who don't. So best not get caught out!

New fees to visit a national park
Also, as of 2023, fees have been introduced at many of the sites managed by Parks NT. This includes Arltunga Historical Reserve, Chambers Pillar Historical Reserve, Finke Gorge National Park, Henbury Meteorites Conservation, Iytwelepenty / Davenport Ranges, Karlu Karlu / Devils Marbles Conservation, Mac Clark (Acacia peuce) Conservation Reserve, Napwerte / Ewaninga Rock Carvings, N'dhala Gorge Nature Park, Owen Springs Reserve, Rainbow Valley Conservation Reserve, Ruby Gap Nature Park, Tjoritja / West MacDonnell National Park. Tnorala (Gosse Bluff) Conservation Reserve, Trephina Gorge Nature Park and Watarrka National Park (Kings Canyon).

The important thing to note is that these fees apply over and above any camping fees. And if you're hiking the Larapinta Trail you'll be hit with a walking fee, a visiting the national park fee and a camping fee!

The fees cost $10 per adult per day, $5 for children and $25 for a family. You can also buy a 2 week pass for $30 per adult, $15 for children and $75 for a family.
There's also an "Open Pass" which lasts for a year - $60 for adults, $30 for children, $150 for families.
Residents of the Northern Territory are exempt from these new fees (however, if they have non NT residents on board those people do have to purchase a pass).

These passes will not be available until 3rd April 2023. And Parks NT doesn't know yet what the online link will be, so stay tuned.

The fees at Uluru have not been changed as this national park is managed by Parks Australia, not Parks NT.

Monica & Phil Coleman



---



Thank you, Monica!

I uploaded the updated version of Destination Red Centre on November 1, so if you bought on November 2 or later, you already have the new version. (Minus the info on the new park passes, which was only added yesterday, but now you have that, too.)

If you bought earlier, you can of course request a fresh download via the form on the request page. If you don't need it straight away, however, you might want to wait with doing that until I have updated the other two guides for the next season as well.
Speaking of which...



---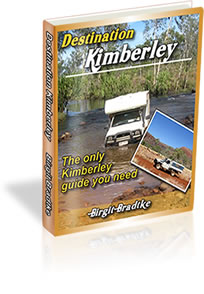 "I've read your book back to front and it is a masterpiece!"

(Received February 9, 2021.
Thanks, Cameron!)





---


Updates to Destination Kimberley and Destination Top End

I have not even started on the yearly updates.

Many small businesses in the Kimberley don't make decisions regarding offerings and prices until the season is about to get under way. (And this year it may be particularly difficult for some.)

Which is the reason why I use the same schedule for my guide books. I always aim for them to be ready and updated by Easter.
And then I still have to make additional changes and updates in the first couple of months of the season, that's just how it is.
This applies mostly to Destination Kimberley.

The Top End guide doesn't suffer from this problem quite as much, so I will start on that one, and I plan to start as soon as the usual email flood that every newsletter generates has subsided.

Both will be fresh and ready before Easter.
As always, I recommend that you request a fresh download a few weeks before you travel.
The way to do that is via the form on the request page. (That page is linked from my contact page and also in the first pages of your guide book.)



---



And that's it for today!
I don't know yet if there will be another newsletter this year. Last year I only wrote one. This year there might be another one, closer to the start of the season, but I am not promising anything.

Again, if you wonder why the newsletters have dried up, see the last two newsletters before this one, here and here.

However, as I wrote there, this won't be the last newsletter forever. You will hear from me again. :)

Until then, happy travels and stay safe!
Birgit



Destination Kimberley, Destination Top End and Destination Red Centre have all the information you need to put together your dream trip.

To sign up for this newsletter and receive the free Kimberley Pocket Guide go here.


Feedback? Found some out of date info in one of my guides? Let me know via https://www.kimberleyaustralia.com/contact.html


---

(c) 2023, Birgit Bradtke. All rights reserved.