---
8 October 2019, Issue #081

---

Please do not reply to this message.

To unsubscribe or change your address please use the links at the bottom of this message.
To contact me please use the contact page.

To sign up for this newsletter and receive the free Kimberley Pocket Guide go here.


---

In this issue:
Season Review And Preview
Win a $560 Pangea Map of the Dampier Peninsula
About Road Conditions
Trip Report And Reader Feedback
---

Hi,

October is here and I am back from my hiatus. This wasn't something I had planned or announced. Sometimes you just need a break and get away from everything, and I did.

In the meantime, the Kimberley season is coming to a close.
Usually this time of the year we talk about how things are drying up. This year of course this already happened months earlier.
The country is looking very parched by now, temperatures are rising and getting uncomfortable, and bushfires have been causing problems (not unusual at all).
Everybody is hoping for rain and an early and good wet. There's even been some rain.
So here are the details...



---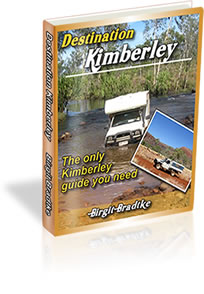 Your guide Destination Kimberley is still the most comprehensive and best advice for independent travellers to the Kimberley and I hope it continues!
We recommend it to everyone … and it is still compulsory reading for our new tour pilots every year.

(Steve Irvine, Managing Director of Kingfisher Tours, on Jan 19, 2019. Read many more testimonials and reviews here.)

---
Season Review And Preview
---

Let's first look at what has been happening over the last months while I have been quiet.

There have been some posts online speculating that the sealing of the Gibb River Road has started.
Well, that's eventually gonna happen, I'd say. I think it is inevitable.
But the road works that people have noticed are not the start of something bigger.
They have already been completed and you will now encounter another short stretch (about 8km) of smooth bitumen when you leave Home Valley and drive west towards the lookout.

This is the western end of that bitumen...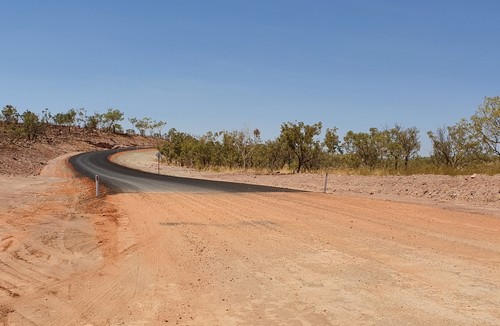 And here is the turn off to the lookout (the one where you can get a Telstra phone signal):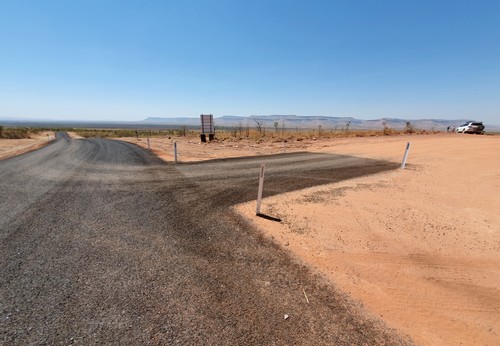 (Hm.)

This is similar to what you find on the western end of the Gibb River Road, where several stretches of road have been sealed where the road runs through hilly country or over jump ups, the parts where the road suffers the most during a wet season.

(Thank you Melissa from Exploring Eden Media for sending me the photos.)



---

A large bushfire in the King Leopold Ranges Conservation Park destroyed over 45000 ha of bush and upset the plans of unfortunate tourists travelling in the first half of September.
Bell Gorge, the Silent Grove campground and Lennard Gorge had to be closed on September 7, and on Sep 10 Mt Hart followed.
Six days later Mt. Hart could reopen.

Sadly, it was not possible to reopen Bell Gorge. Initially the rangers wanted to first make sure the place was safe for visitors. (The fire had gone right through.)
But lack of staff made things difficult. In addition there was concern about the water going stagnant and becoming a health hazard, too.
So while originally Bell Gorge was supposed to remain open until October 31, it is in fact now closed for the season.

As it is, people are not missing out on much by it being closed. As mentioned, the water had stopped flowing, but not only that. Due to the fire the whole area is a black wasteland right now.
(See this photo series on Facebook.)
Very, very sad.



---

Bell Gorge is not the only place that closed sooner than we'd usually expect. Some of the following, already closed places had originally planned to stay open for longer.

Already closed for the season are, on the Gibb River Road: Bachsten Bush Camp, Diggers Rest Station, Mornington Wilderness Camp, Charnley River Station and as of the last September weekend also Ellenbrae Station, Mt Hart and Emma Gorge. (That is the accommodation at Emma Gorge. The walk to the gorge remains open until mid-October.)

Mt Elizabeth is closed for accommodation but remains open for camping until Oct 10.

Mid October also sees the closure of Manning Gorge (Oct 11), Home Valley (Oct 14) and El Questro (Oct 19).
Windjana Gorge and Tunnel Creek should remain open until October 31 as planned.

The roadhouses remain open but do check their opening times which are starting to reduce from the main season hours.
(Camping at Imintji is also still open, they have not announced a closure date yet.)

By the way, Manning Gorge, Androck and Galvans Gorge still have water.
So do  Emma Gorge, El Questro Gorge and Zebedee Springs.

On the Kalumburu Road:
Drysdale River Station is closed for accommodation and camping but the roadhouse remains open until Nov 1.
Camping on the Mitchell Plateau closes mid October. (The Mitchell Falls are dry.)
And while McGowans at Kalumburu plans to remain open until the end of November, Honeymoon Beach already closed.

Last but not least, on the Great Northern Highway:
Geikie Gorge boat tours will run until October 16.
The Purnululu Visitor Centre remains open until October 28, but scenic flights in the park have just stopped operating, and closure dates for the campgrounds have not been decided yet.

So there you have it, the tail end of the 2019 season.
It's been an unusual season because due to the poor previous wet season things have generally shifted forward a couple of months, meaning everything dried up a lot sooner than it usually would.

But now, for those last two months of the season, it is not that simple. Sadly the next rains don't start a couple of months earlier just because things dried up a couple of months early.
It's now drier than it's ever been, at least in my memory, and all that anyone can do now is pray for rain and a better wet season to come.



---

Things got exciting a couple of weeks ago when the first rain fell across large parts of the Kimberley.
Alas, such an early shower is nothing unusual, and unfortunately it doesn't mean anything or change anything.

As lovely as it was to smell the rain hitting the scorched ground, those are negligible amounts of water. (In some parts people claimed the rain dried before it hit the ground.)

However, there is a sliver of hope.
The BOM published its latest climate outlook on September 26.

The first sentence in the summary is not exactly encouraging:
"Rainfall is likely to be below average across most of the country for the remainder of 2019 and early 2020."

Then some hope:
"However, for parts of northwest WA, there are slightly increased chances of above average rainfall for October to December."

Then another sentence I didn't want to read:
"Daytime temperatures are very likely to be above average over virtually all of Australia during the October to January period."
Ugh, the averages that time of the year are more than hot enough, thank you!

Anyway, as it is, there is nothing in the outlook that says, "Early and big wet season ahead!"
So I'm taking solace in the fact that these climate outlooks have historically shown little correlation with the weather that followed and I keep my fingers crossed for those above average rains until the end of the year, and a big wet after that.



---
Win a $560 Pangea Map of the Dampier Peninsula
---

In March this year I let you know about the release of a new book called 100 Things To See In The Kimberley.
I published a detailed review in the newsletter and also put it on the website.

At the time many of my newsletter readers took advantage of an introductory offer and the feedback about the book that I got from those readers was very positive.

Right now the publisher is running a competition where you can win a Pangea map of the Dampier Peninsula, worth $560.
A $560 map??
Well, this isn't the kind of map that you take on a trip with you...

It's a pretty amazing piece of art.
Pangea creates hand crafted contour maps of iconic waterscapes, and this Dampier Peninsula map is crafted from birch ply wood.
The cream coloured top layer shows the land and the details of the coastline, and the eight birch wood layers represent the ocean floor dropping away...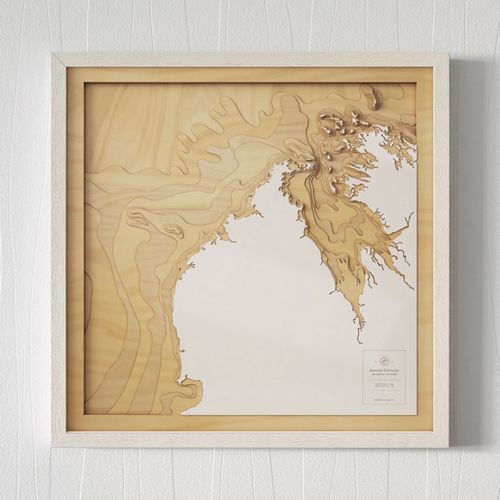 If you win it, your map will come framed in hard wood, with a protective glass cover, and ready to hang on your wall.

You can find more details about the map and how these maps are made on this page.
There you can also read more about the competition.
Not that there is much you need to know:
All you have to do is purchase the book here before November 12 and you will automatically be entered into the draw.

So if you don't own the book yet but have been thinking about getting it, now is a pretty good time to do so.
Christmas is not that far away so you could also hit two birds with one stone: Get a lovely present for someone interested in the Kimberley and win the map for yourself.

Good luck!



---
About Road Conditions
---

If you want to take advantage of the peace and quiet at this time of the year (and some people love it right now, despite the heat and so many places being closed already) then be prepared for a rough ride.
By now large parts of the Gibb River Road are heavily corrugated.
Then again, this is something that many people had to contend with this season. And every other season before.

Overall there have been a lot of complaints by travellers about the roads, often talking about the Gibb being "the worst it's ever been".
This is actually somewhat true for parts of the road during the peak season, just before the third grading for the year.
(Roads are of course always at their worst just before they get graded again.)

Apparently grading was more difficult this year due to the dry conditions.
(Don't ask me why. All I know about grading is that it's better to be behind the graders than in front of them.)

But that is not the only reason. Another problem is the number of vehicles on the road, the kind of vehicles, and how they drive.
Overloaded vehicles going too fast can ruin a freshly graded road in no time. The forever speeding tour busses also aren't helping.

Here is an article that appeared in the Kimberley Echo and that talks about the roaring trade that Kimberley mechanics were doing this year.
The reason?
"A big increase in overloaded vehicles and large caravans — coupled with the Gibb River Road's poor condition..."
Neville from Over the Range Tyres and Mechanical Repairs is quoted as saying,
"Over the past couple of years I have definitely seen a big influx of caravans and campers that have been overloaded, hurtling along the Gibb, hitting creek crossings at 80km/h and bending chassis or snapping suspension arms off,"

The thing is, the mentioned poor conditions are in part due to that large number of overloaded vehicles and caravans driving at unreasonable speeds.
The majority of breakdowns is also a result of vehicles being overloaded and/or going much too fast.

And here is something that the article above did not mention:
There were still many other travellers, driving the same roads at the same time, and completing their trip and concluding that, "Yeah, she's pretty corrugated in parts, but nothing too dramatic. Just drive to the conditions."

That's how I see it, too. Yes, the road wasn't particularly good this season. Overall more corrugated than in other seasons. Annoying, but no drama.

Destination Kimberley stresses nothing more than the need to drive to the conditions. I harp on and on and on about it, and I have also done so many times in this newsletter.
I have also always discouraged people from taking caravans other than dedicated, tough off roaders.
(This is not only for the sake of your big van but also for everybody else's benefit. Nobody wants to be stuck behind you and your van.)

What I did not write about in the past is the need to keep your load reasonable as well.
Being a very minimalistic camper myself I guess I could not even imagine that people would want to take piles and piles of gear...
So when I overhaul the guides again for the next season, I'm going to harp on about that as well.

Not that I expect it to make a difference. It's amazing how good people are at skipping right over all that...

(Here is a quote from the trip report I link to below:
"The Gibb River Road had not been graded but was ok with the right tyre pressure and reduced speed, something that was not apparent to many other road users!")

In any way, road conditions vary. They vary from week to week, from month to month, and from season to season. You never know what you will find.
Even in a good year you can encounter stretches that are badly corrugated, just not as many.

What speed is "reasonable" is determined by the road conditions at the time and not by what someone feels they ought to be able to do. At times you may have to crawl!
If you just don't have enough time, and you are forced to travel at unreasonable speeds, with an overloaded vehicle or large van to boot, then you're asking for trouble. Expensive trouble at that.

So please take my recommendations seriously:
Allow enough time for your trip, pack only what you really need, and do everyone a favour and leave your big caravan at home.
Adjust your tyre pressures and drive to the conditions.



---
Trip Report And Reader Feedback
---

When I write a lot, you write a lot.
And when I don't, you don't.

So most of the below emails and trip reports are from June/July rather than Aug/Sep.
I thought they'd still be relevant for people who are planning their trip next year, so here they are...

Frank was on the Gibb River and Duncan Road and he sent this trip report with many pictures:

Gibb River Road June 2019


Jenny also enjoyed the unusually quiet start of the season:

"We just finished a Kimberley adventure and your book was very useful with our planning.
Like previous readers' comments re the dry season - although not a lot of water about we still saw some amazing scenery and natural landscapes and could still swim in gorges and waterholes.
We went in the last week of June and would recommend this time as it was not busy at all. We were prepared for the Gibb being a highway, with dust and poor drivers etc, but did not encounter any of these problems. At times, it seemed like we were the only ones on the Gibb! For not overly experienced 4WD drivers we found the Gibb to be in excellent condition, even the road to Purnululu was not as hard as we expected. It is windy but not difficult. Probably 1.5 hr to 2 hrs to get in."

(Note: Jenny was not aware that it is very unusual for the roads to be so quiet at that time of the year. Don't count on finding the same in 2020!)

"Tip - if planning a Horizontal Falls trip, give yourself a back up day or do this at the beginning of your trip. We planned this as our last adventure and it was cancelled due to fog! We didn't have a lot of other options to fit in another trip, and the company didn't plan any other options except a refund. We were lucky enough to fit in a trip from Derby, so saw this magnificent site - thanks to Horizontal Falls Seaplane adventures.
Otherwise we had a great time and enjoyed all parts of the Kimberley - Gibb, Cape Leveque, Broome - all amazing and I would recommend all to visit this part of Australia!"


Sue experienced a rougher road in mid July:

"We have just finished the GRR Derby to El Questro. We will finish the rest in a couple of days. I had your book on my iPad and it was a great help, especially the distances. We sadly were in front of the grader so the corrugations were dreadful, almost undrivable in sections. We also found some of the other drivers scary as they raced past or slid round corners but the destinations were beautiful. We really loved Charnley River as the camp ground is grassed and shaded and the showers are hot. The talk by their ecologist was an interesting evening. Galvans Gorge was the best swimming with the shortest walk."


Joy was surprised by the large numbers of travellers and caravans:

"We only returned to Adelaide from our holiday to NT and Kununurra last week and the amount of caravans/campers on the road heading north was a surprise to us.  We fortunately did book accommodation on our return trip down south at Devils Marbles Hotel and two nights in Alice Springs – outside of these two places we could only get unpowered sites if we turned up.  Most of the "free campsites" were full by around 2.00pm.
We left Adelaide in the second to last week in May and could not believe the travellers on the road at that time.  When we reached Three Ways we picked up quite a bit of traffic – some leaving at Mataranka and then most of the others in Katherine – obviously heading to WA.

"We spent two weeks in Darwin before returning via Kakadu to Katherine.
At Katherine we decided to taste what the Kimberley had to offer by going to Kununurra for a week.  We are so pleased that we did – and we were lucky to get a powered site at the caravan park in Kununurra. I say lucky, as I was told a week later they were turning people away. Whilst there we did visit El Questro and Lake Argyle and came back to Kununurra via the Ord River.
We would have loved to do a flight over the Bungle Bungles (and maybe spend a night in the NP) but time constraints dictated that this would have to be done if we do get back up that way. It is truly one of the places that has to be seen to be believed – the sunrises and sunsets being one of the things that we will never forget.

"We did get the beginning of the NT, VIC, WA school holidays and then on the way back the NSW and SA, but even taking this into account we were surprised to see how many caravans were on the road, although I think a lot of them maybe were heading to Central Australia to do the climb of the "Big Rock" prior to its closing.  We did not climb it when we visited it a couple of years ago and were happy to just walk around the bottom and be able to see why it is sacred to the now traditional owners.

"I would like to thank you for putting out these newsletters, I am sure that it gives people, like me,  the need to see for ourselves what the Kimberley has to offer.  It did not bother us that it was a "dry" wet season as we had seen enough waterfalls at Litchfield and Kakadu before we headed to the West."


Graham was positively surprised by something that rarely gets a mention:

"Thank you for sending all the marvellous information re the Gibb River Road and all of it's twists and turns. 
Perhaps 90% of the driver's using it adhere to the conditions and attempt to do the right thing.
What surprised me mostly was the state of all of the "shower and toilet" facilities.
It makes you proud being an Australian. Each cattle station or roadside stop, be it a national park or a indigenous settlement, were clean and well managed. I for one will be coming back to the area sooner rather than later. Thank you, Kimberleys.
When you needed help it was readily available, small or large, the experience is etched into my mind for ever.
Beagle Bay, the indigenous settlement and people should be proud of what they have achieved: clean, tidy, a great school environment for the new kid's on the block as they start theire live and hope to contribute into the "Australian way" sooner than later. 
Perhaps as a role model the Australian Government should look at what's happening over there and put some steps in to develop a better lifestyle and standards.
I followed your advice wherever possible and yes, you make your own poison."


In the last newsletter one reader had told of a scary encounter with a speeding tour bus.
Malcolm has a suggestion:

"For increased safety perhaps it is an idea if the 4WD invested in a dash camera and forward that footage to the bus driving company and the police.
I experienced the same thing years ago going to Canberra where a bus driving cowboy (no insult to cowboys intended) occupied the whole road around a bend after he passed us over double lines (and we were driving safely close to the speed limit).
Some people don't deserve the privilege of driving our roads.
I am sure most drivers respect life.
My son in law drives Brisbane Roads and I think the dash cam works for him. He recently had a car run into him and he was able to prove to the insurance company it was the other drivers fault."


As it turns out, Olly is already using Malcolm's idea:

"Thank you for your information on the Kimberley and Gibb River Road especially.
We have just returned from a wonderful first trip along the Gibb River Road and looking forward to doing it again.
Just reading your newsletter I was horrified to read that a fellow traveller was also in a close call with a tour bus. We are very lucky not to be run off the road by one cutting the corner and travelling way too fast and too close to the vehicle in front of it. We have it all saved from our dash cam and will be letting the tour company know. This needs to stop before someone has a serious accident."



---

And that's it for today.

As usual, I have this one last request:

If you have been or are currently travelling with one of my Destination Guides, and if you come across something that's out of date or in your opinion not portrayed accurately, by all means, swear at me or call me names. But then, PLEASE, also let me know about it.
Because...
Without guide no information -- without information no guide!

I will soon be starting work on my yearly review and overhaul of the guides, so everything you have to add will be helpful.

A big thank you to everyone who took the time to write to me with their feedback!


Safe travels and talk again soon!
Birgit


Destination Kimberley, Destination Top End and Destination Red Centre have all the information you need to put together your dream trip.

To sign up for this newsletter and receive the free Kimberley Pocket Guide go here.


Feedback? Found some out of date info in one of my guides? Let me know via https://www.kimberleyaustralia.com/contact.html


---

(c) 2019, Birgit Bradtke. All rights reserved.