Mobile Phone Reception
Along The Gibb River Road
And In The Kimberley
Where can you get mobile phone reception and internet along the Gibb River Road? What about the rest of the Kimberley?
Phone reception along the Gibb used to be pretty much non-existent. It was no different elsewhere in the Kimberley.  Once you were a few kilometres out of a town, that was it.
Personally, I liked it that way. But the times have changed.
For those of you who can't do without their phones,  here are your options...
Phone Reception Along The Gibb River Road
People are most concerned about mobile phone reception along the Gibb River Road, because they tend to spend quite some time along that road.
Thanks to the  government's Mobile Black Spot Program, mobile phone towers are now up and running at several sites along the Gibb River Road.
The towers are serviced by Optus! 3G only.
If you are concerned about phone coverage because you think you might need it in case of an emergency, then the provider does not matter.  If you use Telstra or another service provider, you can still use the Optus service to make emergency calls.
But if you are concerned about updating your Facebook page, then you may want to get a cheap, prepaid Optus SIM card in advance.
Optus Mobile Towers are currently up and running at:
El Questro Station
Emma Gorge
Home Valley Station
Ellenbrae Station
Imintji Roadhouse
Apparently funding has been secured for another tower at Gibb River Station but I don't know yet when that will go up.
When the program was announced, Mount Barnett Roadhouse and Bell Gorge were also on the list of places to get a tower. I don't know what happened to those towers. 
Tip:
If you are with Telstra, you can usually pick up the signal from the Wyndham tower at Home Valley Station's sunset lookout hill.
And last but not least:
In December 2018 the Optus Mobile Tower in Kalumburu went into service.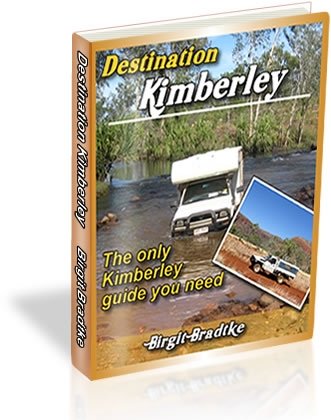 Your guide Destination Kimberley is still the most comprehensive and best advice for independent travellers to the Kimberley and I hope it continues!
We recommend it to everyone … and it is still compulsory reading for our new tour pilots every year.

(Steve Irvine, Managing Director of Kingfisher Tours, on Jan 19, 2019. Read many more testimonials and reviews here.)


Alternatives For Phone Communication And Internet
Along The Gibb River Road
You can do without your mobile phone? Good on you!
You can still stay in touch with relatives and friends the old school way: by using the public phones at...
El Questro Station
Home Valley Station
Drysdale Station
Kalumburu (township and campgrounds)
Mt Elizabeth Station
Mt Barnett Roadhouse
Mornington Wilderness Camp
Imintji Roadhouse
Bell Gorge
Windjana Gorge
Phone cards to use with the public phones (they do not work with coins or credit cards) can be purchased in the Kimberley towns and also at most stations along the Gibb that do have a public phone.
At most of the roadhouses and stations you can also purchase WiFi. It's not cheap and does not last long, but it's there if you need it for something that's important to you.
Tip:
Mornington, Mt Elizabeth and El Questro have the same WiFi provider so you could make a temporary account and purchase a data package to use across the three locations.
Here is everything else you need to know to travel the Gibb River Road.
Mobile Phone Reception In The Kimberley
The problem with mobile phone reception in the Kimberley is that to make the most of it, you would need both Telstra and Optus.


Optus services the towers not only along the Gibb River Road and in Kalumburu, but also in Purnululu National Park/the Bungle Bungles. There is a tower at the Visitor Centre, one at Kurrajong Campground and one at the Wilderness Lodge.
Elsewhere in the Kimberley you only get Optus reception in Broome, Derby, Wyndham and Kununurra. That's it. No reception at all along the whole of the Great Northern Highway or on the Dampier Peninsula, and only one tower along the Tanami Road, at Bililuna community.


Telstra on the other hand also services Halls Creek and Fitzroy Crossing, and depending on your device, you can pick up a signal for most of the way along the Great Northern Highway.
You can also often pick up a signal from the mine towers when travelling along the Tanami Road.
In addition, the Dampier Peninsula north of Broome is very well covered by Telstra. All the Aboriginal communities up there are well supported and funded and have had mobile reception and wireless internet for many years.

If you want to check for yourself where exactly your phone can pick up a signal:
Here is the coverage map for Telstra.
Here is the coverage map for Optus.
Travelling to the Kimberley?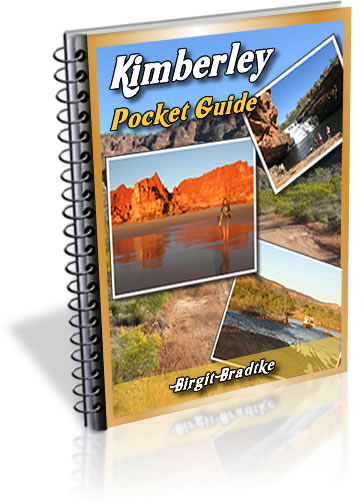 The FREE Kimberley Pocket Guide
A great introduction to travel in the Kimberley region and along the Gibb. This free resource will answer all the questions you might have in the early stages of planning a trip.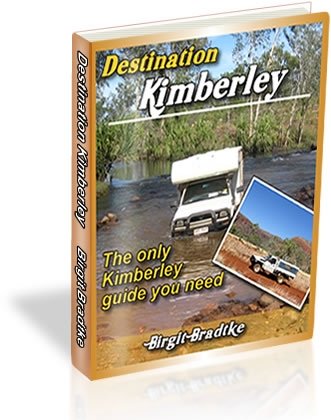 Destination Kimberley
The full Kimberley travel guide shows you how to make the most of your adventure at Australia's last frontier. Destination Kimberley includes the most detailed and most current guide to the Gibb River Road available anywhere. Also called "The Bible" by its readers.

Travelling to the Northern Territory?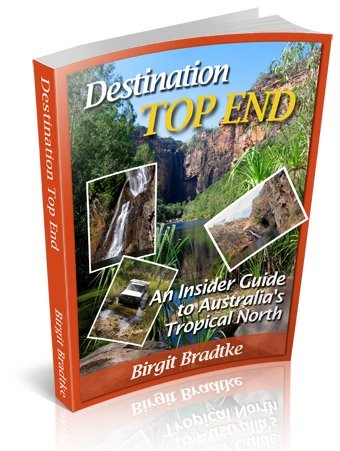 Destination Top End offers the same comprehensive, detailed insider information for the tropical regions of the Northern Territory. Be the best informed traveller in the Kakadu, Litchfield and Katherine Gorge national parks and beyond!

A must have if you travel to or from Darwin.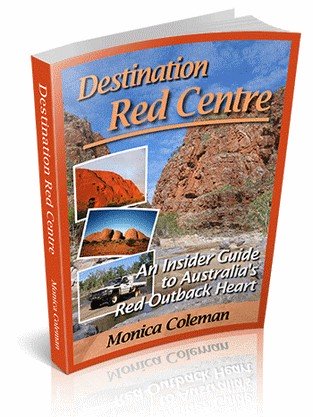 NEW! Destination Red Centre is the latest addition in this popular series. Monica Coleman takes you through Australia's red Outback heart, offering all the detail and insider tips that you have come to know and love about our guides. With special emphasis on Aboriginal communities and culture.

A must have if you travel to or from Alice Springs/Uluru.