Accommodation near Broome

Accommodation at Bush Retreats and Wilderness Resorts
Broome accommodation... why spend all your time in one and the same hotel or resort in Broome?
Sure, Cable Beach is fantastic, but no more so than all the other beaches on the north Western Australia coast near Broome. Go and have a look...
Sands like talcum powder, the water an even deeper and clearer turquoise, red cliffs, red roads, and the hardy, wiry, ancient bush stretching into the distance...

In the past these ancient Aboriginal lands were only accessible to the hardiest and most experienced of travellers. Today the story is different.
The land is as remote and pristine as ever, the trip still an adventure, but it's very doable. For everybody. And you don't have to go camping with the mosquitoes in the mangroves and cook on the camp fire unless you want to.
Broome accommodation in the wilderness means you can have meals at the restaurant, air-conditioning, and crisp white linen if you like... (No room service and chocolate on the pillow though I'm afraid...)
And for something really different visit one of the Aboriginal communities on the peninsula...
Broome Accommodation: Bush Retreats, Wilderness Resorts, Aboriginal Communities
A tip to help the budget if you plan to visit Broome: shop around for cheap flights and accommodation packages. There are some amazing deals out there...
---
Broome Accommodation - Wilderness
Kooljaman Resort at Cape Leveque
The Aboriginal owned and operated Kooljaman Resort at Cape Leveque wins hands down in the category "Broome Accommodation In The Most Stunning Location". (The beach picture at the top was also taken at Kooljaman.)
But the location is not the only thing that is stunning about it.
If you look at Broome itself it's impossible to not notice how the tourism industry has impacted this once sleepy, laid back town. I guess it still seems to be an incredibly laid back place if you come straight from a city. But it's different if you live here...
Seeing the changes in Broome, and the rate at which new resorts are being built, and looking at the Broome resorts themselves... the pebbled swimming pools, the artificial tropical environment...
Anyway, it's great to see a place like Kooljaman Resort, that manages to make a stay in the wilderness so comfortable, without destroying anything, without interfering with the delicate balance of the fragile Kimberley environment, without taking away from the wilderness feel at all.
Cape Leveque is one of my favourite places in the Kimberley and there is a whole page, with all the details you need, here: Cape Leveque.
---
Broome Accommodation - Wilderness
Lombadina
Lombadina is one of several Aboriginal communities north of Broome that welcome visitors (a few more have started to tentatively venture into the tourism business) and offer accommodation.
Don't expect this to be anything like what you are used to from other Broome accommodation. And be aware that this is no laid on, artificial, romanticised and westernised Aboriginal experience as you find across so much of Australia. This is the real thing.
Come here with an open mind, accept that the Bardi people do things very differently to white people and that in some of the communities they are still very much learning about all our funny and weird expectations and demands...
Having said that, Lombadina has been welcoming visitors for well over ten years and tourism is well established there. Accommodation is in basic but comfortable units or in backpacker type dorms. The community boasts a bakery (the only real bread on the whole peninsula), a crafts shop/gallery that sells locally produced art and a proper shop for basic supplies. Everybody here works, nobody takes government handouts.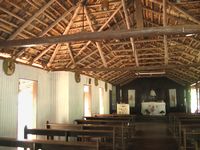 And then there is the old mission church building, an ingenious design and construction, made from bush timbers and corrugated iron sheets. And then, behind the community grounds, there's the most stunning beach you can imagine...
They offer a lot of different tours, boat fishing, shore fishing and mudcrabbing, and bush walking kind of tours where you can learn about the Bardi country and their heritage.
If you have visited any Aboriginal communities across Australia you will be amazed at these communities and the people... If only it could be like this everywhere...
Lombadina Community
Dampierland Peninsular
Phone: 08 9192 4936
Fax: 08 9192 4116
Dowload their brochure here.
---
Broome Accommodation - Wilderness
Nature's Hideaway At Middle Lagoon
If you enjoy camping, or don't mind really basic wilderness accommodation, if you really want to get away from tourists, then you may prefer Middle Lagoon even over Kooljaman at Cape Leveque. Especially during the main season.
You can fly to Cape Leveque, but you can't fly to Middle Lagoon. The only way to get here is by four wheel drive, 170 km on the shocking Cape Leveque Road. (It's shocking as in rough, dusty and corrugated. It's not difficult to drive, just uncomfortable, but so worth it...)
A turn-off from the main road (if you can call it a road) takes you down to the coast to the most picturesque, sheltered lagoon that you could ask for (my photos don't do it justice at all). The camp, though it doesn't offer all that many sites, is spread out over a huge area so everybody has lots and lots of space.
All the camp sites, caravan sites and also the basic cabins that you can rent here are perched on top of the dunes with magnificent views over the ocean and the reefs. Only the beach shelters are right on on the beach.
The cabins are basic wooden structures covered in fly netting. The beach shelters are even smaller and simpler and totally open. You can see one of the beach shelters in the photo.
(There used to be three of them, but a cyclone in 2005/06 washed away the third one, now there are only two.)
Middle Lagoon is where the Broome locals go to get away from it all. The fishing is fantastic and the waters are safe for swimming and snorkelling (no crocodiles, no stingers). You need to be self sufficient here, bring all your food and drinks. The only things you can buy are bait, ice and fire wood. ($5 for as much as you can carry in the supplied bin. Fire wood that is, not bait...)
There are a couple of freshwater showers and toilets and a fish cleaning station. And that's it for amenities. (Actually, there is one brand new cabin where you have your own toilet and even a kitchen!)
Middle Lagoon Natures Hideaway
Dampierland Peninsular
Phone: 08 9192 4002
Fax: 08 9192 4002
---
Broome Accommodation - Wilderness
Broome Bird Observatory

The Broome Bird Observatory is obviously a place for bird enthusiasts, but it's also a great place for accommodation very close to Broome if you absolutely don't want to stay in Broome itself (and I know many people who during the busy season would rather stay away from masses...).
Even if you are not into birds, or weren't before your visit, this is an amazingly beautiful place. There are many self guided bush walks and guided tours available and the beaches are stunning in their colours. (The road to get there - Crab Creek Road - is shocking though.)
Here is a whole page about the Broome Bird Observatory if you're interested.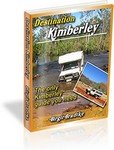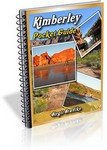 Travelling to the Kimberley?

The free Kimberley Pocket Guide
is a great introduction to travel in the region.
The full Kimberley Travel Guide


shows you how to make the most of your adventure at Australia's last frontier.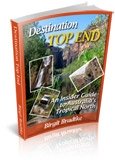 Travelling to the Northern Territory?
Destination Top End offers the same comprehensive, detailed insider information for the tropical regions of the Northern Territory.

A must have if you travel to or from Darwin.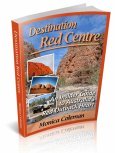 NEW! Destination Red Centre is the latest addition in this popular series. Monica Coleman takes you through Australia's red Outback heart, offering all the detail and insider tips that you have come to know and love about our guides. With special emphasis on Aboriginal communities and culture.

A must have if you travel to or from Alice Springs/Uluru.
More Broome Accomodation | Cheap Accommodation Deals | Flight and Car Hire Deals
Return to Broome Australia main page
---
Return to Kimberley Australia Travel Guide home page