Camper Van Hire In Australia
The Best Way To See The Kimberley
Is To Hire A Campervan
Camper van hire... Australia is made for travel by campervan! This is especially true for the Kimberley.
In a region where towns and accommodation are so few and far between, and where the biggest attractions are a long way from the nearest hotel, campervan hire is the way to go.
To hire a camper allows you to enjoy total freedom, and at the same time you save a lot of money.
With a four wheel drive campervan you can go anywhere, stay anywhere, and you never have to pay for accommodation.
Camper Van Hire In The Kimberley

The Kimberley is not only huge, it's also rather empty. Once you leave the populated areas it's also a rather empty country.  (Did I just say populated areas? I meant Broome or Kununurra.)
Sure, there are coaches. But they will only take you from town to town. And there you will have to pay for accommodation again.
Why don't you hire a campervan instead (a four wheel drive campervan!), stop at all the beautiful places on the way, and find a free spot to pull up for the night?
One of the best things about camper hire in Australia is that once you leave the populated areas you can almost always find a free place to camp.
The Destination Guides tell you where.
Choosing An Australian Camper Van Hire Company

Readers often ask me if I can recommend a specific company for camper van hire in Australia, or rather for the Kimberley. Well, not really...
(But I do know someone who will help you with this decision and also with securing the best deal.)
To hire a campervan in Australia you can choose from the usual international companies like Britz, Hertz, Avis and the like, big companies like Apollo, Maui, or KEA. Or you select one of the smaller Australian companies.
The advantage of the big companies is that you know who they are and you know exactly what you will get. These companies buy new cars and older vehicles are rotated out quickly. In an area as remote as the Kimberley a reliable vehicle is definitely a plus!
Big companies are also more widely represented, even in the Kimberley, and it's easier to get one way rentals. All their prices are pretty much the same and I can't recommend one over the other.
Well, and then there are the "Wicked" budget campervans. Those are cheap vans, brightly painted with flowery hippy-style motives, obviously catering to the backpacker market.
As far as I know they are the cheapest option to get around, but those vans are not meant to be driven off road. (They do have 4WD vans as well, and obviously those are again expensive as well.)
Any two wheel drive van will restrict you to travel on sealed roads only. And in the Kimberley we have precious few of those!
Campervan Hire In Australia - Need To Know

Here are a few more things to keep in mind when you look at hiring a camper van in Australia: I'll start with general info and recommendations and then look at special requirements for the Kimberley:
Most campervans for hire in Australia will have manual transmission.
The minimum age required to drive a hired campervan is usually 21 years.
If you arrive on a Saturday or Sunday make sure the branch of your chosen company is open.
If you want to drop off your hired campervan in a different location to where you picked it up first check if that particular company has an office there. Also check if this involves extra charges. (If you take a van from elsewhere to be dropped off in the Kimberley those charges are usually steep.)
Check if there are mandatory insurance charges or just the usual optional range of coverage.
Most companies place restrictions on where you are allowed to take their campervans. All 2WDs are required to stay on sealed roads, and some 4WDs may be too! (What's the point of getting a campervan in the Kimberley if you can't leave the bitumen?)
Sometimes the hire companies specify certain roads that you must not travel on. Usually exactly the places you really don't want to miss. You may need to get written permission to travel to the Bungles or along the Gibb River Road. Make sure you check this. Some roads you can't get permission for. If you go anyway and anything happens to your hired campervan there it will cost you dearly... (One example for such a "green road", a road where you are not covered by insurance, is the track up onto the Mitchell Plateau.)
Find out what camping/cooking/other equipment is included and what isn't. This can vary greatly and on big trips can make a big difference.
Make sure that the campervan you hire in is capable of doing what you want it to do. This applies mostly to trips into the Kimberley early in the season. Not all four wheel drive campervans are the same. You might be looking at deep river crossings that require a vehicle with a snorkel.
If you plan a bigger trip into a remote area make sure you get a reliable van. Ask about what age the campervan is. Consider paying extra for a newer vehicle. It's money well spent. The last thing you need in the Kimberley is mechanical trouble...
Fuel: well, it's not cheap and it certainly isn't getting any cheaper. If you arrive from the Northern Territory side you will notice a jump in prices as you cross the border into WA. (Fill your jerries before leaving Katherine!) But also be aware that the further you move away from the towns the dearer it gets. So if you plan to do the Gibb River Road don't do your budgeting on Katherine or Kununurra prices. Diesel is now well above $2 a litre along the Gibb River Road!
What campervan you should hire depends on the trip you have in mind. But regardless of that it certainly pays to start looking around early.
(See the free pocket guide for more detailed recommendations  on when to book car hire and accommodation.)
It pays to book early if you need a campervan during the main tourist season (June - August). When I say early I mean months ahead. Campervan hire is the most popular way to travel, and unless you get in early you might in the end have to grab whatever you can get.
Travelling to the Kimberley?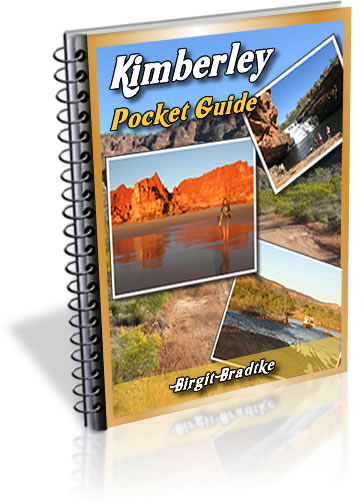 The FREE Kimberley Pocket Guide
A great introduction to travel in the Kimberley region and along the Gibb. This free resource will answer all the questions you might have in the early stages of planning a trip.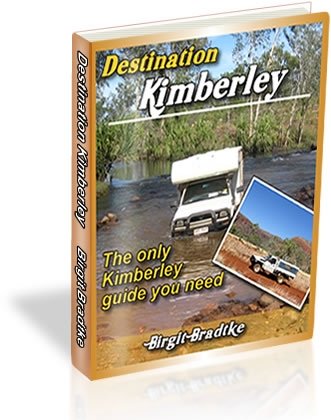 Destination Kimberley
The full Kimberley travel guide shows you how to make the most of your adventure at Australia's last frontier. Destination Kimberley includes the most detailed and most current guide to the Gibb River Road available anywhere. Also called "The Bible" by its readers.

Travelling to the Northern Territory?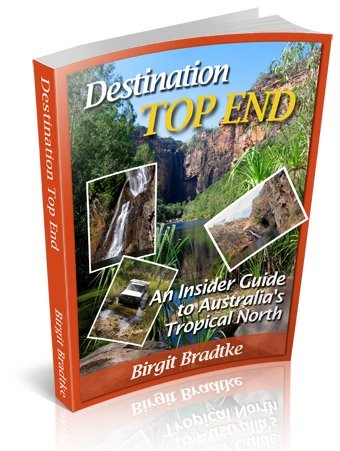 Destination Top End offers the same comprehensive, detailed insider information for the tropical regions of the Northern Territory. Be the best informed traveller in the Kakadu, Litchfield and Katherine Gorge national parks and beyond!

A must have if you travel to or from Darwin.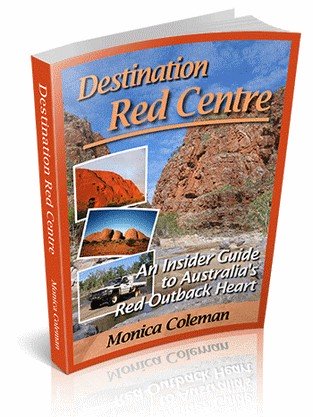 NEW! Destination Red Centre is the latest addition in this popular series. Monica Coleman takes you through Australia's red Outback heart, offering all the detail and insider tips that you have come to know and love about our guides. With special emphasis on Aboriginal communities and culture.

A must have if you travel to or from Alice Springs/Uluru.
Get help with your campervan hire and secure the best deal.