Kimberley Tourist Information Centres
Contact Information, Addresses, Phone Numbers
for all Visitor Centres in the Kimberley
Every town in the Kimberley, no matter how small, has a Kimberley Tourist Information Centre.
And every one of these Visitor Centres that I walked into has proved to be very helpful.
The lovely staff are always patient with your questions and even willing to reveal the little local secret places and top spots. (If you go about asking the right way.)
I was always given a stack of free maps and information materials, and never did anyone try to sell me any tour or accommodation or anything that I hadn't asked for.
The only Kimberley Tourist Information that is a bit different is the one in Broome. The staff are still extremely courteous and helpful, but no matter what I asked, I was invariably just presented with a brochure and price list to choose from.
Broome just gets too busy for the staff in the Visitor Centre to have time for you and it ends up feeling very commercial. They'll make bookings for you, and that's it.
But as you know, I strongly recommend to visit Broome in the off season anyway...
If you think of visiting the Kimberley you probably want to plan ahead, so here is contact information for all the Kimberley Tourist Information Centres.
If you know what you are after best contact them during the off season. You will find they have a lot more time to answer your questions. Ring them, fax them, email them, just ask them, they'll help.


Kimberley Tourist Information
Contact The Visitor Information Centres

Broome Visitor Centre

Address:
1 Hamersley Street (first round-about as you enter town)
PO Box 352
Broome
Western Australia
6725
Telephone: (08) 9195 2200 (international +61 8 9195 2200)
Email the Broome Visitor Centre
Website
---
Derby Visitor Centre
Address:
30 Loch Street
PO Box 48
Derby
Western Australia
6728
Telephone: (08) 9191 1426 (international +61 8 9191 1426)
Freecall: 1800 621 426 (within Australia)
Fax: (08) 9191 1609
Email the Derby Visitor Centre
Website
---
Fitzroy Crossing Tourist Bureau
Address:
Flynn Drive (cnr Forest Road)
PO Box 101
Fitzroy Crossing
Western Australia
6765
Telephone: (08) 9191 5355 (international +61 8 9191 5355)
Fax: (08) 9191 5085
Email the Fitzroy Crossing Tourist Bureau
Website
---
Halls Creek Visitor Centre
Address:
2 Hall Street
PO Box 242
Halls Creek
Western Australia
6770
Telephone: (08) 9168 6262 (international +61 8 9168 6262)
Freecall: 1800 877 423 (within Australia)
Email the Halls Creek Visitor Centre
Website
---
Kununurra Visitor Centre
Address:
75 Coolibah Drive (East Kimberley Tourism House)
PO Box 446
Kununurra
Western Australia
6743
Telephone: (08) 9168 1177 (international +61 8 9168 1177)
Email the Kununurra Visitor Centre
Website
---
Wyndham Tourist Info
Address:

Great Northern Hwy (at Kimberley Motors)
PO Box 38
Wyndham
Western Australia
6740
Telephone: (08) 9161 1281 (international +61 8 9161 1281)
Email Wyndham Tourist Info
Travelling to the Kimberley?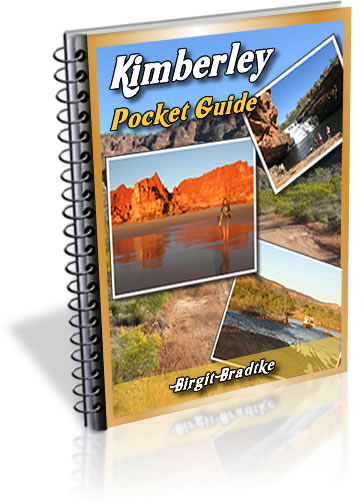 The FREE Kimberley Pocket Guide
A great introduction to travel in the Kimberley region and along the Gibb. This free resource will answer all the questions you might have in the early stages of planning a trip.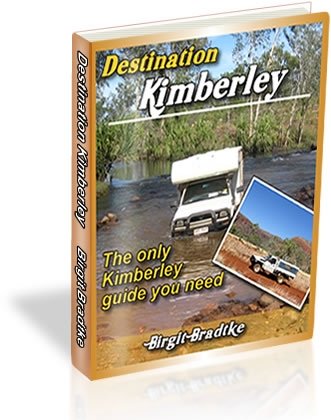 Destination Kimberley
The full Kimberley travel guide shows you how to make the most of your adventure at Australia's last frontier. Destination Kimberley includes the most detailed and most current guide to the Gibb River Road available anywhere. Also called "The Bible" by its readers.

Travelling to the Northern Territory?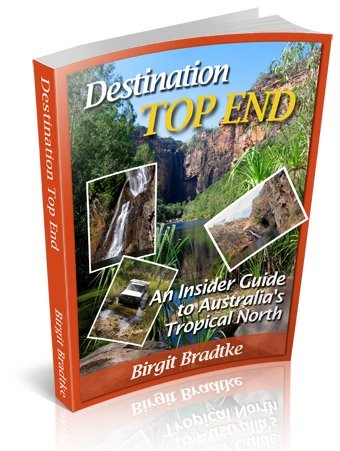 Destination Top End offers the same comprehensive, detailed insider information for the tropical regions of the Northern Territory. Be the best informed traveller in the Kakadu, Litchfield and Katherine Gorge national parks and beyond!

A must have if you travel to or from Darwin.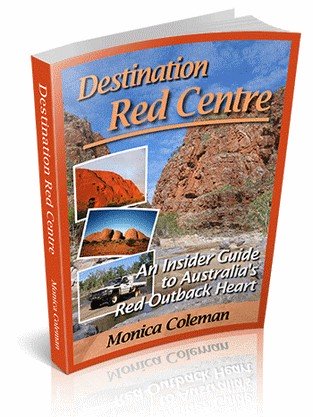 NEW! Destination Red Centre is the latest addition in this popular series. Monica Coleman takes you through Australia's red Outback heart, offering all the detail and insider tips that you have come to know and love about our guides. With special emphasis on Aboriginal communities and culture.

A must have if you travel to or from Alice Springs/Uluru.