Kununurra - Kimberley Waterfalls
Gorges, Falls, Rock Pools And Other
Swimming Spots Near Kununurra
Kununurra, like most of the East Kimberley, is all about water.
"Meeting Of Big Waters", that's what Kununurra means in the local Aboriginal language.
The Ord River irrigation project is a good thing, after all the town wouldn't exist without it.
But it's not the irrigation channels that make this area so memorable, it's the gorges and rock pools and waterfalls...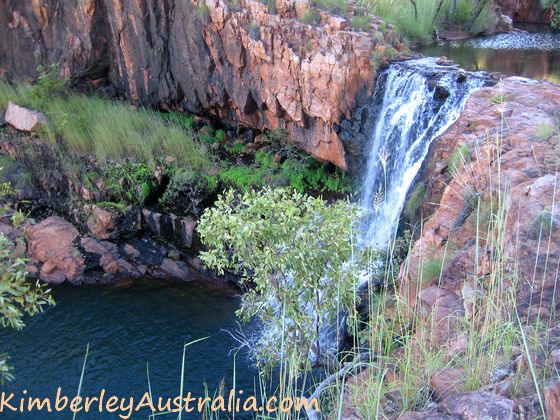 A typical Kununurra waterfall and pool above Middle Springs (info below)

The best time of the year to see the waterfalls is the wet season, or shortly after. Of course, most tourists come here during the dry season.
Not to worry, we have a quite a few spring fed falls that flow all year. We also have a few rock pools that are big and deep enough to still offer a refreshing dip for many months, even after the waterfall itself has dried up.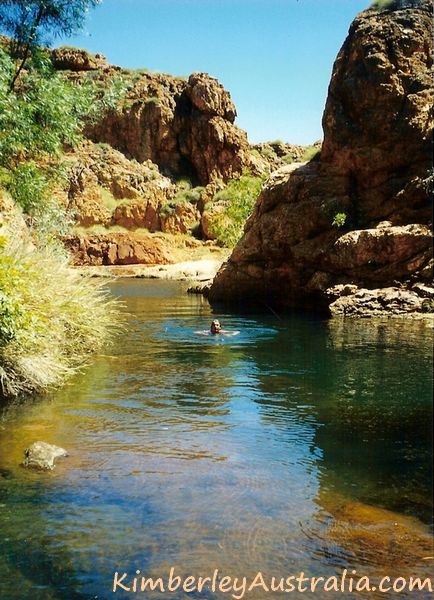 Swimming at Harry's Hole (info below)

(This page covers only the waterfalls in the immediate vicinity of Kununurra. You can read about the many gorges and waterfalls along the Gibb River Road here.)


Kununurra Waterfalls And Rock Pools
Visit All Year Round
Middle Springs and Black Rock Falls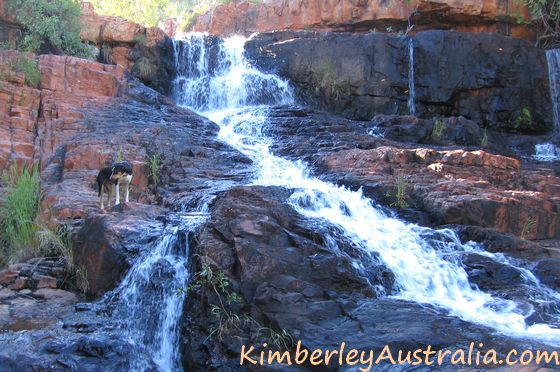 Hiking above Middle Springs

Middle Springs and Black Rock Falls are located not far from each other (on a Kimberley scale, that is) along the same road, Parry Creek Road. There are two ways of getting there.
The short way is to follow Ivanhoe Road and cross the Ord River at Ivanhoe Crossing. After the crossing go straight until you see the sign to Middle Springs, and then Black Rock, which is a bit further.
(Ivanhoe Crossing is a nice place to sit in the water, too, but beware of saltwater crocodiles. They are plentiful there, so don't attempt to actually swim. Just sit in the spas like the locals do.)
You can only get across Ivanhoe later in the dry season when the water is low enough, and it's not a good thing to do to your wheel bearings, as it is a wide crossing and the current is very strong.
The longer way is to follow the Victoria Highway in the direction of Wyndham, across the Diversion Dam, over the Dunham River jump up, until you see a sign to Valentine Springs/Black Rock/Middle Springs, and a turn-off to the right. Follow it to the T-intersection at the end. Ivanhoe Crossing is now to your right, and Middle Springs and Black Rock to your left. Just follow the signs.
The track into Middle Springs is very sandy and requires a four wheel drive. During the dry season you can reach Black Rock in a two wheel drive if you're game. During the wet it's four wheel drive access only, and after heavy rains you won't be able to get anywhere at all.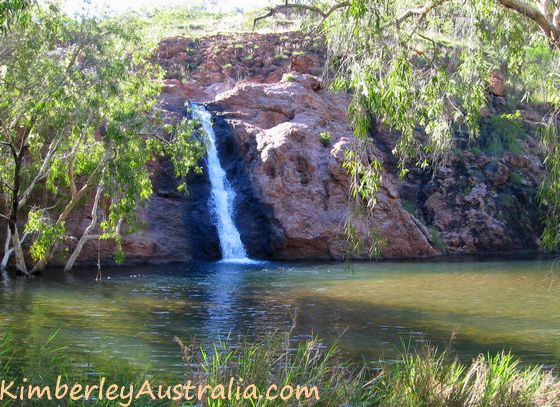 The main waterfall and pool at Middle Springs

Middle Springs is a big pool with a grassy edge, nice for picnics and popular with families. During and just after the wet season you find a serious of smaller pools and waterfalls above the main pool. To get to them climb up the path to the left of the main fall. It's worth it, even when the falls are dry, for the great views over the valley.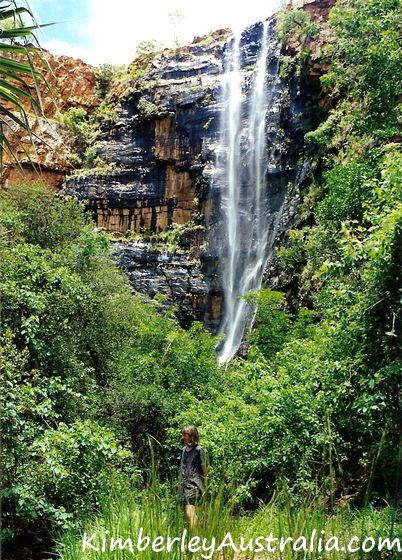 Black Rock Waterfall near Kununurra

Black Rock is a small but fairly deep pool surrounded by tall black cliffs. The waterfall dries up quick, but the water at the bottom will be there for a long time. And it's a pretty place anyway!
Molly Springs
This is a gorgeous little spring fed pool and waterfall about 30 kilometres out of Kununurra (in the direction of Wyndham). Emphasis is on little. The pool is only a few metres across, but it's a lovely shady place to sit in the water and watch the fish and goannas and birds. This little Kununurra waterfall is very popular with the locals as it's not so well known by the tourists yet. And it's there all year.
I think the turn-off still isn't sign posted, so look for a track to your right just after crossing, ahem, either Weaner Creek or Yearling Creek, I can never remember which one... Just look at your odometer, it's thirty kilometres from Kununurra.
The Grotto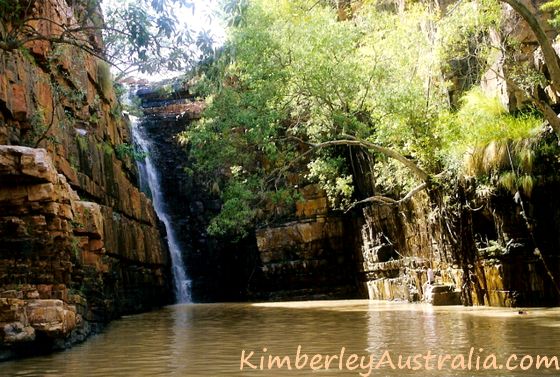 The Grotto near Wyndham

Probably the best known of all the waterfalls near Kununurra. It's actually much closer to Wyndham (30km) than to Kununurra (70km).

It's a good place to stop for a swim after a visit to Wyndham. The turn off is sign posted and the road is all sealed.

The Grotto is quite spectacular. A large and deep rock pool enclosed by huge, vertical cliffs. There are 140 steps, part concrete, part rock, that take you down to the permanent waterhole. Moss and bizarrely shaped tree roots adorn the walls and you will often see goannas on the rock ledges.

Some of the ledges are tempting to jump from, but beware of submerged rocks. Do a dive around the area first... Using the Tarzan rope is pretty safe, though :).

The waterfall is obviously most spectacular during the wet. It keeps flowing, and then trickling, for a while after, but even after it has dried up the bottomless pool is always there.

If you like exploring follow the creek and look for Aboriginal art on the rock faces.

Harry's Hole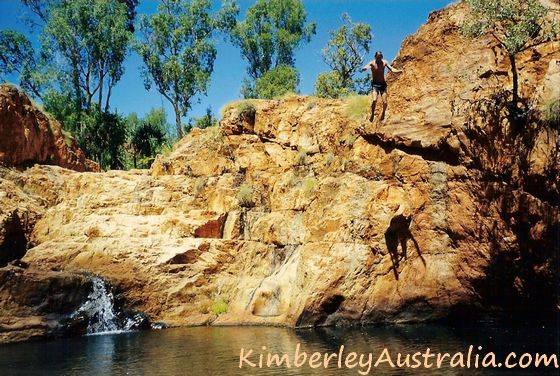 Having fun at Harry's Hole

Harry's Hole is a series of crystal clear pools, cliff faces and waterfalls that take a full day of swimming, climbing and walking to explore. Unfortunately it isn't easy to get to.
It's a long way away to start with, the turn-off is about a hundred kilometres from Kununurra (in the Halls Creek direction). And from the turn-off it's still a few hours...
You should be confident in your four wheel driving skills (see the video below) and have time to camp there for a night.



That's if you are allowed to. (Update: camping at Harry's Hole is not allowed any more.) You need to check first about the current regulations. The Aboriginal owners change the rules all the time...
All I can say is, it's well worth it.
Note: If you want to go to Harry's Hole you need to get permission and a key to the gate from Doon Doon Roadhouse.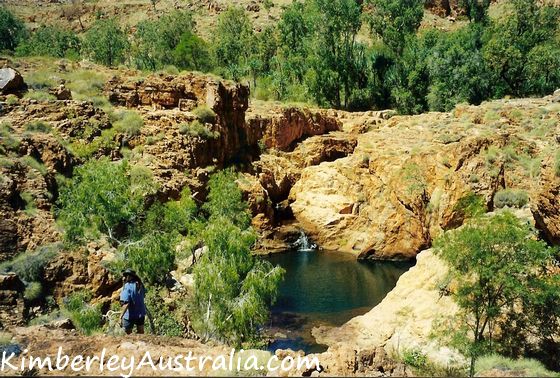 Hiking above Harry's Hole, and another pool and waterfall.
Kununurra Waterfalls And Rock Pools
Wet Season
Valentine Springs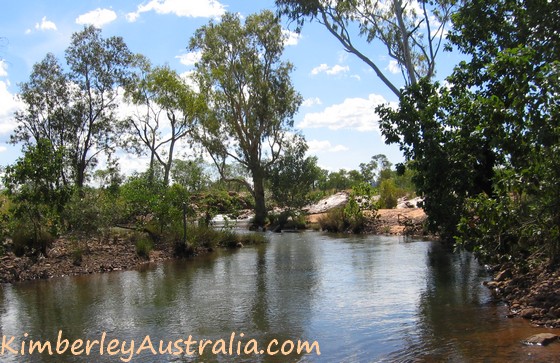 A pool downstream from Valentine Springs

Valentine Springs is not far out of Kununurra, follow the same driving directions as for getting to Middle Springs/Black Rock Falls via the highway. Valentine Springs is sign posted, but even without the sign you can't miss it, because you would have to cross it anyway.
Actually, anytime after heavy rains Valentine Springs will mark the end of the road as it will be too deep to drive across. This is something to keep in mind if you do drive further and it looks like rain. This creek rises very fast and occasionally people get stuck on the wrong side...
Valentine Springs is not really a waterfall. Rather a small set of rapids, and a shallow and often very warm pool. But it's nice because it's so close to town

Lake Kununurra Waterfalls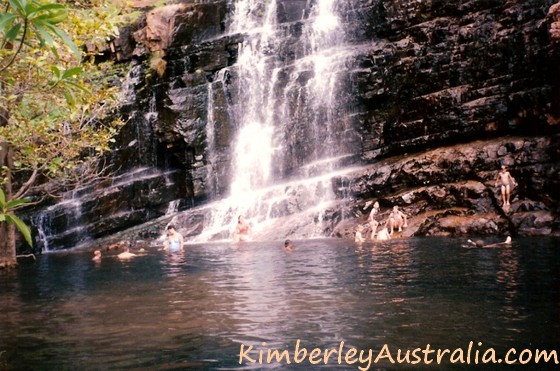 Swimming at a waterfall on Lake Kununurra

During the wet season you don't have to venture far from Kununurra at all to find some waterfalls. Just cruise up Lake Kununurra (in your own dinghy or join a local tour) and you will be seeing waterfalls everywhere...
Some are right on Lake Kununurra, like the one in the picture. To get to others you might need to walk for a kilometre or so. But you don't have to, you can just swim in the river and admire them from there, too.
To cruise up the lake after a good rain always makes for a great day.
Andy's Chasm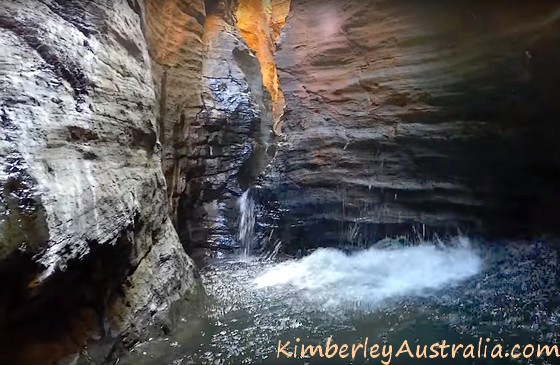 Somewhere in the middle of Andy's Chasm

Awesome place, but definitely not for the faint of heart. You want to be fit and adventurous for this one!
You need a four wheel drive to get there, then you have to find it, then you're in for a hot and difficult walk, and then a swim through a very narrow gorge, at times too narrow to swim properly, garnished with challenging climbing through several of the waterfalls, up smooth cliff faces etc.
At the top turn left and you will find the most beautiful waterfall and pool with a perfect beach, a paradise that few people have seen to date, for all the above reasons.
You can also continue straight ahead instead, and find a second gorge, even narrower, to wade, climb and squeeze through. In that gorge lives a huge colony of the very rare splendid tree frogs.
I think those tree frogs very, very rarely get any visitors. Most of the few people (even locals from Kununurra) who do find Andy's Chasm chicken out at the first waterfall, the rest at the third.
Both videos on the main Kununurra page include some footage from Andy's Chasm. You should be able to identify it immediately.
(And here is a reader question about visiting Andy's Chasm during the dry season.)

By the way, these aren't anywhere near all the waterfalls that you can find around Kununurra. During the wet season you really could go to a different waterfall for a swim every single day!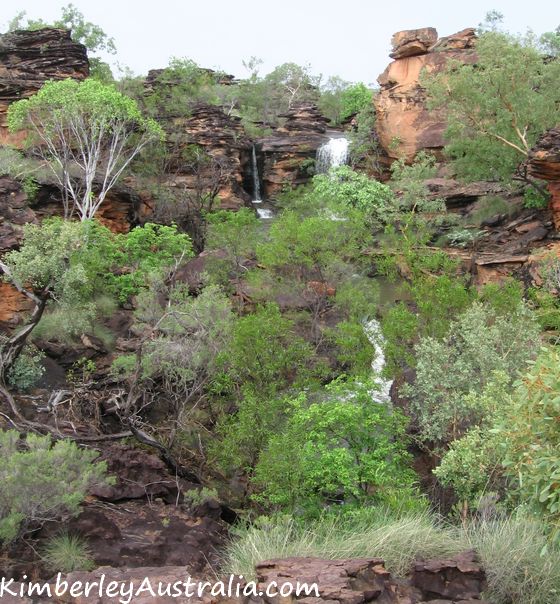 Typical Kununurra country during the wet season: waterfalls everywhere!

Read about other waterfalls and gorges in the Kimberley
Read more about
Kununurra


Travelling to the Kimberley?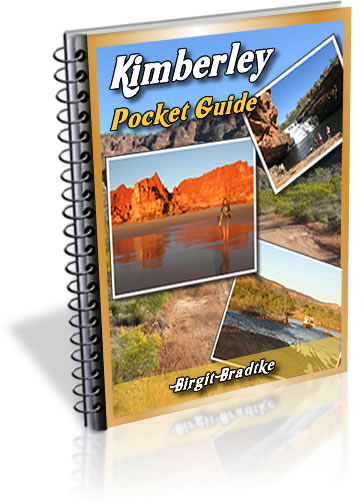 The FREE Kimberley Pocket Guide
A great introduction to travel in the Kimberley region and along the Gibb. This free resource will answer all the questions you might have in the early stages of planning a trip.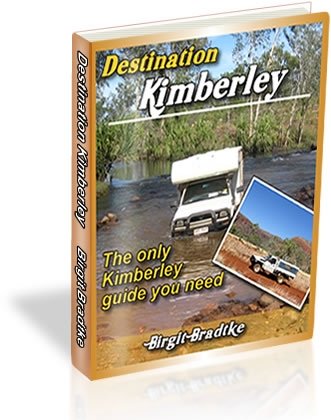 Destination Kimberley
The full Kimberley travel guide shows you how to make the most of your adventure at Australia's last frontier. Destination Kimberley includes the most detailed and most current guide to the Gibb River Road available anywhere. Also called "The Bible" by its readers.

Travelling to the Northern Territory?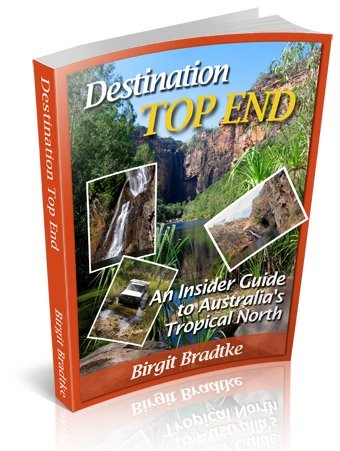 Destination Top End offers the same comprehensive, detailed insider information for the tropical regions of the Northern Territory. Be the best informed traveller in the Kakadu, Litchfield and Katherine Gorge national parks and beyond!

A must have if you travel to or from Darwin.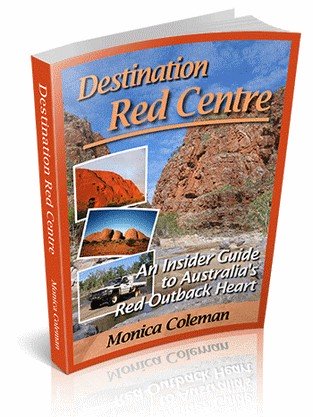 NEW! Destination Red Centre is the latest addition in this popular series. Monica Coleman takes you through Australia's red Outback heart, offering all the detail and insider tips that you have come to know and love about our guides. With special emphasis on Aboriginal communities and culture.

A must have if you travel to or from Alice Springs/Uluru.
Read about other waterfalls and gorges in the Kimberley
Read more about
Kununurra