The Gibb - Adventure of a Lifetime
by Andy and Hil
(Oxford , UK)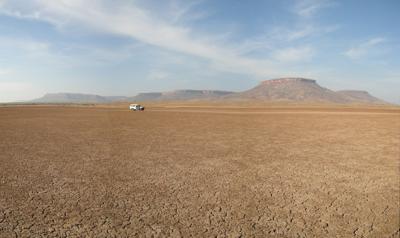 Karunjie Track
In August 2008 my wife had a chat with a Ranger called Brendan in Kata Tjuta, having just driven the wonderful Mereenie Loop from Alice Springs. He said if we'd enjoyed that, then the ultimate experience of 4WD was to drive the Gibb River Road.

That inspired two years of research starting with the download of 'Destination Kimberley'.

As a middle aged couple coming from the UK with that former escapade as our only 4WD experience and Hilary never having camped before (!!), this was a major leap into the unknown for us both and way beyond our normal comfort zones. She didn't exactly have to drag me there, but having never heard of it before, I was "slightly" concerned about how we would get on!

We had three weeks for the trip and started off at the end of August by flying into Broome to pick up our Troopy (we named her Marlene). We started off by doing a lot of shopping (!!) and then Hil got to experience her very first night of camping in Derby. She survived and to my relief, really enjoyed it!

From there we hit "The Gibb" going to Tunnel Creek, before going on to Windjana Gorge, to sample our first night of Bush Camping. After a night by a communal fire, which half the site was huddled round, we got lots of advice. Next day we headed out to Bell Gorge. We were taking it pretty steady, but when we stopped at a lookout we heard the hiss of a tyre deflating. I thought it was just that the valve had unscrewed after the earlier deflation (from 45 to 37) we'd done that morning – sadly not.

Luckily we'd packed a compressor and were able to top up the slow punctures every 5 kms and thankfully we were only 20 kms from Imintji Stores/Repairs. There they quickly diagnosed that both the rear tyres needed replacing (they were very worn) and the inner tubes were pretty much tea-bags. We were quite glad, as we'd heard roads were rough up the Mitchell and now we had two brand new Bridgestones at the rear! The fronts looked fine, but I wish we'd been more observant about the state of the rears when we'd picked up Marlene. Not a lot we could have done if it had happened in a more remote area! We were lucky and thankful that it happened where it did and that we'd decided to skip the side road we'd almost taken to look at an extra gorge.

We went on to Bell Gorge and from there on down to Mornington for a couple of nights, which was fantastic (and it was nice to have a bar/restaurant). We met some lovely people in Chris & Carolyn (sorry we lost your email address) – who were also following the Birgit "bible" but coming from the other direction. Then we went to Manning Gorge and had the gorge all to ourselves. We found the camping facilities rather good, but a tip is not to go too close to the shower block - the generator is quite loud and it is gone 8pm before they come and turn it off.

Lots of people we'd met along the way, including very experienced Grey Nomads, had told us how rough the Kalambaru Road was and had tried to put us off going, but we were determined we wanted to see the Mitchell Falls. So after stocking/fuelling up at Mt Barnett (we found them very friendly) we headed on up. We were relieved to be setting off with two full tanks, as we'd heard they'd been out of fuel a few days earlier! The Kalambaru road was very rough and some parts were only negotiable at 20 kms max and that was only possible by hugging the slightly smoother sides. Some locals obviously were a lot more confident and were flying over the corrugations.

We eventually made it for lunch at Drysdale Station – what an amazing place! We had time to kill, so had a very enjoyable afternoon/evening having proper cold beers (not 'Kimberley cold') with Grigsy and Glen-o, who had just had three weeks doing proper Bush Camping beyond Kalambaru and were as thirsty as we were! We treated ourselves to a room for the night, which by this stage, was very welcome indeed!

Next day we set off early and made good time getting up to the Mitchell Falls camp site. When we got there, we were one of only three sets of campers. A lot of people had obviously heeded the warnings about the rough roads. Next morning we walked to the Falls and it was surprisingly busy, as an Outback Spirit 4WD Coach had arrived before us. When we got to the lookout, we soon had the place to ourselves and sat and had lunch overlooking the falls. A real high point in more ways than one. We took the helicopter back and later marveled at the milky-way, sitting round another camp fire and a lovely meal of freeze dried teriyaki (made a great change from the usual noodles!).

The following day, we set off soon after dawn as we had booked a night at Home Valley Station, about 420 kms away. We did have a "Plan B", which was Ellenbrae. This was always going to be the biggest drive and I had always had a few reservations as to whether we'd make it that far in one go. After about 40 minutes or so, there was a very nasty grinding noise coming from the front axle region. I was worried it was a bearing problem. Not an auspicious start and we were thinking we might be falling short of "Plan C" (Drysdale) or stuck with "Plan D" (camping in the clearing we'd stopped at)!

After a few exercises in stopping/starting to see if it was a stone we could shake out, the only recourse was to get the wheel off which really wasn't fun in that heat (back home we have a MINI, so it was a bit more "chunky" than I'm used to!). Eventually I got the wheel off and I was able to dislodge a stone from the brake disk, so despite being very hot and sweaty, we were both very relieved. Eventually we made it back to Drysdale in good time for lunch and decided to press on to Home Valley. It took us ten hours in total, and during one three hour spell after the Wyndham turn we only saw one vehicle in that time. At Home Valley we had an experience that I can only describe as 'heavenly' – flushing dunny, shower, king bed, pool, cold beer, great tasty food. Appropriately, our room was called 'Gibb River'.

Next day we went on to El Questro for one night. We pulled in a quite a few gorges; Moonshine, Explosion, Emma and then the Zebedee Hot Springs and the fabulous Branco's lookout on a 'personal' tour, as we were the only punters that day. Champagne/Cheese and Biccys watching the sunset were truly amazing!

From there we went on to Wyndham and got to finally stock up our Esky that had long since run out of beer. The Five Rivers Lookout is a "must do". Then we went onto to stay in one of the fabulous bush huts at Diggers Rest (there's nothing like being stalked by your own personal emu!), stopping off at the Prison Boab, on the King River Road on the way.

The next day we took the Karunjie Track back to the Gibb. This was probably the most scary part of the trip and made every other road condition pale into insignificance. Almost bogging on the mud flats, there were some nasty cambers and ruts in the second half. While it was, at times, really nerve racking, it was also the most memorable and beautiful part of the trip and I smile every time I think about it. We didn't see another vehicle on it – other than the burned out wreck near the end! We were very relieved to finally get back to the "silky smooth" Gibb.

From there we went on to Kununurra and the comfy Kimberley Croc Backpackers for some more camping respite and made the most of Gullivers over the road, which did amazing pizzas. Next day we did a flight to the Argyle Diamond Mine (impressive), which was followed by a loop over the stunning Bungle Bungles.

Next day we headed off to see them 'up close and personal'. Spring Creek road seemed a doddle after the Karunjie Track! We camped at the northern campsite (Kurrajong) and took in many fabulous gorges and dry river beds. Purnululu is another must do.

Then it was off to Halls Creek, we first looked at the Old Halls Creek Lodge Camp site. It was 'for sale' and didn't seem very enticing at all. We quickly backtracked to the main town campsite and that was very nice indeed. Halls Creek is very noisy after dark, which spooked us a bit, but was fine.

Next morning we took in the China Wall and then we drove on to Wolfe Creek crater on the Tanami track. Everyone we'd told we were going there, asked if we'd seen the horror flick of the similar title – thankfully Hil hadn't or she might not have gone! Very impressive sight and well worth the trip. We'd made it there early, so we pressed on back to Fitzroy Crossing and camped at the Lodge there, which again had excellent facilities

Next morning we did the boat ride on Geikie Gorge, before heading on back to Broome and staying the night in Cable Beach camp ground. Marlene was''t insured for the beach, so we had some fizz in the car park before walking back to catch the phenomenal sunset.

Next morning Marlene needed a jump start (we don't know why – again luckily it wasn't up the Mitchell). Thankfully our neighbours sprang to our rescue and we were glad we'd already gifted them our last two bottles of wine, which we didn't have room to carry. Then, after a quick burn to charge the battery, it was time to say "adieu" to Marlene after 4,000 kms and drop her off at the depot. The depot staff refunded our tyre expenses without quibble. We had one final night in the Roey in Broome (our insurance in case we'd been delayed on the trip) before our flights home. This also provided us with a couple more opportunities to enjoy the wonderful beer and cuisine at Matsos - another "must do"!

All in all, truly the trip of a lifetime!

If you are interested in the videos of our trip then they are on You Tube as a playlist.

Thanks again for providing such a valuable resource – we couldn't have done it without you. We are already booked and ticketed to come back next year when we are driving from Perth to Broome.
Travelling to the Northern Territory?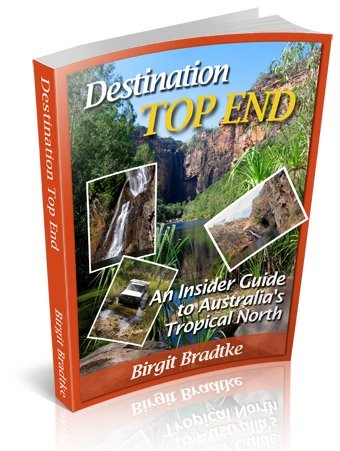 Destination Top End offers the same comprehensive, detailed insider information for the tropical regions of the Northern Territory. Be the best informed traveller in the Kakadu, Litchfield and Katherine Gorge national parks and beyond!

A must have if you travel to or from Darwin.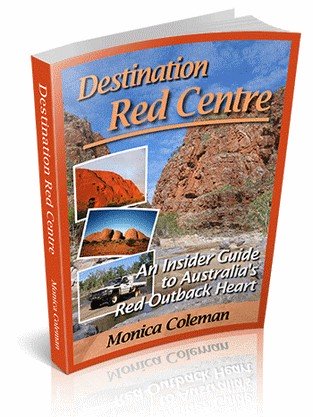 NEW! Destination Red Centre is the latest addition in this popular series. Monica Coleman takes you through Australia's red Outback heart, offering all the detail and insider tips that you have come to know and love about our guides. With special emphasis on Aboriginal communities and culture.

A must have if you travel to or from Alice Springs/Uluru.