Essentials list for Kimberley trek
by Peter
(Perth, WA)
Giday Birgit. Thanks for your website and book "Destination Kimberley". I've been using them as well as other resources for a couple of years now to get ready for my long service leave trip to the Kimberley. My wife and I hope to take our two youngest girls 13 and 16 this June.

We own a Diesel Prado 202 and we've purchased an off road camper (Cub Escape) and hope to tour through Karijini and Purnululu on our way to explore the Gibb River Road and the Mitchell Plateau. The following list offers suggestions as to what I propose may be "Essentials" and "Non essential but helpful" items to take.

I would appreciate your thoughts on whether there is anything on this list of "essentials" that is over the top or that you think is missing.

Regards Peter Smit

Essentials list for a Kimberley trek
(Visiting Purnululu, Gibb River Road and Mitchell Plateau)

1. Essential 4x4 recovery gear:

Snatch strap and recovery points on vehicle.
D shackles to attach snatch strap.
Shovel.
Tow rope.
Tubeless tyre repair kit.
12 volt compressor or tyre pump.
Leather gloves.
2. Other Essentials:
Adequate water and food supply.
UHF Radio.
Roof rack.
2 Spare wheels and good quality tyres.
Fire Extinguisher.
Flat wooden plank or similar for jacking.
Tool Kit spanner and socket set to suit the vehicle.
Electrical (zip) ties.
Gaffer tape.
Insulation tape.
Tie wire.
First Aid kit.
2a) Spare items for vehicle:
6 spare wheel nuts.
Spare Oil.
Spare fuses.
Spare engine hoses.
3. Non essential but helpful items:
12 volt fridge/ freezer.
12-240v inverter to charge batteries for electronic devices.
Maxtrax – self recovery tracks (for beach driving or bull dusk bogs).
Roof rack dust proof bag.
Compass or GPS.
4. Unnecessary items. (Assuming we're travelling June and July)
Snorkel.
Satphone.
Hand Winch.
Travelling to the Kimberley?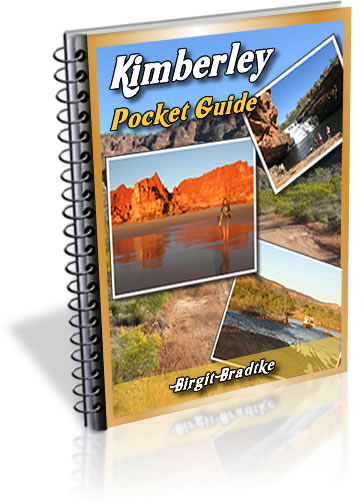 The FREE Kimberley Pocket Guide
A great introduction to travel in the Kimberley region and along the Gibb. This free resource will answer all the questions you might have in the early stages of planning a trip.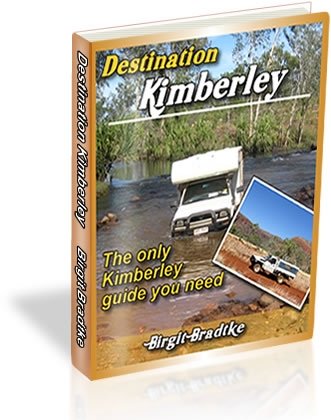 Destination Kimberley
The full Kimberley travel guide shows you how to make the most of your adventure at Australia's last frontier. Destination Kimberley includes the most detailed and most current guide to the Gibb River Road available anywhere. Also called "The Bible" by its readers.

Travelling to the Northern Territory?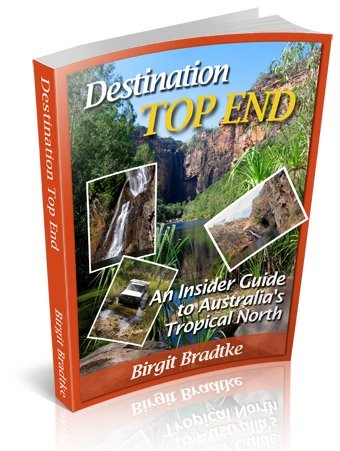 Destination Top End offers the same comprehensive, detailed insider information for the tropical regions of the Northern Territory. Be the best informed traveller in the Kakadu, Litchfield and Katherine Gorge national parks and beyond!

A must have if you travel to or from Darwin.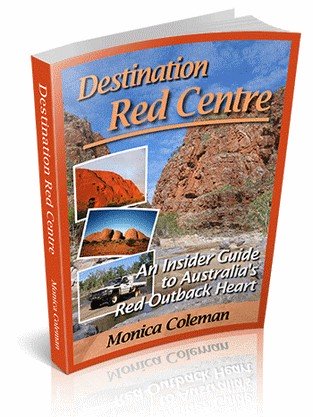 NEW! Destination Red Centre is the latest addition in this popular series. Monica Coleman takes you through Australia's red Outback heart, offering all the detail and insider tips that you have come to know and love about our guides. With special emphasis on Aboriginal communities and culture.

A must have if you travel to or from Alice Springs/Uluru.